Here's what you need to know if you're searching for Jack Russell Terrier breeders in Texas. Jack Russell Terriers or JRT are an active breed. They are a perfect children's companion, or you may need to find a way to match their energy.
This breed is also pretty adventurous and always looks for quests or attention. The Jack Russel Terrier is simply charming. Keep reading to find reliable Jack Russell Terrier breeders in Texas.
Before scrolling down this list of Jack Russell Terrier breeders in Texas, check out these breeder recommendations: Best Dalmatian Breeders in Texas and Best Sheltie Breeders in Texas.
Jack Russell Puppies For Sale in Texas
The Jack Russell Terriers are happiest when they can get companionship and engagement at a go. They enjoy hunting and would dig up your yard in search of rodents. They are simply the cutest. Below is a compilation of Jack Russell Terrier breeders in Texas.
Jack Russell Product Recommendations: Best E-Collar For Working Dogs and Best Subaru Outback Dog Barriers.
1. PuppySpot's Jack Russell Terriers For Texas
Since you're searching for Jack Russell Terrier breeders in Texas, we highly recommend visiting PuppySpot's marketplace. You might think it's an individual Jack Russell Terrier breeder, but it's an enormous platform filled with many dog breeds.
You can browse for a Jack Russell Terrier at home in Texas without any worries because the team of PuppySpot strictly screens all breeders. Before you continue on your search for a Jack Russell Terrier puppy for sale in Texas, check out the link below.
PuppySpot Details
2. Bear Creek Jack Russell Terriers
Bear Creek Jack Russell Terriers has been breeding quality Jack Russell Terriers for 20years. They are a hobby kennel that would occasionally put up Terriers for sale. They focus on improving each generation of JRT by paring only the best dogs.
Bear Creek believes that health, structure, and temperament are equally important during breeding. Their JRT puppies have loving personalities, which they offer their new family.
At Bear Creek, you would get the shorties JRT (of under 12 inches) and the Parson Russell. They are the standard-sized JRT of over 12 inches. These breeders are always looking out for good homes for their JRT puppies.
They hope you are willing to make your home comfortable enough to be the dogs' forever homes. Hence, their gates are open to you to come to pick up your cute JRT in Aledo.
To locate the Bear Creek, they are west of Dallas and Fort Worth and 3- 5 hours from Austin, San Antonio, and Houston. As you adopt a puppy from them, you can ensure that your Jack Russell Terrier is sound mentally and physically. They would give quality friendship or even become show champions.
Bear Creek Jack Russell Terriers Details
3. Duke's Legacy Jack Russell Terriers
Duke's Legacy is located in Honey Grove, a short drive from Dallas and Fort Worth, Texas. It started because of the breeder's love for Duke, their first JRT. However, they have since owned and raised other doggies for about seven years now.
The dogs are home and family-raised from puppyhood. Duke Legacy is committed to raising and preserving the Jack Russell Terrier breed; they follow the standards of the JRTCA.
In addition, they ensure that their Jack Russell Terrier puppies are sound, attractive, healthy. They have pleasant temperaments and attitudes towards work or hunting. They claim each puppy bred is a tribute in honor of their first JRT Duke.
At Duke's Legacy, the JRT puppies have ample space to run on the 320-acre ranch that Honey Grove is situated on. They have room to hone their hunting and working skills and practice for JRT events.
The dogs participate in racing, conformation, and other activities and have been awarded titles to this effect. In addition, the Duke's legacy puppies socialize with family members and live right indoors.
Hence, they do not mind being around many people who love to cuddle or speak to them. The constant show of attention sets the pace for a rewarding and calm Jack Russell Terrier in the future years. Duke legacy considers the dogs first as family members before pets and treats them as such.
Their utmost aim is to find loving homes for the JRT puppies and to receive adequate love and care, as they have experienced from birth. They are so cute and well-behaved that they would melt all hearts that meet them.
Duke's Legacy Jack Russell Terriers Details
4. Crosswood Jack Russell Terriers
Danna and Stan Sanders own and run Crosswood Jack Russell Terriers; It is located in Royse City, Texas. They are members of JRTCA and have been breeding only quality Jack Russell Terrier puppies for the last 24 years.
Crosswood is situated inside Sander's 4-acre property, and it is fenced with enough space to run and play. The aim is to ensure the quality of the breed is always top-notch. In addition, the country home has opened and covered pens that give the dogs access at will.
Crosswood stock comes from a bloodline of champions. The puppies are the perfect fun-loving companions. The Sanders are small-scale breeders who have committed a large part of their time caring for and loving each puppy.
They consider all dogs are family members. The JRT puppies grow to be a great source of joy to their forever family. They offer so many years of memories and companionship.
With about 14 years of experience under their belt, they have mastered the act of keeping the dogs healthy and happy. The puppies are socialized from birth and are bred carefully and intentionally.
At Crosswood, the dogs feed on high-quality food; they are weighed at intervals to ensure health. The Crosswood JRT are intelligent and energetic; they enjoy playing games of fetch with a ball, stick, or Frisbee.
Each puppy has a unique personality, making it relatively easy to find the ideal Jack Russell Terrier for you. You can contact Crosswood to inquire about the JRT breed or start an application.
Crosswood Jack Russell Terriers Details
5. Seagull Limited
Seagull limited has been breeding Jack Russell Terrier puppies for 30 years. Their dogs have an excellent temperament, are sound, and would easily fit into your family lifestyle.
They receive ample attention from a very young age causing them to be well-socialized. Seagull looks forward to your visit to their Lexington home in Texas, where you can pick the right JRT for you.
However, it would be best to take your puppy for a baseline evaluation after adoption. Furthermore, you can be sure your doggie would not have any issues with worms as they have been dewormed every 14 days since day 2 of age.
But you would need to continue the regular medical checks, vaccination shot appointments, and deworming. They would need about three shots which are usually a month apart.
Your puppy would come with a sentimental item like a tee shirt or a blanket that has the scents of other littermates. It would help him adjust and get over the stress of moving into a new home. All you should do is place the item in its crates.
All the dogs involved in their breeding program are specifically handpicked to improve their litter continually. The sire and dam are loyal, loving, and beautiful sets of friends. Take some time to look at some of them on the website gallery.
Furthermore, think things through before purchasing a Jack Russell Terrier puppy. Please feel free to reach Seagull limited and schedule a visit or call them to ask questions about your prospective JRT puppy.
Seagull Limited Details
6. Cuttin Up Jack Russells
Last on the list of Jack Russell Terrier breeders in Texas is "Cuttin Up Jack Russell." Cuttin Up Jack Russell is located in a small home near Seymour, Texas. The place has room for the dogs to run around and have fun with other littermates.
Seymour is in the middle of Cowboy County, and the ranch has other animals like cats and cutting horses. So their Jack Russell Terrier are allowed to associate with these other animals, which teaches them how to blend into different homes.
The dogs have been friends with the breeders and love to be involved in their activities. They enjoy riding horseback, shopping in a flea market, or camping. They love being anywhere their loved ones, which may also be lying lazily on a couch.
They raise quality JRT puppies that are healthy and loved. The dogs begin deworming at two weeks and receive at least two shots before adoption. A vet doctor evaluates the doggie before delivering them to your home.​
When Cuttin Up got their initial JRT, they fell in love with traits they felt were unique. But through the years of breeding JRT, they have realized that the behavior and personalities are common to the JRT breed, yet they still find all their quirks and love special.
Adding a dog to the family comes with a set of responsibilities. Nonetheless, it is always worth it as they would bring you so much love, joy, and laughter. You can call or send an email to the Cuttin Up Jack Russell about getting your JRT puppy. Furthermore, visit in person and look at some cute 'puddin' Terriers.
Cuttin Up Jack Russells Details
Conclusion For The "Best Jack Russell Terrier Breeders in Texas"
The Jack Russell Terrier is a hard-working companion. However, it's a bit confusing knowing where to adopt them from. Even though Jack Russell Terrier breeders are common in Texas, but just a few are credible. Contact any of the above recommended Jack Russell Terrier breeders in Texas today.
For more guides with mentions of the Jack Russell Terrier, feel free to check out:
Learn more about the Jack Russell Terrier by watching "Caring For a Jack Russell Terrier – 9 Essential Tips" down below: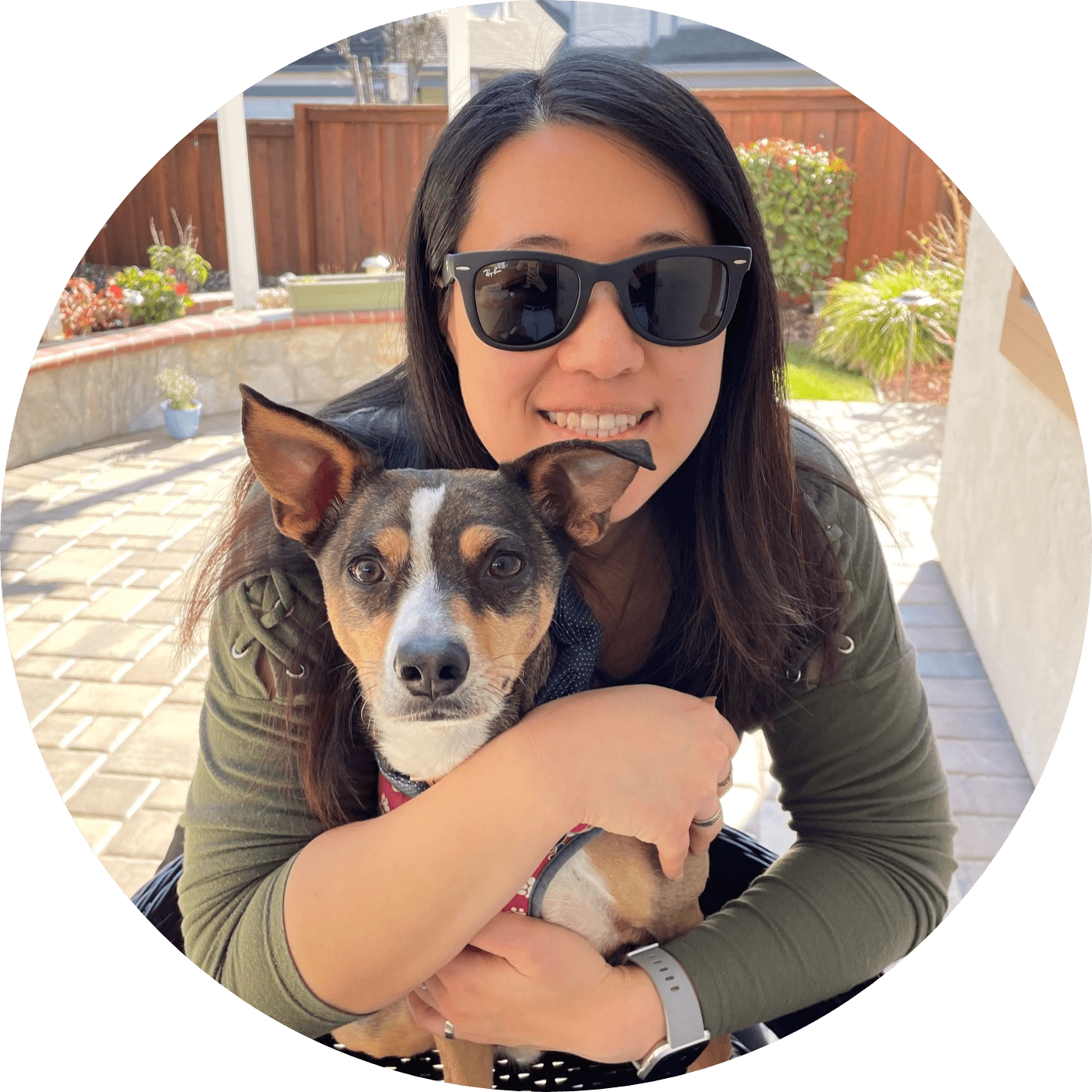 Dr. Sabrina Kong graduated from the Royal Veterinary College in England in 2016 and has been working at a small animal clinic in Northern California since then. She grew up in the Bay Area and got her bachelor's degree from Cal Poly San Luis Obispo. She also became a Certified Canine Rehabilitation Practitioner through a program at the University of Tennessee.
When she isn't in the clinic taking care of her four-legged patients, she enjoys traveling and trying new foods with her friends and her three-legged dog, Apollo. She adopted Apollo from her clinic when he was a puppy with numerous health issues. Dr. Kong truly cares about taking care of animals.