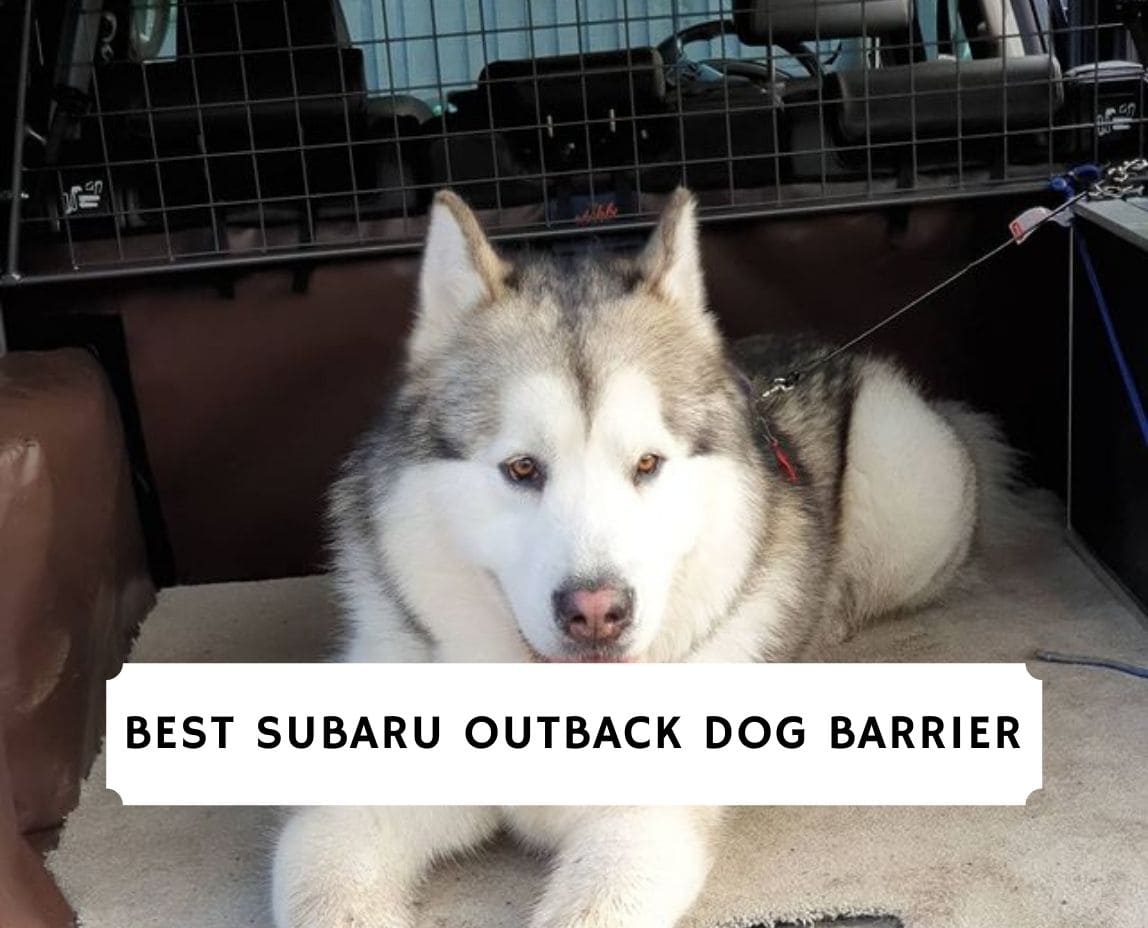 You adore your dog even more than you enjoy driving your Subaru Outback. So, it's essential to protect both yourself and your dog when you are in the car going or taking a road trip together. Here, we have a list of 10 leading pet barriers for the Subaru Outback. They will make your dog's car experience much safer and comfortable.
In this article, we'll be taking a look at the best Subaru Outback dog travel barriers currently available and providing you with an overview of their key features. We'll also be providing you with some helpful information on how to get a suitable compartment dog barrier for your dog and what type of materials are best suited for this. 
A Subaru Outback dog barrier is a dog pet travel compartment that you can use in your crossover. For your dog's safety and to avoid accidents resulting from distracted driving while watching your pup, it's ideal to have a dog pet compartment barrier in the car that separates you and your dog while the vehicle is in motion.
A dog compartment travel barrier serves as a tool to keep your puppy from jumping into the front seat during car rides and getting distracted. It also prevents pets from crawling around the car and potentially causing accidents.
If you're trying to find the best pet barriers for your car, you're in the right place. We've come up with the ultimate Subaru Outback pet barrier guide to help you find the ten best pet barriers for your Subaru Outback.
In a rush? Here are the top 3 picks!
Product
Best Overall
PetSafe Dog Barrier for Cars
Runner-Up
rabbitgoo Dog Car Barrier
Pawple Dog Car Barrier for SUVs
Image
10 Awesome Pet Barriers for Subaru Outback
A pet barrier is a must-have to keep your pet and the rest of your family members safe on the road. Here, we have a list of 10 leading pet barriers for the Subaru Outback. They will make your dog's car experience much safer and comfortable.
The Travall Guard is compatible with the Subaru Outback and keeps your dog, luggage, and sporting gear safe in the trunk area, behind the back seats.  
This compartment pet separator is a vehicle-specific removable alternative to traditional cargo barriers, offering an innovative design. We like this because it features rattle-free steel and comes with an excellent fitting guide that's easy to understand. 
There's also no need to remove your rear shelf/cargo cover with the TDG1182; it fits with or without! The Travall pet car guard for Subaru Outback is an upper height barrier that fits the following vehicles and year of manufacture:
Subaru Legacy Tourer Station Wagon BR 2009 – 2014

Subaru Outback Station Wagon BR 2009 – 2014
Features
 A suitable, rattle-free fit, superior to that of universal guards.

 Original quality vehicle-specific pet barrier design.

 Supplied with a fitting kit and simple-to-follow fitting guide.

 No drilling or vehicle modifications are required.

 Easy DIY Installation.
PetSafe is a global pet brand that's well trusted among pet parents. The PetSafe Happy Ride metal dog barrier features a sturdy way of keeping large dogs safely contained while driving. The tension secures the barrier in place, and rubberized caps keep it from slipping during use. 
It provides a rattle-free design that reduces noise on road trips. We like this brand because it's been around for close to 30 years, and this barrier has quick connect features making setting up super-fast and easy. Here's the takeaway:
Features
Priced well

No tools needed for easy assembly

Quick connect features

Stays in place

Durable

Telescoping design for maximum coverage
The Rabbitgoo dog carrier barrier for Subaru features over 3,500 positive reviews, which is no surprise considering how well this pet Subaru barrier functions.
If your dog loves taking your Subaru Outback head-on in a completely horizontal position, then this pet barrier may be the perfect match because it's designed for flexibility to work in elevated or reduced angles securely. Here's the takeaway:
Features
 Universal fit & fully adjustable

 Heavy duty, non-toxic steel construction

 Great for pets up to 100 lbs.

 Upgraded Design for a secure fit

 Features white, black, and silver

 Portable
The Dykeson pet car barrier features a four-sided elastic dual mesh: The dog car barrier uses durable polyester that is extra thick (but still lightweight) and a dual-mesh design.
Dykeson car pet barrier allows you to secure your pet in the car. It features durable adjustable straps that can be adjusted in seconds and fitted in seconds to keep your dog in his seat, in the cargo area, or between the seats in cars.
Features
Durable mesh

Easy to install with included hooks for left and right headrests

Space-saving, mount on the middle gap between the left & right seats

Affordable

Over 6,000 positive ratings
The Pawple dog car barrier is designed to safely keep your pets from going from the cargo area to the driver's and passenger seat, creating a more comfortable and safer haven for the driver, passengers, and pets alike. 
It's constructed out of heavy-duty material; this adjustable pet barrier virtually fits in any wagon or SUV by attaching to the headrest easily without any tool necessary. We like this SUV compartment pet separator because it's priced well, features a universal fit, and is fully adjustable.
Features
Works with hatchbacks, most cars, and SUV'S

Priced well

Lifetime warranty

Easy Installation

Protective pads protect the interior.
The Vetoos car SUV Subaru Outback dg barrier is a simple, adjustable divider set to any size and easily moved from one car to another. Solid panels will keep your dog in the back where he belongs. The complete barrier system includes a headrest strap, anti-pinch post, and hook-and-loop strips for maximum safety and security. 
It fits most vehicles, including the Subaru hatchback. We like this dog pet barrier because it's made with carbon structural steel that will stand up to your dog. The takeaway is that it's extendable to fit your backseat area and is not recommended for front seats or fixed headrests. It's extendable to fit most SUVs, vans, jeeps, and hatchbacks (back headrests only)
Features
Extendable for universal fit

Foldable for easy storage

Includes two durable bungee cords and two adjustable firm straps with metal grips 

Priced well
If you're looking for something simple and easy to use for a well-trained dog, then the Starroad dog car barrier for Subaru Outback may work for you. This product features durable bungee cord and hooks and works in most cars and SUV'S.
Features
 Nylon cloth and mesh

 Priced well

 Prevent distracted driving and prevent smaller dog breeds from suddenly jumping to the front seat

 Priced well
We like the Zookeeper pet Subaru Outback carrier because of its simplistic design and mainly because this is the only pet barrier that tilts, slides, reclines, and moves with your seats for ultimate convenience. 
You'll love this versatile and straightforward dog barrier for cars. 
This is a fully adjustable dog gate designed to keep all safe and happy. It's engineered to fit all types of vehicles, including 2-door and 4-door cars, SUVs, extended cab trucks, cabs, wagons, and more. 
The Zookeeper pet guard keeps your dog secure in the backseat. This allows you and your pet to enjoy more comfort and safety, with no distractions. The metal pet gate design allows for high visibility.
Features
Smart design for perfect universal fit 

Flexible cords wrap around your headrest posts

Money back guarantee

Award-winning original!

Made with heavy gauge tubing for durability

Crafted with protective caps around the tubing to prevent rattling while driving.
The Kurgo backseat universal dog barrier, the Subaru Outback, and most other cars and SUVs reduce distracted driving by safely keeping your pets behind the barriers. Keep in mind that it's not compatible with 2-door vehicles or minivans.
 We like this backseat dog barrier because it's super stylish, and the low-profile design doesn't obstruct the view. The Kurgo Backseat Barrier prevents your dog from launching into the front seat while you're driving. Here's the takeaway:
Features
Easily installed in most cars & SUV'S

Incudes, a cup holder for backseat guests

Top & bottom vent mesh keeps air circulating

Attaches to the back of the front seats 
The Adakit dog barrier for Subaru Outback, SUV's and most cars keep your pet safe and secure in the vehicle cargo area, prevent him from jumping into the front seat or distracting you during car travel. 
The Adakiit features a universal fit. The dog barrier car gate is adjustable to fit most cars, SUVs, vans, hatchbacks, sedans, and more. This is an excellent dog car barrier because it's crafted with heavy-duty wire mesh. This car dog guard will give you complete security when dealing with even the rowdiest and misbehaving doggos. Here's the takeaway with this must-have dog Subaru Outback barrier.
Features
Universal fit that's fully adjustable

Upgraded flexible strap design

Easy to install & remove

Protects the interior of your car

Suitable for use in the vehicle cargo area to reduce dangerous driver distractions
What's the best pet car barrier material for the Subaru Outback?
When searching for the proper pet barrier, you'll want to make sure it's chew-proof to prevent your dog from quickly destroying it. The material should keep your dog safe and ensure that the barrier is durable. 
Most dog travel barriers are manufactured from either plastic or wire. While there is nothing wrong with these materials, it's important to note that dogs can sometimes chew through them if they get in the mood. 
For this reason, in many cases, we would recommend using a mesh dog barrier instead of one which uses solid material, as this will generally stop your dog from chewing through it.
What's the best dog car barrier for large dogs?
A dog car barrier needs to work in your specific make of car. It also needs to be designed for the size of your dog. For example, if you have a large breed like an Alaskan Malamute that weighs more than your average large breed, you'll need a metal dog car barrier to accommodate the extra weight.
Many pet car barriers are made of mesh, plastic or metal and designed to attach to the headrests in your car. The problem with the mesh design is that it becomes loose as the dog moves around. This can become a hazard as your dog can hit the barrier directly into your car's interior. 
For maximum protection, look for a dog car barrier that has a flexible but reinforced plastic strap. This design allows the dog to move around but ensures that it cannot break out of the barrier.
Can you use a dog travel harness and a pet car barrier?
It's a good idea to use some sort of restraint when traveling with your dog in the car, but there are some things you need to consider. Firstly, it is not legal in many countries or US states for your dog to travel unrestrained in the car, so you must buy a restraint.
A harness is a much better choice as it spreads any pressure around the dog's shoulders, and it is easy to fit. However, some harnesses are not designed for use with a seat belt, so you need to check this before buying. It's also worth considering whether your dog requires a pet car barrier. 
If he has his seat in the car, you can use the back seat as a dividing screen to give him his own space. However, if other people are in the car, you may simply find it easier to buy a pet car barrier. 
These have several advantages, as they hold the dog in one place and prevent him from getting in the way or under your feet. They also provide a bit of privacy for your dog, helping him to feel less anxious when he's traveling in the car. If you are looking for dog travel restraints, we recommend dog harnesses and pet barriers. 
What's the best dog travel barrier for small dog breeds?
When transporting small breed dogs in a vehicle, it's essential to make sure that they are safely secured so that they don't become a distraction for the driver or put themselves at risk of serious injury in case there's an accident.
It's for this reason that we always recommend using a dog travel barrier. As the name suggests, these are products that are designed to block your dog's access to areas of the vehicle that you don't want them exploring while at the same time allowing them specific amounts of space to move around. For this reason, they are an ideal way to keep your dog secure when traveling!
Best travel dog barrier for SUV?
As with all dog travel products, one of the most important things to consider is what sort of size and breed you'll be traveling with. If you're transporting a larger breed dog in your car, then it's generally not advised to use a barrier that sits inside the doorframe as this could cause them discomfort when trying to climb over it.
For those who own an SUV and want a travel barrier, a better idea would be to get a dog travel barrier that attaches to the seat of your vehicle instead so that it secures your dog to an area where they can stand up and move around without any issues.
What is the best type of dog SUV travel barrier?
As you can probably guess, different types of barriers are designed for use in different situations. When traveling with a small dog breed, the best kind to get is one that fits snugly inside your vehicle's door frame and has openings no wider than 4 inches so that your dog can't get his head stuck. 
Another benefit of these car dog travel barriers for Subaru Outback is that many come with a storage pocket which you could use to store some toys or treats for your dog, or even the leash and collar they will need when exiting.
How easy is a Subaru Outback dog car barrier to install?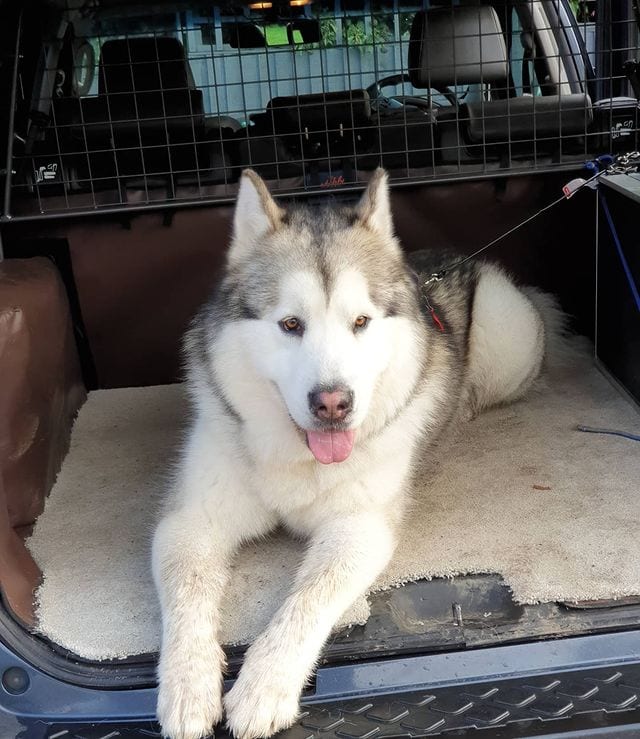 When it comes to dog travel barriers, the installation process can often be a bit of a letdown if you're not used to putting things together. Thankfully, the best products on the market come with easy-to-follow visual diagrams of how they need to be installed. You should always only use the parts provided with the barrier in question to prevent any accidents during transit.
What does universal fit mean?
While some dog travel barriers can only be used in certain vehicles, this is not the case for all of them. In fact, universal fit dog car barriers are some of the most popular products on the market, as they can fit both sedans and SUVs with relative ease.
What does barrier transparency mean?
At their core, dog travel barriers are designed to keep your dog in a particular area of the vehicle and prevent them from interfering with you while you drive. For this reason, many of these products come with transparent sections to allow your dog to see out through them while still keeping them contained within a safe area of the car.
What is the best pet barrier for a truck?
When it comes to using a dog travel barrier in a truck, most products aren't designed for this. Unless you've got an older model rig with an extended back office, then there probably isn't any dog travel barrier that would fit your vehicle. That said, some owners have had success by using some of the more universal style dog barriers with their trucks by simply attaching them to some headrests.
How to install a barrier?
When it comes to installing a dog travel barrier, the process should always start by placing the product in the back of your vehicle and setting up where you want your dog to be confined. From this point, it should be easy to tell how much space is needed between the barrier and any windows.
Frequently Asked Questions
Does the Subaru outback need a specific pet barrier?
I have a Greyhound that I'm looking to take into our Subaru Outback to keep her safe while driving. The barrier that comes with the car doesn't fit well with her. Has anybody used something like this before in your Subaru Outback? Was it effective at keeping your dog in the back? I was considering putting her in my lap, but I know that's incredibly unsafe.
I have a similar problem; my dog is very active, and she needs to be in the back, or she'll run around the car. I have a Subaru Outback 2011, and I was wondering if the barrier that comes with it would be okay, or do I need to get something different?
Answer: From what we've seen, there are two styles of barriers that you can purchase to keep your dog in the backseat – one type sits on top of the seats, and the other style hangs over the backseat.
From our personal experiences, we think it's best to get a barrier that hangs over the backseat because it makes the back area feel more 'enclosed' to your dog. As long as you get a dog travel barrier that meets the specs for your car, it should work just fine.
Other articles you might like:

Claudia Bensimoun is a writer who specializes in dog content and veterinary topics! Aside from writing for We Love Doodles, Claudia also writes for other major dog blogs like Fido Friendly, Animal Wellness Magazine, and the United States Dog Agility Association (USDAA). She has a ghostwritten over 50 different dog e-books. Her passions include animal welfare, veterinary research, and wildlife conservation.
Why Trust We Love Doodles?
At We Love Doodles, we're a team of writers, veterinarians, and puppy trainers that love dogs. Our team of qualified experts researches and provides reliable information on a wide range of dog topics. Our reviews are based on customer feedback, hands-on testing, and in-depth analysis. We are fully transparent and honest to our community of dog owners and future owners.