We've found seven great Golden Retriever rescues in South Carolina. These are great places to start looking for anyone who is ready to welcome their next Golden Retriever.
Golden Retrievers are the ultimate dogs. They are friendly, intelligent, and fairly easy to train. You can always buy a Golden Retriever puppy from one of the top breeders in South Carolina, but why not look into adoption first? Adopting a beautiful Golden Retriever from one of the many Golden Retriever rescues in South Carolina can help save a life.
Below is a list of reliable Golden Retriever Rescues in South Carolina (and we have also included some breed-specific shelters from North Carolina). Some of these organizations have a 501c (3) status. This means that they are a non-profit charity and you could get a tax exemption if you donate to them.
Before reading this list of Golden Retriever rescues in South Carolina, check out these dog-related recommendations from our team at We Love Doodles: Best Poodle Rescues in South Carolina and Dwarf Golden Retriever vs. Mini Golden Retriever.
7 Best Golden Retriever Rescues in South Carolina
Breed-specific rescues are quite common and there are several Golden Retriever Rescues in and around South Carolina. You can also contact the local general animal shelters in the state. Some of them might have a beautiful Golden Retriever or a GR mix waiting for a loving home.
Once you find a reliable organization, you might want to check out its website and social media pages. They often list photos of their available dogs. You can even visit the shelter and see the facility. The Goldens should appear healthy, well-fed, and clean. They should be examined by a vet, health tested, spayed or neutered, dewormed, and vaccinated.
The Golden Retrievers present at the shelter should have stable and loving dispositions. They should get along with kids, other dogs, cats, and other animals you might have in your family.
1. Grand Strand Golden Retriever Rescue
The Grand Strand Golden Retriever Rescue (GSGRR) in South Carolina is an IRS-approved 501(c)(3) non-profit Corporation run solely by volunteers.
They are dedicated to the rescue, rehabilitation, and placement of Golden Retrievers in need. The organization provides you with tax deduction benefits if you choose to donate to this wonderful charity. The reliable organization only rehomes healthy and trained Golden Retrievers so you are assured of getting a healthy and sweet-natured Golden.
Grand Strand Golden Retriever Rescue is funded solely by donations. They use these donations to pay for the medical treatment, care, and shelter of rescued Goldens. Their primary aim is to rehome the Goldens they rescue but they even have many permanent residents which cannot be matched to any homes due to health or temperament issues.
Currently, they have many puppies and senior Goldens available. This organization has pulled some of its dogs from kill shelters in and around South Carolina. So, please consider adopting from GSGRR.
Grand Strand Golden Retriever Rescue Details:
2. Foothills Golden Retriever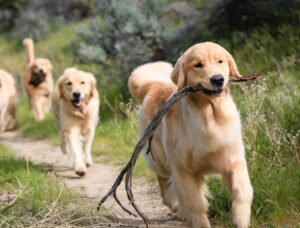 Foothills Golden Retriever Rescue is a not-for-profit 501 c 3 organization that is run by a board of trustees and a group of dedicated and passionate volunteers committed to the Golden Retriever breed. The organization was established in 2000. Since then, they have rescued and rehabilitated hundreds of Golden Retrievers.
The team at Foothills Golden Retriever Rescue rescues Golden Retrievers that are abused or abandoned or whose owners are sick or unable to care for their dogs.
The volunteers then provide necessary veterinary care and training to unwanted, neglected, abused, homeless, and displaced Golden Retrievers and make sure to find loving homes for them.
Their dogs are fully vet checked, dewormed, spayed or neutered, and treated for external parasites. A trainer assesses the dog's compatibility with other dogs, cats, and kids. They only put each Golden up for adoption after a thorough assessment.
Consider donating or fostering some Golden Retrievers or help out at the shelter in any way you can. If you wish to surrender your Golden Retriever for some reason, they will help you without judging.
Foothills Golden Retriever Details:
3. Grateful Goldens Rescue
Also known as GGR, the Grateful Goldens Rescue has been rescuing Golden Retrievers in the Carolinas and Georgia area for several years now. Their mission is to rescue, rehabilitate, and rehome Golden Retrievers and Golden mixes into loving, forever homes.
Kerry Mensching founded this wonderful organization almost 20 years ago. Over her lifetime, she helped rescue hundreds of Goldens and Golden mixes. Today loving volunteers continue Kerry's work and the organization has received rave reviews and testimonials about the wonderful work they are doing.
If you wish to volunteer, donate, adopt, or foster a Golden, please contact Grateful Goldens Rescue on the details below.
Grateful Goldens Rescue Details:
4. Midlands Golden Rescue
As their name indicates, this wonderful organization has been rescuing Goldens from in and around the midlands of South Carolina. They rescue and rehome Goldens that are lost, abandoned, alone, or living in shelters.
Mary B. Williams, the founder of Midlands Golden Rescue has received numerous awards, recognition, and appreciation for doing the wonderful work she has been doing. Her goal to become a 501 c 3 organization will soon see fruition thanks to the efforts put in by Mary and her team of volunteers.
Do consider volunteering for Midlands Golden Rescue. You could even donate, shop, or help in other ways like fostering a Golden till they find a loving home for it. Their team of volunteers can assist you if you need to surrender your Golden Retriever.
Midlands Golden Rescue Details:
5. Lovable Paws Rescue and Sanctuary
Lovable Paws Rescue and Sanctuary is not a breed-specific organization. However, they often have rescued Golden Retrievers or mixed breeds of other dog breeds and Golden Retrievers awaiting loving homes.
The Rescue Shelter and Sanctuary is a non-profit shelter with 501 c 3 status. This no-profit shelter is also a no-kill shelter that believes that every dog deserves another chance. All of their dogs are spayed or neutered, microchipped, and up-to-date on all shots. The wonderful South Carolina-based organization has helped rehome hundreds of thousands of dogs.
Please contact Lovable Paws today to see if they have a Golden Retriever for you.
Lovable Paws Rescue and Sanctuary Details:
6. Triad Golden Retriever Rescue
TGRR is located in North Carolina. They are a 501(c)(3) non-profit, welfare charity. Over the past few years, they have rehomed and rescued more than 2500 Golden Retrievers.
The TGRR not only rescues, rehabilitates, and rehomes Golden Retrievers, but also educates the public about caring for them. Whether you have to surrender a Golden or wish to make a donation, please contact them on the details given below:
Triad Golden Retriever Rescue Details:
7. Neuse River Golden Retriever Rescue
NRGRR is a 501(c)(3) organization in North Carolina. The team has been working to rescue, rehabilitate, and rehome abandoned and neglected Goldens. They also advocate responsible dog ownership and work to protect all dogs. Contact Neuse River Golden Retriever Rescue to check if they can transport a rescued Golden to you in South Carolina.
Each year, this organization hosts a fundraising golf tournament and a gala. These events raise money and awareness for their Golden Retriever rescue. They also have regular meet and greet events to easily meet their adoptable dogs. Find their next event on their homepage.
Neuse River Golden Retriever Rescue Details:
FAQs About Golden Retrievers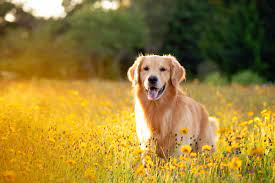 Are two walks a day enough for a Golden Retriever?
Golden Retrievers need at least 3 walks of 15-20 minutes each. The number of walks also depends on your dog's age and overall health status.
What are the disadvantages of owning a Golden Retriever?
Golden Retrievers are large dogs that need plenty of food and rigorous daily exercise. They also need a great deal of mental stimulation without which, they tend to get depressed. Goldens also shed massive amounts of hair seasonally. Many Goldens are prone to separation anxiety and need a lot of attention.
Does adopting a dog make them happy?
Yes, most dogs are very happy after being adopted from a shelter. They appreciate freedom and attention. Most dogs are grateful to be welcomed into a home.
What is the 3 3 3 rule for adopted dogs?
Adopted dogs will feel nervous and overwhelmed for up to 3 days after being adopted. They will require at least 3 weeks to settle down in your home and might take 3 months to bond with you.
Conclusion For "Best Golden Retriever Rescues in South Carolina"
Golden Retrievers make great companions because they are smart, loving, and docile dogs. There are many great Golden Retriever Rescues in South Carolina to choose from. Adopting a dog is a great idea because it gives them a home, keeps euthanization rates down, and is sometimes more affordable than buying a puppy from a reputable breeder.
Reputable organizations vaccinate their dogs, assess them, and provide veterinary care. They also require an application that will ask about what you are looking for in your next rescue dog.
You can start your search by contacting one of the Golden Retriever Rescues in South Carolina listed above. We hope this guide helps you find a wonderful Golden Retriever to welcome into your heart and home.
For guides similar to this list of Golden Retriever rescues in South Carolina, you can check out these other Golden Retriever recommendations from our team:
Before you adopt a Golden Retriever from a rescue shelter in South Carolina, learn more about this dog breed by watching the "10 Fun Golden Retriever Facts you Didn't Know" video below:
Garrett loves animals and is a huge advocate for all Doodle dog breeds. He owns his own Goldendoodle named Kona. In addition, he volunteers at the Humane Society of Silicon Valley, where he fosters dogs and helps animals. Garrett enjoys writing about Doodles and believes that dogs can teach humans more about how to live than humans can teach a dog.
Why Trust We Love Doodles?
At We Love Doodles, we're a team of writers, veterinarians, and puppy trainers that love dogs. Our team of qualified experts researches and provides reliable information on a wide range of dog topics. Our reviews are based on customer feedback, hands-on testing, and in-depth analysis. We are fully transparent and honest to our community of dog owners and future owners.