Goldendoodles are becoming more popular amongst the Poodle mixes in today's day and age. Families, couples, and dog enthusiasts from all over the world appreciate its intelligence and curly hair appearance for these mixes. While Goldendoodles are known to be intelligent dogs, many families with children are questioning if this Poodle mix will fit in well. After all – are Goldendoodles good with kids?
Yes, Goldendoodles are good with kids due to their friendly, energetic,  and loyal personalities. In fact, they're known to be family dogs. With the ability to adapt to new environments and easily trainable, the Goldendoodle is perfect for beginners (kids) and experts alike. Not only are they great with kids but Goldendoodles are hypoallergenic, which could help lessen allergies for sensitive people. Due to its energetic behavior, having kids in your household will continuously bring joy and happiness. You'll get to watch your kid grow up with your Goldendoodle for many years to come.
Other articles you will like: Best Puppy Food for a Goldendoodle and Golden Retriever vs Goldendoodle.
Goldendoodle's Temperament 
Mixed between the Golden Retriever and Poodle, the Goldendoodle's personality is a mixture of intelligence and energy. They have the right temperament for families with children, which makes them perfect in these environments. Due to Goldendoodles being smart and social dogs, they're easily trainable and can quickly bond with their owners/acquaintances.
Since Goldendoodles are social dogs filled with energy, try not to leave them alone because it could cause them to experience separation anxiety. By being partially Golden Retriever, they love playing with their owner when it comes to running, swimming, or fetching. You can have your children train your Goldendoodle since they learn quickly and can get along with just about anyone. Even if you have other pets at home with your children, your Goldendoodle will get along with them just fine.
Goldendoodles With Children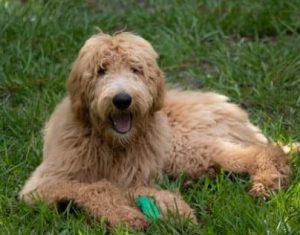 Whether you're in a family of children or babies, you might wonder if it's a good idea to introduce your Goldendoodle to your home. It all depends on the situation. Before you bring home a Goldendoodle puppy, you'll have to make sure that your children learn how to be careful around them. You should teach them how to be gentle, not playing rough, etc.
When the Goldendoodle grows up, keep in mind that they might develop a habit such as jumping onto their owner, guests, and potentially small children. This can be dangerous. You have to keep an eye out if you have small children around them. Even if kids don't mind, injuries can happen if your companion is running at a quick speed to jump onto children around your house. Goldendoodles get extremely excited and sometimes can't control their energy.
Another reason why Goldendoodles can be great with kids is due to  their hypoallergenic coats. Unlike adults, kids are likely to be more sensitive to fur and pet dander. Since Goldendoodles have curly coats, there won't be much shedding when compared to other dogs with straight coats.
Goldendoodles With Other Dogs
Aside from being good with children, potential Goldendoodle owners are wondering how it'll react with other dogs at home. It's been mentioned numerous times across Goldendoodle communities that they do get along with other breeds. A properly socialized Goldendoodle typically will get along with other dogs.
However, we recommend that you introduce your Goldendoodle to another dog while it's still a puppy. It'll help improve their social skills at an early age. Since dogs are naturally territorial animals, you should introduce both dogs to a less territorial area. It's recommended that you keep both dogs on a leash because you won't know how they'll react once they meet each other for the first time.
Goldendoodles With Cats
We know Goldendoodles are good with children, can get along with dogs, but what about cats? That's three "yes"! Goldendoodles can get along well with cats in case you didn't know. Our Goldendoodle has played with several cat breeds including a Bengal, Maine Coon, Norwegian Forest, and other rescued cats.
While your Goldendoodle has a friendly temperament, your cat's personality could be different. Certain cat breeds might get along better with Goldendoodles. If your cat has a loving and playful temperament, then it'll fit in well with your Goldendoodle. These similar temperaments will help them get along well.
The best way to introduce your cat and Goldendoodle is to keep them separated at first. You can keep them both in a crate, so they can get used to each other's scent. Pay attention. If your Goldendoodle and cat both appear to be calm, you can take them out of their crates. Within the next several days, try to keep your Goldendoodle leashed in your home with your cat wandering around. This will help them slowly adapt to living in the same environment.
Frequently Asked Questions
Are Goldendoodles aggressive?
Goldendoodles aren't aggressive. They're known for their intelligence and friendliness. Goldendoodles interact well with people, cats, and dogs while they crave attention. Typically, people think Goldendoodles are aggressive when they are going through their puppy teething phase and nipping at people or chewing on objects. However, in general, Goldendoodles are not an aggressive dog breed when properly socialized.
Are boy or girl Goldendoodles better?
When it comes to temperaments, there are no differences. Every dog is different. Male Goldendoodles tend to grow slightly larger than female Goldendoodles. It all comes down to your personal preference.
What is the Goldendoodle's mix?
The Goldendoodle is mixed between a Golden Retriever and a Poodle. The Golden Retriever was bred in Scotland in the 19th century while the Poodle is believed to have come from Germany or France.
How long do Goldendoodles live?
The average life span of a Goldendoodle ranges from 10 to 15+ years. By keeping your Goldendoodle healthy, you can help them live a longer life.
Conclusion: Are Goldendoodles Good With Kids?
For many potential Goldendoodle owners, bringing home a puppy can sometimes be a difficult decision when you have children around. You're constantly worrying about what would happen and what it'll be like raising a dog and small child at the same time. To help ease your mind, Goldendoodles are friendly and can adapt to new environments with children, dogs, and even cats. They don't like to be left alone, which means that they're always in need of attention.
With proper training, you can show your kids how to teach your Goldendoodle puppy new commands. They're great as family pets and they serve well as therapy dogs filling in people's emotional needs. You might consider your Goldendoodle to be your best friend but it'll also be your child's. Your best seat in the house is being able to watch your kid and dog grow side-by-side while the clock ticks and the calendar page rips. And of course – bringing home a Goldendoodle puppy will be the beginning of a new chapter in your life.
For guides and info related to "Are Goldendoodles Good With Kids," visit:
Garrett loves animals and is a huge advocate for all Doodle dog breeds. He owns his own Goldendoodle named Kona. In addition, he volunteers at the Humane Society of Silicon Valley, where he fosters dogs and helps animals. Garrett enjoys writing about Doodles and believes that dogs can teach humans more about how to live than humans can teach a dog.
Why Trust We Love Doodles?
At We Love Doodles, we're a team of writers, veterinarians, and puppy trainers that love dogs. Our team of qualified experts researches and provides reliable information on a wide range of dog topics. Our reviews are based on customer feedback, hands-on testing, and in-depth analysis. We are fully transparent and honest to our community of dog owners and future owners.