Have you heard of a Dwarf Golden Retriever? It turns out the phrase everything is cuter in tiny packages isn't just for advent calendars. It also applies to America's sweetheart, the Golden Retriever. The dwarf Golden Retriever condenses the trademark Golden Retriever personality into bite-sized pieces.
Dwarf Golden Retrievers are fundamentally different from Miniature Golden Retrievers. Dwarf Golden Retrievers are genetically affected by dwarfism. However, Miniature Golden Retrievers are created by breeding Golden Retrievers with small dogs.
The genetic composition can affect the temperament and health of Dwarf or Miniature Goldens. You can secure a mini Golden from an experienced breeder and identify dwarfism in your dog through genetic testing.
Our comprehensive guide below will expand on the seven facts that should get you up and running on all there is to know about the dwarf Golden Retriever. So, gear up to learn something new today.
Before reading about interesting facts about the Dwarf Golden Retriever, you can check out these other Golden Retriever guides from our team at We Love Doodles: What Makes An Ugly Golden Retriever? and Are Golden Retrievers Smart?.
What is the Difference Between Dwarf and Mini Golden Retrievers?
Right off the bat, we have to make this difference as clear as possible. Every Golden Retriever that seems small to you while walking down the street is not a dwarf Golden. The term "Dwarf Golden Retriever" is not interchangeable with the term "Miniature Golden Retriever."
Numerous folks equate Mini Golden Retrievers with Dwarf Golden Retrievers while researching them. While both of these dog breeds are small in stature, there are substantial variances in their health and disposition, and it is critical to understand.
Simply put, Dwarf Goldens are purebred Golden Retrievers that naturally suffer from dwarfism. Miniature Goldens, on the contrary, are Golden Retrievers that are intentionally crossbred with another breed with the goal of introducing a dwarfism-causing gene disorder.
This is typically done by Miniature Golden Retriever breeders to fulfill the demand for these tiny puppies. Breeders typically aim to introduce the dwarfism gene while still keeping the dogs 75% Golden Retriever.
Dwarf Golden Retrievers
Dwarfism in dogs is classified into two types: chondrodysplasia and chondrodystrophy. Both varieties appear to be identical, yet they are created by distinct genetic changes. The mutations are seen in practically all dwarf dog breeds, including Corgis and Dachshunds. They are also found in a small number of other dog breeds, notably Labrador Retrievers.
Dwarf Golden Retrievers naturally suffer from dwarfism, where the cartilage has formed improperly and stunted their growth. While these mutations may naturally occur in Golden Retriever lineages, they are very rare. This is why there are high chances that you have never seen a Dwarf Golden Retriever, or mistaken a cross-bred Miniature Golden Retriever for a dwarf one.
If you believe your Golden Retriever is exhibiting signs of dwarfism, you might want to make use of a genetic screening test to discover the answer. Regardless of the results, your Golden should receive your utmost love and attention.
Miniature Golden Retrievers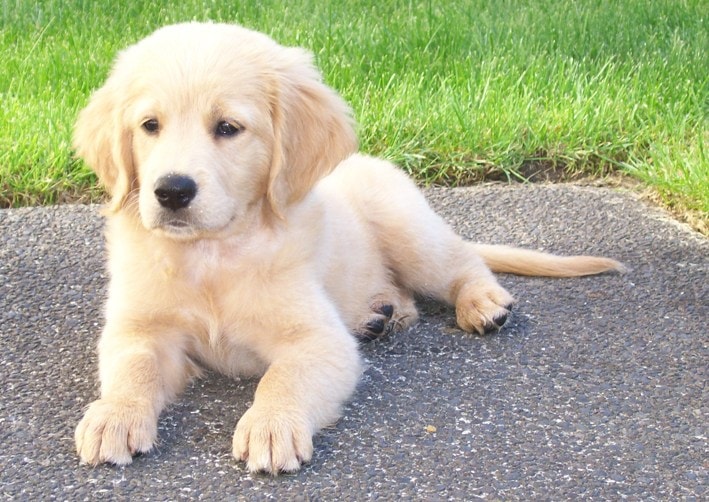 Chondrodysplasia is a dominant genetic feature, which means that puppies only have to inherit the dwarf gene from one parent to have stumpy legs. The chondrodystrophy gene is semi-dominant.
This means that dogs with one of the gene's copies have legs that are shorter than expected, although the actual size of their legs varies across the litter. In practice, a Miniature Golden Retriever would look like a full-sized Golden Retriever in proportions and dimensions, but would only be around 16 inches tall.
This brings us to understand a separate term "Miniature Golden Retriever." Miniature Golden Retrievers are called "designer dogs" since they are developed especially from two established breeds. A Miniature Golden Retriever is produced when a purebred Golden Retriever is crossbred with a canine with dwarfism genetics.
There Are Various Types of Miniature Goldens
There have been several Miniature Golden Retriever combinations since the initial hybrid combination between a full-sized Golden Retriever and a dog with dwarfism traits introduced by Kathy Burgess in 2003.
Golden Cocker Retriever
Golden Retrievers that are cross-bred with Cocker Spaniels are kind, affectionate, and smart dogs. They thrive in lively households where the lifestyle allows the humans to take their dogs outside for activity. It's good to note that behavior problems can occur in some American Cocker lineages. Nevertheless, they are all energetic dogs, and your little Golden Retriever may inherit this feature.
Comfort Retrievers
Comfort Retrievers is a name exclusively reserved for breeds resulting from a mix between a purebred Golden Retriever and a Poodle. These Golden Retriever and Poodle mixes are both peaceful and energetic in the home.
Their intelligence appeals to many people who want an attentive dog who can rapidly learn tricks. They are keen to serve their humans but may require extensive socialization to be equally eager to spend time with others. The Golden Retriever Poodle combination is often intelligent, cooperative, and somewhat active.
Golden Dox
A Golden Dox is a Golden Retriever/Dachshund cross. Physically, it will sport longer ears, and mentally, it has an autonomous and active personality, to put it mildly. To be comfortable, this mix necessitates a great deal of care from its humans.
Golden Corgi
As the name suggests, a Golden Corgi is a cross between a Golden Retriever and a Corgi. A Golden Corgi is gregarious, enjoys companionship, and is a sharp dog. Despite its stature, this dog will love to play and run.
This Mini Golden Retriever will be easy to train but will have a higher prey drive because of the Corgi breeding. They will make a great companion, even in smaller spaces, as long as they get enough exercise.
Goldenshire
The Goldenshire (a golden hybrid Yorkshire Terrier) is more laid-back and amiable, clever, and learns orders quickly, making them ideally suited for a family. This mixed breed will be a loyal companion but may have some of the Yorkie's attitude.
When socialized well, this dog will likely get along with other dogs. While it's a good family companion who will enjoy playing, this mix will be more likely to end playtime early.
Golden Chi
A Golden Chi is a mix between a Golden Retriever and a Chihuahua. It is a happy, gregarious dog with a feisty side and may be more energetic than a purebred dog, so it may not learn boundaries. This being said they are adorable dogs that look like slightly larger, more stout Chihuahuas with tufted fur.
They are typically cream-colored, but their color will depend on the parent dogs. This smaller dog will have lower grooming needs than a typical Golden Retriever.
Golden Chis are smart dogs that will generally be easy to train. They are also great with kids, however, they may be snappy like a Chihuahua at times. They have a lot of energy, so exercise will be necessary.
Breeders Aim for Cross-bred Mini Goldens To be Approximately 75% Golden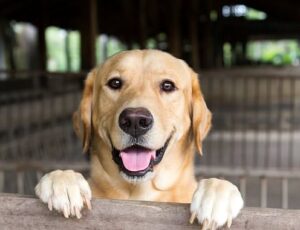 While combined breeds cannot be recognized by the American Kennel Club, the Designer Dogs' Kennel Club recognizes one variant of the Mini Golden. Because it is a crossbreed of the Golden Retriever and the Goldendoodle, the puppies are 75% Golden Retriever.
So, while in theory, a Golden Retriever might be crossed with a Corgi, Daschund, Beagle, Poodle, or Basset Hound, among other breeds; Miniature Golden Retrievers are generally only mated with purebred dogs such as Poodles and, on rare occasions, Cocker Spaniels.
The Temperament of Mini Goldens is Reliant Upon Genetics
Based on the Golden Retriever gene being more dominant or recessive, the outcome might differ regarding stature and personality. Particularly in a scenario where Golden Retrievers have been crossed for generations, you will almost certainly find dogs with a wide range of temperaments and physical characteristics.
As a result, a Golden mix may appear to be a lot like a Corgi, with a longer, smoother coat or the dense, tight curls of a Poodle's fur. They may also be less docile than a Golden Retriever.
Some dog breeders oppose Miniature Golden Retrievers because they are more unpredictable in temperament than purebred dogs. When picking a miniature golden, examine the temperament of each breed.
You may receive any combination of traits, and you must be comfortable with all of its shenanigans before embracing your tiny Golden. Crossbred Golden Retriever puppies must also be socialized early and exposed to a variety of people, places, and activities to avoid any temperament issues from developing into maturity.
Dwarf and Mini Golden Retriever Health Issues
Oftentimes, if the parents are properly checked for any breed-specific diseases, there is no need to assume the puppies are less fit companions.
Golden Retrievers, as delightful as they are, are not without health risks. This breed's parent should have excellent hip and joint scores, a thorough eye exam, be PRA cleared, and not have a cancer history in their lineage. Cancer is unfortunately common in Golden Retrievers, and it is anticipated that mixing them with other breeds would minimize this risk, although there is no significant empirical evidence.
Health Issues In Dwarf Golden Retrievers
In addition to the health issues that are typical for Golden retrievers, Dwarf Golden Retrievers are at risk for a few other health issues. Breeding for dwarfism has hazards like spinal abnormalities, dental difficulties, and respiratory problems. This makes it critical to make your decision to buy a Dwarf Golden Retriever with discretion.
Health Issues in Miniature Golden Retrievers
Crossbred Goldens can have a higher likelihood of avoiding recessive health issues due to a bigger gene pool. However, they can still inherit common health issues of both parent dogs.
Hip dysplasia is a good example that affects all dog breeds, but it should be kept in mind for Poodle mixes. Furthermore, many Poodles have serious eye issues. Another thing to be aware of is idiopathic epilepsy, which can trigger seizures.
Von Willebrand's disease, a bleeding illness, is another prevalent problem among Poodles. Hormonal imbalances and bloating are also frequent, and toy and tiny Poodles are also prone to orthopedic issues. For instance, Legg-Perthes disease causes the femoral head to deteriorate.
Cocker Spaniels are generally healthy canines, although they do require strong hip scores and a recent clean eye exam before breeding. Eye issues are frequent in Spaniels, and screening can help prevent them. They ought to also have no background of liver illness or blood coagulation issues in their family.
Ethical Breeders of Dwarf Golden Retriever or Miniature Golden Retrievers
Looking online for tiny Golden Retriever breeders in your area is the easiest way to find them. Miniature Golden Retriever rescues are not common in most locations since small Goldens are still uncommon. You might still be able to discover one near you at a Golden Retriever rescue or humane society.
More often than not, your best bet is to acquire a Dwarf Golden Retriever from a breeder. However, you must be very cautious to follow all of the proper procedures. It goes without saying that buyers should be aware of the potential for puppy mills and backyard breeders to breed these dogs in inhumane conditions.
Furthermore, when searching for a breeder, make sure to have numerous inquiries regarding both parents' medical exams and genetic tests. If your breeder appears to be making excuses for the lack of either of these, you should look elsewhere.
The most well-known Miniature Golden Retriever is the Comfort Retriever, which is owned by GoldenQuest. Their exact pedigree is unknown, however, the puppies come with a 2-4 year health guarantee to compensate. They differ from a Goldendoodle because the lineage is more Golden Retriever, whereas a Goldendoodle is usually closer to 50/50.
A Comfort Retriever from the original Comfort Retriever breeder will set you back at least $5000. These puppies seldom wind up in shelters because the owners are bound by the agreement to return them to the breeders if they are unable to keep them.
The Miniature Golden Retriever is still a very new concept. As the reputation of Mini Goldens rises, so will the number of replica breeders. All breed pairings – Golden Retriever, Poodle, and Cocker Spaniel – are viable, but the goal, as mentioned earlier, is to produce puppies that are approximately 50-75% Golden. Therefore, breeders are very careful with their crossbreeding mixes.
Why are Dwarf Golden Retrievers so Popular?
There is a reasonable justification for why Golden Retrievers are so beloved. They are a great dog breed for many households. Golden Retrievers are excellent companion animals for most families since they are amiable, laid-back, and intelligent. They are comfortable in houses with other animals and children since they are so versatile. Even better, Dwarf Golden Retrievers are extremely loyal, and their cute faces are just the cherry on top.
Getting any pet, let alone one that you have potentially no experience with, is a commitment that comes with a whole lot of uncertainty and insecurity about your decision. Dwarf Golden Retrievers are happy-go-lucky dogs that make a solid candidate for anyone's best friend for the next 10-12 years.
However, it is important to consider dwarfism may put them at additional health risks. This assessment will help you reflect on whether you are comfortable with them and have the capacity to provide for them when required.
FAQs
Is there a Dwarf Golden Retriever?
Yes. Dwarf Golden Retrievers are Golden Retrievers that are genetically dwarf dogs. They are becoming more popular, so some breeders specifically breed dwarfism into their dogs.

Not to be mistaken with Mini Golden Retrievers, which are mixed with short dog breeds for smaller stature.
What is the personality of a Mini Golden Retriever?
A Mini Golden Retriever's personality will depend on which dog breed the Golden was mixed with. However, Mini Golden breeders aim for their puppies to be about 75% Golden Retriever, so the dog's disposition is most likely going to be similar to the Golden Retriever heritage.
What is a Comfort Retriever?
A Comfort Retriever is a Miniature Golden Retriever. This mixed breed is typically part Golden Retriever, part Poodle. The term Comfort Retriever comes from the name of the breeding organization that was the first to breed a Mini Golden Retriever.
Conclusion For "Dwarf Golden Retriever vs. Miniature Golden Retriever"
If you are hoping to adopt or purchase a Dwarf Golden Retriever, this guide should have helped you cover all the possible areas of consideration. Maybe it helped you choose between a Dwarf Golden Retriever and a Miniature Golden Retriever. If you're going mini, we hope this guide helped decide what type of mix you are enchanted by.
At the end of the day, these pint-sized dogs bring joy and happiness to those around them with their playful and silly antics. Like any other dog, their wagging tail and big, loving eyes will melt your heart, bring a smile to your face, and make you thank the stars for their company.
For more dog-related guides from our team at We Love Doodles, you can check out:
You can learn more about the Golden Retriever dog breed by watching "All About Golden Retrievers" down below:
Garrett loves animals and is a huge advocate for all Doodle dog breeds. He owns his own Goldendoodle named Kona. In addition, he volunteers at the Humane Society of Silicon Valley, where he fosters dogs and helps animals. Garrett enjoys writing about Doodles and believes that dogs can teach humans more about how to live than humans can teach a dog.
Why Trust We Love Doodles?
At We Love Doodles, we're a team of writers, veterinarians, and puppy trainers that love dogs. Our team of qualified experts researches and provides reliable information on a wide range of dog topics. Our reviews are based on customer feedback, hands-on testing, and in-depth analysis. We are fully transparent and honest to our community of dog owners and future owners.