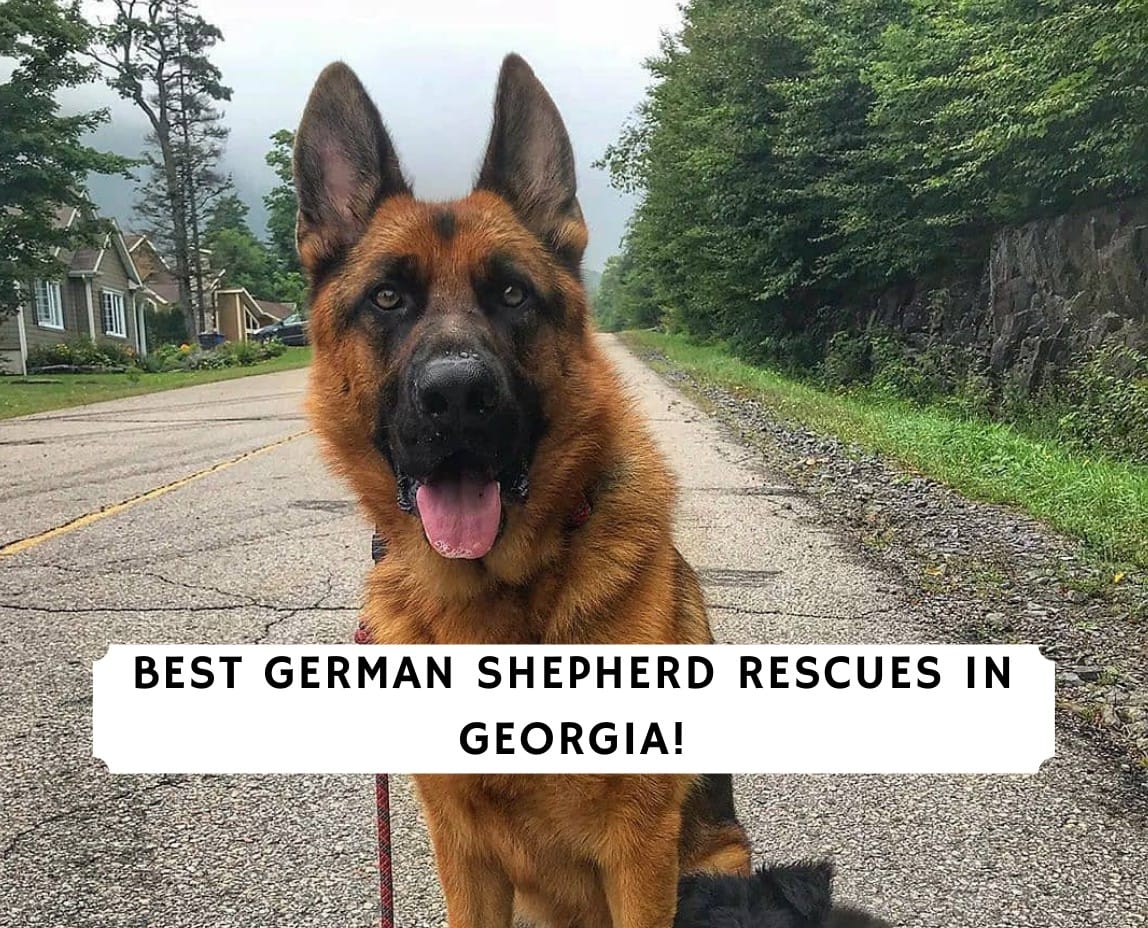 Are you looking for an obedient, loyal, and intelligent large dog? If you are looking for a big dog with any of these characteristics, then a German Shepherd rescue may be right for you.
German Shepherds are notorious K-9 unit dogs, so they have a tendency to be watchful, obedient, and resourceful. These working dogs have high exercise needs, so if you live in a rural area or have a house with a nice yard, a German Shepherd will be very happy with you.
Since German Shepherds are such a popular dog breed, many of them end up at rescues or shelters because their owners can no longer care for them or breeders will "retire" a dog in a shelter. If you're looking for German Shepherd rescues in Georgia then check out the resources below. 
Other articles you would like: Best Dog Food for German Shepherds with Skin Allergies and Goldendoodle Breeders in Georgia.
1. German Shepherd Dog Rescue of Georgia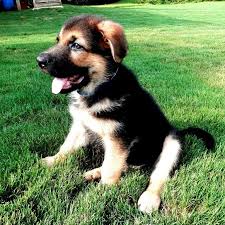 The German Shepherd Dog Rescue of Georgia is a non-profit organization that rescues German Shepherds throughout the state, particularly around Atlanta, Georgia. This organization focuses on finding German Shepherds that have been abandoned or surrendered and finds them loving homes to live the rest of their lives in.
Every dog in the care of the German Shepherd Dog Rescue of Georgia is up-to-date on their vaccinations, spayed or neutered, and started on a heartworm prevention routine.
If you are interested in adopting a dog from the German Shepherd Dog Rescue of Georgia, you will have to fill out an application form that can be found on their website. After completing this application, the organization will contact the references that you have named to verify your credentials. This is to ensure that you have been truthful on your application. The more truthful you are when applying for a dog at the German Shepherd Dog Rescue of Georgia, the more likely you will be paired with a dog that matches your wants and needs.
Rescue dogs in the care of the German Shepherd Dog Rescue of Georgia are kept in foster homes where they are assessed for personality. Knowing a dog's personality and quirks help the organization to match the dog to its perfect potential adopter. If you apply to adopt and the organization does not have a dog that fits your personality, you will be put on a list. When a German Shepherd rescue does arrive that matches your personality, the organization will contact you.
If your application is approved, you will have to schedule a meet and greet at the foster home where the dog is staying. After the meet and greet, the organization will conduct a home inspection to ensure that your house is suitable for a German Shepherd. If you live in an area more than two hours from Atlanta, the organization will enlist a local shelter to conduct the home inspection. The German Shepherd Dog Rescue of Georgia does not adopt to anyone outside the state of Georgia.
German Shepherd Rescue Details
Address: PO Box 785 Roswell, GA 30077
Email: info@gashepherd.org
2. Canine Pet Rescue (CPR) Georgia
The Canine Pet Rescue (CPR) is an organization that saves German Shepherd rescues from euthanasia lists in the Southern part of the United States. Every dog in the care of Canine Pet Rescue is given all vaccinations, spayed/neutered, and started on heartworm prevention. Canine Pet Rescue does not have one specific physical location. Instead, all the dogs are kept in foster homes until they are adopted by their new family. This organization is essentially a network of volunteers.
Before adoptions can take place, each German Shepherd rescue is assessed for temperament and personality. This assessment can help the organization understand the specific needs of individual dogs. Every dog in the care of the Canine Pet Rescue is also trained in basic obedience. Oftentimes, people surrender their German Shepherds because they think they are "bad dogs" when, in reality, these dogs just need thorough training to thrive. Providing dogs with basic obedience training before adopting them can reduce the dog's chance of being surrendered again.
This organization does not adopt German Shepherds to any houses with indoor cats. German Shepherds have natural hunting instincts. The organization cannot guarantee that a surrendered dog will be safe around an indoor cat. For your cat's safety, please keep this in mind before adopting a German Shepherd rescue in Georgia. They also need to be safely introduced to small dogs for the same reason. The organization will organize a safe meeting where the German Shepherd can meet any small family dogs before adoption.
The Canine Pet Rescue typically does not adopt female German Shepherds to households with other female dogs because they often don't get along. They will never adopt a male German Shepherd to a household with another male dog who is not neutered.
If you fit the above criteria, fill out an online application on the Canine Pet Rescue website so you can start the process of adopting your very own German Shepherd!
German Shepherd Rescue Details
Website: Canine Pet Rescue Georgia
Address: P.O. Box 248, Lawrenceville, GA 30046
Email: apply@caninepetrescue.com
Telephone: 1-855-435-7473
Georgia German Shepherd Rescues and Shelters
If you live in Georgia, you may also want to check out some local animal shelters in your area. Unfortunately, German Shepherds are a common breed to find in general animal shelters and rescues because people do not understand these dogs' breed-specific needs. Often, people do not know of breed-specific shelters, so they surrender German Shepherds to general animal shelters. Below you can find a list of German Shepherd adoptions in Georgia that can help you find your new best friend!
This organization's goal is to educate the public to create caring and responsible pet ownership.
The Atlanta Humane Society is a no-kill shelter with three locations near and around Atlanta, GA, where you can find animals to adopt.
Website: https://atlantahumane.org/
Address:

Alpharetta Location: Atlanta Humane Society, 1565 Mansell Road, Alpharetta, GA 30009
Duluth Location: Atlanta Humane Society, 2148 Duluth Highway, Duluth, GA 30097
West Midtown Location: Atlanta Humane Society, 981 Howell Mill Road NW, Atlanta, GA 30318

Email: contact@atlantahuorg
Telephone: (404) 875-5331
This non-profit organization rescues animals in and around the Southeast. They have multiple locations near Atlanta, Georgia.
Website: https://furkids.org/
Address: Fur Kids have multiple locations around Georgia. Below you can find dog-specific shelter locations.

Dog Shelter/Sadies' Place: 1520 Union Hill Rd., Alpharetta, GA 30005
Peachtree Corners Pet Adoption: 4015 Holcomb Bridge Road, Suite 390, Peachtree Corners, GA 30071

Email: dogadoptions@furkids.org
Telephone: 770-613-0880
This organization focuses on creating a community that enriches pets and pet-lovers' lives.
Why Do People Put German Shepherds Up For Adoption in Georgia?
Unfortunately, many people get German Shepherds without understanding the time and effort needed to train them. There are many German Shepherds in shelters around the country and especially in Georgia.
These are huge dogs that do not like small spaces. Therefore, people might get German Shepherds but discover they do not have the space to keep the animal happy. Along with physical space, these dogs need immense amounts of exercise. If a German Shepherd does not get the exercise it needs, it can begin to misbehave and cause destruction around the house. This is not the dog's fault, it just doesn't have its needs met. These specific needs result in many German Shepherds being brought to animal shelters.
Additionally, German Shepherds can be very territorial. If you do not know how to train a German Shepherd, your dog may end up developing aggressive behavior problems. People will surrender these dogs because they think they are mean, but they are really poorly trained. If you decide to get a German Shepherd, understand that they need to be socialized. Unfortunately, socialization works best when done at a young age, but don't be discouraged. These German Shepherd rescues still have lots of love to give.
German Shepherds are also brilliant dogs. Along with exercising their bodies, you will need to exercise their minds. If German Shepherds are left without a job or task, they will focus their attention on other things, which can sometimes be destructive. A bored German Shepherd can begin to chew and dig where they are not supposed to. People often get these dogs without knowing about their specific needs and end up surrendering them because of these behaviors.
Conclusions for German Shepherd Rescues in Georgia

If you have done your research and have decided to provide a suitable home for a German Shepherd rescue in Georgia then check out a shelter on our list. As you can see with the resources above, many German Shepherds are looking for loving homes in Georgia. Have a look, and you can find a loyal best friend!
Check out these other articles:
Garrett loves animals and is a huge advocate for all Doodle dog breeds. He owns his own Goldendoodle named Kona. In addition, he volunteers at the Humane Society of Silicon Valley, where he fosters dogs and helps animals. Garrett enjoys writing about Doodles and believes that dogs can teach humans more about how to live than humans can teach a dog.
Why Trust We Love Doodles?
At We Love Doodles, we're a team of writers, veterinarians, and puppy trainers that love dogs. Our team of qualified experts researches and provides reliable information on a wide range of dog topics. Our reviews are based on customer feedback, hands-on testing, and in-depth analysis. We are fully transparent and honest to our community of dog owners and future owners.