If you're looking for a loyal, intelligent, active dog, then a German Shepherd is the breed for you! We're here to help you start your search for German Shepherd breeders in Toronto.
German Shepherds are versatile dogs that can be trained for search and rescue, police work, bomb defusion, and service work. These handsome dogs are among the most popular breeds worldwide and make great family pets. Moreover, they are protective of their families and make excellent guard dogs.
If you're considering adopting a German Shepherd, here are some things to remember. First, German Shepherds are high-energy dogs that need plenty of exercise. Second, they are working dogs by nature and need a job to be happy and fulfilled. If you don't have the time or energy to give your German Shepherd enough exercise, this may not be the breed for you.
German Shepherds also need plenty of socialization. They are intelligent dogs that learn quickly, but without proper training, they can become stubborn and destructive. These large dogs also require space, and won't be suited to life in small apartments or homes with little yard space. On the other hand, a German Shepherd is perfect if you're looking for a devoted companion.
Here is a list of authentic breeders raising German Shepherd puppies in Toronto.
Before scrolling down this list of German Shepherd breeders in Toronto, check out: 6 Best German Shepherd Rescues in Canada (2023) and Why Is My German Shepherd Skinny? (2023).
1. Citywide German Shepherds
Citywide German Shepherds in Kettleby, just north of Toronto, is our first pick on this list. Since its establishment in 2011, Citywide German Shepherds has established itself as a well-recognized, ethical breeder of champion-line, purebred West German Shepherds.
They specialize in creating shows and working lines of German Shepherds, but most of their litters make excellent family friends and defenders.
The German Shepherd puppies are registered with the CKC, have been hip and elbow certified, and tested for diabetes to ensure they have the best possible development. They eat a diet of raw ground beef and other nutrients.
The breeders at Citywide German Shepherds ensure that each puppy has the proper vaccines, deworming treatment, and a microchip. They also socialize with them so that they are well-adjusted, healthy family members when they enter their new homes.
Puppies from this kennel are considered to be particularly friendly with the family's young members due to their tranquil upbringing among humans and other dogs. They breed dogs that are helpful and capable of completing a wide range of jobs.
The breeders who own this organization are a couple who adore their pets. As a result, their puppies flourish in versatile environments. Your German Shepherd will be able to begin training much sooner and become more social as a result of their activities.
To get one of their high-quality purebred German Shepherd puppies, fill out the application form on the site. Once they've processed the application, the breeders will get in touch with you for further details.
Citywide German Shepherds Details:
2. Von Aries German Shepherds
Next up are the Von Aries German Shepherds of Milton, Ontario. This small-scale breeder, trainer, and importer concentrates on creating purebred, CKC-registered dogs with beautiful personalities, good conformation, and sound temperaments.
Their German Shepherds have achieved many titles, including German Shepherds North American Champions, Junior North American Champions, and Junior World Champions. Moreover, Negus, their primary stud, is North America's top-ranked German Shepherd.
Von Aries German Shepherds genetically tests, vaccinate, deworm, microchip, and socialize their German Shepherd breeding dogs and pups. Their German Shepherd pups are registered with any breed club or organization throughout the globe, including the AKC, USA/SV, and CKC.
To adopt a puppy from this prestigious breeder, go to the website and browse. Once you've chosen a litter, submit the online interest form and a deposit. The deposit for American-bred puppies is $1,500; for German Shepherds born in Germany, it is $2,500. The total cost of the puppy varies from litter to litter.
The deposits are non-refundable but transferable for up to two years. Once your chosen puppy is eight weeks old, the breeder will contact you to come and collect it or have it shipped to you.
Von Aries German Shepherds Details:
3. Loyalist German Shepherds
For nearly 15 years, Loyalist German Shepherds, a family-run kennel, has been nurturing purebred German Shepherds. The family raises their dogs on a huge farm with lots of room to run around and play.
Because they are reared in a home environment around children and animals, these German Shepherd puppies are fully socialized before they leave. The Loyalist German Shepherds team produces GSD puppies who are healthy, happy, and well-adjusted to breed standards.
Loyalist breeders provide working and show German Shepherds derived from notable pedigree families. Their parents and puppies have undergone health testing for common genetic concerns, including elbow and hip dysplasia.
They also microchip, vaccinate, and examine their pups for parasites. All their German Shepherd puppies come with a genetic health guarantee for two years, CKC certification, a starter bundle, and the breeders' unflinching support.
Visit their website to discover more about their German Shepherd pups for sale and when additional puppies are available.
Loyalist German Shepherds Details:
4. Shiphra Shepherds
Shiphra Shepherds is a small kennel that breeds West German Shepherds with outstanding temperaments and physical builds. Above all, health, temperament, intellect, and working qualities are prioritized, and the breed standard is scrupulously followed at this organization.
This breeding program's lineages are among the finest available. Shiphra obtains champion breeding dogs from Serbia, Ukraine, and Germany to ensure the finest German Shepherds.
They screen their dogs and puppies for a variety of genetic diseases, and their German Shepherd puppies in Toronto have been dewormed, immunized, and microchipped. They sell high-quality, CKC-registered German Shepherd puppies and provide an unparalleled health guarantee of five years and lifelong access to their services and guidance.
Visit their website's Reserve a Puppy page for additional information on available puppies for sale so you don't lose out on your opportunity to receive one of their well-known German Shepherd puppies.
Shiphra Shepherds Details:
5. Summer Valley German Shepherds
Last on our list of the most well-recognized German Shepherd breeders in Toronto is Summar Valley German Shepherds. Rita and Jim Robinson, the owners of Summer Valley German Shepherds, have been breeding and producing high-quality, purebred German Shepherds under the Canadian Kennel Club's registry for 22 years.
They've been doing it for almost three generations, producing many wonderful German Shepherds who have found homes with people all around the globe.
Their outstanding breeding program regularly produces healthy, well-behaved black and red German Shepherd puppies for sale in Toronto who are physically and behaviorally faithful to the breed standard.
They are dedicated to producing healthy, attractive puppies that match the breed standard and improving the breed with each new litter. Puppies and their parents are genetically checked, and while they are young, they are dewormed, microchipped, vaccinated, and socialized.
To get a puppy, submit their online application with a non-refundable deposit. You can collect the puppy once it is eight weeks old with a non-breeding license.
Summer Valley German Shepherds Details:
How to Choose German Shepherd Breeders in Toronto
There are several things to consider when looking for German Shepherd breeders in Toronto.
First, you want to ensure that the breeder has a good reputation within the German Shepherd community. Take the time to read reviews online and talk to other German Shepherd owners to get their opinion on the breeder.
Second, you want to know that the breeder has healthy and well-cared-for dogs. Ask to see the breeder's facilities and meet the dogs in person to get a feel for their health and well-being.
Third, you want to ensure that the breeder has experience with the specific type of German Shepherd you are interested in. If you are looking for a working dog, for example, you will want to find a breeder who specializes in that type of German Shepherd.
Fourth, you want to make sure that the price is right. German Shepherds are not cheap dogs, so be prepared to pay more for a reputable breeder. However, you should also be aware of breeders charging too much money for their dogs.
Finally, take your time when choosing a German Shepherd Breeder in Toronto. This is an important decision that will affect your life and the life of your new dog, so take your time and choose wisely.
Frequently Asked Questions
How much should I pay for a German Shepherd puppy?
A reputable breeder will likely charge $1,200 to $1,500 and up for a German Shepherd puppy.
Are German Shepherds in high demand?
According to the American Kennel Club, German Shepherds are the fourth most popular dog breed.
How long do German Shepherds live?
The life expectancy of a German Shepherd is seven to 10 years.
Conclusion for "The Best German Shepherd Breeders in Toronto"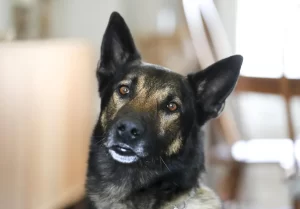 As you can see, several reputable breeders are offering German Shepherd puppies for sale in Toronto. With a little research, you should find the perfect breeder for your needs. Be sure to ask lots of questions and visit the facilities before making your final decision. Good luck!
For guides similar to this list of German Shepherd breeders in Toronto, check out:
Before you bring home a German Shepherd puppy, learn more by watching "Life BEFORE and AFTER Having a German Shepherd Puppy" down below:
Garrett loves animals and is a huge advocate for all Doodle dog breeds. He owns his own Goldendoodle named Kona. In addition, he volunteers at the Humane Society of Silicon Valley, where he fosters dogs and helps animals. Garrett enjoys writing about Doodles and believes that dogs can teach humans more about how to live than humans can teach a dog.
Why Trust We Love Doodles?
At We Love Doodles, we're a team of writers, veterinarians, and puppy trainers that love dogs. Our team of qualified experts researches and provides reliable information on a wide range of dog topics. Our reviews are based on customer feedback, hands-on testing, and in-depth analysis. We are fully transparent and honest to our community of dog owners and future owners.