If you're searching for a new companion, consider adopting from a French Bulldog rescue in North Carolina. French Bulldogs are loyal and fun to have around the home, making them wonderful family pets and companions. These adorable dogs are not as exerting as other breeds and are happy with one daily walk.
To make your search for a French Bulldog adoption in North Carolina easier and more productive, we found the best organizations and listed them below. They take great care of their animals and have an abundance of French Bulldogs to select from.
Before reading about French Bulldog rescues in North Carolina, check out these other dog-related recommendations from our team at We Love Doodles: Best Small Dog Rescues in North Carolina and Best Doodle Rescues in North Carolina.
The 4 Best French Bulldog Rescues in North Carolina (NC)
Adopting a French Bulldog from a rescue in NC comes with many benefits. In addition to giving a dog a forever home, you will save a lot of money. If you're ready to take on the care of a new dog, start with the organizations below.
These rescue organizations ensure their dogs are vet-checked, vaccinated, dewormed, microchipped, and spayed/neutered. These services are all part of the adoption fees. Most rescue organizations also rehabilitate and re-socialize the dogs in their care.
1. Bullies 2 The Rescue
Bullies 2 The Rescue is a non-profit rescue organization dedicated to helping pets and finding loving forever homes for them. This rescue organization is headquartered in North Carolina, in a pet supply store owned by the Rescue.
They have satellite offices in South Carolina and Alabama, and they cover Maryland and Virginia as well. At the time of writing this article, they have more than 50 French and English Bulldogs in foster care waiting for their forever homes.
This rescue was started by a bulldog enthusiast who assembled a bunch of fellow bulldog lovers and established a family dedicated to rescuing, rehabilitating, and rehoming happy and healthy Frenchies.
They focus on sick, injured, abandoned, abused, and neglected English and French Bulldogs. In addition to rescuing these pets, they provide them with medical care, training, treats, and leashes. This organization is dedicated to making sure the bulldogs become lovable family pets.
Their mission is to ensure that all their rescued dogs are placed in loving, responsible forever homes. They occasionally house dogs in their personal facility at Indian Trail, which also serves as a pet supply shop. However, they are constantly asking for volunteers to act as foster parents.
Applicants are required to fill out an online application form to start the adoption process. A phone interview and home visit will accompany your application before you start the selection process.
After meeting all the standards and passing the phone interview and home visit, they will invite you to a closed session to choose a Bulldog that best suits your family and personality.
Bullies 2 The Rescue rescues Bulldogs regardless of their medical condition or behavioral issues. They work with professional veterinarians who provide exceptional vet care and ensure they are healthy enough to join a new family.
Frenchies are high-maintenance dogs and require prior knowledge of their daily care and potential expenses of ownership. As such, this rescue organization strives to place the dogs with families or individuals that can meet those needs or can provide medical care in the future.
Bullies 2 The Rescue Details:
2. Rags to Royals
Rags To Royals was founded in honor of Piper The Painting Bulldog and to carry on her incredible charitable efforts, thanks to the assistance of outstanding volunteers.
The organization finds loving, caring homes for French and English Bulldogs that have been abandoned, neglected, or abused. They focus on Bulldogs with emotional and physical challenges and are based in Asheville, North Carolina.
Some of these survivors have health and behavioral problems. However, the team does its best to help these dogs before listing them for adoption. All those with medical issues are diagnosed and treated accordingly.
They treat the dogs for all known health conditions, including surgery and dental procedures. Those with behavioral issues are also attended to by professionals to ensure they are behaviorally and mentally stable before being adopted.
Rags to Royals requires all adopters and fosters to be in the Asheville, NC region because they want to keep in touch with their rescued dogs. Some of their adoptable Frenchies have special needs since they come to them neglected, injured, sick, and lost.
Their adoption fees cover spaying/neutering and other surgeries, tests, preventatives, and vaccines. The dogs are only released to families or individuals with English/French Bulldog experience or rescue rehabilitation experience.
In addition, adopters must be willing to travel to where the dog is fostered to meet, greet, and pick up the dog. Rags to Royals doesn't ship dogs or allow travel via transporters. All potential adopters must have a veterinarian and a history of keeping their pets up to date on vaccines.
Almost all of their dogs are adopted through private networking, so they rarely post available dogs on their website or social media pages. Fill out the online application form to be considered for pre-approval. It's also worth noting that the adoption process might take up to a month.
This small 501(c)(3) non-profit organization, which is entirely volunteer-run, depends on kind contributions and support from its community. Along with saving pets, they also encourage and educate people via awareness campaigns, lessons, and therapy dog visits.
Rags to Royals Details:
3. Carolina Animal Rescue and Adoption
Carolina Animal Rescue and Adoption (CARA) is a reputable non-profit rescue organization located in Fayetteville, North Carolina. They were founded in April 2003 and have helped hundreds of dogs and cats find loving homes for the past 20 years. CARA is committed to providing the highest quality of care to the families that adopt the dogs and cats they care for.
CARA is committed to helping North Carolina's abandoned, mistreated, and stray animals. They provide them with the love and attention they require until they find their forever homes. This rescue organization periodically rescues and rehomes French Bulldogs because it is an all-breed rescue.
They take pride in providing happy, healthy pets for adoption and go the extra mile to match each pet with the ideal family. Additionally, CARA helps with the reunion of missing dogs with their guardians and encourages proper pet ownership through humane education.
Being a volunteer-run organization, it is run by people who are passionate about saving these animals' lives and providing them a second chance. Someone is available at all times to assist adopters and help their pets settle in with ease.
In addition to providing a lifetime of support and guidance, this rescue organization is willing to accept their dogs if you can no longer care for them for any reason. They try to make their adoption process as simple as possible.
They always update their website with available dogs and puppies, so browse through the site to find a dog before filling out the adoption form. They only release their dogs to responsible individuals or families that are prepared for the responsibilities of handling a Bulldog.
Carolina Animal Rescue and Adoption Details:
4. Saving Grace North Carolina
Located in Lake Forest, NC, Saving Grace is one of the best French Bulldog Rescues in North Carolina. This rescue organization caters to the needs of lost, abandoned, and surrendered dogs of all breeds and sizes, including English and French Bulldogs.
Saving Grace is an all-breed rescue group committed to rescuing dogs and placing them in devoted forever homes. The group aims to create lifelong bonds between adoptable dogs and families all around North Carolina.
While dogs wait for their forever homes, Saving Grace strives to create a more natural and unconventional shelter environment. The dogs interact with people often. Volunteers spend quality time with the dogs to study their temperament, traits, and unique needs in order to place them in the ideal homes.
Saving Grace was founded in 2004 at a farm and private residence. Their mission is to provide adoptable pets loving homes. They also strive to have an influence on North Carolina's euthanasia rate because it is one of the highest in the country.
Their compassionate, volunteer-run organization promises to have a positive, enduring impact on the community through assistance, guidance, instruction, and service.
Saving Grace North Carolina Details:
FAQs
Can you find French Bulldog puppies for under $500 in North Carolina?
French Bulldog adoption in North Carolina is a great way to reduce the cost of buying your new dog. Dog adoptions are typically between $200-$300 at local shelters. Call the organizations ahead of time to discuss the cost and process for adoption.
What is the best age to adopt a French Bulldog?
A French Bulldog can be adopted at any time. The best time to adopt them depends on how much time you want to spend with them and how much training you would like to participate in.

If you are looking for a trained dog with a personality that is already established, then consider adopting a dog that is about 12-16 months old. At this age, they have had time to be trained, but will still have higher energy than a French Bulldog that is three years or older.

If you're able to give a puppy a lot of attention, exercise, and training, then consider adopting a French Bulldog between 12 weeks and one year old. They will require more time at first but will be a loyal friend for life.
At what age is a French Bulldog no longer a puppy?
A French Bulldog leaves the puppy stage at about 12-16 months of age. During this time, their energy starts to reduce and they fill out to their adult weight. This is also when they can transition from soft puppy food to adult dog food.
Conclusion For "Best French Bulldog Rescues in North Carolina"
French Bulldogs are lovely dogs with exceptional traits and abilities. These dogs make wonderful family pets and companions with proper training and socialization. If you want a new Bulldog, consider adopting from a rescue.
These French Bulldog rescues in North Carolina demonstrate an incredible commitment to their animals. They strive to take exceptional care of the animals in their shelters and foster homes. These shelters also inform the public about animal care and local issues.
While most adopted dogs come socialized and trained, consider investing in proper training for your shelter dog. Training never ends, and your dog will improve continually as you expose them to various socialization and training exercises.
For more guides similar to this list of French Bulldog rescues in North Carolina, you can check out these other dog-related recommendations from our team:
Before you adopt a French Bulldog companion from a rescue shelter in North Carolina, you can learn more about this dog breed by watching the "French Bulldog – Top 10 Facts" down below: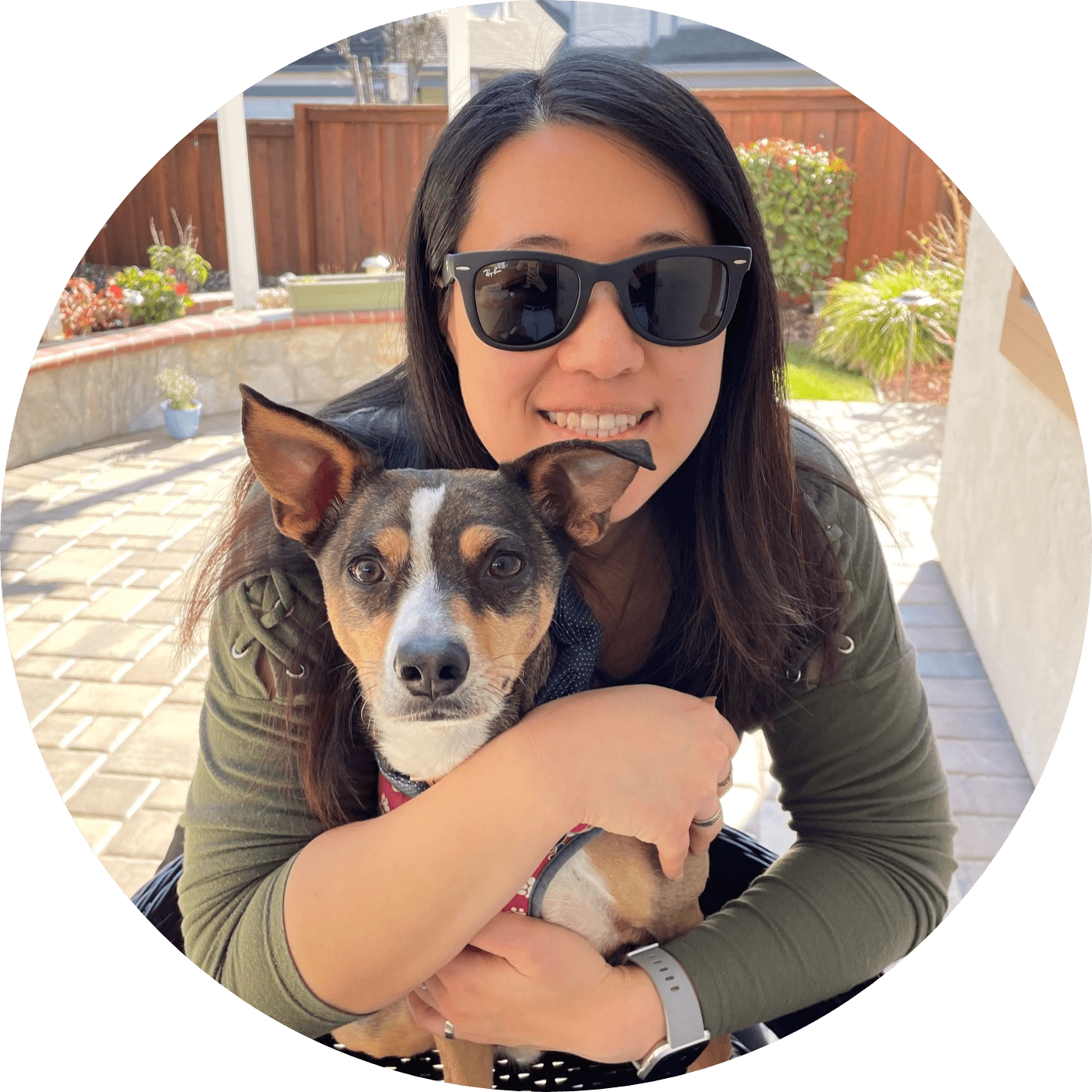 Dr. Sabrina Kong graduated from the Royal Veterinary College in England in 2016 and has been working at a small animal clinic in Northern California since then. She grew up in the Bay Area and got her bachelor's degree from Cal Poly San Luis Obispo. She also became a Certified Canine Rehabilitation Practitioner through a program at the University of Tennessee.
When she isn't in the clinic taking care of her four-legged patients, she enjoys traveling and trying new foods with her friends and her three-legged dog, Apollo. She adopted Apollo from her clinic when he was a puppy with numerous health issues. Dr. Kong truly cares about taking care of animals.