Searching for free puppies in New Mexico does not have to be a challenging task when you have the right information and know where to look. It is only natural to look for a cheaper alternative given the prices respectable breeders charge for puppies.
Saving some cash upfront is a wonderful idea because having a dog comes with a significant financial commitment. Nevertheless, before you start your search for a free puppy, you want to ensure you've done extensive research to find a breed that suits your lifestyle, family, and home.
There are hundreds of different dog breeds out there, and finding one suitable for your family and lifestyle is highly essential. Despite the fact that you're looking for a free puppy, you can't just accept any dog that comes your way. You should be selective to avoid bringing home a puppy with health or behavioral issues or one that does not fit in properly.
In this guide, we'll share some effective ways to get free puppies in New Mexico. Before we dive into our list, here are some things you should know when looking for a free puppy.
Before you scroll down this guide, "Best Places to Get Free Puppies in New Mexico," check out: 11 Best Dog Breeders in New Mexico! (2023) and 7 Best Dog Parks in Albuquerque, New Mexico! (2023).
Tips for Choosing the Right Dog Breed
Selecting a dog that fits your needs, family, and way of life is crucial. The happiness of you and your puppy can greatly depend on your choice of dog breed. Here are a few essential things to consider while picking a breed.
1. Space
The size of your home is one of the most important factors to take into consideration before selecting a breed. Do you live in a studio or a house? Can you accommodate a large dog?
Although they may be tiny when they're young, some dogs grow enormous after a year. Some breeds also need a lot of activity every day, therefore having a big backyard for them is crucial.
You should consider the size of your house and how much area the dog can access before selecting a breed. A small breed is an excellent choice if you have a small yard.
You can get a huge dog if your home has more room than you need. Avoid putting a large breed into a small apartment because doing so can be quite uncomfortable for you and your dog.
2. Your Schedule
Another crucial thing to consider when choosing a dog is your schedule. Are you available to interact and play with the dog? Can you find the time to properly teach the puppy? Do you require a breed that is autonomous and tolerant of extended periods of solitude?
You are not ready to have a puppy if you would board or leave it at a doggy daycare every day. You should make sure the breed you select is suitable for your schedule, in addition to your activity level.
3. Activity Level
Speaking of which, it's crucial to choose a dog breed that matches your level of activity. In terms of energy levels, not all dog breeds are equal because some are more active than others. A high-energy dog can fatigue a low-energy owner, and a low-energy dog might frustrate an always-on-the-go owner.
Prefer to spend more time indoors or are you an adventurous person? Do you lead a physically active life? Do you go running, jogging, hiking, or camping, or do you prefer to take brisk neighborhood walks?
Simply put, you should choose a dog breed whose needs are similar to yours.
How to Get a Free Puppy in New Mexico
The first step to getting a free puppy is deciding the breed you want, as you don't want to settle for any puppy that comes your way. Here are options to explore when looking for a free puppy in New Mexico.
1. Newspaper Ads
Looking through local weekly or daily newspapers is an effective way to find a free puppy. These publications often have at least one page of classified ads. You can search through the classified ads to find a section advertising or devoted to dogs up for adoption.
You might occasionally find ads that say "Puppies free to a good home" in these publications. Browse through the ads and contact the advertisers to confirm the availability of the puppy.
Get additional information about the puppy, including its breed, temperament, health status, and more. Additionally, you should be careful when interacting with strangers; avoid disclosing private information like your home address.
2. Animal Shelters and Rescues
Animal shelters and rescues are known for rescuing and rehoming dogs and puppies for a little fee. However, they are one of the major sources of free puppies in New Mexico and the United States at large.
These organizations often conduct adoption events where they waive adoption fees for select puppies and dogs in their care. Depending on the dog's breed, age, size, and health condition, getting a puppy from a rescue is often not free.
Fortunately, these events are organized to promote responsible pet ownership and encourage pet adoption. However, you must meet the rescue's criteria to qualify to go home with your puppy or dog.
Their goal is to ensure all puppies end up in homes with families that will give them all the love, care, and attention they need. You need to prove you can care for the pet before you can qualify for free adoption.
In addition to saving money, getting a free puppy from these organizations also comes with other benefits like receiving a ve-checked, vaccinated, dewormed, and microchipped pet. These rescues provide quality health care for their pets to ensure they are sound and healthy.
You might not always have to wait for events to receive a free dog from rescues and shelters.  Occasionally, they give up their dogs and puppies to make room for other strays to be saved.
Here are some rescues and shelters you can reach out to:
3. Ask Your Close Circle
You can seek the help of your coworkers, friends, family, and acquaintances when looking for a free puppy. There's a chance that someone in your close circle is having a litter and would like to share some of the puppies. You can join the queue for the expected puppies by asking.
When a dog gives birth, you should wait between eight and 12 weeks for the puppies to be weaned before taking one home. Even if none of your friends or family are expecting a puppy, someone you know might know someone who is.
4. Ask Your Vet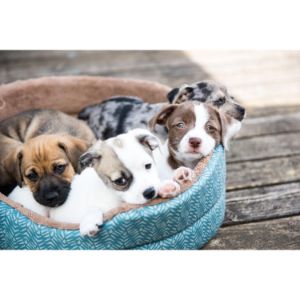 Your local veterinarian is in a great position to assist you in finding a free puppy. Every day, veterinarians deal with a large number of animals and pet owners. When pet owners have too many puppies from unplanned or even planned litters, they discuss these issues with them.
Some pet owners request the assistance of their veterinarians in locating good homes for their puppies. Ask your veterinarian if they are aware of anyone who wants to give away their puppy for free. You can drop your contact details and ask to be contacted once such opportunities present themselves.
5. Online Forums and Social Media
You can use social media to look for free puppies in New Mexico. If you search for adoption groups on Facebook, you can find pet owners who are relocating or had an unwanted litter and wish to give away their puppies for adoption.
There are several forums and posts concerning puppies on websites like Quora, Reddit, and Craigslist. Some of these groups were established to exchange pet-related knowledge. Members of these groups might, however, have a puppy or more available for adoption, either for a nominal cost or absolutely free.
Frequently Asked Questions
Where not to get a puppy from?
Avoid puppy mills at all costs, as well as pet stores that source their dogs from puppy mills.
Is it illegal to sell puppies in New Mexico?
The City of Albuquerque requires pet sellers to have a permit.
How many dogs can you own in New Mexico?
Ordinances vary from city to city. For instance, in Albuquerque, residents can own up to four dogs.
Conclusion for "Best Places To Get Free Puppies in New Mexico"
After getting a free puppy, one of the first things you should do is take it to a vet. You need to take the puppy to a professional vet for a thorough health examination and bring it up-to-date on immunization, deworming, and other preventative medications.
Don't forget early training and proper socialization if you want the puppy to be an integral part of your family and well-behaved.
If you find this guide, "Best Places to Get Free Puppies in New Mexico," helpful, check out:
Before you begin your search for free puppies in New Mexico, learn more by watching "5 Important Puppy Care Tips That Most People FORGET!" down below:
Garrett loves animals and is a huge advocate for all Doodle dog breeds. He owns his own Goldendoodle named Kona. In addition, he volunteers at the Humane Society of Silicon Valley, where he fosters dogs and helps animals. Garrett enjoys writing about Doodles and believes that dogs can teach humans more about how to live than humans can teach a dog.
Why Trust We Love Doodles?
At We Love Doodles, we're a team of writers, veterinarians, and puppy trainers that love dogs. Our team of qualified experts researches and provides reliable information on a wide range of dog topics. Our reviews are based on customer feedback, hands-on testing, and in-depth analysis. We are fully transparent and honest to our community of dog owners and future owners.