We are here to make your journey of looking for free puppies in Arkansas more productive.
Welcoming a new dog into the family is always exciting. However, buying a puppy or dog from a breeder is often expensive. Depending on the dog, whether purebred or mixed-breed, this can set you back by hundreds or thousands of dollars.
Fortunately, you can get a free puppy or dog in Arkansas with a bit of research and luck. Getting a dog without spending a dime can be achieved in various ways. Some potential owners might be lucky to get a free puppy with just one click while others might need a little more effort and time. Nonetheless, these methods have proven effective.
Before we walk you through the various ways to get a puppy for free, let's talk about some important things you need to consider before you start your hunt.
Before you scroll further down this guide, "Best Places To Get Free Puppies in Arkansas," check out: Goldendoodle Puppies in Arkansas – Top 6 Breeders! (2023) and Aussiedoodle Puppies for Sale in Arkansas – Top 4 Breeders! (2023).
What You Should Know Before You Search for a Puppy
When hunting for a free puppy, the breed you choose must be taken into consideration. There are hundreds of different breeds, and not all of them are suitable for all types of homes.
Since these dogs are different in size, temperament, and traits, they also have different needs. Many make excellent pets and companions but some are active and working dogs, making them ideal for particular jobs and special kinds of families.
As a result, you can't just accept any free puppy that comes your way without ensuring it is suitable for your home, lifestyle, and family. Before setting out to look for a free puppy, we recommend taking some time to do adequate research about the best dog breeds suitable for you and your family.
Consider your family's needs and create a list of suitable dogs. Study the unique personalities, traits, and health concerns of these dogs to determine if they are ideal for your family. During your research, you will discover that there are two major types of dogs — crossbreeds and purebreds.
Crossbreeds have two parents from two different breeds while purebreds have two parents from the same breed. A purebred's family generation is often recorded by the American Kennel Club (AKC). After determining the breed you want, here are other things you need to consider.
Size
The various dog breeds are divided into three major sizes: large, medium, and small. You need to consider your needs, including your kids, garden, and entire home before choosing a size.
Large breed dogs are best suited for large houses with ample space for them to exercise and play freely. If you live in a house or apartment with limited space, then a small dog should be ideal for your home.
Temperament/Friendliness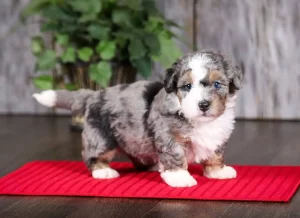 Not all dogs are good with kids and the elderly, so you want to consider that when looking for a free puppy. If you have kids at home, you want to ensure you choose a dog with a calm temperament.
Some dogs are bred for their physical traits, while others are bred for their working abilities. Hence, there is a wide range of temperaments and personalities out there. You should consider your needs and that of your family and even neighbors when choosing a breed.
Allergies/Grooming Needs
Given that some dog breeds shed more than others, it's critical to think about how much grooming your chosen puppy will require.
Choose a low-maintenance, minimal-shedding breed if you don't want to spend hours grooming your dog or taking it to a groomer on a regular basis. Hypoallergenic and low-shedding dogs should also be your preferred option if you or any member of your family has allergies.
Best Ways to Get Free Puppies in Arkansas
Here are some proven and effective ways to get free puppies in Arkansas.
1. Local Dog Shelters
Local shelters house dogs of different sizes and breeds. Many abandoned puppies wind up in shelters where they are in desperate need of a home. Some dogs also give birth in shelters, and these puppies need to be cared for by responsible families or individuals.
You can find a puppy online and call the shelter to inquire about its availability or you can visit any nearby local shelter in person. Because they want to ensure they receive proper care and make way for other animals, some shelters may occasionally release their puppies for free.
Nevertheless, adopting a puppy from many shelters is not always free because there is a small adoption fee needed to pay for the dog's upkeep. Certain organizations or people pay for some dogs' adoption expenses. In such circumstances, the puppy is given for adoption without charges.
In addition, some shelters have days where pet adoption is completely free. You can go home with any pet of your choice for free provided you meet their conditions. Do not forget to consider your unique needs before choosing a breed.
2. Rescue Organizations
Contacting several dog rescue groups in Arkansas is one of the simplest ways to obtain a puppy without paying a dime. There are numerous groups in Arkansas, the majority of which focus on a particular breed.
As a result, you should focus on a rescue that specializes in the breed of dog you desire. These groups rescue dogs from the streets and animal shelters. They collaborate with volunteers who foster these dogs and provide for them until they are adopted permanently.
Most times, these dogs are adopted for a fee that varies depending on the dog's age, health, or breed. Some rescue organizations, however, sporadically distribute dogs to households and people who can care for them and cater to their basic needs.
Even if the puppy comes with an adoption fee, adopting a puppy from a rescue organization rather than purchasing one from a breeder will save you hundreds of dollars. Your payment will cover the cost of the puppy's rescue, as well as its feeding, immunization, deworming, and other expenses.
Here's a list of the most reliable rescue organizations in Arkansas where you can get a puppy for free or for a small adoption fee.
3. Ask Relatives and Colleagues
Asking family and friends is one of the simplest ways to find a free puppy in Arkansas. Your network of friends, family, and coworkers might be useful in such circumstances.
You might be shocked to learn that a coworker or acquaintance is searching their network for a home for their puppies. Even if no one in your social circle is looking to rehome a dog, someone may know someone who is.
4. Social Media
Another helpful resource you may consider when seeking free puppies in Arkansas is social media. Many pet groups are available on social media platforms like Facebook, allowing pet owners to interact, learn about, and share their experiences with their pets.
You should look for a group that is breed-specific or join a larger one. Search for local groups in Arkansas on Facebook or Twitter and join them. You might get lucky and receive a free puppy because many pet owners join these forums to find people to rehome their puppies.
Some are also reasonably priced, so you won't spend thousands of dollars to get a puppy. Platforms like Reddit and Quora also come in handy when looking for free puppies.
5. Ask Your Vet
Many pet owners also talk to their vets about surrendering or giving up their pets.
Pet owners who are expecting an unforeseen litter may also get in touch with their veterinarians for assistance in finding new homes for the puppies. You can ask your vet if they have someone who wants to rehome their puppies and declare your interest.
Frequently Asked Questions
Where not to get a puppy from?
You should avoid getting a puppy from a pet store or a puppy mill, which often go hand in hand.
Does Arkansas recognize emotional support animals?
In the state of Arkansas, emotional support animals provide a therapeutic benefit to a person with a mental health disability, while service animals are trained to perform tasks for a disabled person.
Conclusion for "Best Places To Get Free Puppies in Arkansas"
Getting a free puppy in Arkansas is not impossible when you know where to look and how to approach it. However, before making that move, ensure you and your family are prepared to welcome a new family member. Make sure your home is spacious, safe, and comfortable before the puppy's arrival.
If you find this guide, "Best Places To Get Free Puppies in Arkansas," helpful, check out:
Before you begin your search for free puppies in Arkansas, you can learn more about getting free dogs by watching "🔥 15 TIPS "how to adopt dogs for free" 👍" down below:
Garrett loves animals and is a huge advocate for all Doodle dog breeds. He owns his own Goldendoodle named Kona. In addition, he volunteers at the Humane Society of Silicon Valley, where he fosters dogs and helps animals. Garrett enjoys writing about Doodles and believes that dogs can teach humans more about how to live than humans can teach a dog.
Why Trust We Love Doodles?
At We Love Doodles, we're a team of writers, veterinarians, and puppy trainers that love dogs. Our team of qualified experts researches and provides reliable information on a wide range of dog topics. Our reviews are based on customer feedback, hands-on testing, and in-depth analysis. We are fully transparent and honest to our community of dog owners and future owners.