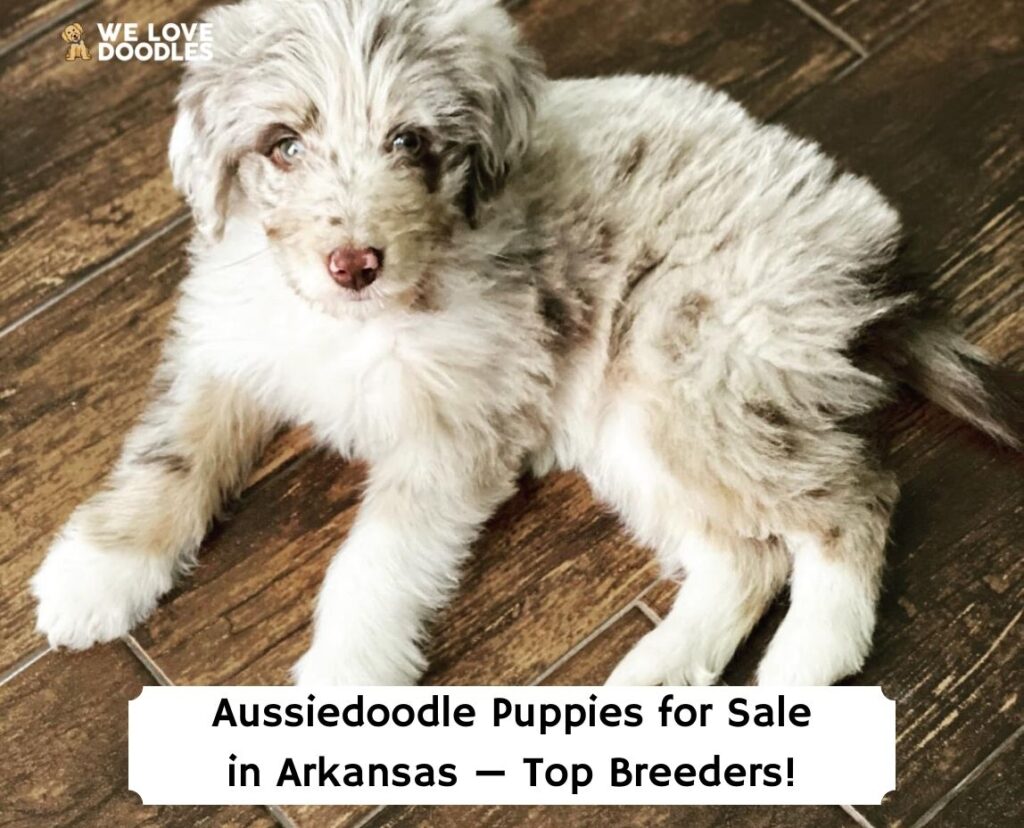 Here's a question we have for you if you're searching for Aussiedoodle puppies for sale in Arkansas. Are you interested in adopting a new Aussiedoodle puppy into your family?
We get it— these dogs are some of the cutest and most intelligent dogs around. Aussiedoodles are well known for being great family dogs, and as a result, they are incredibly popular.
The good news is that there are often a lot of great breeders to choose from, no matter where you live. We know it can be a bit confusing trying to find the right Aussiedoodle breeder for your family, so we compiled a list of our favorite Arkansas-based breeders just for you.
Before scrolling down this list of Aussiedoodle breeders in Arkansas, you can check out these other breeder recommendations: Best Cavapoo Breeders in Arkansas and Best Labradoodle Breeders in Arkansas.
Aussiedoodle Breeders in Arkansas
As a designer breed that mixes Australian Shepherds and Standard Poodles, the Aussiedoodle is known for having the best qualities of both parent breeds.
You get incredible intelligence, playfulness, loyalty, and friendliness, and from the Standard Poodle, you get obedience, low shedding, and enthusiasm.
Given that both Australian Shepherds and Standard Poodles tend to be high-energy dogs, the Aussiedoodle is also known for being quite the ball of energy.
Therefore you should be prepared to spend hours playing with your dog or taking it on walks or runs. These dogs thrive in homes that have a ton of space to romp and play and tend to feel a bit confined in smaller spaces like apartments.
Aussiedoodles are great with kids and other pets, and they are easy to train. On average, Aussiedoodles weigh between 25 and 70 pounds and have a lifespan of 10-13 years.
If you plan to purchase an Aussiedoodle from a breeder, you should be prepared to spend between $500 and $5,000, although, of course, we suggest you adopt your new Aussiedoodle from a shelter or rescue group instead of buying one.
Related: Aussiepoo vs. Aussiedoodle – What's The Difference?
1. PuppySpot's Aussiedoodles For Arkansas
Since you're searching for Aussiedoodle puppies for sale in Arkansas, we highly recommend checking out PuppySpot. PuppySpot is a reputable platform where you can browse available Aussiedoodle puppies from the comfort of your home in Arkansas. All 
PuppySpot Details
2. Fairytale Lane Australian Labradoodles

This Arkansas breeder is a caring and passionate Aussiedoodle breeder that prides itself on breeding dogs with the best health and temperament. They conduct extensive genetic testing through Paw Print Genetics and adhere to all codes of conduct laid down by WALA.
Their puppies are beautiful and are socialized with humans, children, and other animals from birth, helping to ensure that they can coexist in any environment.
Fairytale Lane Australian Labradoodles Details
3. Awesome Doodle

This specialty breeder is a network of families that breeds Aussiedoodles, Bernedoodles, and Sheepadoodles to all of the strict standards you'd expect from the best breeders.
They firmly believe that while anyone can "breed" two dogs, it takes special care and attention to raise the dogs the right way. In addition, this breeder believes that early socialization, stimulus exposure, and training contribute to success, health, and longevity in their puppies throughout their lives.
Every puppy in every litter is hand raised by this breeder, and each receives the diligent care and attention that any member of their family would.
Their website makes it very clear that they are not a puppy broker but rather a collective of devoted and passionate families who love doodles and are determined to raise the very best puppies.
Awesome, Doodle treats all of their breeding dogs like family as well, and they emphasize that these dogs are so well-loved and so happy that it contributes to their phenomenal litters.
They also guarantee that they will be communicative and helpful to you during your puppy selection process and encourage you to be thoughtful and patient while you make your decision.
Awesome Doodle Details
4. Amos and Oak Doodles

Last on the list of breeders with Aussiedoodle puppies for sale in Arkansas is "Amos and Oak Doodles." Amos and Oak Doodles is a sweet family breeder located in North Central Arkansas.
They are located on five acres of beautiful land and spend hours playing and roaming with their beloved dogs and puppies. This breeder is dedicated to breeding the best dogs and ensuring that each puppy has an even temperament and a clean bill of health.
To achieve this, they thoroughly screen their dogs and puppies for health issues and temperament evaluations, allowing them to control which traits are passed on and which are not.
All of their puppies are raised with care and love from birth, and they are exposed to social and environmental stimuli from birth that they might encounter in their future homes.
This breeder is determined to help match up the suitable puppies with the right homes and conducts detailed background checks to ensure their puppies end up with suitable families.
Amos and Oak Doodles Details
Good vs. Bad Aussiedoodle Breeders
How do you spot a good breeder or a bad breeder? How do you which ones are trustworthy and which should be avoided? We know that the process of selecting the right breeder for your family is confusing, so we decided to give you a few tips you can follow during your search process.
There are usually a few easy ways to tell if a breeder is a good breeder starting with good breeders. To start, good breeders are mainly concerned with the health and wellbeing of their dogs and puppies.
They will prioritize giving each puppy the care and attention they deserve and, as a result, won't have a ton of litter or puppies available at one time. Good breeders will also be very concerned with where their puppies end up and will ask all of their potential buyers detailed questions to find out more about them.
Whether these questions are asked in person or on a form or application, the focus of the questions will be on your lifestyle, employment, income, free time, habits, history owning pets, and other similar things.
You should also expect a good breeder to have a long list of recommendations for you regarding raising your new puppy. These can range from foods to feed them to the brand of tick medicine you give them, but you should generally get the impression that your breeder is knowledgeable and concerned with the long-term health of their puppies.
On the other end of the spectrum, bad breeders will be far less concerned with who you are and far more concerned with how much you can pay. As a result, conversations with them will focus less on the puppies and their health and more on the price of the puppies.
They may say things along the lines of "our puppies are the best around and are usually x amount of money, but I like you, so I'll give you a discount." In short, bad breeders are very focused on the money and will employ sales tactics and flattery to hook you.
Adopt, Don't Shop For Your Aussiedoodle Puppy
You may have heard this phrase before, and for a good reason. So many dogs in the shelter system will never find the loving homes they deserve. We understand the allure of buying a puppy from a breeder (truly, we do), but we urge you to at least visit your local shelter before you approach a breeder.
You might find the dog of dreams waiting for you. Many people are also surprised to learn that many purebred and designer breed dogs can be found in shelters, and it isn't challenging to locate them.
It's only a common misconception that all shelter dogs are mutts or feral/aggressive breeds. If you're specifically interested in adopting an Aussiedoodle, you can use the search functions that many shelters offer on their websites.
These allow you to filter through their available animals based on breed, characteristics, disposition, or any other criteria the shelter has on their site.
Additionally, you can join the numerous Aussiedodle Rescue groups on social media. These groups are dedicated to keeping Aussiedoodles out of the shelter system by finding them homes and fosters from within the group.
Make Sure You're Ready For an Aussiedoodle Puppy
It surprises many optimistic new pet owners just how much work it takes to raise a dog or a puppy. Not only do you need a lot of time, attention, and energy to devote to your new furry friend, but you also need to have the financial resources to cover all of their expenses and keep them happy and healthy.
Dogs are living creatures that are completely dependent upon the love and care of their owners. Much like having a human child, you don't get to take a day off from your pet owner's responsibilities if you get tired or sick. So make sure you're prepared for this kind of commitment.
Conclusion For "Aussiedoodle Puppies for Sale in Arkansas"
Aussiedoodles are wonderful. They're playful, loyal, intelligent, and get along great with kids and other pets. In many ways, they are the perfect family dog.
We hope you found this article helpful in searching for the perfect Aussiedoodle breeder in the Arkansas area. And always remember that it's better to adopt than shop for your puppy.
For more guides similar to this list of Aussiedoodle puppies for sale in Arkansas, check out the links below:
Before you purchase an Aussiedoodle from a breeder in Arkansas, you can learn more about the breed by watching "Aussiedoodle Dogs 101 – Everything You Need to Know" down below: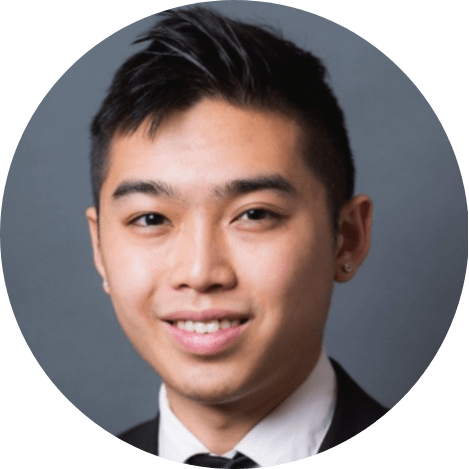 Andy is a full-time animal rescuer and owner of a toy doodle. When he's not saving dogs, Andy is one of our core writers and editors. He has been writing about dogs for over a decade. Andy joined our team because he believes that words are powerful tools that can change a dog's life for the better.
Why Trust We Love Doodles?
At We Love Doodles, we're a team of writers, veterinarians, and puppy trainers that love dogs. Our team of qualified experts researches and provides reliable information on a wide range of dog topics. Our reviews are based on customer feedback, hands-on testing, and in-depth analysis. We are fully transparent and honest to our community of dog owners and future owners.