Do you live in Washington and wish to adopt a lovable, loyal Aussiedoodle puppy? Do you want a companion that is smart, low-maintenance, and even hypoallergenic? Aussiedoodle puppies are one of the top choices in Washington for a ton of reasons! If you're not familiar, an Aussiedoodle is a mixed-breed dog that is a cross between a poodle and an Australian shepherd. These dogs are energetic but domesticated, playful, easy to care for, and absolutely easy to love!
Unfortunately, the popularity of the Aussiedoodle breed has led puppy mills and other shady breeders to quickly churn out puppies for fast cash. Not only is this often cruel to the animals, but it also makes it extremely likely that your new family pet will have undesirable health or temperament qualities.
Ensure the puppy you're adopting is in good health and properly socialized. Use this list of the top breeders for Aussiedoodle puppies in Washington to begin your adoption search!
Before scrolling down this guide, check out these recommendations for your dog: Aussiepoo Guide: The Aussiedoodle Dog Explained
Big Cedar Creek Ranch is a breeder in Washington that offers Aussiedoodles and Mini Australian Shepherds for adoption. The parents of each puppy up for adoption have had a full panel of genetic testing, and your companion has been wormed, checked out by a veterinarian at least once, and given all required vaccinations.
So what makes Big Cedar Creek Ranch so special for those wishing to adopt an Aussiedoodle puppy in Washington? The breeder is family-run and committed to creating lifelong partnerships between you, the adoptive parent, and their pups.
Prospective owners must first apply to adopt an Aussiedoodle puppy. Upon approval, the breeder encourages FaceTime tours and meetings as well as open communication between the team, adopters, and their new friends.
If you're local to Big Cedar Creek Ranch, you can set appointments to visit your puppy and career welcome to pick up your new family member on the day he or she is scheduled to come home. If you happen to live too far for a convenient pickup, Big Cedar Creek Ranch will ship your dog to you for, on average, between $350 and $450.
Contact this Aussiedoodle breeder in Washington about the price of the dog you wish to adopt, but expect to pay between $1,600 and $2,400 for your Aussiedoodle puppy.
Aussiedoodle Puppy Information:
Aussiedoodle
English Labradoodle
Sheepadoodle
Aussiedoodle Breeder information:
Address: 10503 Creek St., Yelm, WA 98597
Telephone: 253-365-8626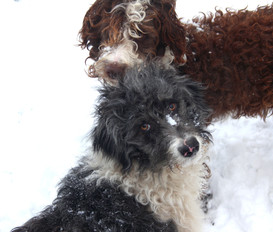 Doodle Dogs PNW is the next top Washington Aussiedoodle breeder on our list. Based in Yelm, this family-run team hand-raises friendly, socialized pups that are as friendly and snuggly as they are healthy and on their way to full training.
Parents of Aussiedoodles from Doodle Dogs PNW undergo genetic and temperament testing before any breeding for color or other characteristics takes place. Once your puppy is born, he or she is regularly checked at the vet and is guaranteed to have all required shots and deworming treatments. Put simply, your puppy will be in the best health possible when he or she finally arrives at your home.
We love Doodle Dogs PNW because they give one-on-one attention to their little family members. Before coming home with you, your dog will have been loved well and taken on hikes, snuggled in bed, and played with by the five youngest family members at Doodle Dogs PNW! That means that if you have children, your new friend will already have been introduced to the dynamics of kids and dogs.
Aussiedoodle puppies for sale in Washington from Doodle Dogs PNW come in different colors, so you can choose the pup you love best from the website. Expect to pay, on average, $2,300 to adopt your new buddy.
Aussiedoodle Puppy Information:
Aussiedoodle (F1, F1B, F2B)
Aussiedoodle Breeder Information:
Happytail Puppies is a breeder that is not local to Washington, but the network of guardian families does include puppy caregivers in the state. With that having been said, this is another of the top Aussiedoodle breeders supplying puppies to families in the Washington State area.
Happytail does not specialize in Aussiedoodles alone but offers a wide range of dogs. The mini Aussiedoodles puppies offered by the network of breeders range in price from the mid-$1,000s all the way up to almost $5,000. Similarly, your shopping cost may vary depending upon how far you live from the family who is acting as caregivers to your dog.
Unique to Happytail Puppies is the financing they offer. After you place a $200 deposit on the pup you'd like to call your own, you may opt to finance the remainder of your balance. This makes an otherwise sometimes cost-prohibitive breed accessible to those who would rather use immediate funds to secure a safe place for their canine buddy.
You may have your heart set on an Aussiedoodle puppy, but do be sure to take a look at the other breeds Happytail Puppies offers for adoption. From miniature bulldogs to teacup Maltipoo's, the breeder's network is extensive and offers a breed to suit every family!
Aussiedoodle Puppy Information:
Mini Aussiedoodle
Various Other Breeds
Aussiedoodle Breeder Information:
The last Washington Aussiedoodle breeder on our list is Seattle Aussiedoodles, based in Enumclaw, Washington. We love that this breed sis a low-key, family style team. In fact, they communicate with prospective pet owners via Facebook rather than a fancy website!
If you're living in the Seattle area, give Seattle Aussiedoodles a look. The breeder periodically offers a small litter of Aussiedoodle pups fo adoption, and the price of your puppy is usually listed on the Facebook page along with pictures and further information.
We took the time to chat with Seattle Aussiedoodles and were impressed with the personal attention the team gave to our questions. We learned that puppies offered for sale are born from genetically tested parents, and that your new household addition will be up to date on vaccinations and deworming medications.
If you're interested in adopting an Aussiedoodle from Seattle Aussiedoodles, let them know in advance. Because only small litters are offered, pups are first come first served. Reach out to the breeder with any questions you have, and inform them of your interest. They may be able to offer you the opportunity to place a deposit on a dog to secure your new friend a place in your home.
Aussiedoodle Puppy Information:
Aussiedoodle Breeder Information:
Facebook: @SeattleAussiedoodles
Location: Enumclaw, Washington
Telephone: 253-569-5152
Finding the Top Aussiedoodle Breeders in Washington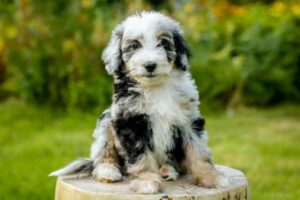 Aussiedoodles are notoriously friendly, trainable, lovable, and loyal dogs. They require only a minimal amount of maintenance and are easy to train. Put another way, we think you'll be quite happy to welcome your new Aussiedoodle into your family.
It's crucial to the health of your dog that you purchase from a reputable breeder. We created this list of the top breeders in Washington to serve as a "jumping off" point in your research. While we've vetted the teams as best we can, we would encourage you to do your own research when choosing the breeder who will introduce you to your newest family member!
You will also like:
Garrett loves animals and is a huge advocate for all Doodle dog breeds. He owns his own Goldendoodle named Kona. In addition, he volunteers at the Humane Society of Silicon Valley, where he fosters dogs and helps animals. Garrett enjoys writing about Doodles and believes that dogs can teach humans more about how to live than humans can teach a dog.
Why Trust We Love Doodles?
At We Love Doodles, we're a team of writers, veterinarians, and puppy trainers that love dogs. Our team of qualified experts researches and provides reliable information on a wide range of dog topics. Our reviews are based on customer feedback, hands-on testing, and in-depth analysis. We are fully transparent and honest to our community of dog owners and future owners.