Are you looking for dog rescues in Sydney, Australia? Adoption is a fantastic way to bring a new furry family member into your home, but it is also incredibly rewarding to give an animal who has been abandoned or neglected a second chance at life.
If you are thinking of adopting a rescue dog, we've got you covered! But why Sydney? Thanks to its beautiful beaches, parks, and other pet-friendly locations, Sydney is a dog's paradise. There are over 400,000 dogs in the city, many of which were adopted from one of the local rescue centres.
Several pet rescues in Sydney provide care for stray and abandoned animals. Each organization has its unique approach to animal adoption and re-homing, which makes it difficult to choose one.
We have compiled a list of the best dog rescues in Sydney, where you can find everything from Poodles to Labradors Retrievers. With so many amazing dogs, you should be able to adopt a furry friend in no time!
Here is a list of the best dog rescues in Sydney where you can visit and find your new pet.
1. Maggie's Rescue
Maggie's Rescue has been operating since 2011 to rescue and re-home unwanted companion animals and advocate for and assist in desexing dogs and cats.
Maggie's Rescue is a no-kill shelter that has helped over 1700 animals since its inception in 2011. They have an excellent adoption process that includes educating people on how to care for their pets properly before adopting them from their shelter.
They also display the dogs and cats available for adoption on their website, where you can see further information on each animal, including breed, desexed status, age, microchip number, and more.
Dog Rescue Information:
Website: https://maggiesrescue.org/
Location: Building 43/142 Addison Rd, Marrickville NSW 2204, Australia
Telephone: 02-8065-8078
2. Paws' n' Hooves
Paws' n' Hooves is a non-profit organization that rescues, rehabilitates, and re-homes abandoned, abused, and neglected animals. Their main objective is to save animals from certain death in various pounds and shelters in Sydney and surrounding areas.
However, they do not have a shelter, but each of their animals is looked after by foster parents who care for them until they find their forever home. Since 2008, around 1471 dogs, 378 cats, 9 horses, and 11 other pets have been rescued and re-homed by this shelter.
Paws n Hooves is one of the biggest dog rescues in Sydney; they have a wide variety of dogs available for adoption, so you will find exactly what you are looking for!
Unlike other shelters, Paws n Hooves provides a home-like backyard which means that the rescue dogs in their care are well-socialized and well-loved. Moreover, potential pet parents get to meet the dogs in a home-like environment and spend more time with them than in a traditional shelter.
In addition, the staff at Paws' n' Hooves guides each pet parent about the personality, temperament, likes, and dislikes, and health condition of the dog they're interested in to help them make an informed decision.
Dog Rescue Information:
3. Animal Welfare League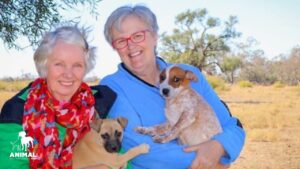 The Animal Welfare League NSW is a not-for-profit organization that provides shelter for animals whose owners can no longer care for them.
It is one of the largest animal rescue organizations in Australia. They are responsible for saving over 50,000 dogs and cats every year and taking in homeless pets, injured wildlife, and animals that have been abandoned by their owners.
Moreover, this organization has been operating for over 60 years. They aim to be the best dog rescues in Sydney by making the best possible match between humans and animals. Therefore, you can be sure you'll find the perfect pooch.
They believe that all animals should be treated humanely, free from unnecessary pain and suffering.
Dog Rescue Information:
Check out for more: Best Dog Rescues in Connecticut! and Best Dog Rescues in New Jersey!
4. Sydney Dogs and Cats Homes
Sydney Dogs and Cats Home has been taking in lost, abandoned, and neglected pets since 1946. Once rescued, the shelter nurses them to health before finding them a home.
They are one of the famous small dog rescues in Sydney, and their main priority is to rescue and rehabilitate animals that have been abandoned or mistreated. All the dogs and cats in their care are up for adoption and receive proper medical attention, including vaccinations, microchipping, deworming, and desexing.
Furthermore, this rescue only requires potential adopters to undergo a basic home check before they can take the animal's home. They also offer free microchipping services to all pets.
Dog Rescue Information:
5. Monika's Doggie Rescue
Monika's Doggie Rescue is a no-kill animal shelter for rescued and surrendered dogs, cats, puppies, and kittens.
Since 2001, Doggie Rescue has found homes for over 9,000 abandoned dogs and cats. They rescue, and re-home abandoned animals from death row in council pounds. The animals are placed in foster care until a permanent home can be found for them.
Their shelter is located at Ingleside on Sydney's northern beaches. They receive animals from councils and other shelters around NSW.
All their animals are vet checked, vaccinated, desexed, heartworm tested, wormed, flea treated, and microchipped. Moreover, they have a full-time vet who looks after their health needs while in care.
Dog Rescue Information:
6. Animal Adoption Agency
The Animal Adoption Agency was founded by a husband-and-wife team, Lee and Fiona Amiti. They were both determined to help the neglected animals, especially dogs and cats.
Since then, this organization has helped hundreds of dogs and cats find a happy home and hence is known as one of the best dog rescues in Sydney.
There are many reasons as to why you should get your next pet by this puppy rescue in Sydney. Most importantly, they have a very strict 'No Kill' policy as they made it their mission to end all unnecessary killings of our feline and canine friends.
They also provide the unique service of 'private adoptions,' if you wish to surrender a dog or any other pet, you may advertise the dog on the Animal Adoption Agency after being properly vetted by the agency. Anyone interested in your pet will be directed to your home for a meet and greet without the hassle of the middleman.
Moreover, the agency provides detailed profiles of each adoptable dog on their website so you can choose a dog that best matches your personality and lifestyle. Moreover, their trained staff guides you throughout the process and makes sure that your adoption process goes smoothly.
Dog Rescue Information:
7. Rocky's K9 Rescue
Last on the list of best dog rescues in Sydney is Rocky's K9 Rescue is, another amazing rescue that is based out of Sydney, Australia.
Rocky's began in 2008 and was set up by Merna Karam to give good dogs and cats a second chance at life. Since then, Rocky's has rescued over 2500 animals from death row.
Moreover, Merna's aim is to re-home good and deserving animals and not discriminate based on age, size, or breed. Although they specialize in large breed dogs, Rocky's will take in all dogs, permitting space and resources.
Rocky's K9 Rescue does not receive funding of any kind. This means that they rely heavily on the generosity of their supporters to keep up the good work they do.
Dog Rescue Information:
How to Choose a Dog Rescue in Sydney
If you are looking to adopt from a pet rescue in Sydney, then you must know that the process of adopting a dog from a rescue organization is slightly different from that of buying one from a breeder.
If you're interested in adopting a dog, we recommend getting in touch with your chosen rescue group directly. They can let you know about their adoption process and whether they have any dogs available for adoption.
You'll generally need to fill out an application form and speak with someone from the group about what kind of dog would be best for your lifestyle. If you have already picked out a dog, you can also find out more about their personality and what sort of home they need.
Many groups also require you to come and meet the dog before they let you adopt it, so they can see how you interact together. You may also be required to make follow-up visits after the adoption.
On the other hand, rescue groups can also help you if you have lost your dog. You may contact the rescue organizations and local shelters to see if they have found your dog as soon as possible, as many shelters only hold stray pets for 5-7 days before considering them for adoption.
Conclusion For The Best Dog Rescues in Sydney
We hope this list of dog rescues in the city of Sydney, Australia, will help you find the dog you're looking for.
If you live in the city and want a furry friend, consider adopting a dog instead of buying one. There are so many dogs in shelters that need a good home.
Not only are these organizations committed to finding the perfect dog for you, but they make sure that every dog is happy and healthy. They ensure that each dog is spayed or neutered and microchipped before being adopted.
The best part about buying from one of these organizations is that you know your money goes towards helping other animals in need!
You will also like:
Garrett loves animals and is a huge advocate for all Doodle dog breeds. He owns his own Goldendoodle named Kona. In addition, he volunteers at the Humane Society of Silicon Valley, where he fosters dogs and helps animals. Garrett enjoys writing about Doodles and believes that dogs can teach humans more about how to live than humans can teach a dog.
Why Trust We Love Doodles?
At We Love Doodles, we're a team of writers, veterinarians, and puppy trainers that love dogs. Our team of qualified experts researches and provides reliable information on a wide range of dog topics. Our reviews are based on customer feedback, hands-on testing, and in-depth analysis. We are fully transparent and honest to our community of dog owners and future owners.