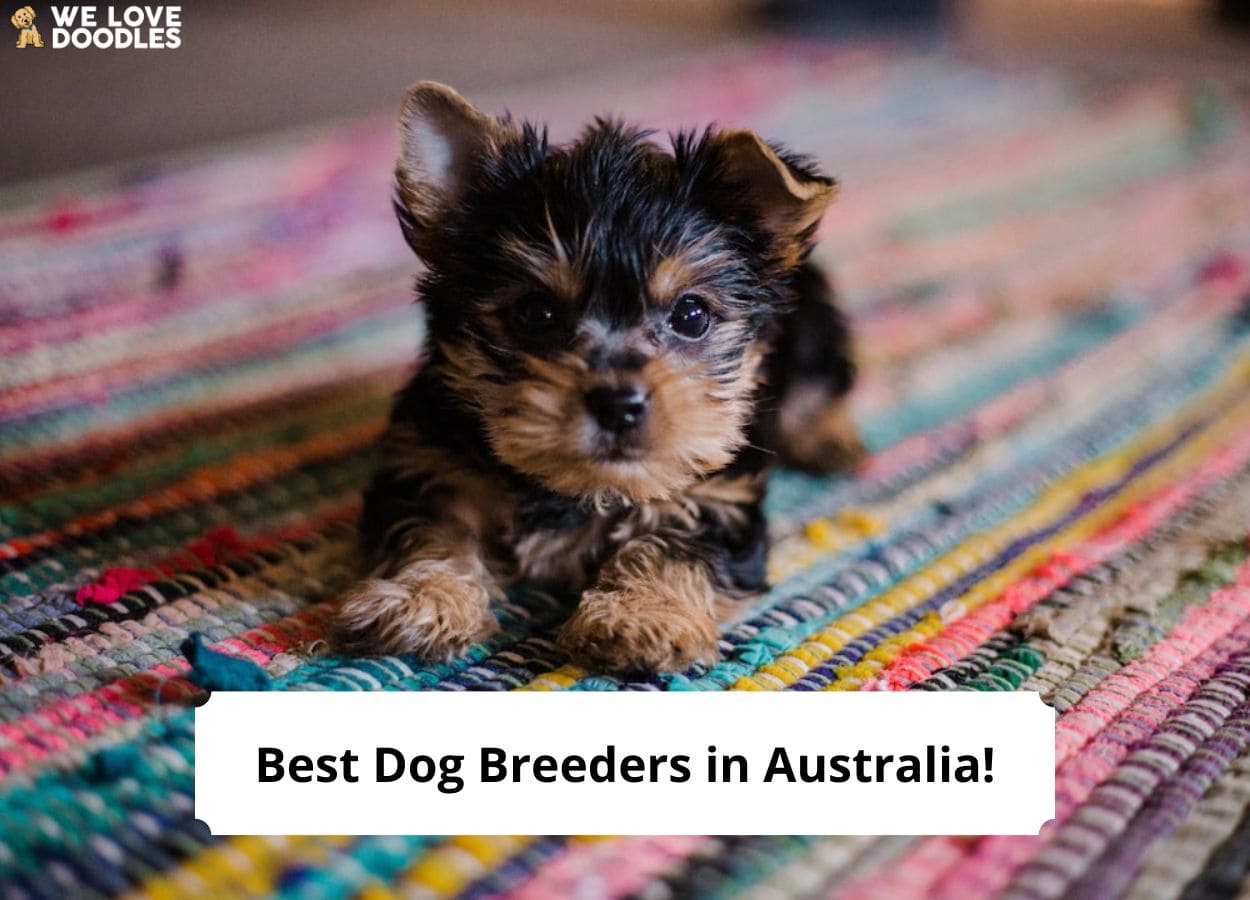 There are hundreds of amazing dog breeders in Australia. However, when buying a puppy, it is essential to choose a good breeder.
You need to conduct in-depth research and visit as many breeders as possible to gather lots of information. When visiting a breeder, you should focus on the health and happiness of puppies — look at the temperament and condition of the adult dogs on the premises.
All the dogs should be cared for, and their quarters should be clean. The puppies should also be well-conditioned, lively, and friendly. If you are not able to visit the kennel, then the review section is a great place to start.
In all, you want to ensure you choose a breeder that focuses on health, temperament, and conformation. The puppy should have health-tested and DNA-tested parents. Another important thing to consider is post-adoption support, especially if you are a first-time puppy owner. That way, you will get all the support you need when raising your new friend.
We considered all these vital factors and more when curating our list of the best dog breeders in Australia. Here are our top recommendations.
Before scrolling down this list of dog breeders in Australia, try these articles: 6 Best Golden Retriever Breeders in Australia! (2023) and Maltipoo Puppies For Sale in Australia: Top 7 Breeders! (2023).
1. Puppies Downunder Australia
Holding the number one position on our list, Puppies Downunder Australia has been the all-time favorite dog breeder of many dog enthusiasts in the country. People travel far and wide for Puppies Downunder because of the amazing team behind the program and their lovely puppies.
Puppies Downunder is a family-owned commercial breeder that provides dog lovers with premium-bred puppies. The breeding program is approved by the Victorian Minister for Agriculture to breed because of their extensive knowledge, exceptional ethical standards, and qualification in animal health, biology, and psychology.
This family has been breeding, raising, and training dogs for the past 45 years. They work closely with the Local Council and Animal Welfare Victoria to ensure the dogs' welfare and health. Puppies Downunder are trusted professionals with a wealth of knowledge and the resources to train, care for, and socialize their dogs.
The dog's health and well-being are the top priorities of this breeding team. As ethical breeders, they conduct thorough health tests to ensure the sires and dams are free of congenital defects that can be passed to the offspring. Their core values ensure the dogs and puppies receive enrichment and exceptional quality of life.
Another thing that separates Puppies Downunder from other breeders is their dedication and passion for the dogs, puppies, and the entire breeding program. They do not run the program as a part-time exercise as other micro breeders do.
They dedicate 24 hours a day, seven days a week, to all the puppies and dogs in their care. Their mission is to breed for excellence in health, temperament, intelligence, and hypoallergenic qualities.
They have access to extensive bloodlines and carefully choose the sires and dams of their puppies that possess the best qualities of their breed. Their puppies are suitable for various types of families, including first-time pet owners, service dogs, seniors, and more.
Puppies Downunder provides health and genetic guarantees for all their puppies, including four weeks of free pet insurance. They also encourage potential owners to visit the kennel and meet the parents of their puppies and where they are born.
Puppies Downunder Australia Details:
2. Tawoodles Cavoodle Breeder
Located in Melbourne, Tawoodles Cavoodle Breed is one of the most reliable dog breeders in Australia. Australia is blessed with many experienced and ethical breeders, and Tawoodles is one of them.
If you are looking for beautiful and healthy Cavdoodles in Melbourne, this is one of the best options to consider. They have been breeding and raising puppies since 2012, with over a decade of experience with this breed.
All their puppies are raised with a lot of devotion, love, and proficient breeding practice to provide you with the perfect family pet. Tawoodles is all about breeding for quality. Their puppies have a sweet disposition and a fun-loving nature.
They have taken several measures to ensure the puppies are healthy and will be loyal, intelligent, affectionate, and playful. All puppies will have a full DNA clearance to ensure they are free from the common diseases associated with this breed.
Every puppy from this breeder includes:
First set of vaccination
DNA health cleared
Microchipped
Dewormed
A three-year health guarantee
Premium black hawk holistic puppy dry food
Introduced to obedience and rewards
During the weaning process, which starts from four weeks of age, their puppies will always eat well. They always ensure the puppies are in peak health in every stage of their early puppy life.
Your new puppy will come home potty and crate-trained, allowing for a smoother transition into your home. The breeder also gives all their new families a puppy-care booklet.
The booklet is a step-by-step guideline that will teach you all you need to know about this breed and how best to care for them. Their goal is not only to provide you with a loving, healthy puppy but also to help you become a confident and better owner to raise your puppy in a safe and healthy way.
Because of their love for pets, they give their puppies nothing but the best from day one. They are a small breeder. Breeding only a few puppies at a time allows them to give each puppy the attention it deserves.
The puppies are well-prepared for their new families, ensuring they transition smoothly and efficiently. The breeder also allows potential adopters to meet the puppy's parents before picking their pets.
Tawoodles Cavoodle Breeder Details:
3. BlueBreeze Kennels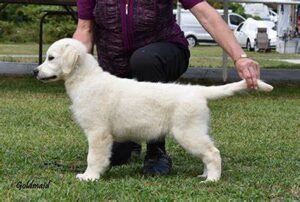 If you are looking for the best place to buy purebred Golden Retriever in Australia, BlueBreeze should be on your list of breeders to consider. This breeder is located in East Kurrajong, NSW but serves the entire nation.
BlueBreeze welcomes dog enthusiasts from all over Australia, which is evidence that they are doing a great job. The breeder is located on a picturesque 16-acre parkland property, with more than enough room for the puppies and dogs to play before going home.
BlueBreeze Kennels started in 1998 and has placed premium quality puppies in loving homes across the country. It is a certified member of Dogs NSW and breeds according to industry standards.
Managed by a highly experienced family, BlueBreeze Kennels is well-known for breeding quality champion Golden Retriever puppies in Australia. They focus on breeding healthy, sound puppies that meet this breed's standards in every way.
The sires and dams undergo a series of health tests, including DNA, to ensure they are healthy enough to produce healthy, happy puppies.
Whether you are looking for a companion or show dog, you can rely on this reputable breeding program. You can find photos and health information about available and upcoming puppies on the website.
They ensure all the puppies are exposed to kids, adults, other dogs, and cats before releasing them to their new homes. Your puppy will come home well-socialized and ready to be a great addition to your family.
All puppies are vet-checked, given age-appropriate vaccination, and dewormed before going home. Your new friend will come home with a health record and a one-year health guarantee to protect against congenital health conditions.
BlueBreeze Kennels Details:
4. Puppies Australia
Puppies Australia is one of the few breeders that has revolutionized the breeding business in Australia. This dedicated team stops at nothing but the best when breeding and raising puppies.
They have won the hearts of many pet lovers with their vast options and premium puppies. The team has gained a wealth of knowledge and experience within these 20 years of providing families and individuals with exceptionally-bred puppies. This breeder is located in East Gippsland, Victoria, on a spacious and beautiful property with fields and rolling hills for the dogs to play and explore.
Their ultimate mission is to breed and raise happy, healthy puppies with good temperaments and conformation. All their puppies are carefully bred for temperament and health, from their home to yours.
Another awesome thing about this team is that you can rely on them for various dog breeds at any time of the year. They breed and raise a wide variety of breeds, including the following:
Toy Poodle
Beagle Poodle
Cavachon
Cavoodle
Westie Poodle
Japoodle
Corgi
Scorgipoo
Spoodle
Schnoodle
West Highland Terrier
Poochon
All their puppies come with a three-year health guarantee to assure you that you are buying a healthy puppy without any genetic defect. The puppies are also thoroughly vet-checked by professional vets to ensure they are 100 percent healthy before going home.
In addition, all puppies are vaccinated, microchipped, and go home with two months of free pet insurance with Orivet. All their adult dogs have DNA tests to ensure they breed out health issues commonly associated found in purebred dogs.
Puppies Australia's passionate team is highly experienced and has a wealth of knowledge on dog health, behavior, and genetics, ensuring all their dogs are well-socialized, healthy, and adaptable to all families.
Puppies Australia Details:
5. Rubyleigh Designer Dogs
Rubyleigh Designer Dogs is the home of designer dogs in Australia. At Rubyleigh, you can find various designer breeds, including Spoodle, Groodle, and Cavoodle. They specialize in breeding family dogs that will not only bring joy to your home but also be your best friend for life.
They've owned, bred, and raised dogs for many years and have become very passionate about these wonderful breeds of puppies. Their puppies have gone to families and individuals all over Australia.
If you are looking for a well-bred and healthy family dog that will make a great addition to your home, we highly recommend Rubyleigh Designer Dogs. They aim to provide families with healthy, happy low-shedding puppies that can easily adapt to any family and lifestyle needs.
Rubyleigh's stud dogs undergo full genetic testing and other vital health examinations to significantly reduce the chance of your puppy getting hereditary diseases.
They also ensure the puppies have all the qualities you could want in a dog, including socialization. The breeder also welcomes visitors who want to see the dogs and where the puppies are bred before making a decision.
You can call to book an appointment to see your potential puppy's parents before joining the waiting list.
Rubyleigh Designer Dogs Details:
Frequently Asked Questions
What dogs are not allowed in Australia?
Australia has banned certain breeds from coming into the country, including Pitbulls, Dogo Argentino, and Fila Brasileiro. This ban also extends to mixed breeds.
Why are dogs so expensive in Australia?
Increased demand for dogs and puppies during the pandemic led to rising prices.
How many people have dogs in Australia?
An estimated 48% of Australians own a dog as of 2022.
Conclusion for "Best Dog Breeders in Australia"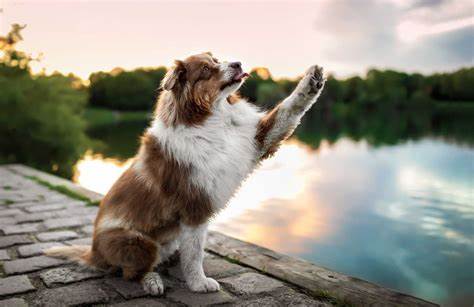 These are some of the best dog breeders in Australia. When looking for the ideal breeder, you should first research and find the perfect dog breed for you, your lifestyle, and your family. Knowing the breed you want will help reduce the number of breeders you have to deal with.
You can contact any breeder here if they produce your ideal puppy. You can also ask them for better recommendations if they don't produce your desired breed.
For more guides similar to this list of dog breeders in Australia, check out:
Before you bring home a puppy from a breeder in Australia, you can learn more by watching "How to Choose the Perfect Dog Breed Just for You" down below:
Garrett loves animals and is a huge advocate for all Doodle dog breeds. He owns his own Goldendoodle named Kona. In addition, he volunteers at the Humane Society of Silicon Valley, where he fosters dogs and helps animals. Garrett enjoys writing about Doodles and believes that dogs can teach humans more about how to live than humans can teach a dog.
Why Trust We Love Doodles?
At We Love Doodles, we're a team of writers, veterinarians, and puppy trainers that love dogs. Our team of qualified experts researches and provides reliable information on a wide range of dog topics. Our reviews are based on customer feedback, hands-on testing, and in-depth analysis. We are fully transparent and honest to our community of dog owners and future owners.