If you're wondering what to do because your dog ate potting soil, you're in the right place. Dogs are curious animals and like to explore the world around them. Sometimes this means eating new things.
If you have potting soil or potted plants sitting around your home, your dog could eat some of the dirt. Dogs do this because they're curious, bored, or missing an important nutrient in their diet. Sometimes fertilizer smells like food to dogs, but it's important to keep them away from it because they are usually mixed with other ingredients that could harm your dog. If you're concerned about your dog either because of what is in the potting soil or because your dog won't stop eating it, contact your vet.
Here are some reasons why dogs sometimes eat potting soil and how to prevent it from happening again.
Before reading this guide, "What To Do If My Dog Ate Potting Soil," check out: My Dog Ate a Sock but Is Acting Normal? and What Should I Do If My Dog Ate Play-Doh?.
Why Do Dogs Eat Potting Soil?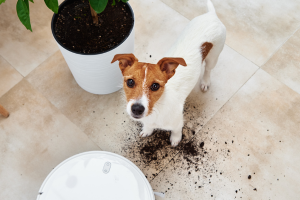 There are many reasons why a dog may eat potting soil. Some reasons may pertain to the dog's health, and others to their curiosity.
Nutritional
There are different types of dog foods with varying nutritional value. Dogs need a variety of nutrients to live a healthy life, and certain diets fail to provide them all.
It is not uncommon for any breed to consume soil so that they can acquire minerals from the soil, such as potassium, magnesium, and calcium, due to dietary deficiencies. Hunger and nutritional deficiencies may cause underfed dogs to consume dirt and other items.
You should choose high-quality dog food if it meets the nutritional guidelines of WSWVA and if the manufacturer is established, experienced, and trustworthy. There are several brands that meet WSAVA's guidelines, such as Royal Canin, Hill's Science Diet, and Purina.
Behavioral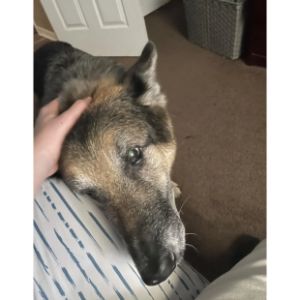 Having too little activity or mental stimulation can lead to dogs getting bored, and some of them consume dirt as a means of keeping themselves busy.
The stress of being away from their owners may lead to separation anxiety, which may lead to odd behaviors, such as eating dirt. Every dog has the potential to be anxious at some point in their lives, but a recurring issue may be a sign of a bigger issue.
Medical

Issue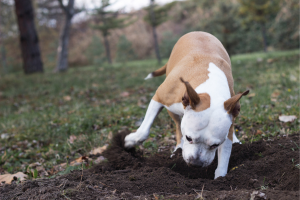 There are many medical issues that can cause dogs to eat dirt, as well, such as anemia. Hemolytic anemia is when red blood cell counts are low. The underlying cause of anemia can range from hookworms to flea infestations to tick disease to cancer to autoimmune diseases to bleeding disorders.
When puppies nurse, they are more likely to contract hookworms through their mothers' milk. Nevertheless, all dogs are susceptible to becoming infected with worms if not dewormed regularly.
There is a possibility that all dogs will experience flea and tick infestations, and cause severe anemia in dogs. It is recommended that your dog be regularly treated with flea-and-tick prevention, such as Simparica, NexGard, or Bravecto, all year long.
It is possible for senior dogs and adults to develop severe anemia if malignant masses cause internal bleeding. It is rare for a dog to get anemia from autoimmune diseases or bleeding disorders. A dog who is suffering from anemia will resort to eating dirt if the condition is severe enough.
If you thing your dog ate potting soil as a result of a health issue, contact your vet right away.
Is Potting Soil Toxic To Pets?
Potting soil can contain certain ingredients that are toxic to pets. Check to see if your potting soil contains any of these dangerous materials. However, usually this isn't a fatal issue. If your dog has a reaction, it will typically be vomiting or diarrhea.
Fertilizer
Fertilizer is not always present in potting soil. It is possible that your puppy may be exposed to fertilizer by eating potting soil that contains fertilizer or by eating soil that has been fertilized
Fertilizers are primarily composed of dangerous chemicals and high levels of minerals. These ingredients are derived from synthetic manufacturing, bone meal from organic sources, manure, and more.
It is possible that your puppy may develop toxic reactions after consuming these ingredients. Organ failure can even occur when they are consumed in excess.
Due to the smell and flavor of natural fertilizers containing bone meal, your dog may be more at risk from them than when they are mixed with synthetic fertilizers. This can lead to them eating a large quantity of it. In this case, call your vet immediately.
Insecticide

in Potting Soil
It is also possible for organic matter to contain insecticides. Your dog is also at risk of becoming ill if he eats any of these. The consumption of large quantities can lead to paralyzing symptoms like seizures and breathing problems.
The potting soil label should be checked to ensure it's insecticide-free. Your pet may also be exposed to toxic substances if it consumes insecticide applied to your potting soil after planting.
Pests And Parasites
Insects and worms could be consumed by your dog if the soil you use for planting contains no pesticides. It is possible for potting soils to contain insects or worms due to the fact that the soil materials were harvested with small insects in them.
In general, your dog can eat most insects without getting sick, but some insects are poisonous. There is also a possibility that bugs may carry diseases that can make your dog sick.
There aren't many harmful microorganisms or parasites in worms, but they might carry parasites and bacteria that could make your dog sick.
Plants
It's likely your dog will ingest some plant material if they snack on the garden dirt in a plant. There are more than 700 plants indoors that are poisonous to dogs. Most people have one or more of these plants in their homes.
Plants like aloe are popular houseplants. You can count on it to be accommodating and useful. Sadly, dogs can't eat it. There are also many dangerous plants, such as tomato plants, spider plants, mother-in-law's tongues, rubber plants, and peace lilies.
Bacteria and Fungi
There is a reason why potting soil is used in plant cultivation. Microorganisms can also grow well in it. These things provide nutrients to the plants and help them grow stronger and faster.
Dogs and humans are both susceptible to sporotrichosis, which causes fungal infections in the skin.
There is a common bacteria called Nocardia that can be discovered in soil. A variety of systems, including the respiratory system, musculoskeletal system, and nervous system, can be affected.
Infections like these are relatively rare, but they can happen. The most common symptom of exposure is abdominal discomfort, but some microorganisms can have more serious effects.
What Should I Do If My Dog Ate Potting Soil?
If your dog ate potting soil, there are a few things you can do. First, observe the behavior to see if your dog is tasting it out of curiosity or eating it. If you notice your dog eating potting soil repeatedly, there is a behavioral or medical issue that needs to be resolved quickly.
Because potting soil can contain many toxic materials, it's important that the issue is resolved quickly. Here are some things you can do to stop it.
Provide Training
Well-trained dogs cease unwanted behavior relatively quickly, usually on command. Using reward-based methods is the best strategy for teaching them commands quickly and in a way they enjoy.
When you tell your dog not to dig in your potted plants, they will stop, and they will not do it again after they are rewarded with a treat for doing so. A dog may take a long time to break free of a habit after it has been ingrained, and exceptions do occur.
Supervision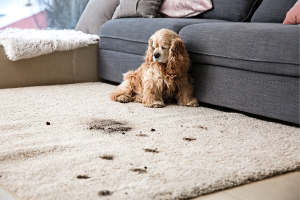 Keeping an eye on your pooch when they are around plants is also necessary when breaking a habit, even for well-trained dogs.
If they behave well, reward them with praise or a treat for their good behavior, then make sure they can hear you and understand your commands. Hang back a little for a while to see if they continue to do the same thing without you.
If you repeat the command enough times, your pooch will eventually learn it's not allowed in the area near the potted plant.
Install Barriers
One method to keep your dog away from potting soil is to keep your dog out of the area where the potting soil is. If your dog can't get to the potting soil, it won't be able to eat it. You can either sit the potted plants behind a fence or wall or build a fence or another barrier that keeps your dog away.
You may even decide to put up small individual fences or barriers around each pot or flower bed to create a beautiful and effective landscape that keeps your plants and your dog safe.
Put Away Unused Soil
If you have bags of potting soil sitting around your home, your dog could get curious and try to eat it. Dogs explore with their noses and mouths, so if they aren't sure what is in the bag, their first instinct could be to taste it.
Roll down the open bags and store them in a place where your dog cannot get to them. If you have pots of dirt sitting around waiting for plants to be planted, move them out of reach so your dog can't get to them.
Dogs love to dig, and if you provide them with toys to bury and things to dig up and find again, it will give them plenty of exercise and soothe their desire to dig.
Provide Mental Stimulation
Dogs like to dig because it's fun and it gives them something to do. They may not even be eating the potting soil but rather just playing in it. If your dog is not getting enough mental stimulation, it may start to dig and even eat the potting soil in your pots or flower beds.
If you think your dog would like to dig and know that the dirt they are digging in is safe, you can create an area away from your plants where your dog can dig holes and play in the dirt. Make sure the soil is plain and no potting soil or chemicals were added to the area that could be harmful to your dog.
Give your dog other means of mental stimulation with new toys and plenty of exercise. Take your dog for walks and give it new things to see and experience so it won't be bored and curious at home.
Check The Ingredients
There may be an ingredient in the potting soil that smells tasty to your dog. Some potting soils are fertilized with organic matter that smells like a snack to your dog. However, potting soil is usually mixed with chemicals that may be harmful.
Anytime you have pets, you must be careful about what you use around your home. Many potting soils contain pesticides, insecticides, and fertilizers that can cause health problems and even be fatal to dogs. Check the ingredients before you buy the soil so you know you are using something safe around your dog in case it were to eat it.
FAQs
What happens if dogs eat plant soil?
If a dog eats plant soil, they may become sick from the fertilizers and chemicals the mix contains. Watch their behavior both immediately and over time to see if they develop symptoms of being poisoned or if they develop issues like worms. If your dog ate potting soil, it may be a sign of an underlying health issue or that they are missing nutrients in their diet. Contact your vet if you are concerned about any of these issues.
Why did my dog eat potting soil?
Dogs might eat potting soil for a number of reasons, ranging from boredom and curiosity, to an underlying health issue, such as anemia or lacking nutrients in their diet. You may need to provide them with more exercise, mental stimulation, or affection. Alternatively, if your dog doesn't; stop eating potting soil after the first bite, it may be time to take them to the vet to check for underlying issues and poisoning from chemicals in the mix.
Is plant soil poisonous?
Plant soil can be poisonous for a number of reasons ranging from the chemicals and fertilizer it contains to the organisms and microbial makeup of the soil. While some fertilizers are made with organic material, potting soil doesn't usually stop with that. Synthetic fertilizers and insect repellants are common ingredients in potting soil, whether they are in the soil already or added over time. This is most likely not toxic and can upset your dog's stomach, causing vomiting or diarrhea. Additionally, if your dog ate potting soil, they may contract worms. Rarely, they could contract Sporotrichosis, which is a relatively rare fungal disease of the skin.
Conclusion for "What To Do If My Dog Ate Potting Soil"
Whether your dog ate potting soil because they are curious, bored, or lacking a nutrient, there are a few things you need to do. First, check the ingredients of the potting soil when possible to determine whether or not it contains chemicals or fertilizers that are harmful to your pet.
Next, observe your dog's behavior and health. Watch them over a period of time to see if they become sick or to see if eating potting soil is a recurring habit. If you're concerned, contact your vet.
Finally, decide if you need to do anything for your dog, such as getting them more exercise, getting them supplements, or diagnosing a health issue. No matter, eating soil should not be a recurring habit.
If you find this guide, "What To Do If My Dog Ate Potting Soil," helpful, check out:
Learn more by watching "Why Does My Dog Eat Dirt? (5 Reasons and How to STOP it)" down below:
Garrett loves animals and is a huge advocate for all Doodle dog breeds. He owns his own Goldendoodle named Kona. In addition, he volunteers at the Humane Society of Silicon Valley, where he fosters dogs and helps animals. Garrett enjoys writing about Doodles and believes that dogs can teach humans more about how to live than humans can teach a dog.
Why Trust We Love Doodles?
At We Love Doodles, we're a team of writers, veterinarians, and puppy trainers that love dogs. Our team of qualified experts researches and provides reliable information on a wide range of dog topics. Our reviews are based on customer feedback, hands-on testing, and in-depth analysis. We are fully transparent and honest to our community of dog owners and future owners.