Are you searching for Dachshund rescues in South Carolina? This article is perfect for you!
Dachshunds, or Doxies, are popular pets in the United States. Originally, Dachshunds were hunting companions, as they are excellent at sniffing out small prey like rabbits. While they are still used for hunting prey to an extent, overall, they are primarily kept as companion dogs.
Some people also keep Dachshunds to compete in dog shows, as these puppies are intelligent and quiet, and easy to train. Given their versatility, Daschunds are an overall excellent choice for a family dog, and a rescued one is even better!
So, if you feel like a Dachshund might be perfect for you, look no further. We have created a list of small dog rescues in South Carolina that you can check out to find the perfect dog, so let's get started.
Before you scroll down this list of Dachshund rescues in South Carolina, check out: Dachshund Puppies For Sale in South Carolina: Top 7 Breeders! (2023) and Best Poodle Rescues in South Carolina! (2023).
1. Chapmans Dachshund Rescue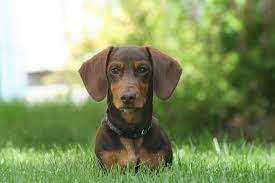 Chapmans Daschund Rescue is a registered 501(c)(3) non-profit rescue located on a 13-acre farm in York, South Carolina. This rescue is dedicated to the welfare of Daschundgs with ample running space, comfortable kennels, and friendly trainers.
Their loving environment ensures all rescued dogs are fit for rehabilitation. To adopt a dog from Chapmans, fill out and submit the adoption application on their website. If your profile meets the rescue's eligibility criteria, you will be shortlisted, and a rescue representative will get in touch with you to arrange a meet and greet with adoptable Daschund dogs.
You will be required to pay an adoption fee that covers the cost of vaccination, spay/neuter surgery, grooming, training, and medical treatments the dog has received. The rescue also works with a commercial partner, Pet Village, which is located in Rock Hill, South Carolina. Adoptions happen at Pet Village, as visitors can't go to the kennel for privacy reasons.
Chapmans Dachshund Rescue Details:
2. Little Paws Dachshund Rescue
Next on our list of small dog rescues in South Carolina is the Little Paws Dachshund Rescue. This rescue is located in Maryland. However, they also operate in other states, including South Carolina. Moreover, the rescue transports its dogs to their new home if they are fostered in a different state.
Little Paws Dachshund Rescue is dedicated to rescuing Dachshunds and Dachshund mixes. They take in homeless and mistreated dogs, nurse them back to health, and help them find loving permanent homes.
LPDR spays and neuters all their pets before they go up for adoption. They have a few conditions for adoption, such as:
The rescue does not adopt out dogs to homes without a fenced yard and requires a home visit before the adoption is finalized.
If you live in a condo or an apartment, you'll have to show proof that your pup will receive regular exercise.
Your landlord's approval will also be needed.
Lastly, all previous pets in the household should be spayed/neutered and vaccinated.
You can learn more about the available Dachshunds by visiting the rescue's website. Submit an adoption application if you see a dog you like.
The rescue will conduct reference checks after receiving your application. Then, a volunteer will visit you for a home check. They will discuss important things about owning a Dachshund and determine if you can provide a safe environment for the dog. If all goes well, you'll get approval.
LDPR ensures that all their pets are healthy and happy before adoption. All dogs are vaccinated, microchipped, tested for heartworms, and receive dental cleaning if needed. In addition, the rescue charges a fee which helps them provide medical care to the dogs.
The adoption charges at LDPR are:
$350 for puppies
$325 for one- to five-year-old dogs
$275 for six- to nine-year-old dogs
$150 for 10-plus-year-old dogs
$75 for senior dogs
$150 for special needs dogs
An additional $45 for a health certificate
Little Paws Dachshund Rescue Details:
3. Carolina Loving Hound Rescue
As the name implies, Carolina Loving Hound Rescue is a non-profit dog rescue for hound breeds. Since Daschunds are scent hounds, you'll likely find a wiener dog in this organization.
Like most charitable rescue organizations, Carolina Loving Hounds rehabilitates dogs through a foster-based system. It doesn't have a central facility or kennel where you can meet dogs; instead, all adoptable dogs live with foster parents. You can meet dogs after the foster parents deem you eligible for adoption.
While the administrative staff is located in South Carolina, the rescue works with foster homes all over South Carolina, North Carolina, and Georgia. The ultimate goal of the organization and its volunteers is to help their hounds find homes where they will be loved and cherished forever.
What sets this rescue apart from the rest is its Hound Sanctuary program; senior hounds or hounds with ailments that make them unadoptable are placed in the rescue's permanent care. While most places would euthanize these dogs, Carolina Loving adopts them as its own.
The rescue cares for them, gains their trust, and helps them live the rest of their days the best way they can. You can also help these adorable dogs by being their sponsor for $90 per month. On the other hand, you can also donate to the rescue or sign up to be a foster if you want to help more than one dog.
To adopt a Daschund from this rescue in South Carolina, visit the website and browse through the list of available dogs. If you see a puppy that might suit your household, fill out and submit an adoption application. The volunteers will reach out within 72 hours to start the process.
Carolina Loving Hound Rescue Details:
4. Charleston Animal Society
Charleston Animal Society is one of the oldest pet rescues in South Carolina. It has been rescuing healthy and treatable animals and helping them find forever homes since 1874. Besides fostering and rehoming animals, they also help animals harmed due to artificial or natural disasters. The rescue runs several campaigns and programs to help solve animal-related issues and raise awareness.
Charleston Animal Society lists pets on its website as soon as they are ready to leave for their new home. You can easily find a Dachshund at this rescue as they help almost 20,000 every year. So, you can keep visiting their website and look for a Doxie. Once you find a Dachshund, it is essential to apply as soon as you can, as their pets get adopted quickly.
Charleston Animal Society ensures that all its pets are healthy before they leave to start their new life. So, all pets are vaccinated, dewormed, microchipped, and spayed/neutered before adoption.
The dogs are also tested and treated for heartworms if necessary. In addition, the rescue will also give you a bag of dog food. The rescue charges an adoption fee which helps them care for their animals. Their adoption charges are $95 for large breeds, $125 to $250 for small breeds, and $125 to $250 for puppies.
Charleston Animal Society Details:
5. Homeward Bound Pet Rescue
Last on the list of Dachshund rescues in South Carolina, we've chosen Homeward Bound Pet Rescue. The rescue aims to reduce help dogs in need that would otherwise be euthanized. This no-kill rescue group saves homeless, abandoned, and needy dogs from the street and high-kill shelters. They also spread awareness regarding responsible pet ownership and the importance of spaying/neutering pets.
The rescue does not have a facility you can visit. All their rescue dogs live in loving foster homes where they are cared for and treated for medical issues until they are adopted. The rescue ensures that all the dogs are healthy, spayed/neutered, vaccinated, and microchipped before leaving for their new homes.
You can check their available dogs and apply if you find one you like. The rescue will review and accept your application if they feel you are a suitable match for their dog. You will also have to pay an adoption fee of $200 before taking your pet home.
Homeward Bound Pet Rescue Details:
Frequently Asked Questions
What type of Dachshund is the calmest?
While dogs will vary based on their individual personality, long-haired Dachshunds are calmer than wire-haired Dachshunds due to their lineage.
How not to pick up a Dachshund?
Above all, avoid picking up a Dachshund entirely by its chest.
Do Dachshunds bark a lot?
As hunting dogs, Dachshunds are capable of barking a lot, but they are less vocal than other breeds.
Conclusion for "The Best Dachshund Rescues in South Carolina"
Picking the perfect rescue is the first step toward adopting the dog of your dreams. We created this guide to Dachshund rescues in South Carolina that you can check out when searching for the perfect hound.
You can check out Chapmans Dachshund Rescue or Little Paws Dachshund Rescue if you are interested in adopting from a breed-specific rescue. However, if you do not find a dog you like at these rescues, you can check other all-breed rescues, such as Charleston Animal Society or Carolina Loving Hound Rescue.
On the other hand, if you are passionate about ending inhumane euthanasia, you might want to support and check out Homeward Bound Pet Rescue and help give a needy dog a second chance at life.
For guides similar to this list of Dachshund rescues in South Carolina, check out:
Before you adopt a Dachshund in South Carolina, learn more by watching "Dogs 101 – DACHSHUND – Top Dog Facts About the DACHSHUND" down below:
Garrett loves animals and is a huge advocate for all Doodle dog breeds. He owns his own Goldendoodle named Kona. In addition, he volunteers at the Humane Society of Silicon Valley, where he fosters dogs and helps animals. Garrett enjoys writing about Doodles and believes that dogs can teach humans more about how to live than humans can teach a dog.
Why Trust We Love Doodles?
At We Love Doodles, we're a team of writers, veterinarians, and puppy trainers that love dogs. Our team of qualified experts researches and provides reliable information on a wide range of dog topics. Our reviews are based on customer feedback, hands-on testing, and in-depth analysis. We are fully transparent and honest to our community of dog owners and future owners.