Are you searching for the best Dachshund rescues in California? Did you know that Dachshunds are one of the best family dogs?
They make a great addition to many homes because they are good watchdogs and loyal companions. This dog breed is also good with children if well-trained and socialized early.
Of course, where you get your dog from is very important! You can shop the most reputable breeders in Texas, but we recommend you first take a look at what Dachshund rescues in the Golden State have to offer!
Before scrolling down this list of Dachshund rescues in California, check out these other similar recommendations: Best Beagle Rescues in California and Best Cocker Spaniel Rescues in California.
Dachshund Rescues Near Me in California
Most Dachshund rescues in California train their dogs with love and care, resulting in dogs that are ready to re-join human families. Here is a list of the best places to adopt Doxies in California.
Dachshund Product Recommendations: Best Tug Toys For Dogs and Strongest Shock Collars For Dogs.
1. Dachshund Rescue of Los Angeles
Dachshund Rescue of Los Angeles is one of California's most reputable Dachshund rescues. This pet rescue makes the adoption of this dog breed a lot easier. They organize frequent adoption events for families to adopt Dachshunds.
The organization raises funds to cater to the needs of their rescued pets via adoption fees and donations. They then use these donated funds to provide shelter, medical treatment, spay and neuter surgeries, transportation, and fostering expenses.
Dachshund Rescue of Los Angeles has done a tremendous job rescuing this dog breed and catering to each dog's needs. They solely rescue Doxies, so they know the unique needs of this dog breed, and they know the best nutrition and medical care to give them.
The rescue maintains a wish list, a list of items they need to support these beautiful creatures. You can pitch in to help by purchasing off the list, which is available on the DRLA website.
Should you decide to foster, Dachshund Rescue of Los Angeles provides a handy guide for foster parents. Whether this is your first time owning this breed or you have owned one before, they will teach you how to care for this dog breed.
While you're searching for your dog, be sure to check out the shelter's blog! There, you'll find articles on how to care for and groom longhair Dachshunds. You can also browse through their list of available dogs before filling out the adoption form online.
Dachshund Rescue of Los Angeles Details
2. Dachshund Rescue of Northern California
Dachshund Rescue of Northern California is the next reliable Dachshund rescue in California. Interestingly enough, this pet rescue started as a joke many years ago. The team began by fostering one Dachshund, in addition to the three they already had, and people began calling and giving them Dachshunds that they did not want or could not keep.
Now, for over ten years, this pet rescue has grown to rescue and rehome hundreds of small dogs. DRNC consists of a network of independent, dog-loving volunteers who collectively rescue and foster abused, abandoned, and unwanted Dachshunds.
Dachshund Rescue of Northern California is a foster-based pet rescue, meaning they care for their dogs in foster homes. They provide these canines with all the care and support they need until they find their forever families. Because of this, dogs are given individualized attention and rehabilitation to ready them for your home.
They also accept surrendered Dachshunds, meaning owners can take their pets to this rescue home if they no longer want them or can no longer take care of them. You can view the list of available dogs online.
Dachshund Rescue of Northern California Details
3. Dachshund Rescue and Placement, Inc.
We have another dedicated small breed rescue on our list – the Dachshund Rescue and Placement Inc. This dog rescue is situated in the Antelope Valley, Northern LA County.
It is a small dog rescue organization powered by different volunteers. They, like the other non-profits on our list, depend on donations and support to care for their rescued pets. This organization has different foster homes where they shelter and care for these rescued pets.
However, their capacity is limited to the number of available foster homes, which is why they are seeking more foster families to help!
Dachshund Rescue and Placement, also known as Doxy Keeper, has won several dog rescue awards. The organization has also brought a smile to the faces of those longing to have a Doxy in their home. To adopt a Dachshund, all you have to do is fill out the online application form.
If you do not find a dog you like on their website, this shelter will redirect you to other neighboring Dachshund rescues in the states. Doxy Keeper aims to create a world where there are no homeless dogs. They strive to end suffering for puppies and adult dogs. Furthermore, they have a Doxy store where you can buy accessories for your canine friends.
A donation is made to the rescue whenever you purchase an item from this store. You can buy a hug-a-dog harness or pet nutrition for your Dachshund in the store.
Dachshund Rescue and Placement, Inc. Details
4. Southern California Dachshund Relief
Southern California Dachshund Relief is next on our list. It is one of the oldest pet rescues in California, having rescued and sheltered this dog breed since 1994. This non-profit organization has saved more than 5,000 needy Dachshunds from Central, Northern, and Southern California. SCDR is on a mission to find forever homes for their rescued dogs.
While you shop for your new rescue pup, check out the SCDR store! You'll find SCDR-branded apparel and more, the purchase of which supports the shelter's mission. A significant portion of that mission is to provide some of the best foster homes in the city, providing top-notch medical care.
View the available Dachshunds online, or call the shelter directly for more information on how to apply to adopt a new Doxie baby.
Southern California Dachshund Relief Details
5. Dachshund Paws and Pals Rescue
Dachshund Paws and Pals Rescue comes highly recommended as one of the best Dachshund rescues in California. This canine rescue is a registered 501c3non-profit organization. They rescue and shelter Dachshunds from different parts of the city. Their goal is to cater to the needs of these dogs while looking for the best home for them.
If you are looking for a great place to adopt a puppy or adult Dachshund in California, you should consider this animal rescue organization. This organization keeps all its rescued dogs in foster homes. Dogs get all the care and love they need in these foster homes. Dachshund Paws and Pals focuses only on Dachshunds. They have Dachshunds of different ages, colors, and sizes.
In addition to providing them with food and treats, this pet rescue ensures no dog falls sick. They vaccinate and take the dogs to the veterinarian regularly.
You can also surrender your dog to this animal rescue if you can no longer take care of them. They rely on only donations and volunteers, especially foster homes, to care for their dogs.
Dachshund Paws and Pals Rescue Details
Conclusion For The "Best Dachshund Rescues in California"
Dachshunds are a favorite dog breed of many pet lovers. Thanks to their high IQ level and playfulness, they make a great companion. There is a growing awareness for pet adoption rather than breeding.
You save a life whenever you adopt a pet. Adopted Dachshunds also have more advantages, as they have received adequate training. For a fast and seamless Dachshund adoption, visit the Dachshund rescues in California listed in this guide.
For more guides similar to this list of Dachshund rescues in California, you can check out:
Before you adopt a Dachshund puppy from a rescue shelter in California, you can learn more about the breed by watching "Everything You Need to Know About Dachshunds or Wiener Dogs" down below: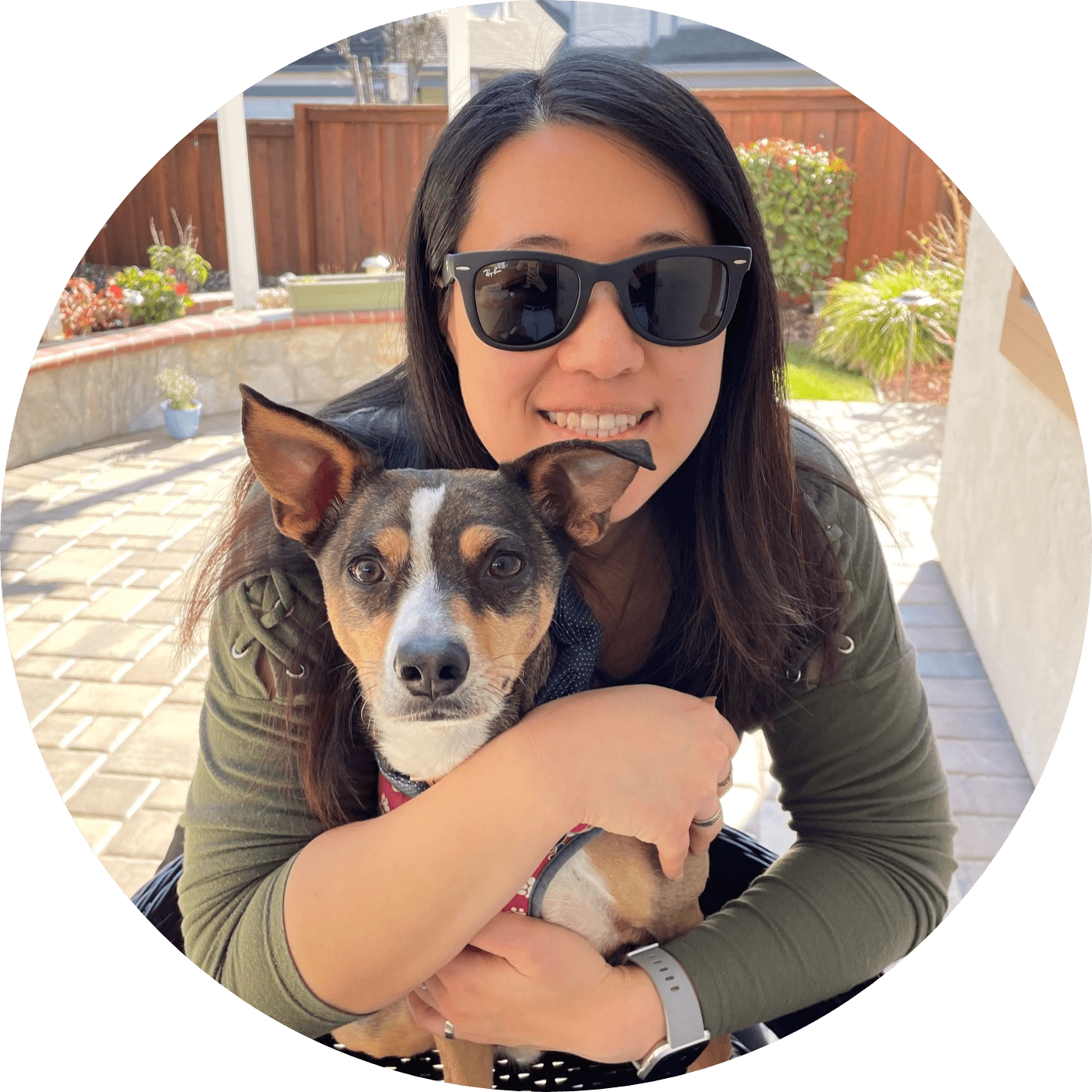 Dr. Sabrina Kong graduated from the Royal Veterinary College in England in 2016 and has been working at a small animal clinic in Northern California since then. She grew up in the Bay Area and got her bachelor's degree from Cal Poly San Luis Obispo. She also became a Certified Canine Rehabilitation Practitioner through a program at the University of Tennessee.
When she isn't in the clinic taking care of her four-legged patients, she enjoys traveling and trying new foods with her friends and her three-legged dog, Apollo. She adopted Apollo from her clinic when he was a puppy with numerous health issues. Dr. Kong truly cares about taking care of animals.