Daschunds were originally used as scent hound dogs bred to hunt badgers, rabbits, and foxes. People even used packs of Dachshunds to track wild boars. As family pets, show dogs, and small-game hunters, they are extremely versatile in today's world. Today, Dachshund puppies in Washington have grown in popularity.
This list of Dachshund breeders in Washington is a great place to begin your search for the perfect dog. If this is the breed you are looking for, these ethical, well-established breeders are the best in the state.
1. Cimarron Farm and Kennels
First on the list of Dachshund breeders in Washington is Cimarron Farm and Kennels. Cimarron Farm and Kennels are located in Lewis County, Washington state, just south of Chehalis and less than five miles from I-5, making them centrally and conveniently situated for Seattle and Portland.
Their farm is a lovely 21-acre property. With plenty of pasture and trees, their Miniature Dachshund puppies in Washington can run free. In addition, they have Labrador Retrievers, Quarter Horses, and their beloved barn cats!
The Dachshund breeder socializes and trains the puppies, preparing them for their forever home. Additionally, the dogs are vaccinated to ensure their health and happiness. Dog boarding is still available on a limited basis for dogs purchased from them at Cimarron.
Dachshund Breeder Information:
2. Von Kue Hounds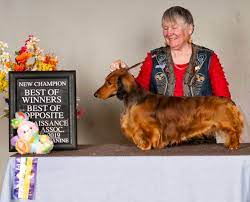 Von Kue Hounds is located in Vancouver, Washington. They breed only standard longhair Dachshunds puppies for sale and strive to improve their quality with every breeding. The dogs are members of the family and well socialized. The couple bought their first doxie more than 40 years ago and fell in love with the breed.
They are members of a local and national club. The goal is to be a responsible breeder, striving for great temperament and conformation. Preference is given to show homes, and pet puppies are sold exclusively on spay/neuter contracts. They will never knowingly sell to puppy mills, brokers, or pet stores.
Dachshund Breeder Information:
3. Evergreendox Dachshunds
Evergreendox Dachshunds has been breeding miniature long-haired Dachshunds since 2013. Every one of their Dachshund puppies in Washington is raised with lots of love and attention. In addition to farm animals, they raise their puppies around children. The puppies they breed are all AKC registered, as are the adults.
Each puppy comes with a health guarantee, vaccinations, and deworming. There are only a few litters per year, and the goal is to produce high-quality puppies that meet Dachshund standards in conformation, temperament, health, and overall appearance.
Dachshund Breeder Information:
Check out for more: Best Dachshund Breeders in the UK! and Best Dachshund Breeders in Colorado!
4. McMillan's Doxies
McMillan's Doxies breeds and raises only AKC Dachshunds. Each breeding is carefully planned based on temperament and conformation. Their goal is to produce Dachshunds with excellent temperaments and health that are true to the Dachshund standard. Among the colors, coats, and patterns they offer are brindle, piebald, dapple, and English Cream.
Many of their adult Dachshunds are champions. Additionally, they raise all of their Dachshund puppies for sale in Washington in their home. A Dachshund makes a wonderful family pet and will provide years of love and devotion. Dogs are wormed and vaccinated, and puppies come with written health guarantees. Their policy is not to sell to puppy mills, pet stores, brokers, etc. Instead, they try to make sure their babies go to loving "forever" homes as much as they can.
Dachshund Breeder Information:
 5. DK's Dachshunds WA
DK's Dachshunds are a family who loves their Dachshunds. They now have five Dachshunds who share their home. Their puppies are gently handled from the moment they are born. They believe that puppies should stay with their mother and siblings until nine weeks old. They learn what it takes to be a responsible canine citizen during this period. All of their puppies are AKC registered.
Dogs are bred based on health, genetics, and temperament. Also, they prepare the Dachshund puppies for their new homes by socializing and training them. Breeders also want to meet with you so that they can make sure the dogs are going to a happy forever home.
Dachshund Breeder Information:
6. Sage Hill Dachshunds Washington
LAst on the list of Dachshund breeders in Washington is Sage Hill Dachshunds. Sage Hill Dachshunds raises smooth and long-coated Miniature Dachshunds in beautiful patterns and colors registered with the AKC. They are located near the breathtaking cliffs of the Columbia River Gorge in the heart of Washington State, where their dogs experience all four seasons.
Miniature Dachshunds would never survive as "outside dogs" in the Washington climate, but they enjoy romping in the snow by choice. They will happily accompany their owner on a brisk walk in any weather. It's not uncommon for them to produce an impressive coat!
All Sage Hill Dachshund puppies come with a generous puppy package designed to make the transition into your home as simple as possible. In addition to the crate, they include a blanket with the scent of the mother and siblings, a toy, a week's supply of puppy food, puppy pee pads, registration forms, copies of the sire and dam's pedigrees, and a variety of informational materials.
Dachshund Breeder Information:
Dachshund Puppies in Washington
You can describe the Dachshund as clever, energetic, and courageous. It is bred to be persistent, which is another way to say that it can be stubborn. Dachshunds are known for being entertaining and fearless, but all they want to do is snuggle with their people.
This attribute outweighs the breed's insistence on doing things his way for many Dachshund owners. Dachshund personalities can also be influenced by coat type. Due to their terrier background, wirehaired Dachshunds can be mischievous troublemakers.
Smooths are calm and quiet, while Longhairs have a personality that lies somewhere in the middle. However, it is not normal for Mini Dachshunds to be timid or nervous. Avoid puppies that behave in this manner.
In addition to heredity, training, and socialization, temper is influenced by several factors. Friendly temperament puppies are curious and playful, willing to approach people and be held. Pick puppies in the middle of the road, not beating up their littermates or hiding in a corner.
It is always a wise idea to meet at least one parent-usually the mother is available to ensure they have sound temperaments. A puppy's siblings or other relatives can also give an idea of what the puppy will be like when it grows up.
Dachshund puppies are very energetic and have a lot of stamina. They love to go for walks or play outdoors with other dogs and hunt and dig. If they exercise moderately every day, they can do well in small living quarters. You should walk two half-miles (about ten minutes each) every day. Sometimes, when time is short, a game of fetch will satisfy their need for activity.
How to Choose a Dachshund Puppies breeder in Washington?
Finding a qualified, reputable breeder is the first step to buying a Dachshund puppy. Breeders should be knowledgeable about Dachshunds and produce a limited number of puppies each year. As opposed to volume and profit, responsible breeders are concerned with the health and welfare of their Dachshunds.
If the puppy is registered with the Kennel Club, ask the breeder for the registration details (and make sure you can find them on the Kennel Club website). Of course, there are many more risks and unknowns if you don't buy a Kennel Club registered Dachshund.
Where do you find a Dachshund breeder in Washington?
Research is the first step. Several puppy mills and online scams pose as reputable breeders. Next, engage in conversations about getting a future furry family member in different online forums.
Ask questions, meet the mother or parent dogs, and trust your gut. You should be suspicious of a breeder if something seems off or if the Dachshund puppy seems too good to be true. Additionally, the AKC offers resources for finding a breeder, with pretty strict criteria for participating. Adopting a Dachshund puppy may surprise you, but it is possible.
The AKC reports that most breed rescues receive dogs from owner surrenders, with the most common reasons being a change in lifestyle or a breed not being a good match for the owner. As a result, there may be many dogs and puppies out there that need a forever home.
Conclusion For Dachshund Puppies in Washington
Based on positive reviews, satisfied customers, and businesses that deliver on their promises, we chose these 6 Dachshund Breeders in Washington. Breeders are spread throughout the state, so you might have to make a trip to find your ideal puppy, but it will be more than worth it!
You will also like:
Garrett loves animals and is a huge advocate for all Doodle dog breeds. He owns his own Goldendoodle named Kona. In addition, he volunteers at the Humane Society of Silicon Valley, where he fosters dogs and helps animals. Garrett enjoys writing about Doodles and believes that dogs can teach humans more about how to live than humans can teach a dog.
Why Trust We Love Doodles?
At We Love Doodles, we're a team of writers, veterinarians, and puppy trainers that love dogs. Our team of qualified experts researches and provides reliable information on a wide range of dog topics. Our reviews are based on customer feedback, hands-on testing, and in-depth analysis. We are fully transparent and honest to our community of dog owners and future owners.