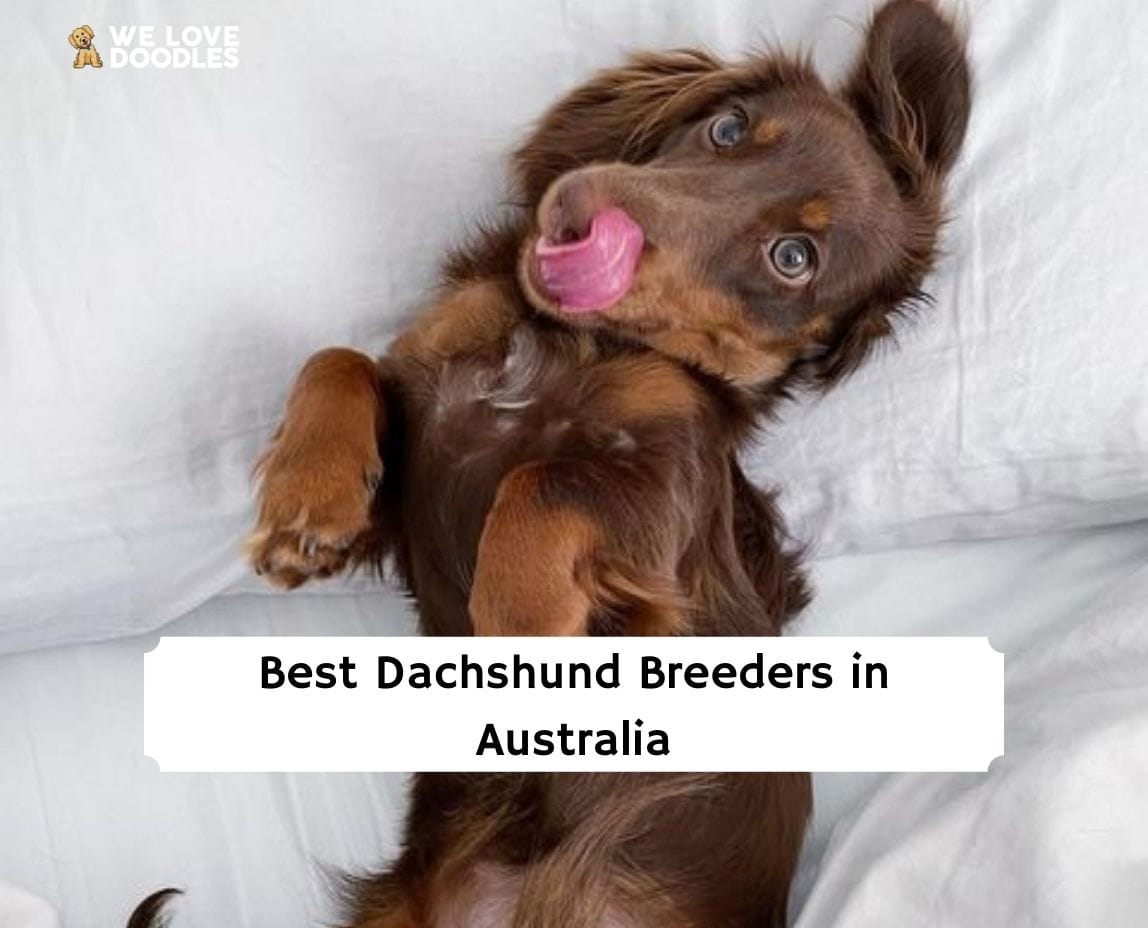 Daschund puppies were originally bred to hunt badgers, rabbits, and foxes. Packs of Dachshunds were even used to track wild boars. Their versatility makes them excellent family pets, show dogs, and small-game hunters. Additionally, one of their many nicknames includes Wiener-Dog, Sausage Dog, Doxie, and more.
A Daschund puppy in Australia may be right for you if you need a companion who keeps you on your toes and showers you with love. To make your search easier, we've compiled the 6 best Daschund breeders in Australia.
Other articles you would like: Poodle Breeders in Australia and Golden Retriever Breeders in Australia.
1. Sonree Minidachs – Dachshund Breeders
Sonree, are breeders of Champion miniature dachshunds. Their puppies are socialized and trained from a young age. Furthermore, the dogs are treated like family. They raise the puppies in a loving, affectionate environment.
They will have wormed your puppy regularly since it was 2 weeks old (except for heartworm).
Your Dachshund puppy for sale in Australia will be immunized against Hepatitis, Distemper, Parvovirus, and Kennel Cough for the first time. In order to fully protect your puppy from these diseases, you will need to administer a booster injection at 12 weeks of age and then annually thereafter.
Sonree puppies will also be microchipped so that they can be identified over their lifetime.
Sonree Dachshunds Puppy Information:
Size: Miniature smooth Dachshunds puppies
Sonree Toy Dachshunds Breeder Details:
Location: Virginia and Lyle Brown Northern NSW, AUSTRALIA
Telephone: 02 6683 4001
Website: http://www.sonree.com/
2. Aashunda Australia
The Dachshund puppies from Aashunda are raised in the social area of the owners' house. Dachshunds in their care are not kenneled, they are pets. When purchasing your Dachshund puppy you will receive pedigree papers from Pedigree Dogs NSW or an upgrade to Mains upon request and approval.
Prior to them being used for breeding or offered for stud, Aashunda Miniature Dachshunds are screened and DNA tested for genetically testable diseases by their genetic services provider.
Miniature Dachshund puppies from Ashuta Dachshunds are sold 'clear by parentage. The dam's paperwork can be provided to the new owners as proof that their puppies are not affected by genetic disorders.
The latest information about how to identify potentially at-risk dachshunds is always being researched and is being closely followed. Recently, Aashunda began back screening their miniature dachshunds. These results can be found on the National Dachshund Council's website.
The goal of Aashunda is to promote both the good and bad aspects of dachshunds in the community, ensuring that a Dachshund is the right match for your family.
Aashunda Dachshunds Puppy Information:
Size: Miniature smooth Dachshunds puppies
Aashunda Dachshunds Breeder Details:
3. Annaric Dachshunds
Anneric Dachshunds has adorable Doxies for sale. These puppies come in a variety of colors and types, making them suitable family companions. At Anneric they know what they're doing when it comes to Dachshunds, and they'll be there for you every step of the way. They also strive to find suitable homes for each puppy.
This Dachshund breeder in Australia usually lets her puppies go to those who make the effort to visit and meet her dogs. It's no surprise that people make the trek to Muchea to meet her Dachshund puppies.
Annaric Dachshunds Puppy Information:
Size: Miniature and Standard smooth Dachshunds puppies
Annaric Dachshunds Breeder Details:
4. DACALDORF DACHSHUNDS
DACALDORF Dachshunds are raised in a home environment as part of the family. Every Dachshund is exceptionally loved. While they are just starting to breed Dachshunds, this beautiful breed has been a part of their lives for many years.
Dachshunds are available for adoption at DACALDORF in a range of coat colors and types. It is their goal to provide families with Dachshunds that are excellent family companions. All of their Dachshund puppies in Australia are vaccinated and socialized as well. You'll get a Dachshund pooch of excellent quality from this breeder.
DACALDORF Dachshunds Puppy Information:
Size: Miniature and Standard smooth Dachshunds puppies
DACALDORF Dachshunds Breeder Details:
5. Daxenberg-Kennels Australia
A small family-run kennel, Daxenberg-Kennels is known for its loving Standard Smooth Haired Dachshunds. They have won many awards such as "Best of Breeds" with their dogs. Other awards include "Best Baby Puppy of Group" and "Best Intermediate of Group."
The dogs at Daxenberg-Kennels are from highly-respected bloodlines imported from New Zealand. Breeding for sound temperaments and correct conformation is their goal.
High-quality puppies of many different coat types and colors are produced by them. So no matter where you live in Australia, you'll be able to get a puppy here.
Daxenberg-Kennels Dachshunds Puppy Information:
Size: Standard smooth Dachshunds puppies
Daxenberg-Kennels Dachshund Breeders Details:
Location: Victor Harbor, SA
Telephone: 04 491 69212
6. Hillhaven Dashchund
Dachshunds from Hillhaven are first and foremost loved pets, and their well-being is of the utmost importance to the breeder. They live with their Dachshunds and love them deeply. When they whelp, they usually do so in the breeder's bedroom where they feel most comfortable.
Their Dachshund puppies spend the first week under close observation, again generally in the owner's bedroom or their child's (all their children have dogs). Every puppy is of the utmost importance to them, so there are lots of restless nights, but they wouldn't have it any other way. Neither dogs nor puppies are kept in cages. Instead, they sleep in the breeder's bed or the beds of their children.
Between 3 and 4 weeks of age, puppies are usually brought into the living room when they start to wander and show an interest in life and food.
There is always someone on hand to help give each Dachshund puppy the attention and care they need to ensure all their physical, social, and emotional needs are met.
Hillhaven Dachshunds Puppy Information:
Size: Standard smooth Dachshunds puppies
Hillhaven Dachshunds Breeder Details:
Dachshund Puppies in Australia
Dachshunds in Australia are very energetic and durable. They enjoy taking walks or playing outside with other dogs, as well as hunting and digging. A moderate amount of daily exercise will allow them to live well in small apartments as well. Daily walking is recommended for about ten minutes per half-mile. A game of fetch is sometimes the most effective way to keep them occupied when time is short.
Their lives should be spent in the home, not in the yard or in kennels. If you want your dog up on the sofa or bed, get steps that they can use. If they jump on and off furniture, they can injure their backs. Always support the rear and the chest of your Dachshund when holding it.
If properly motivated, Dachshunds can quickly learn. You can keep them focused by rewarding them with food or favorite toys, and keep training sessions short. By making obedience practice fun and interesting, the Dachshund will avoid becoming bored by repeating the same activity over and over again.
Dachshunds occasionally have trouble with housetraining. It may not feel that it needs to use the bathroom outside. Be patient and consistent. Crating is helpful as well.
Crate training goes beyond housetraining and makes sure that your Dachshund does not get into things he shouldn't. Dachshunds are often destructive when they are puppies. In addition to helping your Dachshund accept confinement, crate training young will also help him when he needs to be boarded or hospitalized. It's never a good idea to crate your Dachshund all day long. They shouldn't spend more than a few hours in it per day except when he sleeps. Dachshunds puppies in Australia are people dogs, which means they don't belong in crates or kennels.
Dachshunds are excellent watchdogs but can be noisy. Miniature Dachshunds, in particular, are noisy and tend to bark a lot. Consider this if your Dachshund is going to live in an apartment or condo.
How to Choose a Dachshund Breeder in Australia?
When it comes to choosing a breeder for your Dachshund puppy, we have done a lot of research to help you. An important factor is a breeder's health checks, genetic tests, and how they socialize their puppies. Our team has independently researched all of the recommended breeders on our list of "Best Dachshund Breeders in the United States." We do not list breeders who pay for listings. Our recommendation, however, is to reach out to specific Dachshund breeds to learn about breeding practices. You should always investigate a breeder before buying a dog or puppy from them.
Breeders should be willing to let you see the puppies. It isn't always possible to do this unless the puppy has already been vaccinated, so be patient. In addition, the breeder should be well-versed in the breed and adhere to the rules of the parent club
Where do you find a Dachshund breeder?
You need to know how to recognize a responsible, caring Dachshund breeder and – just as importantly – where to find them in Australia if you plan on buying a puppy from one.
Choosing where to get your Dachshund puppy carefully will save you from suffering through heartache, frustration, and financial costs if you get a dog with serious medical issues or behavioral issues. The worst scenario is that you could unknowingly support the puppy mill industry.
A purebred dog cannot be found on an Internet classified site. In person, it is nearly impossible to determine whether a breeder is reputable or a puppy mill. Internet classifieds are commonly used by puppy mills and backyard breeders as a marketing tool. A breeder's website, word-of-mouth, and membership in national or regional breed clubs serve as referral sources.
Check out our recommended Dachshund breeders in Australia. Go to your local kennel club or national breed club to find a reputable Dachshund breeder. In order to join the club, members must adhere to a code of ethics. Breed clubs may also provide rescue dogs.
Conclusion for Dachshund Breeders in Australia
We selected these 6 Dachshund Breeders in Australia based on positive reviews, satisfied customers, and businesses that deliver on their promises. Breeders are scattered across the country, so you might have to make a trip to find your perfect puppy, but it will more than be worth it!
Other articles you would like:
Garrett loves animals and is a huge advocate for all Doodle dog breeds. He owns his own Goldendoodle named Kona. In addition, he volunteers at the Humane Society of Silicon Valley, where he fosters dogs and helps animals. Garrett enjoys writing about Doodles and believes that dogs can teach humans more about how to live than humans can teach a dog.
Why Trust We Love Doodles?
At We Love Doodles, we're a team of writers, veterinarians, and puppy trainers that love dogs. Our team of qualified experts researches and provides reliable information on a wide range of dog topics. Our reviews are based on customer feedback, hands-on testing, and in-depth analysis. We are fully transparent and honest to our community of dog owners and future owners.