Designer dogs have grown in popularity over the last two decades, most likely thanks to the benefits new breeds offer. The Corgi Poodle mix is one of the latest designer dog breeds. Its friendliness, high intelligence, and low-shedding qualities make it a lovable breed to many dog owners.
The Corgi Poodle is sweet with kids, making it an excellent family dog. Moreover, its small body doesn't take up much space, which is ideal for those living in apartments or small homes. If you've considered purchasing a Corgi Poodle mix, understanding its history, temperament, grooming needs, training preferences, and other qualities is essential In helping you learn if it's the right dog for you!
Before scrolling down this Corgi Poodle mix guide, you can check out these other Poodle mixes from our team at We Love Doodles: Basenji Poodle Mix Guide and Bichon Poodle Mix Guide.
What Is a Corgi Poodle Mix?
The Corgi Poodle mix is a hybrid cross of a purebred Pembroke Welsh Corgi and a purebred Miniature or Toy Poodle. It may also be a crossbreed of a Miniature Poodle and a Cardigan Welsh Corgi.
Both Corgis and Poodles are popular options for crossbreeding. The Poodle is known for its intelligence, hypoallergenic coat, and disposition, while the Welsh Corgi is friendly with kids and often referred to as the guardian dog of children.
Corgi Poodle mixes are playful, intelligent, and loyal dogs. While they inherit mostly the best traits of their parent breeds, these dogs, like the Corgis, can sometimes come off as strong-willed.
The Corgi Poodle mix is also known by other names, such as
Corgipoo
Corgi doodle
Corgi-Poodle mix
Corgi mix dog
Designer Corgi
Poodle Corgi mix
History of the Corgi Poodle Mix
Since the Corgi Poodle mix is a modern breed, knowing the histories and traits of its parent breeds is critical to understanding this hybrid's personality traits and dispositions.
History of the Corgi Breed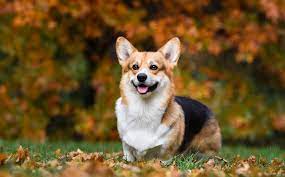 The Cardigan and Pembroke Welsh Corgi breeds first gained popularity in the 10th century when country folk used them as farm dogs in Wales. By the 1850s, the Corgi was so popular that it had to be split into two breeds. Farmers in the Northern part of Wales kept the Cardigan Corgi, while those in the South kept the Pembroke Corgi.
The Royal Family of England also launched the Corgi's worldwide popularity. In fact, the late Queen of England loved the Pembroke Welsh Corgi. She hadn't been without one since 1933.
Small herding dogs like the Corgi could easily handle livestock, as they were much smaller than cattle and sheep. Later, Welsh farmers began keeping their sheep in fenced pastures, eliminating the need to use Corgis as farm dogs.
Furthermore, farmers started recognizing the need for long-legged dogs to keep watch over their sheep, and the Border Collie had such features. Eventually, the Corgi went from an all-farm dog to a companion and show dog.
History of the Poodle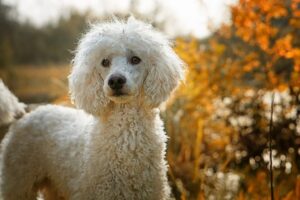 The Poodle has its roots in Germany, but it's often associated with France, as that is where it gained popularity. The breed's name originates from the German word "pudel," which means splashing in the water. Initially, hunters used Poodles to retrieve ducks and other birds from the water, hence their namesake.
The Poodle's distinct clipping of the heavy coat was designed to increase its efficiency in the water. The Standard Poodle was primarily used for hunting expeditions, but the French introduced the two other Poodle variations – the Miniature and Toy Poodle – to hunt for truffles and perform in circuses.
Corgipoo Appearance and Size
A Corgi Poodle mix may develop different appearances depending on its parents' physical characteristics. Understanding the appearance of both breeds may give you a better idea of what this mixed breed looks like.
Corgi Appearance
Corgipoos are often bred using one of two Corgi breeds – the Cardigan or the Pembroke. Each breed has varying features that may affect a Corgi Poodle mix. While Cardigan and Pembroke Corgis are similar in size, the Cardigan has a more athletic build. It has a broader chest, is more powerful, and has a more elongated body than the Pembroke Corgi. The Cardigan Welsh Corgi is also slightly taller, with a height of 10.5 to 12.5 inches compared to the average Pembroke Corgi's height of 10 to 12 inches.
Their facial features are also different. Pembrokes have a fox-like appearance characterized by pointed ears that make them look like overgrown puppies. Conversely, Cardigans have ears that are rounder and larger.
Another striking feature about Corgis is their docked tails. Pembrokes often have docked tails to conform to the Breed's Standard, while Cardigans have a broad, low-set tail. Both breeds have extremely short legs, but the Cardigan has stronger front legs that bend outwards to support their heavy chests.
Poodle Appearance
The other parent breed, the Poodle, comes in three sizes: Standard, Miniature, and Toy. The Standard is the largest, weighing 45-70 pounds, while the Toy is the smallest, weighing 6-9 pounds. Miniature Poodles weigh 15-17 pounds and stand 11-15 inches.
Corgipoo Appearance
The resulting Corgi Poodle mix features a combination of all these features. They weigh 12-40 pounds with a height of 9-20 inches and may have short to long legs with floppy or erect ears. Unlike either parent breed, Corgipoo bodies are stockier, and they can have long tails like the Poodle or stumpy ones like the Cardigan Corgi.
The mixed Corgi Poodle may have a double coat consisting of a dense, weather-resistant outer coat and a waterproof inner coat. The coats may be short- to medium-length and come in various colors, including tan, red, white, black, brown, cream, fawn, and gray. Sometimes they have a combination of white color on the chest and a different dominant color on the rest of the body.
Corgi Poodle Temperament
The Corgi Poodle mix is intelligent, active, and affectionate. They inherit most of their lovable traits from both breeds, as the Poodle and Corgi have similar temperaments.
Poodle Temperament
Poodles are known for their friendliness and high intelligence, which makes them easy to train. Their ability to obey new commands quickly is one reason they were used in circus shows. Poodles are also friendly with children and warm up to strangers easily. However, they may come off as clingy and develop separation anxiety if left alone for long hours.
Corgi Temperament
Corgis are also friendly, affectionate, smart, and easy to train. The Pembroke Corgi is particularly lively and outgoing, making it a great companion. Corgis are also less needy than Poodles. Their lively nature makes them fantastic companions for kids and other pets, and you don't have to worry about leaving them behind for long hours.
Corgipoo Temperament
As a result, the Corgipoo is intuitive and sensitive, allowing it to get along with kids and other family members easily. However, their high intelligence means they need constant mental stimulation as they can bore easily. Corgipoos also become hyperactive and destructive when idle. But, with the right amount of socialization, they are the best companions!
Their behavior towards strangers is inconsistent, as some Poodle Corgi mixes are more accepting of strangers than others. Genetics is critical in determining their attitude, but it also depends on socialization. If socialized early, Corgipoos are less likely to exhibit negative behavior.
Corgi Poodle Training Needs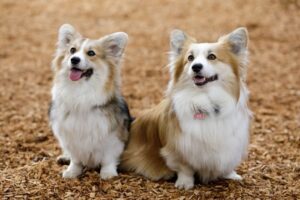 The Corgipoo is highly intelligent, which makes it easy to train. However, this breed's curiosity can make them headstrong and troublemakers. Training and socializing a Corgipoo early can keep such behavior in check.
Small treats and positive reinforcement are the most effective ways of training the Corgi Poodle mix. It prevents the dog from developing anxiety while strengthening your bond.
Another way to make training more effective is to limit training duration. The Corgipoo can grow impatient and lack concentration if training sessions are too long. Short sessions keep the pup engaged and active, making the training more effective.
Corgi Poodle Exercise Requirements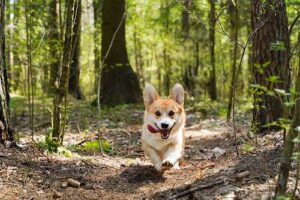 Corgis and Poodles are highly energetic, making this hybrid breed similar. Corgipoos are incredibly active when young and can get destructive if not kept busy. You must avoid restricting them from playing and moving around.
An hour or two of games and physical activity, like swimming, playing fetch, and puzzles, should keep any negative energy in check. Also, plenty of walking or running goes a long way in keeping your dog active. If you can't get in enough walks, consider hiring a dog walker to help out.
Corgi Poodle Mix Feeding Requirements
The feeding requirements for your Corgi Poodle mix vary by age, size, activity level, and metabolism. An adult Poodle Corgi mix typically needs ½- 1 ½ cups of high-quality dry food twice a day. You must avoid overfeeding Corgipoos, as they are prone to obesity.
Corgi Poodle Grooming Needs
Although the Corgi Poodle mix is likely a low-shedder, daily brushing keeps them neat and prevents their fur from matting. If your Corgipoo takes after the Corgi, it will likely develop a curly coat that sheds moderately. But if your pup has a coat more similar to that of the Poodle, shedding won't be a big problem.
Typically, Corgi Poodle mixes shed twice per year when the seasons change. During these times, you must spend more time brushing your dog to prevent its fur from tangling. A good set of clippers helps remove excess hair, but you can also visit a professional groomer if you don't have the time. A monthly visit to the groomer is necessary for a Corgipoo with a more Poodle-like coat.
A good grooming routine also includes cleaning the ears. Poodles grow hair in the ears, and if the hybrid dog inherits this trait, it can become prone to ear infections. You must also brush your Corgipoo's teeth twice weekly and cut its nails. Corgi poodle mixes should also have their nails trimmed when visiting a groomer for a haircut.
Bathing is another critical part of the Corgipoo's grooming routine. Give it no more than a weekly bath, as bathing frequently can strip the coat of its natural oils. You can use special dog-formulated shampoos, which have a double effect – they clean the dog's coat and protect it against insect bites and fleas.
Corgi Poodle Health Concerns
Overall, the Corgi Poodle mix is a healthy dog. Genetic mixing reduces the risk of developing defects, but they are still prone to diseases.
Hip Dysplasia
Hip Dysplasia is common in Corgis. It's a malformation of the hip joint that causes the ball at the top of the leg not to fit correctly in the socket. The surrounding ligaments also grow weak.
Hip dysplasia is similar to arthritis in dogs, except it affects them in their younger years. A telltale sign that your Corgi Poodle mix has this condition is the development of stiff and sore joints. You may notice your dog has difficulty climbing stairs or even walking out of bed.
A dog may limp or hop when walking to avoid moving the sick joint. Since hip dysplasia is a genetic condition, it's incurable, and one can only manage its symptoms. Your vet may prescribe medication and recommend lifestyle changes like diet, exercise, and weight control. Supplements and massages also help manage hip dysplasia.
Intervertebral Disk Disease (IVD)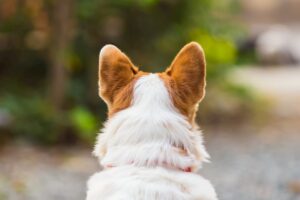 IVD affects Corgis due to their unique build. Their short legs and long backs mean their spines aren't supported, leaving them prone to IVD. This condition causes the spinal column to bulge, damaging nerves.
IVD is a progressive, degenerative disease where the shock-absorbing discs between the spinal cord harden until they cannot cushion the spinal cord properly. The compacted discs swell and squeeze the spinal cord, damaging the dog's nerve impulses.
Sometimes a simple jump can trigger IVD. Common symptoms of IVD include pain and weakness in the rear legs, muscle spasms, and loss of bowel and bladder control.
If IVD isn't treated immediately, a Corgipoo's rear legs grow weak, and it may eventually stop walking. Early treatment is critical to managing IVD symptoms. Your vet may prescribe anti-inflammatory medicines and recommend reducing movement to help the dog recover.
If the IVD is severe, surgery may be necessary to remove a portion of the vertebrae and reduce pressure. Sometimes surgery is unsuccessful and may completely incapacitate the dog's rear legs.
Achondroplasia Dwarfism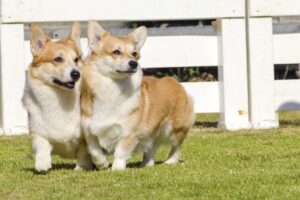 Achondroplasia dwarfism is a growth and developmental abnormality that causes bones not to grow to their normal size. It occurs when a fibroblast growth factor mutation causes a dog to develop abnormally short limbs. This disorder primarily affects Corgis. If your Corgi Poodle mix acquires this trait, they will likely be dwarfed.
Progressive Retinal Atrophy (PRA)
PRA is another degenerative condition that affects the retinal tissue. It causes the photoreceptor cells in the retina to deteriorate and, in severe cases, causes blindness. PRA occurs gradually and often affects Miniature and Toy Poodles.
DNA tests can help identify if a dog's parents have PRA. These tests can also identify carrier animals who might not have PRA but can pass on the condition to their offspring.
Other health problems Corgi Poodle mixes may experience include:
Patellar Luxation
Elbow dysplasia
Osteoarthritis
Kidney problems
Hypothyroidism
Von Willebrand disease
Buying a Corgi Poodle Mix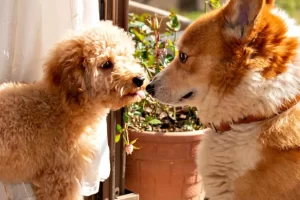 There are two ways of getting a Corgi Poodle mix – buy or adopt. One benefit of adopting a dog from your local shelter is that the dog's health, temperament, and coat are known.
However, if your heart is set on buying a new furry friend, it's best to find honest breeders who will provide detailed information about the dog. They should inform you of necessary health tests, including eye and hip evaluations. You should also ask for physical proof that the dogs have been examined.
Frequently Asked Questions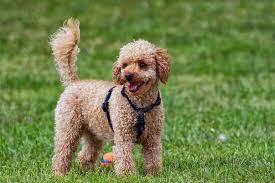 What is a Poodle Corgi Mix called?
A Poodle Corgi mix is called a Corgi doodle, Corgipoo, Corgi-Poodle mix, Corgi mix dog, Designer Corgi, or a Poodle Corgi mix.
Are Corgipoo good dogs?
Corgipoo dogs are extremely friendly and can easily relate to kids, adults, and other dogs. However, early socialization is critical to helping them develop good behavior.
How much do Corgipoos cost?
Corgipoos cost between $500 and $1,000 depending on your location and whether the parents are Corgipoos or pure Corgi and Poodle breeds.
Do Corgi Poos shed?
Corgipoos shed moderately. The Poodle's low-shedding trait ensures the Corgi Poodle mix doesn't shed as much. ]
Are Corgipoo Puppies hypoallergenic?
Corgipoo pups are hypoallergenic thanks to the Poodle's low-shedding coat. This makes them excellent pets for people with allergies.
How big will a Corgipoo get?
Corgipoos can be as big as 70 pounds for males and 50 pounds for females, depending on the parent breeds. For example, a cross between the Pembroke Welsh Corgi and the Standard Poodle, the biggest of the Poodle breed, can result in a heavier Corgipoo.

Conversely, a crossbreed of Welsh Corgi and a Miniature Poodle, which typically weighs 15-17 pounds, may result in a lighter Corgipoo.
Do Corgipoos need haircuts?
A Corgipoo will likely need regular haircuts depending on its coat length and shedding levels.
How long does a Corgipoo live?
The average lifespan of a Corgipoo is 12 years. However, they could live less time if they inherit a severe genetic condition. They may also live longer if you ensure they have a healthy diet and exercise routine.
Should I Get a Corgi Poodle Mix?
A Corgi Poodle mix is an excellent pet for those looking for an intelligent, affectionate, and intuitive animal. Their parent breeds, the Poodle and the Corgi, have many desirable traits, meaning this hybrid inherits a range of admirable qualities too!
Moreover, the Poodle's low-shedding qualities mean your Corgi Poodle mix will be a low- to moderate-shedder. However, you must acquaint yourself with their exercise, training, grooming, and feeding needs to keep them healthy and comfortable.
It would also help if you were wary of any genetic conditions they may have inherited from parent breeds. Identifying and treating them early can prolong their lifespan and improve their quality of life.
For more Poodle mix guides from our team at We Love Doodles, you can check out:
If you find the Corgipoo a fascinating Poodle mix, you can learn more about other amazing breeds by watching "15 Poodle Mix Breeds That Will Melt Your Heart" down below:
Garrett loves animals and is a huge advocate for all Doodle dog breeds. He owns his own Goldendoodle named Kona. In addition, he volunteers at the Humane Society of Silicon Valley, where he fosters dogs and helps animals. Garrett enjoys writing about Doodles and believes that dogs can teach humans more about how to live than humans can teach a dog.
Why Trust We Love Doodles?
At We Love Doodles, we're a team of writers, veterinarians, and puppy trainers that love dogs. Our team of qualified experts researches and provides reliable information on a wide range of dog topics. Our reviews are based on customer feedback, hands-on testing, and in-depth analysis. We are fully transparent and honest to our community of dog owners and future owners.