Chipoos are the adorable result of Chihuahua and Poodle crossbreeding. From their stature to their temperament and coat, Chihuahuas and Poodles do not seem to have much in common. These stark differences make each Chipoo puppy unique, but it also makes grooming tasks like haircuts a little challenging.
Need some help picking out a haircut for your Chipoo? Keep reading for more information about Chipoo haircuts, different styles, and maintenance tips.
Before scrolling down this guide, "Best Types of Chipoo Haircuts," check out: Chihuahua Poodle Mix Information, Facts, Images! (2023) and 8 Best Mini Doodle Breeds! (2023).
Do Chips Need Haircuts?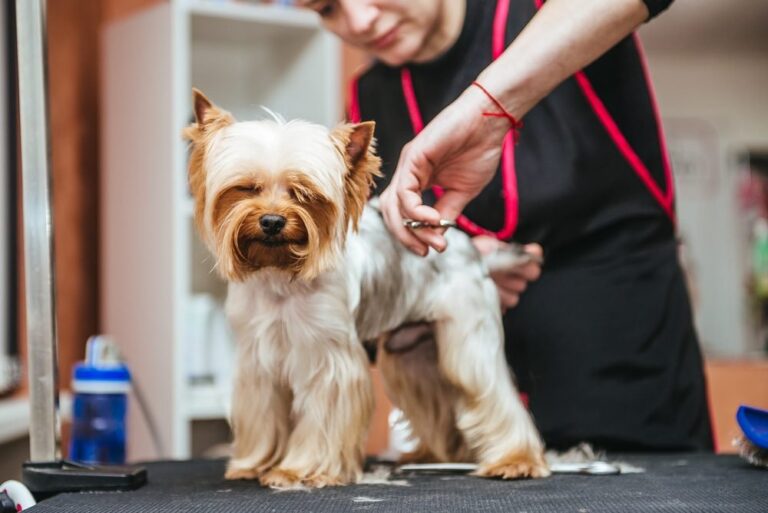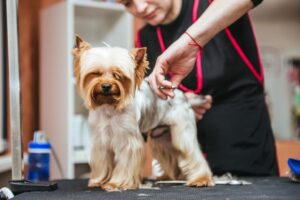 Yes, your Chipoo needs regular haircuts.
Chipoos require little grooming maintenance compared to other pet breeds. Nonetheless, owners should brush their Chipoos a few times a week and bathe them every few months or as needed.
How often Chipoos need a trip to the groomer for a trim depends on their coat type and which haircut the owner chooses. Generally, most Chipoos need a haircut about every two to three months.
Seven Popular Chipoo Haircut Styles
Here are seven of the best haircut styles for your Chipoo puppy, all at varying lengths and maintenance levels.
Teddy Bear Haircut / Puppy Haircut
The teddy bear or puppy haircut is one of the most popular grooming styles for Chipoos and other Poodle mixed breeds. This style of trim originated from show-ready Poodles. Although now, pet owners request this cut for a fluffy yet maintained look.
The teddy bear haircut gives a rounder, softer shape to a dog's head and face. This trim allows much room for personal preferences. Some people prefer keeping their dog's ear and tail hair much longer, while others prefer the same length all over.
Typically, a puppy cut trims to about one to two inches, but for a shaggier look, you could keep some sections of hair even longer. Most pet owners and groomers keep the head and facial hair longer and the body and leg hair shorter to achieve a rounded look.
After the trim, you or your groomer should smooth the cut using thinning scissors, blending the fur seamlessly.
Lamb Haircut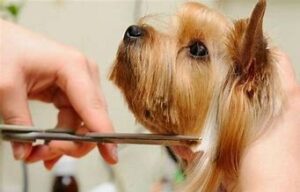 The lamb cut works well for various dog breeds, including the Chipoo, as a cute style all year long.
Lamb cuts are great for your dog in the summertime or any warmer climate because it features short, breathable layers. This cut maintains a short trim around the face and body, leaving more fur on the legs.
The lamb cut works excellently in the wintertime too, especially if your dog enjoys playing in the snow. Their legs stay insulated while their body fur is short enough that you do not have to worry about removing any pesky snow and ice clumps stuck to their mane.
If you think your Chipoo will get cold in the fall and winter with this type of haircut, find a cozy coat or cute sweater for protection against wind chill. Your Chipoo will be warm and stylish!
Kennel Haircut
The kennel haircut is another versatile style for dogs like the Chipoo. Kennel cuts are similar to the teddy bear or puppy cut because it maintains the same length of hair all over the body. However, the kennel cut is usually shorter, approaching the buzz-cut territory.
A kennel cut is a great option for pet owners who have busy lives and are not able to schedule frequent dog grooming appointments. This trim lasts longer than other styles on this list, and Chipoo owners will find it easier to maintain.
Kennel cuts are also excellent choices for the warmer months because it keeps the coat short. How short depends on your preference as a pet owner. Make sure to let your groomer know exactly what you want before they start cutting.
Poodle Haircut
The Poodle haircut is another option for Chipoo puppies since they are part-Poodle. This haircut is a traditional style for extra furry to curly-haired dogs.
The Poodle cut focuses on leaving fur around the body shorter and longer around the head and neck. On some Chipoos, it may even look like your dog is sporting a bit of a lion's mane!
This style looks great on poodles and works well for Chipoos, especially those closely resembling their Poodle parent.
Choosing the Poodle haircut helps maintain your dog's natural fur texture, keeping them slightly curled or wavy without the tangles.
This style requires higher maintenance than others, like the kennel cut. It works well for pet owners who have the time for extra grooming and more frequent haircuts.
Full Shave Haircut
Shaving your dog's coat should not be the first option when considering a haircut style. Dog coats are necessary for many reasons. It protects them from the weather and repels excess dirt and danger.
Sometimes, owners opt to shave small areas of matted fur because they cannot brush it out. Some owners also shave their dogs in the summertime, especially if their dog has a thick coat. Try a shorter cut instead of a full shave, if you worry about your Chipoo overheating.
If you are unsure whether a full shave haircut is necessary for your Chipoo, always ask your groomer for their professional opinion.
Lion Haircut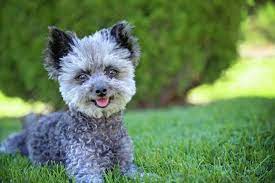 Lion haircuts create a special kind of look only some breeds flawlessly execute. Luckily, Chipoos look exceptional with this trim!
For a lion cut, ask your groomer to trim your dog's body fur short. Then, ask them to leave the hair around your dog's face, legs, and tail longer. When properly executed, this technique creates a lion's mane-like appearance for your Chipoo.
The lion cut is a great choice for upcoming warmer weather. Your dog stays cool while keeping enough of its coat to protect its skin from bugs and grime.
People began giving dogs lion haircuts centuries ago, starting with Portuguese Water Dogs. This style heightened their agility in the water. Today, many dog breeds benefit from this trim, including Chipoos and their relative Poodles.
Mohawk Haircut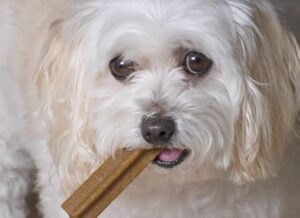 To give your Chipoo a mohawk haircut, trim their body fur to a short, consistent length. Then, leave the top head section longer, creating the mohawk look.
People enjoy giving Poodles and mixed-Poodle breeds mohawk cuts because it maintains the fluffy look while keeping excess hair out of your dog's eyes.
Some owners like to accentuate this fun look by dyeing their dog's mohawk fur, using pet-safe colors. This temporary dye makes for a unique and vibrant experience for you and your Chipoo puppy.
Chipoo Grooming Tips
Since the Chipoo is part Chihuahua and part Poodle, understanding the right grooming techniques is challenging, especially because Chihuahuas and Poodles have such different coats.
The sections below provide information on how to maintain your Chipoo's coat between haircuts.
Coat Care
A Chipoo's coat texture and density vary depending on several genetic factors. It could be more like a Chihuahua's, or it could be more like a Poodle's. Some Chipoos naturally have shorter or longer coats, and their texture can fall anywhere on the spectrum from straight to wavy to curly.
Regardless, most Chipoo coats do not require much maintenance compared to other dog breeds.
All Chipoos are hypoallergenic, and they experience minimal shedding. If your Chipoo has fur similar to a Poodle, it is at an increased risk for tangled and matted spots. You should brush your Chipoo up to four times a week depending on its coat.
The brush you use for your Chipoo depends on its coat texture and length. The average dog grooming brush works well for most Chipoos. If your Chipoo has a longer haircut, consider using a brush and comb to prevent tangles.
Brushing a Chipoo should not take much time. Try following these steps:
Dampen your dog's coat (this works best using a spray bottle).
Brush each section in the direction of fur growth.
Untangle any matted areas with your fingers first, then brush with a comb.
Bathing
Most indoor Chipoos need baths about every two or three months. You might consider bathing your dog more frequently if it spends a lot of time outdoors or rolls around in something especially smelly.
Make sure you use dog-specific shampoo and conditioner when bathing your Chipoo. Bathing supplies for people contain extra additives and fragrances that could irritate your dog's skin.
Follow these steps when bathing your Chipoo:
Brush/comb your dog's coat. This loosens any dirt and debris while getting rid of tangles.
Place your Chipoo in the sink, bathtub, or small outdoor pool with warm water.
Saturate your dog's fur. Then, add a dime-sized amount of shampoo, lathering it into its coat.
Wipe your dog's face, ears, and paws with a washcloth before rinsing out the shampoo.
Repeat this process with conditioner, if you desire.
Pat your dog dry with a towel, and air-dry or use a hairdryer on the lowest setting.
After drying off your Chipoo, you may want to brush its coat again to smooth it out and keep it looking fresh.
Fun Facts About Chipoos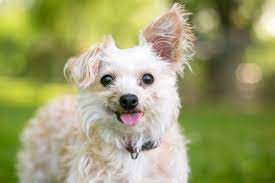 Here are some additional facts about Chipoos that are sure to make you love them even more!
People have many names for this compact breed besides Chipoo, including Chipoodle, Poohuahua, Choodle, and Poochi.
Chipoos are part Poodle, but they take on the miniature size of Chihuahuas. Most adult Chipoos range from only five to 20 pounds.
Since Chipoos are so small, they make the perfect apartment or compact living space pet.
Chipoos have tons of personality. This energy means they love playing and making their owners laugh.
Chipoo coats come in various colors ranging from lighter creams to darker blacks. Some Chipoos even have mixed-fur coats, making them look even more unique.
Chipoos are hypoallergenic, making them an excellent choice for those with mild pet allergies.
Frequently Asked Questions
Do Chipoos need to be groomed?
Generally speaking, aim to brush your Chipoo a few times per week and go to the groomer every two to three months.
How often should I bathe my Chipoo?
Outside of messy situations, a bath every two months should be enough.
When is a Chipoo full-grown?
Your Chipoo may be fully grown at 11 months.
Conclusion for "7 Best Types of Chipoo Haircuts"
Depending on your Chipoo's coat type, you'll need to go to the groomer every two to three months. Whether you pick a teddy bear cut, a lamb cut, or a Poodle cut, you can't go wrong.
For more guides similar to this list showing Chipoo haircuts, check out:
If you want to learn more about Chipoos, watch "Chipoo Dog Breed Information – Are they kid friendly | Chipoo Dogs 101" down below:
Garrett loves animals and is a huge advocate for all Doodle dog breeds. He owns his own Goldendoodle named Kona. In addition, he volunteers at the Humane Society of Silicon Valley, where he fosters dogs and helps animals. Garrett enjoys writing about Doodles and believes that dogs can teach humans more about how to live than humans can teach a dog.
Why Trust We Love Doodles?
At We Love Doodles, we're a team of writers, veterinarians, and puppy trainers that love dogs. Our team of qualified experts researches and provides reliable information on a wide range of dog topics. Our reviews are based on customer feedback, hands-on testing, and in-depth analysis. We are fully transparent and honest to our community of dog owners and future owners.