Our team at We Love Doodles created this guide to teach you about the Catahoula Blue Heeler mix dog breed. Here's what you need to know about this hybrid dog mix. In the world of hybrid mix dogs, you will find there are tons of options out there. New ideas and options keep coming to play.
Some are incredibly unique, while others are created to be designer dogs more than anything else. The Catahoula Blue Heeler mix is one of the more recent creations, and they are both unique and unusual. Their color schemes make them stand out significantly. These dogs are tough and tumble by design.
They are packed with energy and will be protectors to the highest degree. These dogs are sturdy and powerful and can also have some aggressive tendencies. They certainly will make talented watchdogs, but they have a lot more to offer than just that. Check out this guide to learn everything you should know about the Catahoula Blue Heeler mix.
Before scrolling down this guide about the Catahoula Blue Heeler mix, you can check out these other hybrid dog breed mix guides created by our team at We Love Doodles: Australian Shepherd Chihuahua Mix Facts and Images and Aussiedoodle Golden Mix Information, Facts, and Images.
Introduction to the Catahoula Blue Heeler Mix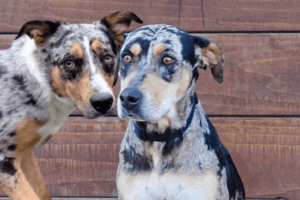 You will find this in the Catahoula Blue Heeler mix breed if you want an energetic watchdog. They are competent and outgoing. They are fast, and they are unique. This hybrid dog has a lot to know, from their colorful coats to its strong personality. The Catahoula and Blue Heeler are typically bred together for an active watchdog breed.
They are not just happy-go-lucky designer dogs like some of the hybrid choices out there. Their coats don't vary a ton, but they can have unique color schemes and patterns. Their most common colors are black, red, blue, and white. You might find them to have marbled coats or spots. You might find tricolor or bicolored patterns.
Honestly, both dogs have unique colors and patterns, so you almost have no way to know what to expect until the puppies are born. Even trying to choose the coat based on the parents is nearly impossible since both dogs are known for having unique coats. The hybrid breed is not AKC recognized, but the Catahoula and the red heeler can be ACK registered.
This means the parents can be registered, but the hybrid puppies cannot. This might give you some semblance of knowledge about the parents, or at least their quality and pureness of breed. While the dogs have short hair, they are not considered to be hypoallergenic. They live long lives for dogs, and they grow pretty large. They are protective, smart, independent, and loving at the same time.
More Dog Mixes: Blue Heeler Jack Russell Mix Information Facts, and Images.
About the Blue Heelers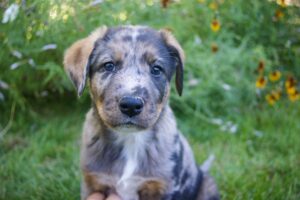 The Blue Heeler is known for a coat that is black, blue, and gray colors. They can be marbled or speckled or have unique color patterns. They occasionally have brown in their coats, but that's not the norm for this breed. They are cattle dogs originally heralded from Australia in the 1800s.
They grow to be medium-sized dogs. The Blue Heeler is a cattle dog. This is what they were born to do. They are very active, and their energy levels and skill with tracking or hunting have led them to be valued as hunting dogs, police dogs, and even rescue dogs.
You will find that they are outgoing and unique, but they are incredibly loyal and loving at the same time. This dog tends to be independent and active but is loyal and loving too. They have a bit of a defensive side. They can also be a little standoffish to those they don't know. Once they bond with you, they will be your faithful partner forever.
Find a Breeder: Blue Heeler Puppies in Montana For Sale.
About the Catahoula Leopard Dog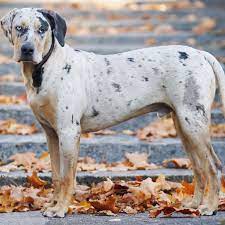 The Catahoula comes from Louisiana. They are also sometimes called the leopard dog. This is named for their unique coloring and spots that aren't quite leopard-like but might remind you of leopard spots. The name heralds from an ancient Indian term that translated to the words Sacred Lake.
Catahoula came about because of their closeness to Catahoula Lake, where they were originally bred. They can be medium to large and are very protective by nature. These are also cattle dogs. They are hounds, and they are known to be protectors and watchdogs.
These dogs are hunting dogs and herding dogs by nature. However, they have also been known to be used as service dogs occasionally because of their athleticism and energy. They are intelligent and protective, which all play a vital role in the dog breed.
Appearance
When you pair the Catahoula and Blue Heeler, you will find a unique dog breed in many ways. This includes their appearance. While they don't necessarily have a huge color variation, they almost always have 3-4 colors in their coats. This can combine colors like the blues and grays from the heller and whites, browns, and grays from the Catahoula.
The most common colors in their coats are black, red, blue, and white. These dogs are typically larger. Catahoula are medium to large dogs, and Blue Heelers are medium dogs, so the combination gives you a medium to large dog. The Catahoula Blue Heeler mix brings you a dog that will grow from 19-22 inches in height.
This is pretty tall. They also typically will weigh somewhere from 30-60 pounds. It's hard to predict a size because of the broad range. However, the parents' size will heavily impact the size of the puppies. Knowing the parents' details, you can better understand what to expect from their appearance. That said, you will have a unique dog in appearance and size.
You can expect a fairly large dog and fairly unique patterns and personalities based on the details from each breed. Both breeds are unique in size and look when you pair them together. You get a treasure. Their coats are very similar to each other with an undercoat and overcoat.
Their coats protect them from the weather and the elements outdoors. They prefer to be outside running around, so this is perfect for the breed's nature. You will see a diverse breed; the mix is diverse and impossible to predict. You can always rely on your dog being unique. They will likely even vary from other puppies in the same litter.
Temperament and Personality
The one thing you need to be most aware of with the Catahoula Blue Heeler mix is that they can sometimes be aggressive. That's not to say that they are just always aggressive or that they are mean. However, they are protective and will get aggressive if any threat concerns them.
They are still loving dogs, and they make great pets. Just know that they will have a watchdog personality and display signs of aggression when threats are present. They are also bubbly and energetic. They love to play, and they love attention. This gives you quite the mixture.
They are a friendly breed, but people do have to earn their trust and respect. They need to stay busy. This mixed breed is most likely to find trouble when they are allowed to get bored. Isn't that how trouble almost always begins? They are loyal and loving but protective and alert.
They don't do well left alone, so be sure to get them a buddy, adopt, or purchase a pair. They companion well with other dogs similar to them but may not always get along with smaller pets or cats very well. This is just because of their energetic herding nature. It shows that they are bred to keep those "threats" away.
Health and Hygiene
Overall, Catahoula and Blue Heeler mix dogs are relatively healthy. The most common health ailment is hip or elbow dysplasia. You can often learn a lot about health risks by knowing and understanding the parents' health. If there are any genetic disorders, it's good to know about the parents.
For the most part, you won't have major health concerns. They are known to be very healthy puppies with a general lifespan of 10-15 years. Other general health issues known for the Catahoula heeler mix are deafness, blindness, and glaucoma. These are ailments most likely to be experienced as the dog ages.
Their coats are easy to groom. Although they shed some, you don't have to worry about massive shedding. You can plan to brush them about once a week and bathe them once a month. This is generally enough as far as hygiene goes. You will also want to be mindful of their dental health.
One thing about a mixed breed like the Catahoula Blue Heeler is that combining the two breeds reduces the likelihood of health ailments for each breed. It also reduces genetic disorders. While your dog still might experience health issues, they might be less likely than the traditional breed is.
Exercise and Training
The one piece of knowledge you should wrap your head around is how active these dogs are. They are very smart but were bred to be active dogs. If you rob them of their active lifestyles, you will likely not get along very well. Sadly, that's the truth of the matter. This is not a breed you can keep cooped up in the house all day.
They need room to run, and they need stimulation to work their minds and their muscles. Remember that both breeds are cattle dogs, so they have a natural herding instinct. They like to play so that you can engage with them through activities like fetch, tag, frisbee, and other physical things.
They also are great at hunting and running. They are fast and supple and athletic. You should treat them as naturally athletic dogs and be sure they have plenty of physical activity. Because they are so smart, they typically train pretty easily. The biggest challenge is that they are independent and are most likely to act out when bored.
They also tend to be watchdogs, so you may need to watch any aggressive tendencies, which you can work on in training. Ultimately, it would be best if you thought about your ability to give them room to run and play. Do you live somewhere they will be cooped up in the house aside from that daily walk? If so, they likely are not the best fit. But if you have land or space to play, they can get along anywhere.
Related: How to Train a Dog with a Shock Collar and How to Use an E-Collar to Train Your Dog.
Family and Children's Expectations
An important element of choosing a dog is knowing how they will do with children or family members. The one thing to point out here is that the Catahoula heeler breed is loyal. They will protect those who have earned their trust, which is most commonly where any aggressive tendencies come into play. They can get along with children, but they will do best if they are socialized at an early age.
They sometimes tend to herd children, but they likely won't be mean or aggressive towards them. They also can get along with other pets, but they do pests with pets that are comparable to them. This is because they have a hunting tendency deep within their veins, so they might be compelled to chase a cat or a small dog.
Again, if they are socialized with them from a young age, they will do better getting along with them. These dogs are full of energy. They love to play, and they love to protect. They want to be loved, and they will love you deeply. It would be best if you had that time to earn their trust; as long as you socialize and train them well, they will be great with families and children. It's all about how you raise and train them.
Conclusion For "Catahoula Blue Heeler Mix Information, Facts, and Images"
Are you thinking about bringing a Catahoula Blue Heeler mix to your home? Remember that you need to be able to provide for their physical and mental needs. It's up to you to learn how to provide them with proper nutrition. These dogs are smart and protective. Once you earn their trust, they will always be loyal to you and yours.
If you find the Catahoula Blue Heeler mix dog breed interesting, you can check out these other mixed dog breed guides from our team at We Love Doodles:
You can see the Catahoula Blue Heeler mix live in action by watching "Blue Heeler and Catahoula Mix" from a YouTube video we found for you down below: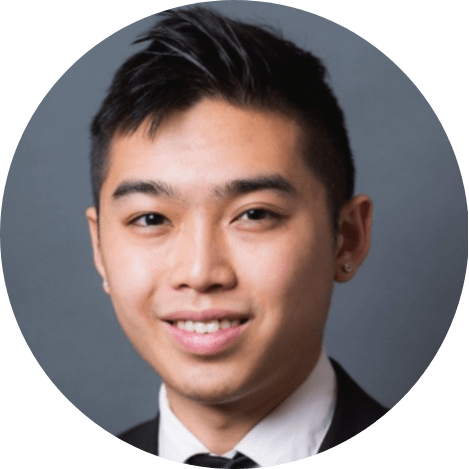 Andy is a full-time animal rescuer and owner of a toy doodle. When he's not saving dogs, Andy is one of our core writers and editors. He has been writing about dogs for over a decade. Andy joined our team because he believes that words are powerful tools that can change a dog's life for the better.
Why Trust We Love Doodles?
At We Love Doodles, we're a team of writers, veterinarians, and puppy trainers that love dogs. Our team of qualified experts researches and provides reliable information on a wide range of dog topics. Our reviews are based on customer feedback, hands-on testing, and in-depth analysis. We are fully transparent and honest to our community of dog owners and future owners.