This guide will teach you everything you need to know about the Blue Heeler Jack Russell mix. Owning a hybrid dog has become almost as popular as owning a traditional registered dog. The cool thing is that hybrid mixes often bring together the best of two different breeds, and it helps to prevent common breed health issues.
The Blue Heeler Jack Russell mix breed is one popular breed for people with land and room to run. This combines a Blue Heeler with a Jack Russell terrier and brings you a really cute dog that is in a small size. They are fun and energetic and primarily independent as well.
Before you jump in and buy a breed like this, it's important to know what you might be getting into. These dogs are unique and have a lot to offer a family. But there are certainly some details you should know or be mindful of to determine whether they are the right fit for your home. Look at this guide to learn more about the Blue Heeler Jack Russell mix.
Before scrolling down this Blue Heeler Jack Russell mix guide, you can check out these other dog breed guides from our team at We Love Doodles: Australian Shepherd Chihuahua Mix Facts and Images and Border Collie Chihuahua Mix Dog Breed Guide.
Blue Heeler Jack Russell Mix Overview
As we mentioned, this mix pairs a Jack Russell and a Blue Heeler. You can use either breed as the mother or father and get great results. They are rowdy, loyal dogs that will stay by your side. Aside from those times, they are busy running and playing on their own. This dog will likely be small to medium in size, but they like to be in charge.
They tend to be hunters by nature, so you won't want to tempt them too much with animals that are smaller than them. The variation is if they are raised together or introduced when the puppy is still young. These dogs are packed full of energy and will surely keep you busy. You've got to be able to keep up with their energy demands, or you won't get along well.
The small to medium dogs will have simple colors, but they may be bi-colored or tri-colored, so their colors will mix and blend, creating unique patterns and color schemes that are different for just about any dog. Those colors most commonly have mixtures like blue and tan, white and black, white and tan, or some other mixture with these colors.
You will find that they are easy to take care of and live long healthy lives. These are slightly more expensive for a mixed breed that cannot be AKC registered than some of the other breeds out there. They can sometimes cost over $1,000, but they might also cost as little as $500. It depends on the area and the parents of the breed.
Related: Blue Heeler Poodle Mix Guide.
About Blue Heelers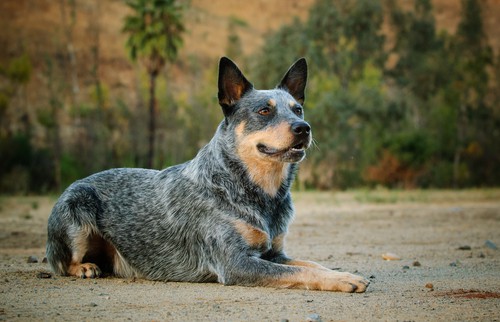 Blue heelers are one of the most common hunting dogs out there. They have unique color schemes but may have a variety of colors in the schemes of blue, black, and silver. They have been known to have some brown, but that is not as common. They are cattle dogs. They reign in Australia originally and are dated back to the 1800s.
This dog was born a working dog, and you see those tendencies very clearly in their temperament and natural lifestyles. They are loyal and easygoing, but they make people earn their trust, so they might initially seem a bit standoffish. Blue heelers can be registered with the AKC in the working group.
About Jack Russell Dogs
The Jack Russell breed is a small dog that is energetic and playful. They are a terrier, which should tell you about their energy levels. They also sometimes like to bark. The Jack Russell dates back to around the early 1800s as well.
They were known for hunting foxes and other small game. The Jack Russell sometimes is known to be nippy, particularly at its prey, where it nips at their heels as they chase them down. They are muscular and strong with a lot of length in their legs.
At the same time, they are small dogs. When Jack Russell sets their sites on something, they are not likely to give up easily. They are a bit stubborn, but that has always made them successful as hunting or prey dogs in their history. They are determined and brave, and they always go for the prize.
Related: Best Jack Russell Terrier Breeders in the United States.
The Appearance of a Blue Heeler Jack Russell Mix
When you combine the Jack Russell and Blue Heeler, you get a unique blend of dogs that creates a fun and energetic puppy. They are very cute too. They have those bold blues, grays, and blacks from the heeler and often mix in white, tan, or brown from the Jack Russell. You might find them with some unique spots and coloring. Almost any dog of this mixed breed is going to be unique.
They all have different colors and markings. It's not unusual for a litter to have puppies that all look different from each other in some way or another, even if their colorings are similar. You're pairing a medium dog with a small dog. This means you might have a range of sizes as well.
You're likely to end up with a small-medium dog slightly smaller than the Blue Heeler parent and slightly larger than the Jack Russell parent. While it's impossible to predict sizes, you can typically try to guess based on the parents' size. They rarely outgrow the largest parent, but it is possible.
The general expectations for weight and size are a dog that grows to about 14-18 inches tall and weighs approximately 20-35 pounds when fully grown. This is a smallish dog. The one thing you can always depend on is diversity. Thanks to unique colors and patterns, your dog will likely be one of a kind. There may be similar colors and patterns but the likelihood of two dogs in the litter looking exactly alike is slim. Dogs will have a muscular build.
Related: Dog Breeds That Look Like a Fox.
Temperament and Personality of a Blue Heeler Jack Russell Mix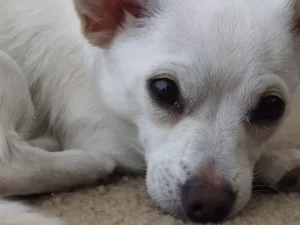 The Jack Russell breed has a reputation for being energetic and barking. They also love to play and be active, which is true of the Blue Heeler. The Blue Heeler combination does help to disperse some of that energy that leads to excessive barking, but you still will likely have a dog that barks some.
They are mostly friendly, although they can sometimes be picky about who they get along with. These dogs are not as fond of children, but if they are socialized well, they will get along with children just fine. They have some herding and chasing tendencies, so that is probably the largest concern regarding children in the home with this mixed breed. You can expect a puppy that is rowdy and playful.
They are energetic through and through. It's like they can easily make you tired just watching them. Jack Russell dogs tend to jump but primarily in play and get closer to your level since they are small dogs. While this dog can be an inside dog, remember that they need a lot of activity. They need to be able to run and wear out some of that pent-up energy that runs within their veins.
If you commit to this particular breed, be prepared to cater to their energy needs. The Jack Russell part of the dog will cause trouble if they get lonely or worried. If they are left alone in the home for long periods, they tend to get a bit destructive, so be mindful of this quality. All of that said, they are loving dogs. They live to serve their masters and are completely loyal and loving.
Health and Hygiene of a Blue Terrier Jack Russell Mix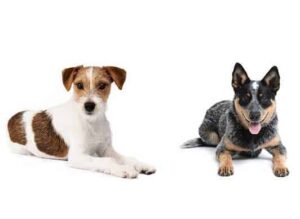 This dog is not considered to be hypoallergenic. They do shed. They are short-haired dogs, so they may not shed as much as a long-haired dog, but you will certainly notice the shedding around seasonal changes. They don't require many hygiene commitments, but we recommend you brush them about once a week and bathe them about once a month.
You can bathe or brush more often if needed. The short hair on their coats is designed to protect them from outdoor elements. Be sure to brush their teeth occasionally and look out for their dental health, as sometimes blue heelers have dental challenges.
With proper care and nutrition, a Blue Heeler Jack Russell combination will live about 13-16 years, which is a great lifespan overall. They are easy to take care of health-wise. You need to be mindful of their nutritional needs. They are highly active dogs, so they need nutrition to support their energy and active lifestyles.
Regarding possible health risks, the most common are hip or elbow dysplasia, lens luxation, glaucoma, blindness, deafness, and possibly some live or kidney health ailments. This is one area where mixing the breeds can be helpful. It seems to reduce the likelihood of some health issues, particularly anything that is genetic. While it does not eradicate health challenges, it might help them be healthier overall.
Related: Best Foods For Joint Health.
Exercise and Training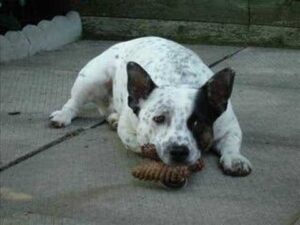 This is where understanding the Blue Heeler Jack Russell mix can get challenging. You've got to know and understand that they require extensive exercise. While they are easy to train, they are one of the most active types of dogs out there. You will find this true of any cattle or ranch dog.
These dogs are both very active breeds, and when you pair them together, it does nothing to change that. Your dog is going to need plenty of physical activity, and they will need some mental stimulation as well. That being said, Jack Russell is known for being independent.
This might be helpful in the mixed breed because they learn how to entertain themselves. Rather than getting into trouble when they aren't properly stimulated, they look for entertainment. Of course, sometimes it might get them into trouble too. These dogs love to run, and they love to play. They do well partnered up with another similar dog that is similarly sized. You could also pair two Blue Heeler Jack Russell dogs together.
They can then play and help entertain each other rather than get themselves into trouble when they try to squelch their boredom on their own. As far as training, they are very intelligent, and they want to make you happy. They are loyal and will listen to you once you've earned their trust and loyalty. They are one of the easiest breeds to train because they are not nearly as stubborn about being told what to do as some breeds out there.
Related: Best Weighted Vest For Dogs.
Family and Children's Expectations of a Blue Heeler Jack Russell Mix
This mixed breed can get along with families and children fine. It all boils down to how they are trained and how well they are socialized. Adopting an 8-year-old mix that has never been around pets or children might struggle to adapt. However, if you get a puppy, socialize, and work with them, they will do just fine.
Taking the time to teach and work with them will make a substantial difference. The biggest concern is their desire to be in charge. This might cause some herding tendencies and occasionally even some heel-nipping tendencies.
Conclusion For "Blue Heeler Jack Russell Mix"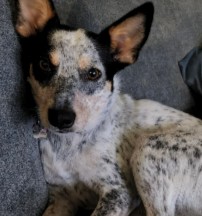 In closing, choosing a Blue Heeler Jack Russell breed to add to your family requires understanding the little details that make a difference. These dogs are energetic and fun. They are also loyal and protective.
It's up to you to ensure they have plenty of room to run and play and plenty of stimulation to keep them entertained. This is the best way to have great results when trying this mixed breed. Work with them and show them that you love and care about them; they will be easy to train for your home.
For more guides similar to this article about the Blue Heeler Jack Russell mix, you can check out:
You can see the Blue Heeler Jack Russell mix in action by watching "My Jack Russell/Blue Heeler" down below: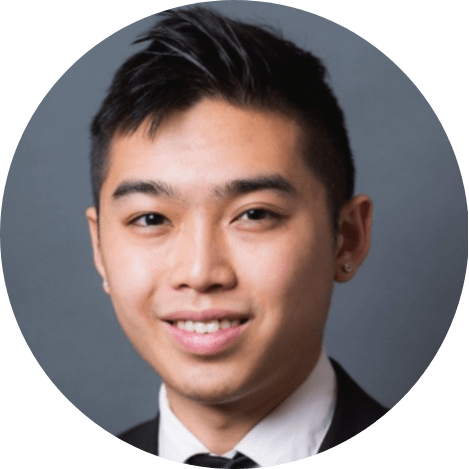 Andy is a full-time animal rescuer and owner of a toy doodle. When he's not saving dogs, Andy is one of our core writers and editors. He has been writing about dogs for over a decade. Andy joined our team because he believes that words are powerful tools that can change a dog's life for the better.
Why Trust We Love Doodles?
At We Love Doodles, we're a team of writers, veterinarians, and puppy trainers that love dogs. Our team of qualified experts researches and provides reliable information on a wide range of dog topics. Our reviews are based on customer feedback, hands-on testing, and in-depth analysis. We are fully transparent and honest to our community of dog owners and future owners.