If you are searching for reputable Cane Corso breeders in Ontario, you have come to the right place. Choosing the right breeder is a critical step toward getting a high-quality puppy because the breeder you choose can determine the temperament and health of the puppy. For that reason, we've created a list of breeders in Ontario from whom you can find some of the best Cane Corso puppies.
The Cane Corso is a unique breed. These dogs can seem incredibly intimidating at first glance, and that is rightfully so. The Corso is tall and muscular with a short, stiff coat.
They are smart, trainable, and can be quite assertive, making them unsuitable for inexperienced owners. But, given the right training, guidance, and love, a Cane Corso can become an excellent companion. The Corso is extremely loyal and protective to its owners and will shower its humans with love.
However, don't expect your Corso to get too comfortable around strangers. If you feel like the Cane Corso is the right breed for you, the next step is to look for the right breeder.
Before you scroll further down this list of Cane Corso breeders in Ontario, you can check out these other dog-related recommendations from our team at We Love Doodles: Best Schnauzer Breeders in Ontario and Best Goldendoodle Breeders in Ontario.
Find a Cane Corso Breeder Near Me in Ontario
So, here is a list of places where you can find Cane Corso puppies for sale in Ontario to get you started.
Cane Corso Product Recommendations: Best Shock Collars For Dogs Barking and Best Puppy Flea Shampoos.
1. Cosima Corsos
Cosima Corsos is a registered dog breeder in Ontario that breeds American and European champion bloodlines to deliver high-quality Corso puppies. The breeder strives to breed well-tempered puppies. So, all puppies have daily outdoor time where they receive training, socialize and play.
After playtime, the puppies go inside their home and relax on the couch. So, your puppy will not only have a stable temper but will be housebroken as well. All puppies at Cosima Corsos are registered with ICCF.
In addition, you can attend the breeder's training college and learn to train and socialize your puppy with UKC-approved programs. Completing this training will also help get your dog registered with the UKC.
In addition, the breeder's facility is registered with the local municipality and is inspected annually. Every puppy up for adoption is up-to-date on its vaccines, microchipped, and has received a complete vet checkup.
If you like, you can request to get your puppy's ears cropped for an additional charge. In addition, the breeder offers a 24-month health guarantee, lifetime breeder support, and free 30-day insurance coverage for your puppy.
When you take your puppy home, it will also have received early socialization and started house and crate training. So, if you are interested in buying a Corso puppy from Cosima Corsos, you can head to their website and fill out and submit a puppy application.
After that, you will receive an automated response with further details regarding the adoption process. Then, the breeder will set up an appointment with you to discuss your application. Finally, if all goes well, you can reserve a puppy and wait for it to arrive. The total price for a Corso puppy at Cosima Corsos is $3800, including taxes.
Cane Corso Breeder Details
2.  Canadian Shield Cane Corso
Canadian Shield Cane Corso is a small hobby breeder just a few minutes from Hamilton, Ontario. The breeder aims to produce only the highest quality Cane Corso puppies through breeding some of the best European bloodlines.
In addition, the breeder is a member of the AKC, CKC, and CFC. The breeder raises their dogs as a part of their family. The puppies are whelped and raised at home, interacting with people, cats, dogs, and horses from day one.
The dogs also accompany the breeder while traveling to horse shows and assist the breeder in farm activities. So, if you are looking for well-tempered and healthy Cane Corso puppies in Ontario, you can visit the breeder's website and submit a puppy application.
You will have to go through a thorough screening process before your application is accepted. If your application is accepted, you will be on a waiting list. However, it is important to note that you could be on the waiting list for about a year as the breeder breeds for quality and has a few litters every year.
You will also need to pay a non-refundable deposit of $800 to hold a puppy. When you buy a puppy from Canadian Shield Cane Corso, you can be sure that you are getting the healthiest puppy possible.
Every Cane Corso puppy for adoption comes with a 24-month health guarantee and complete OFA health tests of the sire and dam. The puppy will also have been introduced to bathing, nail trimming, and housebreaking and will already have started early socialization.
In addition, it will have completed its first vaccination, two deworming's, and two vet checks and will be microchipped too. The breeder crops the puppies' ears, dock their tails, and removes the dewclaws to maintain the breed's standard.
Apart from that, all puppies are sold on a non-breeding contract along with a CKC miscellaneous registration. If you cannot pick up your puppy, the breeder can arrange transportation and deliver it. However, you will have to cover the cost of the delivery.
Cane Corso Breeder Details
3. A. Glen Saxon Kennels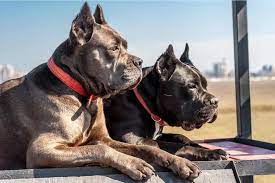 This breeder is located in Ancaster, Ontario. The breeders, Rick and Charmaine, started their journey by breeding German Shepherds in 1989. Later on, they also added the Cane Corso to their breeding program.
The breeder claims that their dogs have the best temperaments and can thrive in any environment. A. Glen Saxon Kennels also doubles as a boarding and grooming facility offering quality services to pet owners for 21 years. The breeder only has a couple of litters yearly as they prefer quality over quantity.
They provide high-quality Corso puppies that are social and affectionate as well. However, it is recommended to reserve a puppy as soon as possible if you want Cane Corso puppies in Ontario, as their litter can get sold out pretty fast.
If you are interested in this breeder, you can contact Charmaine to discuss further details of the adoption process. However, you will also have to make a non-refundable deposit to reserve a puppy.
Cane Corso Breeder Details
4. ARPA Select Cane Corso
Last on the list of Cane Corso breeders in Ontario is ARPA Select. This is a small breeding program located in Mount Forest, Ontario. The breeder ensures that they produce the finest and best quality Cane Corso puppies.
They do so by keeping their females at home, where they live as a part of the family and receive lots of love and care. The breeder then looks for the best sires from all over the world based on their temperament and pedigree, showing results and more.
Hence, the breeder ensures that their puppies are healthy, well-tempered, and fulfill the breed standard through careful and well-researched breeding practices. The puppies are born and raised in the breeder's home.
So, the puppies experience daily life in homes and socialize with people, children, and other animals. Apart from temperament, the breeder pays special attention to the puppies' health.
Every puppy put up for sale comes along with a two-year health guarantee. The puppies are also vaccinated, microchipped, and dewormed three times. They also have their tails docked and dewclaws removed. However, getting the puppy's ears cropped is entirely up to you.
In addition, you will get a puppy starter pack when you buy a puppy which includes a crate, food, and blanket. The puppies also have a CKC, AKC, ICCF, and CFC registration. The overall price for each puppy starts at $2,800 but may vary.
So, if you are looking for Cane Corso puppies for sale in Ontario, you can visit ARPA Select's website and submit a puppy application. However, the breeder ensures they give their puppies to responsible people. So, you must undergo a thorough screening process to adopt a puppy.
If the breeder feels you possess knowledge and experience regarding the Cane Corso breed and are fit to raise a puppy, your application will be approved. In addition, it is important to note that the breeder gives their puppies to the best possible applicant and not on a first-come, first-serve basis.
Conclusion For The "Best Cane Corso Breeders in Ontario"
The Cane Corso is an amazing breed of noble bearing. These dogs are intelligent, affectionate, and possess a majestic look. Unfortunately, their intimidating appearance can scare even the bravest of all people.
Despite appearances, though, these dogs have nothing but love and loyalty for their owners and are ready to protect them in a second. Although the breed possesses many great qualities, it is unsuitable for new dog owners.
The Cane Corso's nature requires a trained and experienced owner. So, ensuring this breed is right for you before getting a puppy is vital. Looking for Cane Corso breeders in Ontario can be a struggle.
After all, the breeder you choose will determine whether you get a healthy and well-tempered puppy. So, we have listed some of the best options to help you find a loving and loyal companion. Visit each breeder to find the perfect puppy.
For more guides similar to this list of Cane Corso breeders in Ontario, you can check out these other dog-related recommendations from our team:
Before you bring home a Cane Corso companion from a breeder in Ontario, you can learn more about this dog breed by watching "8 Things You Must Never Do to Your Cane Corso" down below: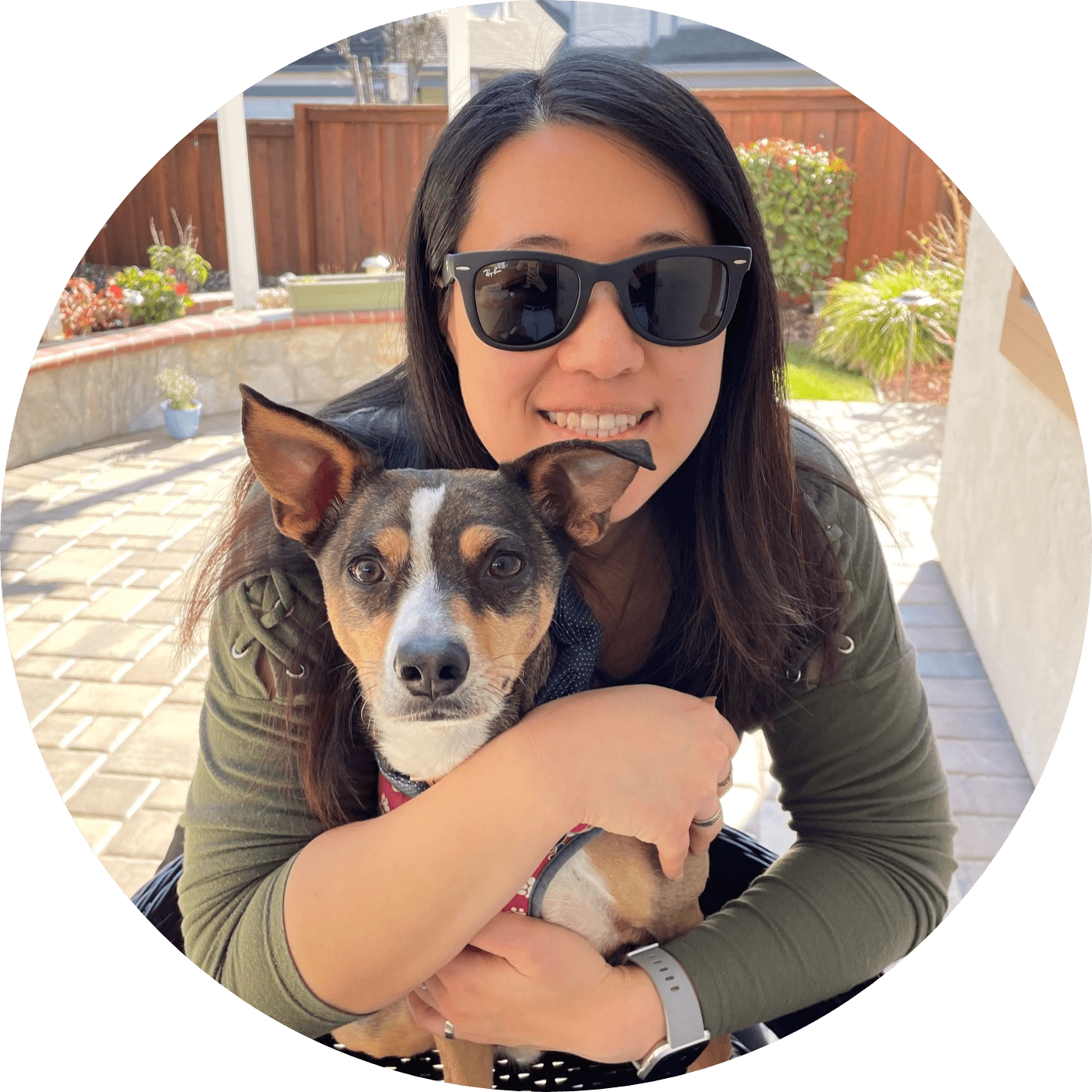 Dr. Sabrina Kong graduated from the Royal Veterinary College in England in 2016 and has been working at a small animal clinic in Northern California since then. She grew up in the Bay Area and got her bachelor's degree from Cal Poly San Luis Obispo. She also became a Certified Canine Rehabilitation Practitioner through a program at the University of Tennessee.
When she isn't in the clinic taking care of her four-legged patients, she enjoys traveling and trying new foods with her friends and her three-legged dog, Apollo. She adopted Apollo from her clinic when he was a puppy with numerous health issues. Dr. Kong truly cares about taking care of animals.