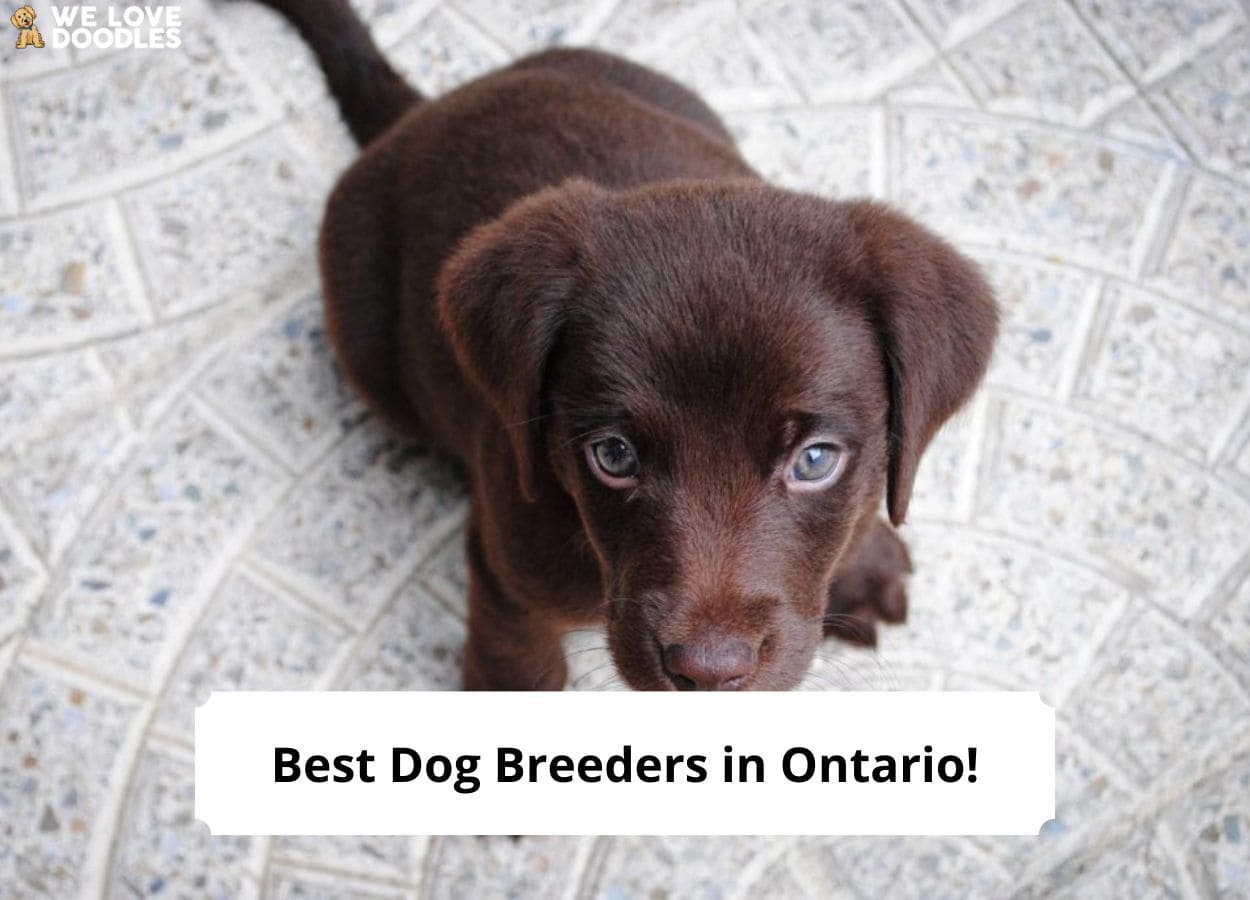 Are you looking for a beautiful new puppy? We know how difficult it is to choose a breed to suit your lifestyle and family. However, it's even more difficult to find the right dog breeders in Ontario that you can trust to provide you with a healthy puppy.
We can't overemphasize the importance of choosing the right breeder — your dog's overall health and well-being depend on it. The best breeders always go the extra mile to ensure all their adult dogs are healthy and DNA tested before breeding.
A good breeder will always be there for their puppies and meet all their needs. In addition, most of them provide lifetime support, meaning you can reach out to them when you need help raising your puppy.
Check out our list of the best dog breeders in Ontario, and do your own research about these breeders before ultimately choosing your favorite.
The Five Best Dog Breeders in Ontario
Before scrolling down this list of dog breeders in Ontario, check out: The 5 Best Dachshund Breeders in Ontario! (2023) and The 12 Best Goldendoodle Breeders in Ontario! (2023).
A & R Country Kennel
A & R Country Kennel boasts one of the best puppy-raising facilities in Canada. Located in Hermon, Ontario, this well-established dog breeder consists of a team passionate about raising healthy dogs.
They have a state-of-the-art breeding facility to ensure they raise nothing but the best puppies. The facility is large, beautiful, and clean, with tons of space for dogs and puppies to play, explore, exercise, and roam.
For over 15 years, they have been breeding and raising different dog breeds, including Cockapoos, Cavapoos, Shih Poos, Bernedoodles, and Schnoodles.
If you are looking for the best place to buy low to non-shedding puppies in Ontario, we highly recommend this breeder. They are at the top of the game when it comes to Poodle crosses.
This spacious kennel is situated in a secluded environment, ensuring the puppies grow up in a natural and safe environment. The team's main focus is on the well-rounded development of their puppies and dogs.
They believe in the philosophy that perfectly bred companions are not only healthy but also happy. They enjoy a lot of daily attention and love, which helps to mold them into better family companions and pets.
You can also count on them when it comes to the health of your puppy, as all puppies go home with a two-year health guarantee. The guarantee protects against congenital defects, so rest assured your puppy will less likely to suffer any hereditary diseases.
During weaning, the puppies stay in the most comfortable space possible. The dog's living area is cooled with an air conditioner in the summer months and heated for the winter months. To ensure they are always safe and comfortable, cameras in their living area provide easy monitoring.
Poodle mix puppies are intelligent and social, making them easy to train. The breeder also dedicates a lot of time to training and socializing the puppies. They introduce them to kids, adults, other pets, and different environments.
Their goal is to ensure the puppies transition smoothly to their homes without making things difficult for their new owners. Potty and crate training are also part of the mix.
A & R Country Kennel Details:
Pets in the Country
Pets in the Country is another top breeder making waves in this field. This breeder is located in Millgrove but serves dog lovers around Canada. Pets in the Country is one of the most popular dog breeders in Ontario, and for good reason.
Like other top breeders in the province, this breeder specializes in breeding and raising mini and medium Goldendoodles, Cockapoos, and Retrievers.
They specialize in breeding hypoallergenic dogs that can be your companion for life. These breeds have proven their excellence in temperaments, character, and personality traits. They are the ideal dogs for families with or without children.
Pet in the Country believes that healthy dogs make for a healthy home. Therefore, they carefully select dogs and use a series of DNA and health tests to ensure no trace of genetic disorder is passed on to the puppies.
All puppies are vaccinated, spayed/neutered, dewormed, and microchipped before going to their home. Pet in the Country has a 65-acre farm where the puppies and dogs enjoy long walks, exercise, and fun romps around the fields.
The kennel was created out of love for these breeds and a desire to see beautiful puppies placed with loving families. They also socialize the puppies to ensure they blend into their new families seamlessly.
The puppies will grow up to have sweet, loving temperaments. In addition to being smart and loyal, the puppies are very trainable. You can also rely on them for multi-generational doodles, which is great for people with allergies.
Pets in the Country Details:
Kybra Kennels
Kybra Kennels is a certified local dog breeder in Ontario. It is a small family-owned breeding program focused on providing puppies with exceptional health and temperament. The family has been breeding and raising Portuguese Water Dogs and Siberian Huskies since 2002.
They have over two decades of experience in this field and have learned the secrets to producing healthy and happy puppies. As professional PWD and Siberian Husky breeders, they have a commitment to purebred puppies that will become loving, loyal members of your family.
As one of the best dog breeders in Ontario, Kybra Kennels operates with integrity and honesty in everything they do.
Kybra Kennels is a certified Canadian Kennel Club dog breeder. They only breed CKC-registered purebred Portuguese Water Dog and Siberian Husky puppies. All their puppies will receive their first set of vaccines and three rounds of deworming treatments before leaving for their new families.
Each puppy is examined thoroughly by licensed vets before pickup. All puppies also go home with six weeks of free pet insurance worth up to $750. The puppies are also microchipped at no extra cost, making it easy to find and locate your puppy if it goes missing.
Your puppy will go home with a two-year health guarantee to protect against genetic defects, which is all the assurance you need to make your final decision. The breeder also offers a third-year guarantee if you feed your pet with TLC Dog Food.
Kybra Kennels is located in Atwood, Ontario, outside of Guelph and Kitchener. They encourage visits to their kennels so that prospective owners can meet their puppies and dogs. However, visits are by appointment only, so you have to inform them beforehand.
They carefully plan every litter to ensure they provide you with only the best. As small family breeders, they dedicate their attention to each litter and only produce another after the previous batch leaves.
One thing we love about this family is that they never stop learning about these wonderful breeds. They continue to learn the personalities of these dogs in order to improve the breed and provide their customers with the healthiest, happiest, and most socialized puppies possible.
They also provide post-adoption support, meaning you can reach out to them for guidance or assistance when raising your puppy.
Kybra Kennels Details:
Cooperslane Kennel
Family-owned breeding businesses produce some of the best dogs ever. Having your puppy bred and raised by a loving family has many great benefits. Your puppy will already be used to being around people and everyday family life before coming home.
This family has been breeding and handling dogs since 1999. That's over two decades of commitment and dedication toward producing healthy, happy, and well-socialized puppies.
Since establishing this breeding program, the family has been breeding and raising Labrador Retrievers. You can rely on them for well-bred, healthy, and genetically sound Labrador Retriever puppies.
They breed and raise their puppies to be excellent family companions and service dogs for senior citizens. All their puppies and dogs are like family members and are treated as such. In addition, all the dogs live and grow in a secure, safe, and comfortable environment. The family works with a few staff members to ensure the puppies and dogs get all the attention, care, and love they need and deserve.
The staff members are friendly and are avid dog lovers with experience in dog nutrition, health, and behavior. The dogs live and roam freely on the farm. The puppies are also free to play, exercise, and roam once they come of age.
Socialization is another key benefit of buying a puppy from this breeder. Your new puppy will blend seamlessly into your home and interact with every family member like they've known them for years.
Cooperslane Kennel is located in Arthur, Ontario. The family has placed dogs all over the country because of their exceptional breeding standards and super healthy puppies.
While health is their priority, temperament is another vital factor they consider when choosing sires and dams. The family aims to produce puppies with exceptional health and outstanding temperament. With these qualities, their puppies make excellent companions and service dogs.
Cooperslane Kennel Details:
Vom Issam Haus
Are you looking for the best German Shepherd to be your new family companion in Ontario? Search no more, as Vom Issam Haus has you covered. Located in the north of Orangeville, Ontario, this breeder produces and raises some of the best German Shepherd puppies in Canada.
Vom Issam Haus partakes in conformation shows held all over Europe and North America. The German Shepherd puppies from this breeder have big bones, sound temperaments, and possess a super play drive.
The puppies are of correct structure and boast outstanding traits. Whether you want a show ring or a companion dog, this breeder's German Shepherds are more than ideal. All in all, Vom Issam Hause stands behind their puppies with a lifetime guarantee.
The breeder also stands behind its customers, ensuring they get all the support and assistance they need to raise their puppies safely and healthily. The puppies from this breeder are highly sought after because of their quality and the breeder's philosophy.
Vom Issam Haus also plays by the books, as they are committed to the rules and regulations set out by the Verein für Deutsche Schäferhunde in Germany. They breed according to standards and adhere to local and federal laws.
Vom Issam Haus Details:
Frequently Asked Questions
Why is it so hard to find a good dog breeder?
The effort, experience, and expenses involved with dog breeding mean there are only so many litters to go around. Reputable breeders may only have one or two litters a year. If you're struggling to find a puppy, don't be discouraged — it just takes time.
What is the most neglected dog?
While it varies by region, Pit Bulls and similar mixes are commonly found in shelters.
Conclusion for "Best Dog Breeders in Ontario"
And there you have it. These are some of the best and most respected dog breeders in Ontario. Of course, Ontario boasts many wonderful dog breeders, and it is impossible to mention all of them.
We carefully selected these breeders to help point you in the right direction and streamline your search. You can contact and visit these breeders to meet the puppies and their parents before making your final verdict.
For more guides similar to this list of dog breeders in Ontario, check out:
Before you bring home a dog from a breeder in Ontario, learn more by watching "3 Amazing Facts About Dogs!" down below:
Garrett loves animals and is a huge advocate for all Doodle dog breeds. He owns his own Goldendoodle named Kona. In addition, he volunteers at the Humane Society of Silicon Valley, where he fosters dogs and helps animals. Garrett enjoys writing about Doodles and believes that dogs can teach humans more about how to live than humans can teach a dog.
Why Trust We Love Doodles?
At We Love Doodles, we're a team of writers, veterinarians, and puppy trainers that love dogs. Our team of qualified experts researches and provides reliable information on a wide range of dog topics. Our reviews are based on customer feedback, hands-on testing, and in-depth analysis. We are fully transparent and honest to our community of dog owners and future owners.