Searching for Cane Corso breeders in Alberta can be tricky as there aren't many Cane Corso breeders in this area. But that doesn't mean that you won't get to fulfill your dream of having a Corso as your companion. To help you out, we've created a list of all the reliable kennels where you can find an adorable Cane Corso puppy in Alberta.
The Cane Corso is a stunning breed. With its tall stature, muscular body, and alert and assertive expressions, a Cane Corso can intimidate anyone. But, given proper training and socialization, the Corso can make a perfect companion.
In addition, Corsos are affectionate and incredibly loyal to their owners. Given their intelligence and eagerness to please their owners, they can be easy to train for experienced owners.
Although the Corso is a great breed, it is not for everyone. These dogs are assertive and willful and may end up owning an inexperienced owner. So, it is necessary to determine whether this breed is right for you.
On the other hand, if you've what it takes to raise a Corso, go ahead and check out the breeders listed below, as they're a great start to searching for Cane Corso puppies for sale in Alberta.
Before scrolling down this list of Cane Corso breeders in Alberta, check out these related articles: Best German Shepherd Breeders in Alberta and Best Dog Rescues in Alberta.
1. Rocky View Corsos
Known for breeding well-bred Cane Corso puppies in Alberta, Rocky View Corsos is run by a dog enthusiast who has been participating in various dog shows and events for several years. The kennel breeds, raises, and trains dogs for companionship and shows.
The breeder believes that physical wellness is the most significant characteristic of a high-quality dog, and they do everything possible to discover and eliminate any illnesses the dogs might have to prevent them from being passed on to future litters.
To that end, the breeder uses the Orthopedic Foundation of Animals (OFA) and PennHipp to screen their dogs for health issues. In addition, the breeder works closely with their vet to ensure their dogs are healthy and living their best lives.
The puppies in each litter are also registered and thoroughly vetted before they leave for their new homes. Also, Rocky View Corsos provides lifetime breeder support, so you can always get help whenever you face an issue with your puppy.
Apart from their laser focus on the health of parent dogs and puppies, another reason to choose Rocky View Corsos is that they raise their puppies according to the Puppy Culture Program for a healthy personality and disposition.
As per the program, the puppies interact with children, dogs, pets, and other people early for better socialization. The puppies are also exposed to various stimuli they may experience in everyday life to help them prepare for the future and adjust easily.
You can visit the breeder's website to learn more about their available dogs – you'll find detailed profiles of each available dog, including their age, nature, temperament, and price. If you find a puppy you like, you can fill out a puppy application and wait for the breeder to get back to you.
Rocky View Corsos Details:
2. Prairie Creek Cane Corso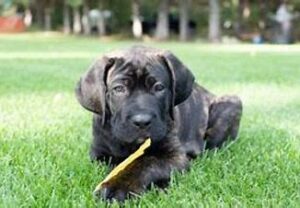 Prairie Creek Cane Corso is a small breeding program on 80 acres of farmland in Lloydminster, Saskatchewan (about 8 hours away from Alberta).
The breeder fell in love with Cane Corsos when they adopted one in 2010 and found it perfect for their busy and active lifestyle. Impressed by the dog, the owner started the Cane Corso breeding program in 2015 to help others discover the joy of having a pet Corso.
All dogs at Prairie Creek Cane Corso are raised as a part of the family. The dogs work on the farm, help the owners and end their day by cuddling up with their owner inside the house.
When it comes to breeding, the breeder ensures that they only engage in ethical and well-researched breeding practices. The breeder strives to breed puppies that are healthy but versatile and well-tempered.
All parent dogs are thoroughly tested for health issues via OFA and PennHip before they are paired and bred. The puppies are raised according to the Puppy Culture program, which helps them develop into happy, well-socialized, and well-tempered adult dogs.
In addition, the temperament of dogs and puppies is also tested by trained professionals, which helps the breeder find the perfect home for the puppies. So, if you want a quick adoption process, this breeder is not the right choice for you as the breeder takes time to converse with each applicant to place its puppies in the best possible home.
Visit the breeder's website to learn more about Prairie Creek's Cane Corso puppies in Alberta. All puppies have been vaccinated, microchipped, dewormed, and received veterinary care before being adopted. The breeder also offers ear cropping from some of the best vets in the US to ensure conformation to the breed's standards.
To adopt, you can fill out a puppy application on their website. If your application is accepted, the breeder will contact you for a phone interview and add you to the waiting list.
The breeder will match a puppy according to its temperament and your preferences and profile. Once they have a puppy available, you will be contacted for a deposit to reserve it.
Prairie Creek Cane Corso Details:
3. Avitus Cane Corso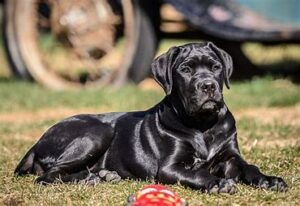 Another place where you can find Cane Corso puppies for sale in Alberta is Avitus Cane Corso.
The breeder tests all its parent dogs for hips, elbows, heart, eyes, thyroid, patella, cancer, and DSRA. On top of that, all test reports and X-rays of each dog are readily available on their website for your review.
All their parent dogs are champion dogs that participate in agility sports and have won numerous prizes and titles. You can find more information about the breeder's amazing dogs and their accomplishments on their website.
Avitus Cane Corso is a genuine breeder who is breeding superior Cane Corsos and working to preserve the breed. They encourage applicants to ask them questions, be realistic about their expectations from a Cane Corso and the level of care they can provide a dog, and ask the breeder whether they're the right fit for the breed.
You can email the breeder with as much information about you and your family as possible. It is also important to mention why you want a Cane Corso over any other breed. The breeder will then contact you and send you a questionnaire to fill out. If all goes well, your name will be on the waiting list.
Once a litter arrives and is three weeks old, you can visit the breeder. The breeder invites clients to visit as often as they want to make up their minds. Then, at seven weeks, the puppies are tested for temperament, and at eight weeks, they are tested for conformation.
If all tests yield good results, the puppies are allotted to families that match their temperament the best. The breeder will only take a deposit if you are sure, you will take the puppy.
Avitus Cane Corso Details:
4. Cariboo Cane Corso
As you might know by now, there aren't many Cane Corso breeders in Alberta. So, the next option on our list of breeders is Cariboo Cane Corso, located in Quesnel, British Columbia – a 7.5 hours' drive from Alberta.
The breeder was introduced this breed fifteen years ago and has been in love with it since. They aim to ensure breed preservation and breed healthy, well-tempered, and versatile dogs that can make great working dogs in any field.
In addition, the breeder imports some of the best bloodlines from around the world to breed healthy and high-quality puppies. They also show their amazing dogs in British Columbia and Alberta.
The breeder offers blue, brindle, and black puppies. You can visit their puppy gallery to learn more about the available puppies. Cariboo Cane Corso sells all their puppies as pets. So, they come with a limited CKC registration, and spaying/neutering is discussed beforehand.
However, they may also sell selected puppies on full registration for breeding and show purposes. You can contact the breeder for further details.
Cariboo Cane Corso Details:
FAQs
Does CKC recognize Cane Corso?
Both the Continental Kennel Club and Canadian Kennel Club recognize the Cane Corso breed in the Mastiff family. They are in the Mastiff family, are 22-26.5 in (56-67 cm) tall, and weigh 80-110 pounds. Females have a smaller height and weight range, and males will be on the larger side of the breed standards. They have short coats and can be black, blue, fawn, stag red, or a combination of these colors.
Are Cane Corso high maintenance?
Whether or not Cane Corsos are a high maintenance breed depends on what angle you're looking from. They require a lot of deliberate and repetitive training, and have a strong personality, making them unsuitable for inexperienced dog owners. Early training and socialization is what sets the Cane Corso up for success. However, they have short hair, low shedding coats, so their grooming requirements are minimal.
Cane Corso vs Mastiff
The Cane Corso breed was developed from the Neapolitan Mastiff and Italian Molosser, which was a Roman dog breed. They are about half the weight of a large male Mastiff. The Cane Corso tends to live longer at 9-12 years, while Mastiffs only live for 6-10 years. Both breeds have low-shedding short hair coats, but the Cane Corso has a smooth coat with multiple recognized colors that vary widely, whereas the Mastiff has a double coat with only recognized colors 3.
Conclusion For "The Best Cane Corso Breeders in Alberta"
The Cane Corso is considered a noble breed in the dog world. Its name roughly translates to 'the bodyguard' and perfectly fits the breed's personality.
The Corso stands tall with an alert expression and a muscular body. Its looks are enough to scare even the bravest of intruders.
However, a Corso is much more than a working guard dog. The Cane Corso makes an extremely loyal companion. It loves its owners and doesn't hesitate to protect them when needed.
The Cane Corso is a relatively new breed in Canada. It can make it hard to find Cane Corso breeders in Alberta. However, you can refer to the list we created to start your search for the perfect loyal companion.
For more guides similar to this list of Cane Corso breeders in Alberta, check out these guides:
Before you bring home a Cane Corso from a breeder in Alberta, you can learn more about the breed by watching "Cane Corso: The Pros & Cons of Owning One" down below:
Garrett loves animals and is a huge advocate for all Doodle dog breeds. He owns his own Goldendoodle named Kona. In addition, he volunteers at the Humane Society of Silicon Valley, where he fosters dogs and helps animals. Garrett enjoys writing about Doodles and believes that dogs can teach humans more about how to live than humans can teach a dog.
Why Trust We Love Doodles?
At We Love Doodles, we're a team of writers, veterinarians, and puppy trainers that love dogs. Our team of qualified experts researches and provides reliable information on a wide range of dog topics. Our reviews are based on customer feedback, hands-on testing, and in-depth analysis. We are fully transparent and honest to our community of dog owners and future owners.