Are you looking to buy a puppy? You've come to the right place! We've carefully evaluated all the top dog breeders in British Columbia and are happy to bring you our favorites.
Here's a list of all the best breeders in the province, and what you should look out for in breeder selection.
Before scrolling down this list of Dog breeders in British Columbia, check out: 5 Best Cavapoo Breeders in British Columbia! (2023) and 5 Best Cockapoo Breeders in British Columbia! (2023).
1. Six Mile Creek Berners
Located under the Estekwalen Cliffs, all Six Mile Creek dogs are registered under the Canadian Kennel Club. All of their dogs have gone through rigorous health testing to guarantee they will live long and healthy lives.
Six Mile Creek specializes in the breed of Bernese Mountain Dogs. Their location and 160-acre ranch mean that the dogs have plenty of room to grow and play, and their daily activity involves hiking and cooling off in the creek.
Their website will show you their adorable puppies and dogs, as well as their living space. You can even enjoy a boarding experience at their premises so that you can check out the surroundings and play with their dogs!
Go to their website to check out all the dogs available or watch the photo and video galleries. You can opt for older dogs or get on their waiting list for puppies.
Six Mile Creek Berners Details:
2. A Golden's Love
If you're looking for healthy and happy golden retrievers, look no further than Bliss Cormons' A Golden's Love. Inspired by puppies rescued from a puppy mill in Chilliwack, Bliss vowed to create a safe environment for Goldens where they are cared for and loved.
Her Dam, Lola, gave birth to her first litter a few years later and Bliss started a Facebook Group that grew into 80+ happy families where they share their stories and upload adorable photos.
All the puppies in A Golden's Love are well cared for with top-notch nutrition and regular visits to veterinarians. The puppies are treated as members of the family in the household, which makes them well-socialized, active, and healthy.
You can visit their website to get to know their dogs via their gallery, or you can also join their Facebook Group to find out more.
A Golden's Love Details:
3. Over the Moon Labradoodles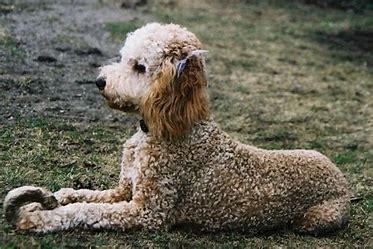 Over the Moon Labradoodles raise their Australian Labradoodle puppies in a rural setting at Grand Forks where each puppy is raised to explore and play with their family. This extensive and early socialization is why the puppies have pleasant temperaments.
The puppies will be raised and trained in the rural setting for the first 10 weeks before they go to their new homes. They have also been certified by Worldwide Australian Labradoodle Association.
Over the Moon gives puppy care, vet services, socialization, and training services that you can use when you decide to take one of their puppies. The breeder will filter each of the candidates for prospective dog parents so that all their puppies go to the best homes possible.
Go through their website to check out each of their dogs, reviews from other paw parents, and also their schedule for breeding which usually happens in late fall and winter so that you can plan before you mail in your application.
Over the Moon Labradoodles Details:
4. Van Isle Cavapoos and Cavalier King Charles
Van Isle Cavapoos breeds Cavapoos, which have been dubbed as the original teddy bear dogs, on the beautiful Vancouver Island which explains the name. Cavapoos have the same personality as their breed parents, the Cavalier and Poodle, which are gentle, sweet indoor dogs that rarely bark.
Their puppies are cared for as a member of their family unit, and they will also go through a process called agility center to build growing minds and pleasant temperaments. You can even watch the process on their YouTube channel to get a better idea. Furthermore, these puppies will have gone through litter training as well.
The Van Isle Cavapoos puppies will also be vaccinated and dewormed at two, six, and eight weeks before they go to a new home. The breeders have also genetically tested the parent dogs to make sure no genetic conditions will be present in the puppies.
They are staunchly against puppy mills and want to ensure that each puppy will go to the best houses. That's why you'll be required to go through their filtering process and fill in an application form to be able to buy.
For those of you who are first-time dog parents, you can also consult them on how to care for your new puppy so that you won't get nervous to take the plunge and get your puppy.
Van Isle Cavapoos and Cavalier King Charles Details:
5. Puppy Patch Labradoodles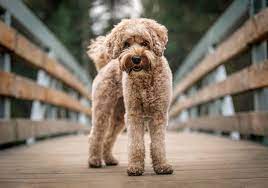 Puppy Patch Labradoodles was created by Ken and Annette almost 14 years ago, with only their two dogs Tilly and Jilly-bean. But now, they have created a network of guardian homes, where the parent dogs live in a happy and healthy family environment.
This breeder not only allows you to buy a puppy, but you can also be one of their guardian homes. If you are a local, you can buy a dog for fraction of the price and join a guardian home. The breeding rights will be retained by Puppy Patch, but after the guardian dog has completed their breeding career, it will be spayed or neutered at Puppy Patch's expense.
Although Puppy Patch may use several dogs from their network of guardian homes, all the puppies from Puppy Patch will be raised in Ken and Annette's home. These puppies are guaranteed to have hypoallergenic qualities, easy-going personalities, training, and loyalty.
You can go through their gallery to see their available litter or get to know the parent dogs. You can also follow their social media to get daily updates as they have an Instagram and a Facebook page that they regularly update.
Puppy Patch Labradoodles Details:
6. White Robin Kennels
White Robin Kennels are experienced breeders who have been operating since 1975 and are run by Steve and Cindy White. They specialize in sporting dogs like Labs and Pointers and are recognized members of the Canadian Kennel Club, Ducks Unlimited, Delta Waterfowl, and the Canadian Wildlife Federation.
These puppies will be born into a family unit, and have access to outdoor and indoor facilities to have an active social life. They will also come potty trained and well-behaved. These puppies can be the perfect house companion or be show and hunting dogs.
White Robin Kennels made sure that each of their litter will come registered at the CKC, vaccinated, de-wormed, microchipped, and well-behaved. They also offer a lifetime return policy and a lifetime consultation service for all paw parents.
You are welcome to visit their facilities anytime to check out the environment that your soon-to-be puppy is living in. You can also go through their gallery of pictures and videos to see adorable puppies and dog parents.
White Robin Kennels Details:
7. Misty Trails
Misty Trails is located on Vancouver Island. They have 23 years of breeding experience and six breeders that are registered in the CKC. Their dogs have also received many prestigious honors such as winning Westminster and Best Female at Eukanuba USA Invitational.
They guarantee their puppies to be the most well-behaved and adjusted to have a long and healthy life. They will even interview you and relate your personality to your soon-to-be puppy to make sure they have the best possible match.
The puppies are already screened, dewormed, vaccinated, and insured before they are sold away at about nine weeks. For those who do not live in Canada, they also offer international delivery using puppy nannies and worldwide animal travel.
You can check out their website to see their puppies and dogs, there are also lists of accomplishments and memberships to show legitimacy. But for further information on their breeding program, you are advised to contact them directly via email for the latest news.
Misty Trails Details:
Frequently Asked Questions
What is the most popular purebred dog in British Columbia?
The most popular breed is none other than the Labrador Retriever.
What are the best dogs to get in Canada?
Some popular picks include the Labrador Retriever, German Shepherd, Doodle, Bernese Mountain Dog, and Shetland Sheepdog.
Are dogs expensive in Canada?
It's estimated that dog owners spend anywhere from $660 to $4,430 per year on dog-related expenses.
Conclusion for "Best Dog Breeders in British Columbia"
Looking for a breed that isn't on this list? There are plenty of responsible dog breeders in British Columbia, but there are also tons of backyard breeders and puppy mills. Here are a few tips to help you find the perfect breeder for your future best friend.
The best place to start when looking for a reputable breeder is by doing your research. Begin by asking friends, family, and your veterinarian if they know of any good breeders in your area. Once you have some names, take to the internet and read up on each one.
A good breeder will have a website that is professional and informative. They should include photos and pedigrees of their dogs, as well as detailed information about themselves and their breeding program.
Also, be sure to check out their social media pages — a good breeder should be active on platforms like Facebook and Instagram, and they should be happy to answer any questions you might have about their dogs or business.
For more guides similar to this list of dog breeders in British Columbia, check out:
Before you bring home a puppy from a breeder in British Columbia, learn more about training your puppy by watching "Your Complete First Week Puppy Training Plan" down below:
Garrett loves animals and is a huge advocate for all Doodle dog breeds. He owns his own Goldendoodle named Kona. In addition, he volunteers at the Humane Society of Silicon Valley, where he fosters dogs and helps animals. Garrett enjoys writing about Doodles and believes that dogs can teach humans more about how to live than humans can teach a dog.
Why Trust We Love Doodles?
At We Love Doodles, we're a team of writers, veterinarians, and puppy trainers that love dogs. Our team of qualified experts researches and provides reliable information on a wide range of dog topics. Our reviews are based on customer feedback, hands-on testing, and in-depth analysis. We are fully transparent and honest to our community of dog owners and future owners.