Are you wondering where you can find Australian Shepherd puppies for sale for under $200? Because of their popularity, you may find that the average price for one of these dogs is between $600 and $3,000! If that doesn't fit your budget, take a look at our list for a few ideas on where to find a dog that's within your price range.
The Australian, or Aussie, is a medium-sized dog with a heavy double coat. The dogs are very intelligent, making them easy to train, and they're loyal to their pack.
Of course, they're herding dogs, so they'll be protective. But the Australian Shepherd isn't an aggressive breed, so the dogs make great family pets.
Before reading this list of places with Australian Shepherd puppies under $200, check out: 5 Best Australian Shepherd Breeders in the USA! (2023) and 6 Best Australian Shepherd Rescues For Adoption! (2023).
1. Good Dog
Good Dog is first on our list of places with Australian Shepherd puppies for sale for under $200. The site allows breeders, shelters, and rescues to advertise dogs that are available for sale or adoption, and you can search for both purebred and mixed-breed dogs. For instance, some families may want an Aussie while others may prefer a Mini or Toy Australian Shepherd. You'll find both here!
Good Dog requires that its breeders meet certain standards for breeding and caring for their dogs. Specifically, Good Dog considers factors like breeding practices, the dogs' environment, the physical and mental health of dogs, and their treatment before it approves a seller.
You can search for Australian Shepherd puppies under $200 by entering the breed in the search box. The closest breeders and shelters will be listed first, but you can filter the results by location, size, color, and other characteristics.
Once you find the dog you'd like to adopt, follow the on-screen instructions. Work with the breeder to learn more about your dog's medical care, personality, and breeding rights.
Good Dog Details:
2. Adopt A Pet
If you're looking for Standard, Mini, or Toy Aussies for sale under $200 check out Adopt A Pet. Adopt A Pet is similar to Good Dog in that it's a nationwide service. However, this company permits listings from individual owners. In some cases, you can find Aussies for as little as a $50 adoption fee.
While Adopt A Pet does require that sellers register on the site, it's important to note that anyone can list a dog for sale. It's your responsibility to interview and screen the seller or shelter to determine whether they're a safe, responsible resource. Ask for your puppy's history and vet records to get the process started. If possible, meet the breeder in person to see the dog's environment first-hand.
To begin your search, enter your location and the breed. You'll be directed to a grid of photos displaying the dogs available in your area. You can filter your results by size, color, sex, and other traits, and narrow the options down until you find one you love.
Adoption fees or purchase prices are listed within the dog's biography. Follow the instructions to complete the application process for your new dog.
Adopt A Pet Details:
3. AKC Marketplace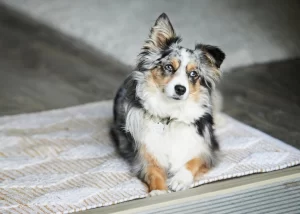 The AKC Marketplace is a database maintained by the American Kennel Club. Registered members can list information about their breeding programs and furnish contact information to those interested in purchasing a puppy.
The AKC Marketplace allows you to filter results by location — but don't overly limit yourself. Many reputable breeders can, and will, safely ship or deliver your Australian Shepherd to an airport near you. Contact the breeder for more information if you're interested in this service.
Admittedly, finding an Australian Shepherd puppy for sale under $200 will take legwork on your part. Prices aren't listed on the AKC Marketplace, so you'll need to contact breeders individually. This is because puppies may vary in price due to size, coloring, and other factors.
If you're open to adopting an adult dog, you may find one here. When breeding or show dogs are retired, they're often re-homed with loving families like yours at a discount. Contact a nearby breeder for more information.
AKC Marketplace Details:
4. Australian Shepherds Furever
Australian Shepherds Furever is a 501(c)(3) non-profit that's committed to rescuing, rehabilitating, and rehoming Shepherds across the United States. Within their system, you'll find Standard Aussies, Miniature Australian Shepherds, and little Toy pups for under $200.
Find your Aussie by clicking "adoptions" and then viewing "available pets." Dogs are located all over the country so you'll need to scroll through the pups unless you're willing to travel. Some dogs are available through shelters while others are re-homed by individuals. You'll learn more in each dog's biography.
Apply to adopt a dog using the link on the website. The team wants to know about your family, lifestyle, home, and experience with dogs before they'll allow you to adopt. They will likely schedule a meet-and-greet and you need to participate in a home visit.
If you're not sure whether an Australian Shepherd is right for you and your family, consider fostering a dog. By fostering, you'll be giving a dog a temporary home until he or she finds a forever family.
Australian Shepherds Furever Details:
5. Lancaster Puppies
Lancaster Puppies is a Pennsylvania-based organization that uses a network of breeders and foster families across the Keystone State and Ohio. Because of that network, Lancaster Puppies is quite prolific, raising puppies that come from reputable, safe breeders and selling them to loving homes across the country.
Search for your desired breed — Standard, Mini, or Toy — on the Lancaster Puppies site, then sort by price. You'll find dozens of Australian Shepherd puppies, sometimes for sale for $200 or less. Mixed breeds are available as well, so keep your options open.
Puppies can be shipped to your location using a third-party service. Contact Lancaster Puppies if you need assistance in finding a transportation option for your dog.
Your dog will be vet-checked, vaccinated, and wormed when it's time to go home with you. As the Lancaster Puppies team if you'll be required to sign a spay or neuter agreement for your dog, and about the available (minimum 30-day) health guarantee for your dog.
Lancaster Puppies Details:
6. Greenfield Puppies
Greenfield Puppies is another resource based in Pennsylvania, and it specializes in many dog breeds. If you're not sure whether an Aussie is a good fit for you, take a look at the other breeds available. There's definitely a puppy in the Greenfield network that will be a perfect match.
If you like, you may start your search by clicking the "puppies under $300" link. Not all breeds listed are Aussies, but there are some adorable Labs, German Shepherds, and other breeds. Ready to look for your Aussie? Go to the Puppy Finder and select your criteria.
Greenfield Puppies does not allow users to sort according to price, so you'll need to scroll through the available puppies. Once you click a dog's picture, you'll see information about personality, temperament, and medical history. You'll also see how to contact the breeder.
Shipping of dogs is available. This service begins at $545, so contact Greenfield for more information or to make shipping arrangements.
Greenfield Puppies Details:
7. Aussie Rescue & Placement Helpline
Aussie Rescue & Placement Helpline is a national nonprofit that seeks to place abandoned, abused, and otherwise homeless Aussies with families that will give them the life they deserve. They're a volunteer-run group and are always looking for help. Reach out if you would like to donate a few hours of your time, or if you'd like to foster an Aussie in need.
Now, it's important to note that the adoption fee for Aussie Rescue & Placement Helpline dogs is $300. However, the team does post courtesy listings. These listings are for dogs that are being re-homed by individuals, and the cost to adopt these dogs will vary.
Should you adopt directly from Aussie Rescue & Placement Helpline, you'll be required to fill out an application. You may be required to participate in a home visit. This organization does not ship dogs, so the visit will be conducted by a local volunteer. Once you're approved, the volunteer team will work with you to match you to a puppy that's a good fit for your family.
All dogs that have been fostered through Aussie Rescue & Placement Helpline will be vaccinated, wormed, and spayed or neutered. Those from individual owners may not be, so check with the owner for more information.
Aussie Rescue & Placement Helpline Details:
8. Facebook
Facebook is last on our list of resources to find Australian Shepherd puppies on sale for under $200. Conveniently, you're likely already a member of the world's largest social media platform. All you'll need to do is hop online and join a few Australian Shepherd fan groups to connect with other enthusiasts.
Facebook does have a classifieds area, but Marketplace users are not permitted to sell dogs online. Instead of searching the shops, you'll need to join community yard sale groups and neighborhood networking groups, and follow the breeders' pages to find a new dog.
It's simple to search for "Australian Shepherd puppies" in the Facebook search tool. Find a few breeders who are advertising in your area, then contact them for details. Of course, you'll want to check out reviews, interview the breeder, and screen your seller before you purchase a puppy. Additionally, for your safety, you'll want to bring a friend along when you pick up your dog.
Facebook isn't just a wonderful place to find Aussies, Miniature Australian Shepherds, and Toy Aussies under $200. It's also a platform to share pictures, tips, and information with other Aussie enthusiasts.
Facebook Details:
Frequently Asked Questions
How much is an Australian Shepherd?
A healthy Australian Shepherd from a reputable breeder can cost up to $3,000.
Do Aussies shed a lot?
Australian Shepherds are moderate shedders with a double coat. Ideally, you will brush your Aussie every week normally, and increase the brushing during the shedding season.
Do Aussies bark a lot?
Australian Shepherds can bark quite a lot, especially if they have too much pent-up energy. It's best to start training them early to keep their barking and vocalization in check.
Conclusion for "Where Can You Find Australian Shepherd Puppies for Sale Under $200"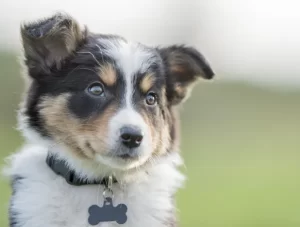 The price of an Australian Shepherd can be as much as thousands of dollars! Fortunately, there are still breeders who sell dogs at more affordable prices. Individuals commonly offer Aussies for under $200. And shelters rescue and rehome dogs, placing them in loving homes for a tax-deductible adoption fee.
If you'd like to adopt an Aussie but feel the price is prohibitive, start your search with this list. There are hundreds of healthy, happy Australian Shepherds and mixes that will fit your budget and your lifestyle.
If you find this guide, "Where Can You Find Australian Shepherd Puppies for Sale Under $200," helpful, check out:
Before you bring home an Australian Shepherd puppy, learn more by watching "Australian Shepherd: The Pros & Cons of Owning One" down below:
Garrett loves animals and is a huge advocate for all Doodle dog breeds. He owns his own Goldendoodle named Kona. In addition, he volunteers at the Humane Society of Silicon Valley, where he fosters dogs and helps animals. Garrett enjoys writing about Doodles and believes that dogs can teach humans more about how to live than humans can teach a dog.
Why Trust We Love Doodles?
At We Love Doodles, we're a team of writers, veterinarians, and puppy trainers that love dogs. Our team of qualified experts researches and provides reliable information on a wide range of dog topics. Our reviews are based on customer feedback, hands-on testing, and in-depth analysis. We are fully transparent and honest to our community of dog owners and future owners.