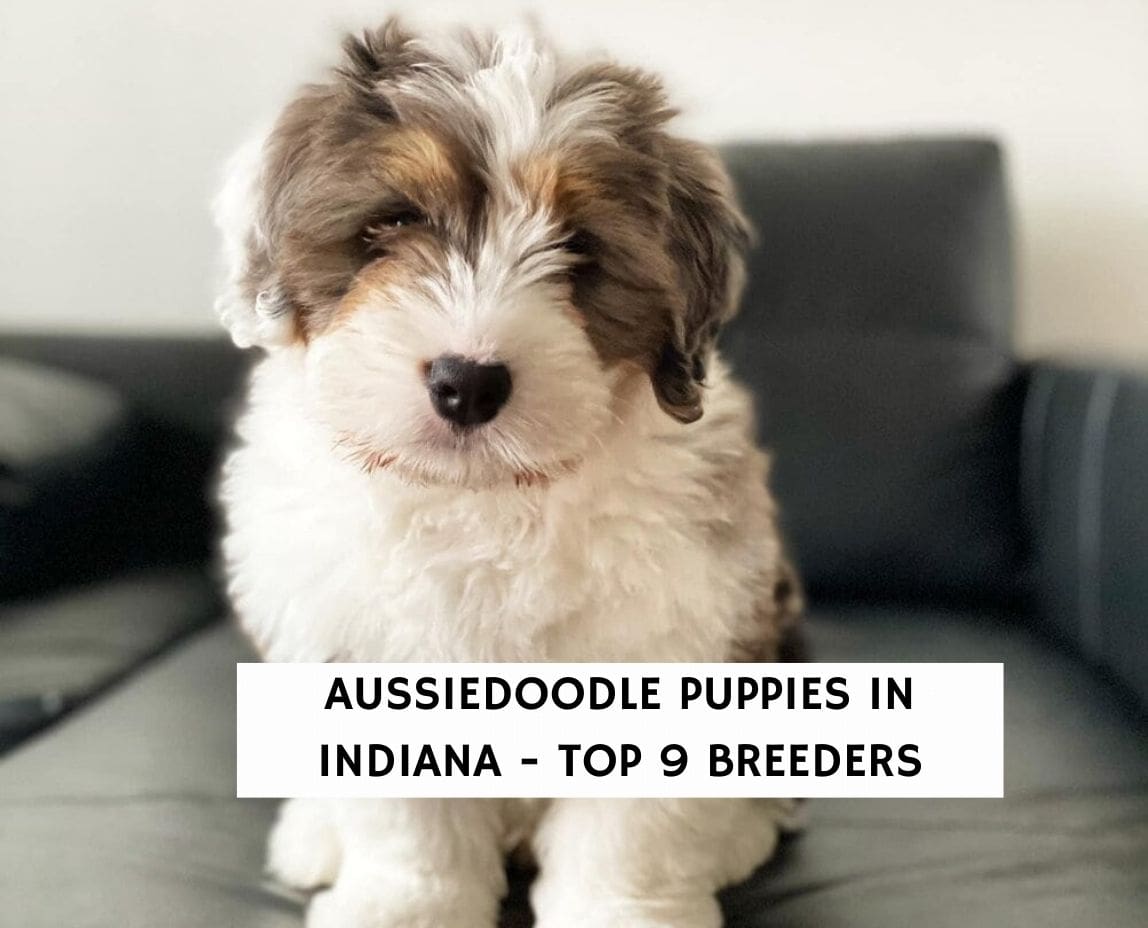 Did you want one of the smartest doodle dog breeds? Aussiedoodles puppies are quite the hit amongst pet owners, given their high intelligence, active nature, and desirable temperament. This mix of the Australian Shepherd and Poodle is an incredibly intelligent breed that requires a lot of attention from its owners to flourish. Physical exercise is absolutely necessary for Aussiedoodles, and they thrive under training with positive reinforcement.
Aussiedoodles can also be therapy dogs, service dogs, or guide dogs who can socialize with people and comfort them as well. This is because they have a balanced temperament because they inherit their intelligence and energetic nature from Poodles and their kind nature from the Australian Shepherd. Additionally, their hypoallergenic nature is quite the advantage, but you've got to groom them a few times every week to maintain their coats. If you're looking for this puppy, we have the 9 best Aussiedoodle breeders in Indiana.
Other articles you will like: Labradoodle Breeders in Indiana and Cockapoo Breeders in Indiana!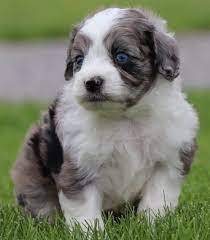 PuppySpot is our number one recommendation if you're looking for Aussiedoodle puppies in Indiana. They take pride in not just being a dog-breeding company but a nurturing community of dog lovers looking to place Aussiedoodles in welcoming homes. PuppySpot only selects less than 10% of the breeder applications they receive and follow stringent breeder requirements and expectations – up to pay with the USDA and AKC standards.
Additionally, they offer complete transparency in the adoption process with the breeders. Customers have raved about the quality of the Aussiedoodles puppies received and the overall experience with the company. PuppySpot's love for humanity and kindness shines through in their recent partnership with Make-A-Wish Foundation, where they gifted a miniature Aussiedoodle named Indigo to Vaughn, a five-year-old child with leukemia. To date, PuppySpot has sold over 220,000+ puppies to happy customers.
We also bought one of our doodles from PuppySpot. The main benefits are that you can buy an Aussiedoodle puppy for sale today without the long wait times that you would see at a traditional breeder. Also, PuppySpot screens and vets all breeders so you don't have to call several breeders and interview them by yourself. We really like the overall experience of getting our puppy.
Aussiedoodle Breeder Details
2. Unique Canines IN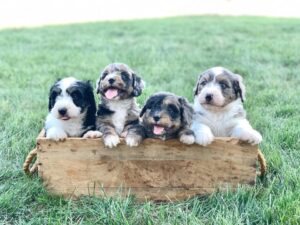 Landis and Andrea own this small kennel in Goshen, Indiana. Living on a 12-acre farm, their Aussiedoodle puppies have all the space to play and explore their surroundings. Additionally, the puppies owe their friendly nature to the couple's three daughters, who are extensively involved in raising the pups and providing constant socialization. The family firming believes that socializing their Aussiedoodle puppies adequately and from early on is key to maintaining the puppies' personality and temperament.
Unique Canines offers Aussiedoodle puppies for sale in Indiana of varying sizes, colors, and coats, including black and white, sable and brown, parti, tricolored, and Merle pups. Before being delivered to their forever homes, the Aussiedoodle puppies are dewormed, vaccinated, completely examined by the veterinarian, and come with a spay/neuter agreement. Unique Canines also offers a one-year health guarantee for their puppies. You'll need to make a non-refundable deposit of $500, valid for two years, to get on their waitlist. You can pick your Aussiedoodle puppy after they turn six weeks old either by visiting the kennel or having them air transported with a nanny for an extra charge.
Aussiedoodle Breeder Details
3. Deep Creek Mini Aussiedoodles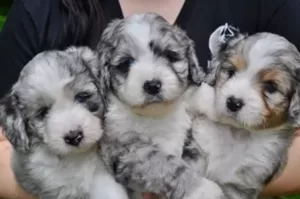 Deep Creek Mini Aussiedoodles exclusively breeds mini Aussiedoodles puppies in Indiana. This breeding company is situated on a 40-acre farm in Midwest, Northern Indiana. Deep Creek is incredibly famous for its low-shedding mini Aussiedoodle puppies for sale that come in a wide range of colors and pleasant temperaments. They also rigorously follow the Puppy Culture protocols and make sure that their pups are all potty-trained at a very early age.
As soon as the puppies' eyes and ears are open, the team begins training them to get them acclimatized with their surroundings. They're also quite hypoallergenic. The holding fee of puppies here is $300, paid by Paypal or cheque (Indiana taxes applicable). If you are interested in getting your miniature Aussiedoodle from this breeder, contact them soon to get on their waitlist.
Aussiedoodle Breeder Details
4. Paw Pals R Us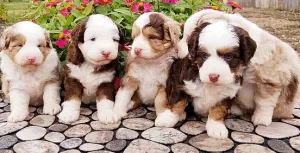 Located in Spencerville, Indiana, Paw Pals R Us is owned by Noah and Loretta Schmucker. They raise their Aussiedoodles on a 16-acre farm alongside other friendly animals. The couple has five children who raise the puppies, helping them naturally socialize with families. All the Aussiedoodles are regularly dewormed and vaccinated as per the requirements of their age.
All their Aussiedoodle puppies in Indiana are thoroughly examined by the vet and come with a one-year health guarantee covering standard genetic abnormalities. One of the most unique and considerate services that Paw Pals also offers is that they send you a constant stream of pictures and videos of your puppy, from their birth till the day they're ready to be picked up. You can collect your Aussiedoodle puppy on your own, or it can be flown out to you. The breeders would be willing to meet halfway to deliver the puppy as well. To secure a spot on their waiting list, there's a $200 deposit charge in place.
Aussiedoodle Breeder Details
5. Priceless Doodles & More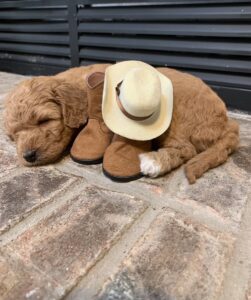 Sprawling across 6.5 acres of land in New Castle, Indiana, Priceless Doodles & More are strong believers of doodle supremacy. Raised on a primary diet of TLC whole life puppy food, lots of attention, and a healthy amount of playtime, the Aussiedoodle puppies at Priceless Doodles grow up to be healthy, playful, and loving pets. At Priceless Doodles & More, once the puppy is about four weeks of age, it receives cedar chip potty training.
All their Aussiedoodle puppies in Indiana are also dewormed, vaccinated, and checked by the veterinarian. In addition, the breeder offers scheduled puppy visits and scheduled video calls. If you've fallen in love with a puppy right off the bat, you can pay a non-refundable deposit of $309.27 ($9.27 for the PayPal fee) to make the booking. The Aussiedoodle deposit cost is deducted from the final price, and you can only pay the remaining balance via cash. Not only that, if you wish to retain breeding rights, you have to pay an extra $300.
This Aussiedoodle breeder in Indiana does encourage shipping, so you can visit them on-site or have them deliver the pup to you in Indiana or Dayton airport for another $100. You will be able to pick up your puppy six weeks after its birth. Along with the puppy, you receive a litter/mother-scented blanket, vaccination records, food and treat samples, your CKC pre-printed registration, as well as some tips on puppy care.
Aussiedoodle Breeder Details
6. Vermillion Valley Aussiedoodles
Based in Rockville, Vermillion Valley Aussiedoodles are famous for producing puppies with gorgeous, lustrous coats and great temperaments. This is a testament to their priority of quality over quantity at all costs. Owners Mariah and Millie Peroni have an extensive history of veterinary care; they are both dog trainers and evaluators at the American Kennel Club as well.
They raise the Aussiedoodle puppies according to Puppy Culture standards, which includes early neurological stimulation, sensory training, and socializing with adult dogs and puppies. In addition, all of their puppies' temperaments are tested when they are around seven weeks of age. This helps them match their behavior as per the family's specifications.
Additionally, all Aussiedoodle puppies are also genetically tested, along with other tests for PRA-prcd (rod-cone degeneration), MRD1 (multiple drug sensitivity), and rDVM (patellar luxation). The waiting time for these puppies is six months. Once your application is approved and the deposit paid, you will be able to take your new puppy home when it reaches around ten weeks of age.
Aussiedoodle Breeder Details
7. Sandy Hill Farm Aussies
Jennifer Dominy is a passionate breeder located in Logansport, Indiana, who has received the American Stock Dog Award for Merit. The award-winning Sandy Hill Farm sells miniature Aussiedoodles, and you can ask for customizations as well. These include frozen Aussiedoodles and smooth-coated frozen Aussiedoodles. Jennifer's brother is on the autism spectrum and has an incredible relationship with all of the puppies. He enjoys cuddling with the puppies and training them as well.
During their stay at the breeder's, their Aussiedoodle puppies in Indiana are all litter box trained, dewormed, tail docked, as well as microchipped. They are also vaccinated, and their dew claws will have been removed. Jennifer recommends sticking to a life-long diet of Royal Canin feed, at least for the first year of bringing your puppy home. All of their Aussiedoodle puppies for sale are tested for Patellar Luxation, as well as undergoing standard genetic testing. The puppies come with a one-year guarantee that covers genetic abnormalities and defects.
With a waiting time of three months, the puppies are cared for by Jennifer till they arrive at your doorstep nine weeks after birth. When you take home your puppy, you will receive a puppy care basket that will include a collar, a blanket with their littermates and mom's scent, a food starter bag, and a leash. All the proceeds from your purchases are donated towards caring for canines.
Aussiedoodle Breeder Details
8. Ridgeline Doodles Indiana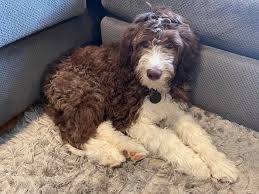 Based in Corydon, Indiana, Kimberly Isbill is the breeder at Ridgeline Doodles. Both she and her husband are animal lovers who enjoy caring for all kinds of creatures. Ridgeline Doodles offer standard-size Aussiedoodles, and their waiting time is around six months. They raise one litter at a time while Kimberly takes off from work to care for them. Their Aussiedoodles are raised on 27 acres of land, and they arrive at your home after 9 weeks of training and enrichment.
Their puppies are all microchipped, and your puppy will have received their first set of shots as well. Along with the puppy, you also receive a Licki Mat, toys, treats, 30 days of free Trupanion Insurance, Certificate of Health, food starter bag, and a feeding schedule. The Aussiedoodle puppies are genetically tested and are offered a one-year health guarantee that covers any genetic disorder. Additionally, they will arrive at your home nine weeks after their birth.
Aussiedoodle Breeder Details
9. Classic City Aussiedoodles
Owned by Abby Fisher, this company is located in Angola, Indiana. They are small-time Aussiedoodle breeders who want to provide families the experience of owning and loving an Aussiedoodle puppy. Classic City Aussiedoodles take pride in raising well-socialized Aussiedoodles in a range of sizes such as tiny, mini, and standard. Like any other Aussiedoodles, their puppies enjoy attention and playtime.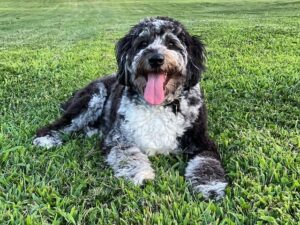 You can specify what you're looking for, but keep in mind that their waiting time is six months. The Aussiedoodle puppies at Classic City Aussiedoodles grow up with their siblings and are cared for by the breeder for about ten weeks, after which they are ready for adoption. In addition, they recommend picking up the puppy in person. After their birth, they are provided crate training, sound stimulation, household desensitization, and are socialized with other dogs as well. Additionally, you receive a small bag of food and toys that contain their littermates' scent. Finally, a mandatory genetic testing and MRD1 test are taken, and the puppies arrive with a one-year health guarantee.
Aussiedoodle Breeder Details
Conclusion For Aussiedoodle Puppies in Indiana
Aussiedoodles make for great family pets. Not only are they loyal and loving, but they will also provide endless entertainment. Regardless of whether you're a physically active person or a couch potato, your puppy will get on board as long as it has your attention. With Aussiedoodles, you also don't have to worry too much about them taking up too much space since they're quite small. In fact, they get along really well with other dogs, so they'll definitely appreciate a bigger canine best friend. However, it is recommended that you don't buy an Aussiedoodle if you can't give them the stimulation they need. Be sure that you can provide the time and effort an Aussiedoodle would need. And take every precaution you can when considering the breeders to get a healthy, happy Aussiedoodle!
You will also like: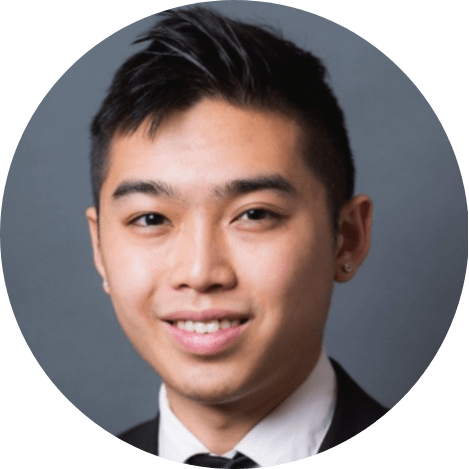 Andy is a full-time animal rescuer and owner of a toy doodle. When he's not saving dogs, Andy is one of our core writers and editors. He has been writing about dogs for over a decade. Andy joined our team because he believes that words are powerful tools that can change a dog's life for the better.
Why Trust We Love Doodles?
At We Love Doodles, we're a team of writers, veterinarians, and puppy trainers that love dogs. Our team of qualified experts researches and provides reliable information on a wide range of dog topics. Our reviews are based on customer feedback, hands-on testing, and in-depth analysis. We are fully transparent and honest to our community of dog owners and future owners.