A cross between the Australian Shepherd and Poodle, Aussiedoodles are a mixed breed that inherits the best qualities of both parents.
Also known as Ausipoodle and Aussipoo, Aussiedoodle dogs are super smart, very loyal, and incredibly playful. They've even earned the title of the "Einstein" breed for being smart and being able to perform exceptionally well under proper attention and training.
Aussiedoodles are also capable of acting as service dogs and providing comfort to distressed individuals. They are quite family-friendly and gentle, making them perfect for families with children, but they definitely require a lot of space to spend their energy. Fairly easy to train, Aussiedoodles are quite low-maintenance, and you'll never find one with a tendency to bark or howl without reason. 
If you're looking to get an adorable Aussiedoodle home, here is a list of the top 8 Aussiedoodle breeders in Georgia. 
Before scrolling down this list, check out these other recommendations: Aussiedoodle Dog Guide and Goldendoodle Breeders in Geogia.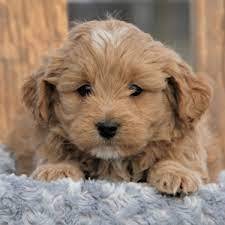 Connecting breeders and loving families across America, PuppySpot is not just a service but a community of people who are passionate about responsible pet adoption. They are of the firm belief that dog owners deserve complete transparency and reliability when adopting a puppy.
PuppySpot prioritizes associating with the best breeders and ensures a "No Puppy Mills" promise. This is evident in their diligent breeder review process, with less than 10% of the breeders who apply for the PuppySpot 100+ point screening process getting selected. This saves you time because you won't have to screen tons of different Aussiedoodle breeders.
Right from breeding the puppy to bringing them to your home, the PuppySpot team handles the entire process with utmost care. Clients have continuously raved about the quality of Aussiedoodles provided by PuppySpot. You also won't have to wait on a long waitlist because they have Aussiedoodle puppies for sale today.
All of their Aussiedoodle puppies undergo nose-to-tail health checks before they are sent to their new homes. They also come with a health guarantee. We got one of our Goldendoodles from PuppySpot and highly recommend them.
Aussiedoodle Breeder Information
2. Georgia Dog Club
Keen on providing the ultimate adoption experience, the Georgia Dog Club's priority is to ensure that well-bred, healthy puppies end up in loving homes. They offer a range of breeds, one of which is Aussiedoodle puppies.
What sets them apart from their peers is that every Aussiedoodle puppy is given a 10-year health guarantee. Their breeders also follow the recommended deworming, vaccination, and other health test protocols. Any congenital or hereditary concern that may befall your pet will be handled with care by their trained professionals. 
They have a range of colorful Aussiedoodle puppies in Georgia to choose from. If you'd like to reserve from an upcoming litter, you can contact and inform their team. This will help them contact you before your puppy is available for sale online, and you can have your pick of the litter for an adoption price deposit of $200.
Aussiedoodle Breeder Information
3. Abounding Grace Doodles Georgia
Laurie Trocheck is the founder of Abounding Grace Doodles, based in Atlanta, Georgia. Known for their collection of English Goldendoodles and Aussidoodles, Abounding Grace Doodles is a Blue Ribbon Member of the Goldendoodle Association of North America. The doodles here are known to have incredible health and the best temperament that one can ask for.
After being introduced to the world of doodles by her friend, and with previous experience in breeding horses, Laurie handpicked magnificent show dogs for breeding and now has 15 years of experience in the field.
The Aussiedoodle puppies here undergo early neural stimulation within the first two weeks of their birth. They arrive at your home microchipped, dewormed, and vaccinated with a two-year health guarantee.
The waiting list for the doodles at Abounding Grace Doodles is quite long, though, so make sure to register for a puppy adoption process as soon as you're ready. This is one of the best Aussiedoodle breeders in Georgia if you're local to the area.
Aussiedoodle Breeder Information
4. Big Doodle Dreams 
Robin Crubaugh is a small-scale breeder who raises the Aussiedoodle puppies under his family's constant care and attention in their home. 
While looking for service dogs to aid his neurodivergent children, he chanced upon Max, a parti-colored Aussiedoodle. This was the beginning of Big Doodle Dreams, whose Aussiedoodles are quite in demand across Atlanta. 
Each of their puppies comes with a genetic health guarantee for two years. All parent dogs of the Aussiedoodle puppies also undergo tests for the Multi-Drug Resistant (MRD1) gene and are bred only after the results are negative. 
You can choose from a collection of Aussiedoodle puppies for sale in Georgia after they have turned six weeks old. The puppies are cleared to arrive at your home when they are nine weeks old. This Aussiedoodle breeder is located in Blairsville, Georgia, which is about 2 hours north of Atlanta.
Aussiedoodle Breeder Information
5. Uptown Puppies
Uptown Puppies has a three-part mission of connecting with responsible and ethical breeders, educating puppy owners with learning materials, and accelerating the complete ban of puppy mills while promoting humane breeders. This is a marketplace to buy Aussiedoodle puppies similar to PuppySpot.
Breeders from Uptown Puppies staunchly follow the law concerning the 47 breeding standards of ethical dog breeding and have achieved the 5 Star Breeder badge of approval. They are passionate about being part of the solution to eliminate substandard and improper dog breeding. 
The Aussiedoodles at Uptown Puppies are extremely friendly, intelligent, and hypoallergenic. With an endless variety of Aussiedoodle puppies to pick from, you can take home a pet sourced from an ethical breeder who has cared for your dog just as you will. They can ship your dogs to Georgia.
Aussiedoodle Breeder Information
6. Aussiedoodles Southern Style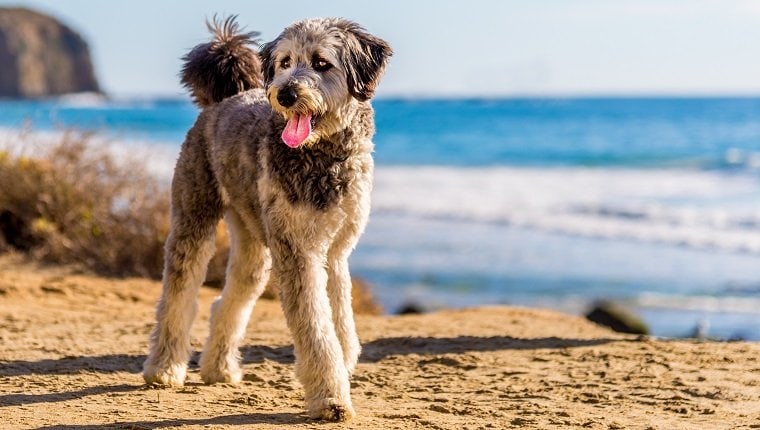 Aussiedoodles Southern Style is a small breeder of multicolored Aussiedoodles in the South Metro Atlanta Area of North Georgia. They're in-home breeders who provide hands-on care during the adoption experience.
All of their Aussiedoodle puppies in Georgia are AKC inspected and are sold with a spay or neuter contract if you're looking to take them home. Not only that, the pups will already have been potty-trained and will be sold to forever families after the meet and greets. 
They also begin biosensor training three days after the pups are born. These exercises not only help improve the heartbeat and adrenal glands of their Aussiedoodle puppies but also enable them to have great tolerance to stress and other diseases. The exercises also help the pups feel actively stimulated at a young age.
Aussiedoodle Breeder Information
7. Joker's Red Rose Farm
Famous for their toy, miniature, and standard Aussiedoodles, the Joker's Red Rose farm has a reputation for breeding incredibly healthy pets.
To purchase an Aussiedoodle puppy, you have to make a deposit of $350 and pay the rest in cash when you arrive at the venue for picking up your puppy. You can also find the parent dogs that are used to sire the puppies on their website. 
With colors like black tuxedo, black abstract, blue merle phantom extract, and chocolate abstract, you can pick from a range of male or female F1 puppies. They are sold with a guarantee of one year and are spayed/ neutered until discussed and confirmed otherwise. 
All their Aussiedoodle puppies for sale in Georgia are also vaccinated, dewormed, and microchipped before they are sent to their new homes. If you're looking for a mini Aussiedoodle puppy in Georgia, this breeder is a good option.
Aussiedoodle Breeder Information
8. Bestland Australian Labradoodles
Bestland Australian Labradoodles takes immense pride in raising healthy, stunning, and intelligent puppies for sale in Atlanta, Georgia. They also ship to several other states and to other continents like Europe and Australia. However, it should be noted that they only sell Australian Labradoodles and not Aussiedoodles. However, these dog breeds are similar in behavior and characteristics.
All the dogs and puppies from Bestland Australian Labradoodles are registered with the Australian Labradoodle Club of America (ALCA). Therefore, only multi-generational doodles that have been extensively tested are permitted to breed.
The sires used during breeding are displayed on their website, with complete details about their color, size, health status, pedigree, etc. They've also explained how the sires behave in real life, which allows you to decide what qualities you would want in your puppy. 
Currently, they have several sires available for breeding, all of which are treated according to ALCA rules and regulations.
Aussiedoodle Breeder Information
Conclusion for Aussiedoodle Puppies in Georgia
All of the breeders listed here are trustworthy and reliable and will deliver you your Aussiedoodle in prime health conditions. Since Aussidoodles are mixed breeds, their general health is quite optimal and does not falter easily.
But before you decide to get an Aussiedoodle, make sure you take into consideration how much time you are willing to commit to your new pup. Aussiedoodles require a lot of mental stimulation, and they tend to act out in destructive ways when bored. 
So if you've been wanting to adopt an ethically bred Aussiedoodle, don't hesitate to contact these breeders and bring home your new bundle of joy!
You will also like:
Garrett loves animals and is a huge advocate for all Doodle dog breeds. He owns his own Goldendoodle named Kona. In addition, he volunteers at the Humane Society of Silicon Valley, where he fosters dogs and helps animals. Garrett enjoys writing about Doodles and believes that dogs can teach humans more about how to live than humans can teach a dog.
Why Trust We Love Doodles?
At We Love Doodles, we're a team of writers, veterinarians, and puppy trainers that love dogs. Our team of qualified experts researches and provides reliable information on a wide range of dog topics. Our reviews are based on customer feedback, hands-on testing, and in-depth analysis. We are fully transparent and honest to our community of dog owners and future owners.