If you're searching for the best Yorkie breeders in Virginia, you've come to the right place. Yorkshire Terriers are a small breed, topping out at around seven pounds. They were originally bred during the 19th century in Yorkshire, England. The Yorkie breed is energetic, lovable, playful, and makes a great companion.
However, it's important to note that the breed does suffer from separation anxiety. If you stay home a lot, this shouldn't be a problem. However, if you're often out of the house, you might consider giving two Yorkies a forever home. When searching for a Yorkie breeder, you need to make sure the breeder is reputable. We'll give you a few of the best Yorkie breeders in Virginia below.
Before scrolling down this list of Yorkie breeders in Virginia, you can check out these other recommendations from our team at We Love Doodles: Best Dog Breeders in Virginia and Best Cocker Spaniel Breeders in Virginia.
Yorkie Puppies For Sale in Virginia
To help you decide where to purchase Yorkie puppies for sale in Virginia from the best possible breeder, we've compiled a list below.
Yorkie Product Recommendations: Best Dog Shampoos For Shedding and Best Dog Bowls Made in the United States.
1. PuppySpot's Yorkies For Virginia
Since you're searching for Yorkie breeders in Virginia, we recommend checking out PuppySpot's online platform. PuppySpot is a trusted and reputable dog marketplace where you can browse for available Yorkie puppies right from the comfort of your home in Virginia.
It would be best to keep in mind that all Yorkshire Terrier breeders with listed puppies must meet PuppySpot's strict guidelines, so you can rest assured knowing that your dog will be safely shipped to your home in Virginia. Before continuing on your journey for a Yorkie puppy for sale in Virginia, check out the link to the website below.
PuppySpot Details
2. Caraneal Yorkshire Terriers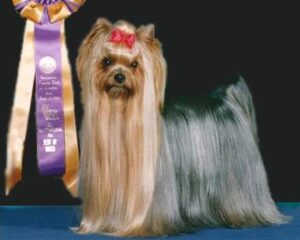 When searching for Yorkie puppies for sale in Virginia, we suggest checking out Caraneal Yorkshire Terriers. This breeder has 40 years of experience in showing Yorkies, but they've also bred some of the top Yorkshire Terriers in the breed.
This breeder has won many awards, including the Yorkshire Terrier Club of Americas Award in 2016 and 2017 for the number one breeder, owner, and handler. All of the Yorkies here are raised in the breeder's home and lovingly taken care of until they are ready to go to their forever homes.
Every puppy sold through this breeder comes with a guarantee of good health and must be spayed or neutered. All puppies will also be current on vaccinations and dewormed before they are ready. The breeder doesn't adopt the puppies until they are 12 weeks old, as they need that time to mature and be ready to be taken from their mother and siblings.
Caraneal Yorkshire Terriers Details
3. Chandler's Run Yorkie Valley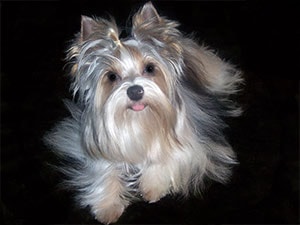 Chandler's Run may have you covered if you're looking for Yorkie puppies for sale in Virginia. This breeder offers AKC-registered Yorkshire Terriers puppies and adults as well. With four decades of experience breeding dogs and two of those decades breeding Yorkies, you can't top this breeder's experience.
Chandler's Run Yorkie Valley also offers stud services for those interested. In addition, you can see the pictures of adults and puppies available on their website. All Yorkies' bloodlines are proven through DNA tests and are only placed with homes that are proven to be good or excellent breeders.
Each puppy or adult Yorkie is vet checked, well-socialized, AKC-registered, and comes with a one-year genetic health guarantee. The Yorkies vaccinations will also be current when it's ready for pickup.
Chandler's Run Yorkie Valley Details
4. Precious Family Jewels
When it comes to Yorkies, Precious Family Jewels has an excellent reputation. Located in Central Rural Virginia, this breeder has a passion for breeding and raising not only Yorkies but also Shih Tzus. The puppies this breeder provides are healthy and have excellent temperaments.
The breeder admits to spoiling her little darlings beyond belief, but not so much that they aren't well-behaved when they get to their forever homes. Each Yorkie is an honest, ethical breeder and comes with detailed health records, vaccinations, and deworming. The records also include the puppy's weight and any other pet-related health information you might need as a new Yorkie parent.
You'll also receive a vet report and a two-year written health guarantee when you pick up your furry friend. This breeder also includes a puppy pack, which will give you enough of the puppy's current food to last a few days, a toy, blanket, and a couple of other things to help transition from her home to yours.
Precious Family Jewels Details
5. Chantailly Lace Yorkshire Terriers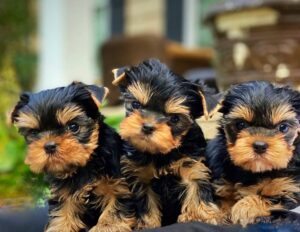 Chantailly Lace Yorkshire Terriers has a quote, it's turning dreams into reality, and is what the breeder tries to do by providing Yorkies that are in good health and looking for a forever home. The Yorkies only come from high-quality bloodlines and are AKC champions.
It's important to note that this breeder has very strict neuter and spay policy and that they will only sell their Yorkies to homes that want them as pets. The Yorkies from this breeder are between three and four pounds and are as adorable as you would expect them to be.
Chantailly Lace Yorkshire Terriers is a very small breeder that has been in the business for 30 years, with 12 of those years being a show breeder. All Yorkshire Terrier puppies will be in good health when sent home with their new owners.
Chantailly Lace Yorkshire Terriers Details
6. Hidden Hollow Kennel
Hidden Hollow Kennel does not place their purebred Yorkies or designer Yorkies in homes until ten weeks old. This is because the health of their pets is the highest priority for this breeder.
This breeder also offers complimentary microchipping to the pet parents of their Yorkies and the other breeds they offer. The health program for this breeder includes pre-natal diets for the pregnant mothers, receiving breaks from cycles, and checkups for the puppies before they are sent to their homes.
Hidden Hollow Kennel Details
7. Royal Darling Yorkies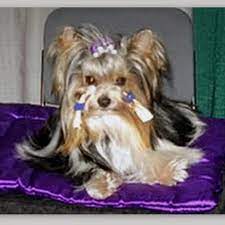 Last on the list of the best Yorkie breeders in Virginia is Royal Darling Yorkies. This small hobby breeder specializes in traditional Yorkies and the Biewer a la' pom pon Yorkshire Terrier. The breeder works hard to produce even-tempered, healthy, unique dogs.
Their puppies aren't raised in kennels but are treated as a part of the family, so anyone adopting one should expect the puppy to want to sleep in their bed and be part of the family. There is a waitlist for these puppies, so make sure to get on it if you want one.
Royal Darling Yorkies Details
How to Choose a Yorkie Breeder in Virginia
Now that you know a few of the best Yorkie dog breeders in Virginia, you need to know how to choose the right one for you. The best way to determine the best breeder to work with is by meeting the breeder.
You'll want to find out about the breeder's reputation beforehand. Even if the breeder has a reputation for being the best in your area, you need to visit his place to determine a few of the things below.
Animals look healthy and happy.
Puppies grow up in a family, not in a kennel.
You're allowed to visit the puppies when you feel the need to
Once you've met the breeder, ask questions to determine if this is indeed the right choice to purchase your Yorkie from. Ask to see the puppy's parents, and then see proof of the following.
DNA testing
Vaccinations
OFA testing
Never take a breeder at his word or make arrangements over the phone without visiting first for the best results. You'll also want proof of health checks and see what health warranty the breeder is willing to offer.
Getting a healthy Yorkie from a reputable breeder also requires effective communication with the breeder. If the breeder you're considering doesn't seem willing to answer your questions or provide the proof you ask for, it's best to move on to another breeder on your list.
Related: Why is My Yorkie Shaking?
Where Do You Find a Reputable Yorkie Breeder in Virginia?
We've given you a list of the best Yorkie Breeders in Virginia, and our research was conducted thoroughly. It's essential to do complete research on your part and never go to a puppy mill to get your Yorkie or any other pet.
Conclusion For The "Best Yorkie Breeders in Virginia"
As you can see, there are quite a few Yorkie breeders in Virginia to choose from. It would be best to find a breeder that you're comfortable using. If you feel uncomfortable or that something shady is going on when visiting a breeder, it's best to walk away.
Reputable breeders should have healthy, happy dogs on their property, and most of us pet parents can see the love when they look at the dogs they breed and raise. If you find a breeder that treats his Yorkies as a part of the family, then you'll get a Yorkie that will be healthy and happy for many years to come.
For more guides similar to this list of Yorkie breeders in Virginia, you can check out:
Before you bring home a Yorkie puppy from a breeder in Virginia, you can learn more about the breed by watching "12 Things Only Yorkshire Terrier Dog Owners Understand" down below: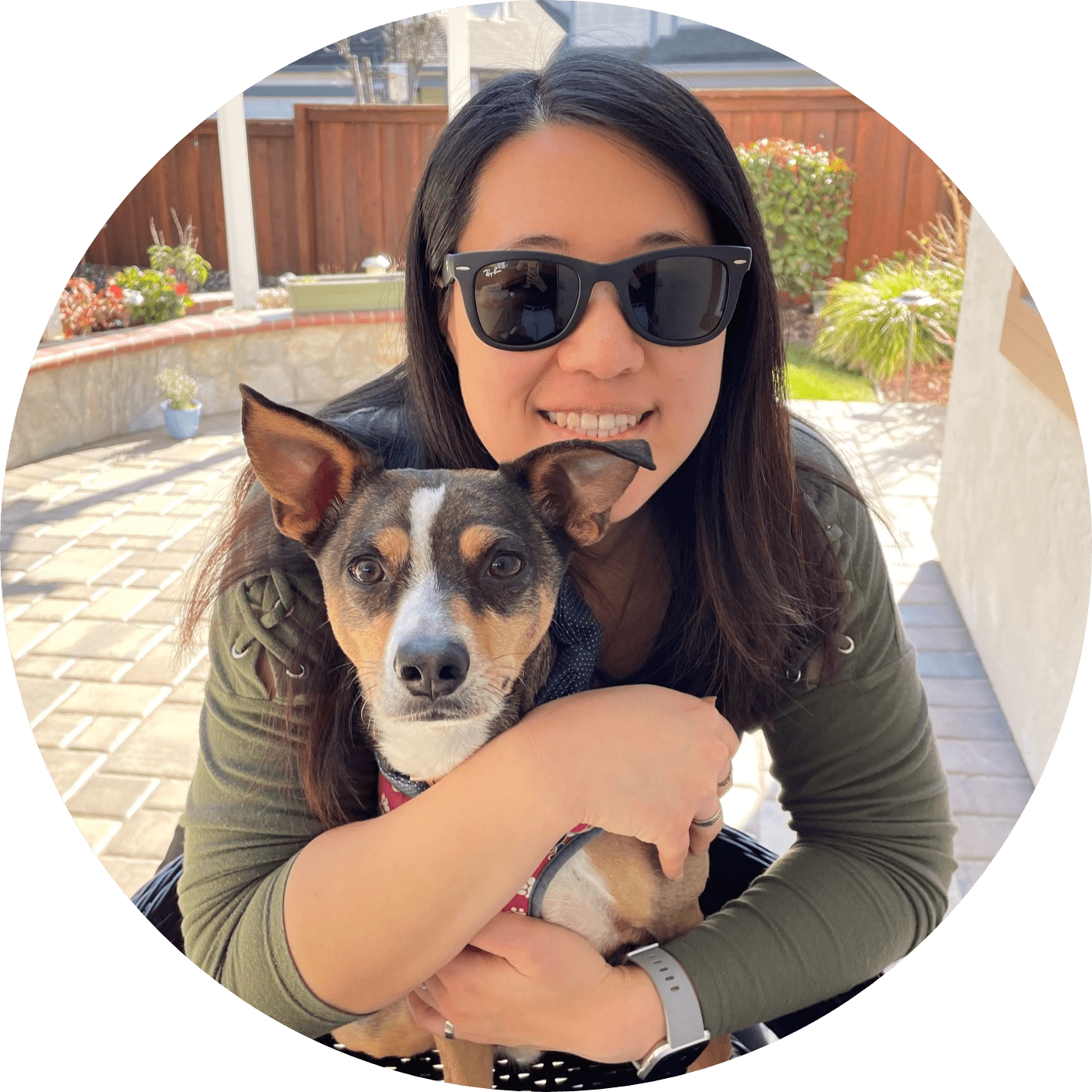 Dr. Sabrina Kong graduated from the Royal Veterinary College in England in 2016 and has been working at a small animal clinic in Northern California since then. She grew up in the Bay Area and got her bachelor's degree from Cal Poly San Luis Obispo. She also became a Certified Canine Rehabilitation Practitioner through a program at the University of Tennessee.
When she isn't in the clinic taking care of her four-legged patients, she enjoys traveling and trying new foods with her friends and her three-legged dog, Apollo. She adopted Apollo from her clinic when he was a puppy with numerous health issues. Dr. Kong truly cares about taking care of animals.