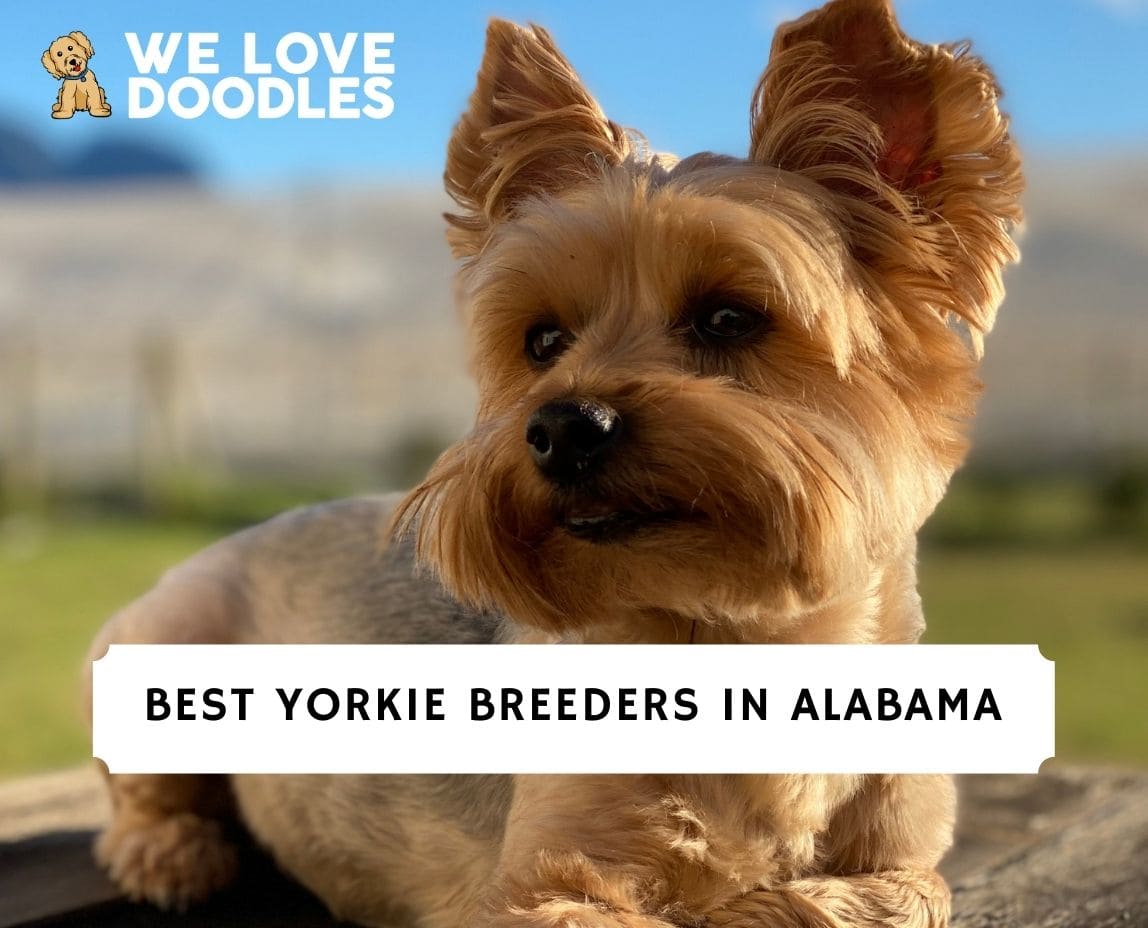 Here's a question we have for you if you're searching for Yorkie breeders in Alabama. Are you looking for a dashing, fashionable, aggressive, loving, and affectionate dog who is good around kids? Well, you don't need to look far.  A Yorkie, short for Yorkshire Terrier, is the perfect dog for you.
Initially used in mines to catch rats, the Yorkie eventually became a popular dog breed amongst the Victorian ladies. With time, the Yorkie only became more popular owing to Its silky floor-length coat, which can leave anyone awestruck.  However, do not let the Yorkie's coat mislead you.
Yorkies are well known for their wonderful temperament, loving nature, loyalty, and bravery. Though they are a toy dog breed, and thence, really tiny in size, they tend to have a big personality that can win anyone's heart.
Before scrolling down this list of Yorkie breeders in Alabama, you can check out these other recommendations from our team at We Love Doodles: Best German Shepherd Breeders in Alabama and Best Labrador Breeders in Alabama.
Yorkie Puppies For Sale in Alabama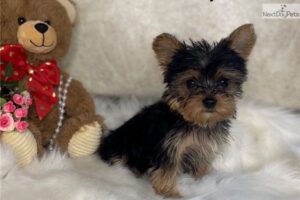 To help you find the best Yorkie breeders in Alabama, we have made a list of the best breeders you can contact. So, without further ado, let's dive right in.
Yorkie Product Recommendations: Best Ceramic Dog Bowls and Best Harness For a Tie Out.
1. PuppySpot's Yorkies For Alabama
Since you're searching for Yorkie breeders in Alabama, we highly recommend checking out PuppySpot's online platform. PuppySpot is a reputable dog marketplace where you can browse for available Yorkie puppies right from the comfort of your home in Alabama.
It would help if you kept in mind that all Yorkie breeders must go through a strict screening process, which means that your companion should arrive in Alabama safe and sound. Before continuing on your journey for a Yorkshire Terrier puppy for sale in Alabama, check out the link to the marketplace below.
PuppySpot Details
2. Robert Kirkpatrick
Based in Guin, Alabama, a breeder with a decade worth of experience in breeding the Yorkshire Terrier, the first breeder on our list is Robert Kirkpatrick. Robert Kirkpatrick is a proud member of the Yorkshire Terrier Club of the Nation's Capital and is extremely passionate about breeding Yorkies.
Robert Kirkpatrick currently has 6 Yorkies and focuses on breeding for good health and great temperament. When buying from this breeder, your Yorkshire puppy would be all up-to-date with its vaccinations and would come with a health guarantee.
In addition to this, Robert Kirkpatrick's Yorkies are very well-socialized since they are primarily brought up inside the home and not allowed outside. Moreover, Yorkies from Robert Kirkpatrick are pee pad trained and are well-trained to be around other animals, adults, and kids.
So, if you want to pull the trigger on this deal and are looking to buy a Yorkie in Alabama, make sure you pay a visit to Robert Kirkpatrick, and you won't regret it. Here is all the information you would need.
Robert Kirkpatrick Details
3. Summer's Maltese
A proud AKC Member whose breeding dogs meet the AKC standards, the next breeder on our list is Summer's Maltese. Ran by Summer and David Rutledge, the kennel is based in Gardendale, Alabama. The breeder has nearly two decades' worth of experience breeding dogs, so it is a perfect place to find your Yorkie.
Though the breeder primarily breeds Maltese, they often also offer Yorkie pups in their litter. The breeder's Yorkie parents are from the AKC European Champ line. Moreover, all the parent dogs are AKC registered and have been DNA and health tested thoroughly to offer you only the best Yorkie pups.
Summer lives with her dogs, so all her Yorkie pups are very well-socialized to be around fellow dogs and humans. In addition, summer emphasizes breeding dogs for great temperament, so rest assured that your dog will always stand out compared to others.
Though this breeder is a little bit expensive, they are worth it. Prices for their dogs can range from anywhere between $2,500 to $3,000, but that's reasonable given the dogs' bloodlines. Consequently, if you want to buy the best Yorkie puppies for sale in Alabama, here is all the information.
Summer's Maltese Details
4. Galaxy Far and Beyond Pugs n Yorkie
Hailing from Jasper, Alabama, a breeder with over two decades of experience in breeding Yorkies and Pugs, the next breeder on our list is Galaxy Far and Beyond Pugs n Yorkie. Ran by Lynsey Hamilton, the kennel Galaxy Far and Beyond Pugs n Yorkie specializes in breeding Yorkies to be kept as pets.
Lynsey realizes how important early socialization in the case of Yorkie puppies can be. As a result, Yorkie puppies from Galaxy Far and Beyond Pugs n Yorkie are extremely well socialized and can quickly acclimate themselves to new surroundings.
When purchasing a Yorkie puppy from this breeder, your doggo will come with many goodies. All the puppies are AKC registered and have detailed health records and a health certificate specifying their vaccines. If that was not enough, Lynsey also provides a puppy kit, knowing that some of her customers may be first-time pet owners.
Talk about going the extra mile for your customer, huh? Lynsey is expecting her next litter on the 10th of April, 2022. So, if you are looking for a healthy Yorkie puppy for sale in Alabama from one of the best breeders available, here is all the information you need.
Galaxy Far and Beyond Pugs n Yorkie Details
5. Jessica Alvarez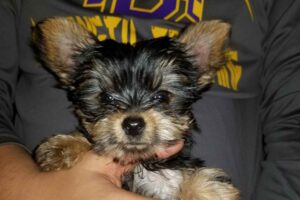 With a breeding experience of approximately seven years, based in Daphne, Alabama, the next breeder on our list is Jessica Alvarez. Jessica Alvarez was always passionate about Yorkies and followed through with her passions when she started to breed these adorable little toy dogs in 2015.
Compared to other breeders of Yorkshire Terriers, Jessica Alvarez's Yorkie puppies are relatively cheap, only costing a potential buyer around $1,600. Jessica's Yorkies have their 1st round of vaccines done when you buy them and come with a health guarantee. Moreover, the puppies of Jessica's litter are AKC registered, and so are the parents they were born out of.
Health screens on parents are also performed to ensure the customer only gets the perfect Yorkie they deserve and are paying for. Jessica also provides a written bill of sale when purchasing Yorkies from her. However, unfortunately, if you cannot keep the puppy after you have bought it, Jessica does not offer to take it back from you. Nonetheless, if you are looking to buy a Yorkshire Terrier in Alabama, visit Jessica.
Jessica Alvarez Details
6. Amanda's Precious Pups
Last on the list of the best Yorkie breeders in Alabama is "Amanda's Precious Pups." Acknowledged by Good Dog as a responsible breeder, Amanda's Precious Pups is run by Amanda Cofer, who has been in the puppy breeding business for six years. At Amanda's Precious Pups, Yorkies are raised to become an integral part of the families that eventually adopt them.
Hence, Amanda uses various enrichment methods to train your Yorkie puppies, including household desensitization, socialization with children, sound stimulation, grooming desensitization, etc. When you buy Yorkies from Amanda, an absolute blast around kids, they come with AKC registration, a blanket with littermates' scent, a puppy starter kit, and vaccinations.
In addition to this, Amanda also offers a 1-year health guarantee, and her puppies are dewormed at 3, 6, and 9 weeks with regular health check-ups. Though a little pricy with a puppy costing anywhere between $2,000 to $3,500, Amanda's Precious Pups is a customer-first dog breeder. So, if you are looking to buy Yorkies in Alabama, do drop by her.
Amanda's Precious Pups Details
How to Choose a Yorkie Breeder in Alabama
Although all the breeders mentioned above are top-quality breeders of Yorkshire Terriers, finding good dog breeders, in general, can be tricky. But here are two things that can help you with this dilemma and make it easy to find a good breeder.
Consider the dog breed you are buying. Sometimes the dog breeder of the breed you are interested in may not be available in Alabama. In that case, you may have to expand your search radius to find a good breeder.
However, you may not need to look far since a breeder can easily be found in a nearby state. Secondly, make sure you check out testimonials. Though many people like doing their research, testimonials can go a long way to show whether a breeder is good or bad.
Conclusion For The "Best Yorkie Breeders in Alabama"
To get yourself the perfect Yorkshire Terrier of your dreams, here are two factors you should keep in your mind:
Breeding practices of the breeder
The breeder's location from you
Good breeders often showcase their breeding practices. Their parent dogs are usually always AKC registered, DNA tested, genetically tested, and health screened. They also perform OFA testing for hips, elbows, etc., to ensure you get the perfect specimen you came looking for.
In addition to this, one must also be wary of a breeder's location from your place. A breeder that is accessible and close by can give you the option to visit your puppy before they are sent home to you. Though you may consider this a small factor yet, this can ensure you build a healthy relationship with your puppy from the get-go.
For more guides similar to this list of Yorkie breeders in Alabama, you can check out:
Before you bring home a Yorkie puppy from a breeder in Alabama, you can learn more about the breed by watching "12 Things Only Yorkshire Terrier Dog Owners Understand" down below: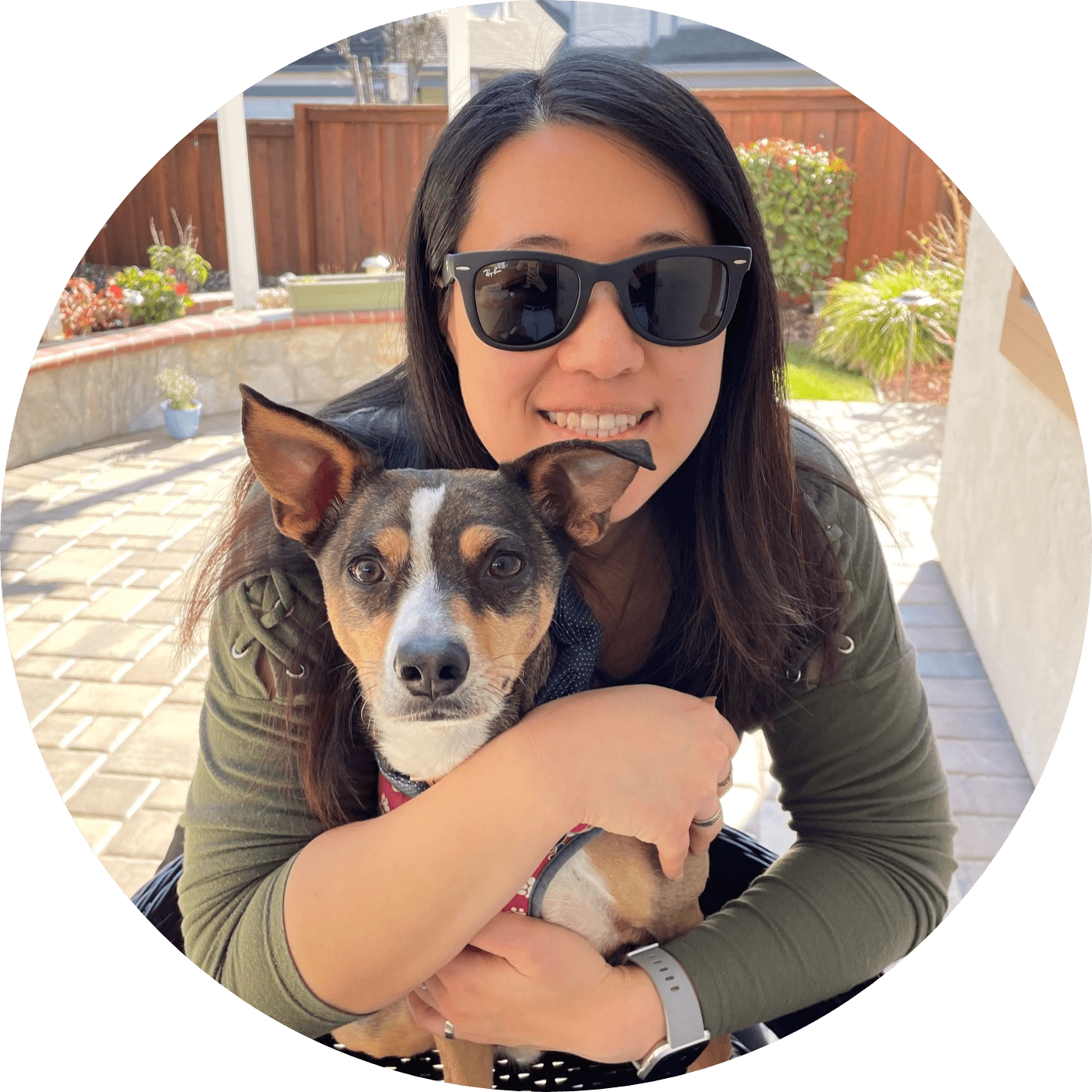 Dr. Sabrina Kong graduated from the Royal Veterinary College in England in 2016 and has been working at a small animal clinic in Northern California since then. She grew up in the Bay Area and got her bachelor's degree from Cal Poly San Luis Obispo. She also became a Certified Canine Rehabilitation Practitioner through a program at the University of Tennessee.
When she isn't in the clinic taking care of her four-legged patients, she enjoys traveling and trying new foods with her friends and her three-legged dog, Apollo. She adopted Apollo from her clinic when he was a puppy with numerous health issues. Dr. Kong truly cares about taking care of animals.