Their size may be small but these dogs have a big personality. The Yorkshire Terrier is known for its very elegant coat and peppy temperament. The Yorkshire, or Yorkie for short, is a full terrier, meaning they can be feisty and fierce. There are tons of Yorkie breeders in New York, but we're here to help you narrow down your list so you don't have to spend hours researching a breeder.
Other articles you would like: Best Dog Food for Yorkie Puppies.
Yorkies For Sale in New York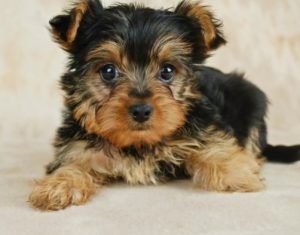 If you're ready to welcome a Yorkie into your own home in the New York area, one of the first and most important steps in the process is finding a reputable breeder that has you and your future puppy in their best interest. Often, this step requires some initial research and looking into breeders in the area that are well-respected and are trustworthy. The quality of the Yorkshire Terrier breeder may just affect the health and lifespan of the puppy you adopt.
Whether a pet store or a dedicated Yorkie breeder, the source of your puppy can make a difference in your puppy-purchasing experience. If you're starting to explore where the best place is for you to purchase your Yorkie, we're here to help. Next, we share some of the top Yorkie breeders in the New York area.
You'll find a brief overview of the breeder as well as some contact information if you're interested in learning more about the adoption process or their availability.
Other popular dog breeds in New York: Best Poodle Breeders In New York.
1. Let's Talk Yorkie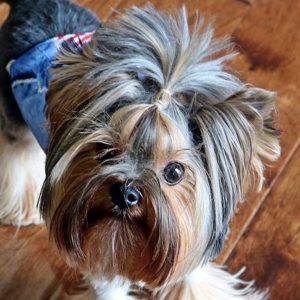 After experiences of purchasing a puppy they didn't expect, the team at Let's Talk Yorkie is committed to breeding quality, healthy, and happy Yorkie puppies the right way. They emphasize ethical and honest breeding practices and raise the dogs and puppies with the utmost care.
Their Yorkie puppies are raised and cared for in their own home in Bellmore, New York. They're provided regular care and love as they grow and explore. With such a dedication to these Yorkshire Terrier puppies, the team is intentional about choosing the right families to bring home these puppies.
Whether or not there is an available litter, you can still start with an application to reserve a spot for a future litter. If you're not sure what kind of Yorkie is the best fit for you and your family, their website and blog share a wide variety of resources and FAQ answers to help you move forward with confidence and excitement.
Their team is standing by to help answer questions about raising a Yorkie and other concerns that arise with the health and well-being of the puppy. When puppies are ready to come home, they are given a health guarantee and a full health record that includes relevant vaccinations and deworming. To prove they're in good health, they'll also receive a health certificate from a licensed veterinarian. To ease the transition process, all their Yorkie puppies in New York also come with a blanket and are well-socialized to be comfortable around people and other dogs.
Let's Talk Yorkie Breeder Details
2. Kingsley Yorkshire Terrier
Since 1980, the team at Kingsley has been raising and caring for Yorkies with a dedication to quality. After an unfortunate experience with a sick puppy, the owners want to ensure the Yorkie puppies they breed were healthy and happy. With a passion for healthy puppies, they look forward to opportunities to breed puppies and share them with welcoming and responsible homes in New York.
They raise their puppies in their own home and shower them with love and care as they grow and thrive. They have Yorkie litters anywhere from 7 to 10 times per year in order to preserve the health and well-being of the female dogs. Their website shares a collection of some photos of their Yorkies puppies in New York so you know what to expect for your own puppy. If you're interested in learning more about purchasing a puppy from Kingsley Yorkshire Terrier, you can reach out to them by phone or email. Their availability ranges throughout the year.
Kingsley Yorkshire Terrier Breeder Details
3. Central Park Puppies NY
Choose from a wide variety of breeds offered at Central Park Puppies. With over 10 years of dog breeding experience, the team here is dedicated to the health of the puppy and the breeding dogs. They work with private breeders to ensure the best quality options and the healthiest Yorkshire Terrier puppies to join your family. In addition to high standards and ethical breeding practices, Central Park Puppies also offers resources and people to talk with as you become a dog owner.
They share helpful information on all the breeds of dogs they offer and helpful insights in making the right choice of the puppy for you and your lifestyle. Online you can browse all their available puppies and pick the one that's just right for you.
All their Yorkie puppies for sale in New York come with up to date vaccination and deworming practices. They also come with registration and a microchip. Their one-year health guarantee protects against congenital issues. You also get lifetime access to insight and assistance on common topics of concern like pet health and training resources.
Central Park Puppies Breeder Details
4. Long Island Yorkie Puppies
At Long Island Yorkie Puppies, the litters are showered with care. They hold high health standards and are loved for in a home environment. Each Yorkie puppy is registered and is microchipped to uphold these high standards. Their website shares a large collection of adorable photos of puppies and parents, so you can begin to anticipate the cuteness that will enter your home when you bring home a puppy.
Their Yorkie puppies in New York come equipped with relevant vaccinations and deworming, so it's one less thing you have to worry about. Their puppies also come with a sample of dog food that they're familiar with as to not upset their stomach. They also come with a large adoption care package filled with many of the essentials you'll need as you bring a new puppy into your home.
If you're interested in learning more about their availability, you can make a request through their website. A deposit and signed contract are required to be able to reserve a puppy. To learn more about their adoption process or other steps required in securing a puppy from Long Island Yorkie Puppies, you can also reach out to them by phone.
Long Island Yorkie Puppies Breeder Details
Location: Long Island, New York
Phone: (631) 629-2244
More Information About Yorkie Puppies in New York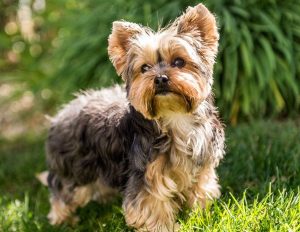 As a member of the Toy group according to the American Kennel Club, the Yorkie's size is fairly tiny. They weigh only up to about 7 pounds and have a height that reaches between 7 to 8 inches.
If their coat isn't trimmed up short, they have long, flowing coats that appear very elegant and royal. These coats are most often a rich tan or gray. These coats are also low on allergens, which means if pet allergies have been a concern in the past, a Yorkie could be a good fit for you. Their small size also allows them a longer life span, which ranges from about 11-15 years old.
You may be interested: Top 7 Low Energy Hypoallergenic Dogs That Don't Shed
The small size of the Yorkie makes them an ideal candidate for small living environments like apartments or other city settings around New York. While they do have the energy to exert on walks or playing, they don't require acres of land to roam and run. In fact, the Yorkie is one of the most popular breeds for city dwellers such as those who live in New York City or other metropolitan areas.
As a terrier, they can have an intriguing personality that can make them great watchdogs, cuddlers, and playmates. For both individuals and families, a Yorkie puppy can be a delight to have. Whether you've had your heart set on a Yorkie for years or have just discovered how great of a fit they can be for you and your lifestyle, they can be ideal candidates for adding a four-legged friend into your home or apartment.
Conclusion For Yorkie Breeders in New York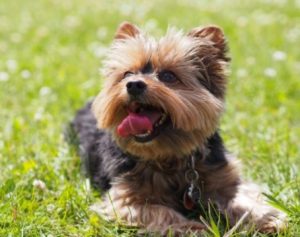 With their tiny size and peppy personality, Yorkie puppies in New York have become one of the most popular breeds for small living spaces and cities. If you're ready to bring home your Yorkie, finding a reputable breeder is a vital step in the process. As you consider what breeder is right for you, be sure to ask questions, read reviews, and consider what is the best fit for you.
Doing research and finding a breeder with you, your future puppy, and the breeding dogs in their best interest can help to improve the experience for all involved. With a quality breeder, you can welcome and raise your Yorkie with confidence and delight. And soon enough, you can be cuddling up with and playing around with your beloved Yorkie.
Check out these other articles: Beagle Breeders in New York and English Bulldog Breeders in New York.
Want to learn more about Yorkies? Here's a video: Top 10 Facts About The Yorkshire Terrier!
Garrett loves animals and is a huge advocate for all Doodle dog breeds. He owns his own Goldendoodle named Kona. In addition, he volunteers at the Humane Society of Silicon Valley, where he fosters dogs and helps animals. Garrett enjoys writing about Doodles and believes that dogs can teach humans more about how to live than humans can teach a dog.
Why Trust We Love Doodles?
At We Love Doodles, we're a team of writers, veterinarians, and puppy trainers that love dogs. Our team of qualified experts researches and provides reliable information on a wide range of dog topics. Our reviews are based on customer feedback, hands-on testing, and in-depth analysis. We are fully transparent and honest to our community of dog owners and future owners.