Are you searching for the best Yorkie breeders in Iowa? Well, that all depends. Do you prefer the finest champion bloodlines, fantastic personality, and the most "pawsitive temperament," or are you looking for good value for money?
Yorkies are a favorite household pet among dog lovers – they're delightful little dogs and highly in demand. That's why there are also many unethical breeders out there. So, it can get challenging to find the right breeder, even if you're a Google search expert.
Before scrolling down this list of Yorkie breeders in Iowa, you can check out these other recommendations from our team at We Love Doodles: Best Sheltie Breeders in Iowa and Best Boxer Breeders in Iowa.
Yorkie Puppies For Sale in Iowa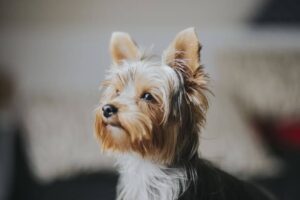 We've saved your legwork. We've spent hours and hours scouring the internet to bring you the best list of all the top Yorkie breeders in Iowa. Here it is.
Yorkie Product Recommendations: Best All-Natural Shampoos For Dogs and Best Dog Brush For Tangles.
1. PuppySpot's Yorkies For Iowa
Since you're searching for Yorkie breeders in Iowa, we highly recommend checking out PuppySpot's online platform. PuppySpot is a trustworthy dog marketplace where you can search and find available Yorkie puppies right from the comfort of your home in Iowa.
You should also note that all Yorkie breeders are required to get screened by the team of PuppySpot, so your companion should arrive in Iowa safe and sound. Before continuing on your journey for a Yorkie puppy for sale in Iowa, check out PuppySpot's dog website below.
PuppySpot Details
2. Sagebrooke Yorkshire Terriers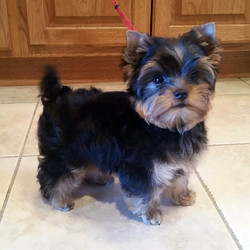 Sagebrooke Yorkies began in 1986 when the owner received a gorgeous female Yorkie puppy as a birthday present. Her love for Yorkshire terriers has been an adventure since then. Soon after, she began breeding Yorkies and entered her first show in the autumn of 1988.
She claims to be constantly improving the breed from previous generations to produce happy, healthy, well-socialized Yorkies. Since then, the kennel has been breeding and exhibiting at the AKC. They recommend that first-time parents learn as much about parenting before having a pet.
Although a good breeder would help, Sagebrooke advises that knowing what you're doing will help. Sagebrooke requires that puppies be at least 12 weeks old before going to their permanent home. They are also spayed/neutered. Visit the kennel in Mount Pleasant to adopt a puppy from them.
Sagebrooke Yorkshire Terriers Details
3. Iowa Yorkie Babies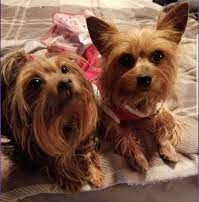 If you're looking for legit breeders of Yorkie puppies in Iowa, this breeder has an authentic story that'll surely draw your attention. Heather and her husband Eric have been breeding Yorkies since 2013 at their own home around their three children.
Heather herself takes care of and trains all her Yorkshire babies. You can rest assured that every puppy you adopt from her gets the love and care that can't be found in a backyard breeder or a puppy mill. The male and female Yorkies from Iowa Yorkie Babies are also groomed every 5 to 6 weeks by a professional groomer.
So, they remain as beautiful as a picture. So, if you want to adopt from a small home-grown breeder of Yorkie puppies in Iowa, Iowa Yorkie Babies should be the first place you visit. Before visiting, you have to fill up an online application from their website. You can also check their Facebook page for regular updates.
Iowa Yorkie Babies Details
3. Coldwater Kennel
Coldwater Kennel is a leading breeder of Yorkie puppies for sale in Iowa. Their puppies come with a seven-day health guarantee and a one-year heredity guarantee to assure that your new friend arrives in perfect condition and will stay by your side for many years.
Additionally, this kennel offers each puppy a complete set of vaccines and a thorough worming treatment. All their puppies are healthy and ready to start a new life with you when they leave the Coldwater Kennel facility. Though Coldwater Kennel provides deliveries, they prefer you to come and visit the facility first.
They urge you to see where your next furry friend was brought up and who the parents are. You can check the "Puppies for Sale" page on their website to see the available puppies. And if you want to adopt one, contact them through the kennel's Facebook page or the contact information below.
Coldwater Kennel Details
5. Iben Family Puppies
You can tell from the name that this kennel is run by a family (of four). They have been breeding hypo-allergenic and non-shedding healthy and happy puppies since 2015. The kennel also has a professional groomer, vets, and a mentor (who has 35 years of experience) on the team.
Iben Family Puppies is USDA-approved, which means that the federal Department of Agriculture has examined the kennel facility. So, you don't have to worry about the environment puppies grew in. They're also members of the Iowa Pet Breeders Association.
So, they go to seminars and meetings to keep themselves updated on puppy training and puppy care trends. That shows the passion of this family for pets. Visit the kennel in Monticello before deciding on adopting from them. Check out their Facebook profile to see the puppies running and playing; there is little on the website.
Iben Family Puppies Details
6. Diamond Yorkshire Terriers
Last on the list of the breeders of Yorkie puppies in Iowa is this home-grown breeder. Holly Spengler is the face behind Diamond Yorkshire Terriers. She focuses on producing the best Yorkies for families in Iowa with good temperaments and genetics.
Holly's Yorkies are reared around family members and her dogs, who become quite big after six weeks. These Yorkies are kind, smart, and adorable at the same time. See their Facebook page, and you'll know what we're talking about. Besides the looks, this kennel's Yorkies are examined within 2-3 days after birth by a veterinarian.
The required vaccines are given for ten weeks. The puppies are also dewormed if necessary, and the kennel also provides a one-year health guarantee. With every puppy you buy from Diamond Yorkshire Terriers, you get a small food bag and a toy with their littermates' fragrance. Check the kennel's Good Dog profile for detailed information on availability and pricing.
Diamond Yorkshire Terriers Details
How to Choose a Yorkie Breeder in Iowa
How to know which Yorkie breeders in Iowa are reputable and worth a visit? These tips will help.
1. Kennels You Should Avoid
Avoid puppy mills (which raise puppies in an unhealthy and caged environment) and backyard breeders (raised only for financial gain).
Be careful while using breeder listing services like Craig's list or PuppyFind. There will be a mix of ethical, hobby, and maybe unscrupulous breeders.
Please don't buy from amateur breeders who have unexpected litters; their pets don't undergo pre-breeding health screenings.
Avoid buying puppies from pet stores. Puppies from ethical breeders are not sold in shops (mostly).
2. Listings of Breeders of Yorkie Puppies in Iowa
The two best sources in the United States are:
AKC Marketplace. Who are marked as 'Breeders of Merit,' not the new registrations.
Yorkshire Terrier Club of America Breeder Referrals. The club doesn't guarantee anything, but you'll get an idea of the available breeders.
3. The Weeding Process
Browse the website of the breeders. Although a good breeder may have a side hobby in web design, be wary of a site that seems to be 'perfect' advertising. Peek at the images on social media sites. While images aren't evidence of anything these days, keep an eye out for mothers and sires and prior and current litters.
Besides that, weed out those who don't have health information like deworming, vaccination, and genetic health testing. After that, check the contact information and check the Google/Facebook/Yelp reviews to weed out some breeders you selected in the previous step.
4. Reach Out to Breeders
It's time to call the breeders on your shortlist who are likely to be reputable and in a region where you can visit. Make it simple for the breeder by providing your real name, address, and phone number. Make a short overview of your living condition in writing or verbally. Don't make an impossible-to-fulfill request like 'a female that will be 5.5 lbs. fully developed for $300'.
5. Paying a Visit
We suggest that you pay a visit rather than asking for deliveries before adopting a puppy. You should visit the breeder's house and observe both the mother and sire and the living circumstances. That's it. If you follow this procedure, we're sure that you'll have no problem finding a furry friend for life.
Related: How to Cut Your Yorkie's Hair At Home.
More Information About Yorkie Breeders in Iowa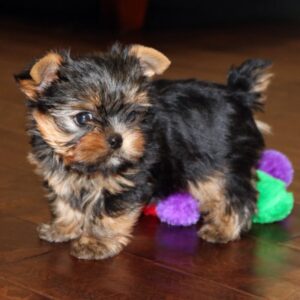 The list of breeders of Yorkie for sale in Iowa has been collected through secondary research. We hope that one of these breeders mentioned above can help you find your next best friend, but you may always look for other options if that is not the case.
We've included a detailed guideline on finding Yorkie puppies for sale in Iowa. These resources will help you to get what you want from the comfort of your own home.
Related: Why is My Yorkie Shaking?
Conclusion For The "Best Yorkie Breeders in Iowa"
To summarize, the best Yorkie breeders in Iowa are the ones who are willing to work well with you and who want nothing more than a satisfied customer. While these breeders are an excellent place to start, others are out there.
The best way to find these breeders is to do a fair amount of research. However, the right way to ensure that you are getting the perfect puppy for you is to shortlist potential breeders by contacting them directly first. Good luck with your Yorkie puppy search in Iowa.
For more guides similar to this list of Yorkie breeders in Iowa, you can check out:
Before you bring home a Yorkie puppy from a breeder in Iowa, you can learn more about the breed by watching "12 Things Only Yorkshire Terrier Dog Owners Understand" down below: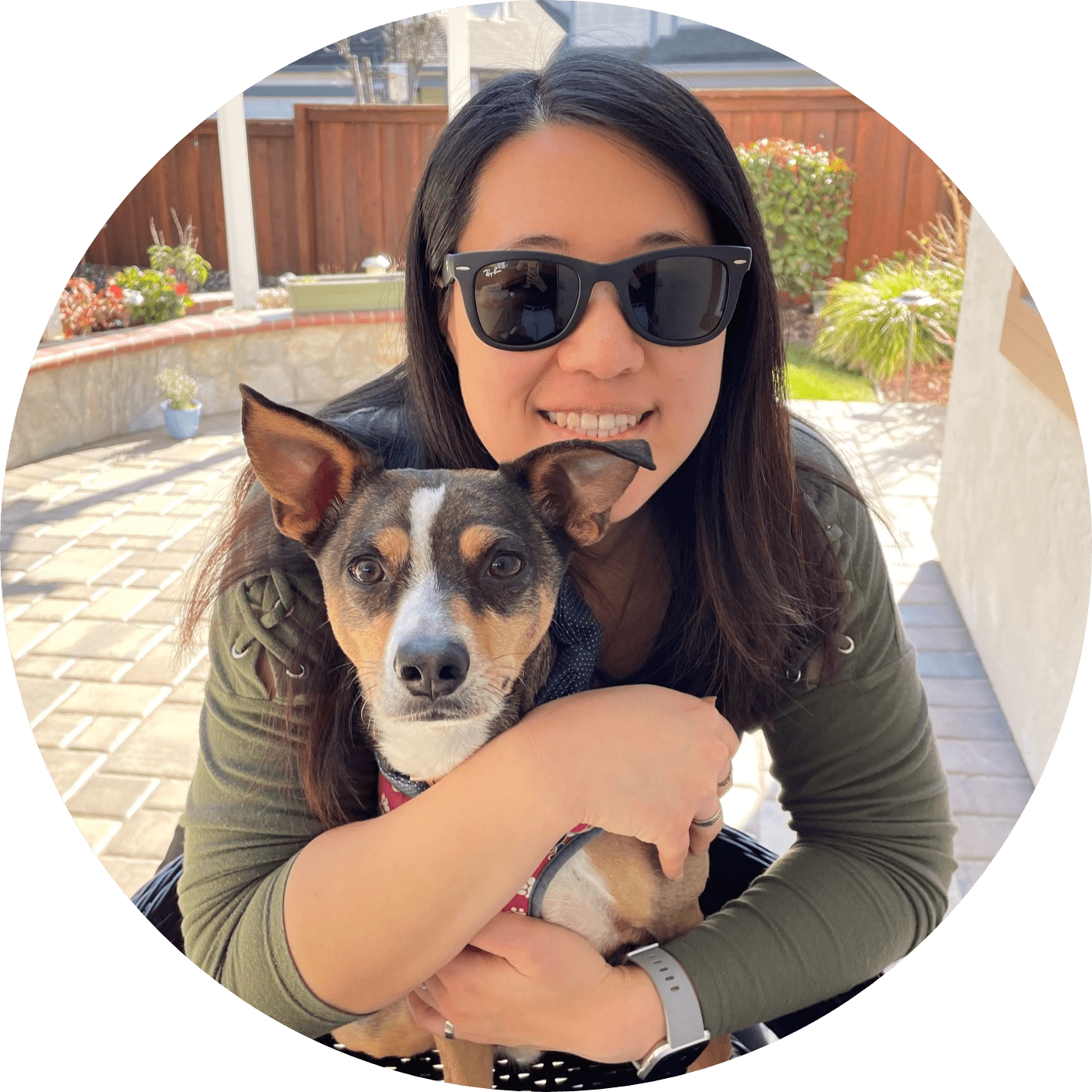 Dr. Sabrina Kong graduated from the Royal Veterinary College in England in 2016 and has been working at a small animal clinic in Northern California since then. She grew up in the Bay Area and got her bachelor's degree from Cal Poly San Luis Obispo. She also became a Certified Canine Rehabilitation Practitioner through a program at the University of Tennessee.
When she isn't in the clinic taking care of her four-legged patients, she enjoys traveling and trying new foods with her friends and her three-legged dog, Apollo. She adopted Apollo from her clinic when he was a puppy with numerous health issues. Dr. Kong truly cares about taking care of animals.