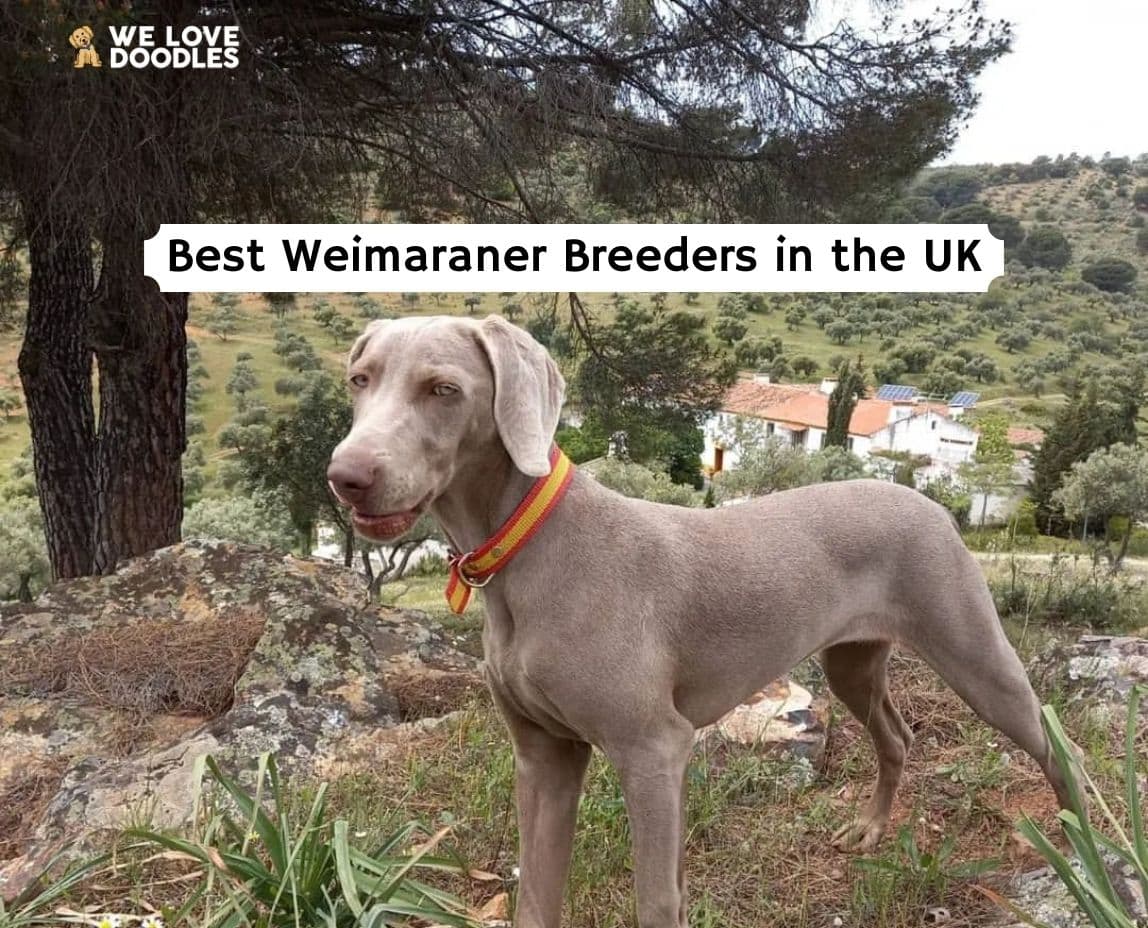 Weimaraner dogs, also known as the "Silver Ghost," were originally bred as gundogs to handle big game like deer and bear. Despite their elegance and demanding nature, these dogs are still found on the hunting grounds today. When they are sufficiently exercised, they can also make lovable family friends.
Due to their hunting heritage, Weimaraners have a high prey drive and a lot of energy, making them excellent companions. The breed requires consistent training and a lot of activity, so first-time owners and apartment dwellers should beware. Weimaraner puppies in the UK will likely need a yard to run in. Nonetheless, if you're prepared to meet the needs of this breed, you will be rewarded with a loving and devoted pet.
If you have purchased your dog from a reputable breeder, you will be happy with this new member of your family. The following are some of the best breeders of Weimaraners in the United Kingdom. We excluded all puppy mills from the list.
Other articles you would like: Mastiff Breeders in the UK and Vizsla Breeders in the UK.
1. Silberliss Weimaraners UK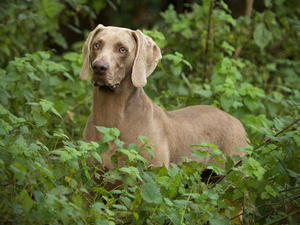 Since 2000, Silberliss Weimaraners' owner has owned Weimaraners and has attributed her love of this beautiful breed. Her very first Weimaraner was named Harvey andhe considered him her best friend and loyal companion.
She has health tested her dogs, they have an excellent temperament, and they make great family members and companions. Silverliss Weimaraner's puppies in the UK live an idyllic rural life in Essex. Their upbringing has included lots of other dogs, horses, and they are well socialized, confident, and happy in any environment.
You should contact her as soon as possible if you wish to be considered for a puppy. Families often wait up to 18 months before getting the chance to own a Silberliss puppy.
Silberliss Weimaraners Breeder Details:
2. Stormdancer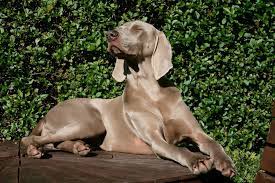 Founded in 2002, Stormdancer Kennels is owned by Sandra Rowbury. In 1973, she bought her first male Weimaraner but she didn't purchase a female until 1987.
In addition to collars, food, treats, DVDs, worming certificates, toys, and extensive health and puppy training handouts, Stormdancer Weimaraner puppies for sale in the UK are all microchipped.
Besides offering lifelong support – not just the first eight weeks – Stormdancer puppies are only rehomed into permanent, loving homes and come with a full re-homing contract. The breeders take responsibility for all offspring during the lifespan of the dog. All dogs are registered with the Kennel Club, have a pedigree, and have 5 weeks free insurance with the Kennel Club as well as lifetime support from the breeder.
There are currently several employees at Stormdancer who take care of all the animals 365 days a year.
Stormdancer Breeder Details:
3. Enjager Weimaraner Puppies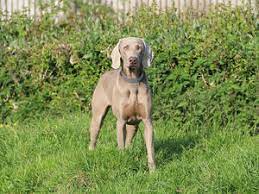 The Enjager family farm is located in the Cumbrian Lake District, where they breed Weimaraner dogs.
Their family has been involved with livestock breeding all their lives, but it was the wife who first became interested in Weimaraners. Soon after, the husband became hooked as well.
Having owned a Weimaraner for many years, they decided to start Enjager Weimaraner and breed their first litter of puppies. While searching for a suitable sire to line their dam, they came across Stephen & Patsy Hollings who let them use their outstanding sire. As a result of the mating, Enjager Weimaraner was born.
We believe the pictures on their website describe their breed better than we can.
Enjager Weimaraner Breeder Details:
Location: Askam-in-Furness Cumbria
Telephone: 01229 467734
Website: https://enjager-weimaraner.com/
Email: david@enjager-weimaraner.com, sharon@enjager-weimaraner.com
4. Minstergate Weimaraners
Claire Rodgers is the owner and breeder of Minstergate Weimaraners. Her dogs love to lounge in front of the fire or at her feet. Shown frequently and used extensively throughout the shooting season on various shoots, the Weimaraner is a truly versatile breed! Having previously owned and shown the Willowsett English Setters with her parents, Claire has been involved with Weimaraners since 1987.
As long as the Law allows, her veterinarian docks the tails of her puppies when they are bred. Every Weimaraner puppy in the UK will also have a docking certificate stating that it has been microchipped and legally docked.
Minstergate Weimaraners breed only from stock that is sound in mind and body and able to complete the task they were designed for. Claire belongs to all four Weimaraner clubs in the UK, as well as to the Kennel Club.
Since 2007 she has been the secretary for the North of England Weimaraner Society (N.E.W.S. ), and before that she was the membership secretary.
Minstergate Weimaraners Breeder Details:
5. Kalimor Weimaraners
Kalimor Weimaraners' home is set on 130 acres of countryside in Hertfordshire, just a 5-minute drive from the town center. After moving here in 1981, they purchased their first Weimaraner. The couple had no idea that this small grey bundle would turn into a hobby that has provided them and continues to provide them with so much enjoyment.
A full Irish champion was bred by them, 12 UK show champions were bred by them and a 13th was owned by them.
The Kalimor Weimaraner Kennel is dedicated to protecting the Weimaraner as a comprehensive breed and producing dogs that have inherent abilities, sound health, and sound temperaments. Natural ability is the breeding program's core quality, along with work ethic, cooperation, and biddability. Their dogs have proven themselves in a wide range of terrains, both in competitions and on wild birds. Weimaraner dogs from Kalimor are well-balanced and healthy. Each of their dogs has excelled in health tests.
Kalimor Weimaraners Breeder Details:
Location: Hertford, Hertfordshire
Telephone: 01992 584369
6. Enryb Weimaraners
ENRYB  is a Kennel Club-assured breeder of Weimaraners. The Kennel Club has also awarded them with the "ACCOLADE OF EXCELLENCE" since April 2010.
ENRYB was created in 1979, when the breeders became interested in the show world with Irish Setters. Following a successful decade of judging several gundogs, along came the Weimaraners and later the pointers. After that, everything changed!
The breeder currently judges championship shows for Weimaraners as well as all other breeds at open shows.
The kennel prides itself on producing dogs with sound temperaments and conformation and dogs ready for work. All stock is DNA tested and hip scored according to KC recommendations before breeding. Their Weimaraner puppies and their owners receive aftercare advice and support from them, and they can be contacted when needed.
Besides being selected for the show ring and as working gundogs, puppies are available as family pets and companions as well. ENRYB trains all its dogs from an early age to work and to shoot.
Visitors are welcome to come to see the dogs at their home. Visit their website for more information and to find out if puppies are available. Visit the Meet Our Dogs and Memories sections to see the dogs' individual pages, and please don't miss the Working page.
Enryb Weimaraners Breeder Details:
Weimaraner Puppies in the UK
It's imperative to know that the Weimaraner is a house dog. Weimaraners are not meant to live in kennels or backyards, and neither is he meant to live in apartments. In order for a Weimaraner dog to remain active, he must have a secure yard where he can run. He also needs an active family that can provide him with exercise and mental stimulation.
Humor also helps, especially when you see how your Weimaraner's efforts to eradicate mice, moles, and bugs have redesigned your yard. Don't forget to compliment him as you estimate how much time, money, and effort it will take to get the yard back to how you want it. He will be proud of his efforts. It may take some extra supervision.
In order to prevent barking, chewing, and digging, Weimaraners need a few hours of exercise daily. Get him involved in dog sports such as agility and flyball, play fetch with him or take him jogging or hiking. Hunts are also an option.
How to Choose a Weimaraner Breeder in the UK?
Below are some tips on how you can choose a good Weimaraner breeder in the UK.
During your tour, you'll be able to see all areas where puppies and their families spend their time. Kennels and exercise areas should be kept clean and odorless. Long crate stays for dogs are not recommended. Breeders may house small breeds in their homes.
Are not a puppy mill churning out a lot of puppies, but rather considers its breeding Weimaraners to be family members and treats them well. During your visit to the breeder, the breeder should encourage you to spend time with one or both parents. Ideally, the parents will be friendly to people and other dogs alike. Weimaraner puppies should exhibit the same demeanor, as well as be clean and energetic.
You can get your name on a waiting list even if a litter of Weimaraner pups isn't available right now. Because natural schedules determine the best mating times, litters are usually born in spring or fall. To avoid over-breeding, responsible Weimaraner breeders give their dams a rest between litters, so pups may have to wait more than a year to be born.
Where do you find a Weimaraner breeder in the UK?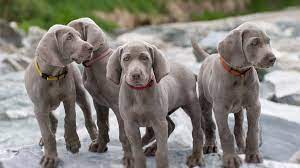 Always use references as people in the know can help you find a good breeder. For instance, you can get a good reference from your veterinarian since they see a lot of puppies.
Find out where your friend got the dog you like.
Reputable breeders earn their reputations by providing healthy puppies to good homes, leading to "word-of-mouth" referrals.
Look online for local breed clubs.
Once you locate a prospective breeder, get to know him or her, but remember that they also want to get to know you! A good breeder wants to place their pups in loving, lifelong homes, so they may ask you a few questions. As well as having questions for them, you want a healthy, happy pup. Engage your breeder in an informative conversation.
Frequently Asked Questions
Are male or female Weimaraners better?
If you're trying to decide whether a male or female Weimaraner is better, we highly suggest you check out the video below.
How much are Weimaraner dogs worth?
The Weimaraner comes from Germany and is part of the UKC Gun Dog Group and the AKC Sporting Group. This breed was bred originally to be a hunting dog used for big game such as deer, boar, and bear. The name Weimaraner comes from the Grand Duke Karl August of Saxe-Weimar-Eisenach, who enjoyed hunting with this breed.
The average litter size for a Weimaraner is six to eight puppies. Male dogs typically weigh between 70 and 85 pounds, while females usually weigh between 55 and 75 pounds. The price of a Weimaraner puppy varies depending on the breeder, but generally speaking, they cost between $749 and $1,500.
When it comes to adult dogs, the price range is much more comprehensive. Some adult Weimaraners can be purchased for as little as $300 from a shelter, while others may cost upwards of $3,000 from a show breeder. Prices for adult dogs also vary depending on the dog's pedigree, coat color, and whether or not the dog has been trained.
What are Weimaraner's best at?
The Weimaraner makes for a good companion and hunting dogs. The AKC adds that the Weimaraner is " Germany's sleek and swift 'Gray Ghost,' is beloved by hunters and pet owners alike for their friendliness, obedience, and beauty.
This intelligent, active, and obedient breed is easy to train. They are also great with children and other dogs. Weimaraners require a lot of attention, socialization, and exercise, but their loyalty and devotion to their families make them well worth the effort.
Is a Weimaraner a good first dog?
The AKC explains that this breed allows for easy grooming, trainability, a loving nature, and a can-do attitude that make them excellent pets, as long as owners are committed to keeping them physically active and mentally engaged.
This is a breed that needs a job and does well with experienced pet parents that are active. They have very high exercise requirements and need plenty of exercise for their mental well-being.
Are Blue Weimaraners rare?
Blue Weimaraners are not rare! They are not subject to any health problems related to their coat color, such as Color Mutant Alopecia.
Blue Weimaraners are simply Weimaraners with blue coats, which is a recessive trait. So, if you are looking for a blue Weimaraner, be prepared to do additional research to find a reputable breeder.
Do Weimaraner's eyes stay blue?
The AKC adds that the Weimaraners' eyes should feature shades of light, gray, or blue-gray, set well enough to indicate good disposition and intelligence. When dilated under excitement, the eyes may appear almost black.
Weimaraner's eyes change color as they mature. Puppies are born with blue eyes, but by the time they are adults, their eyes will be light amber, gray, or blue-gray.
Conclusion for Weimaraner Breeders in the UK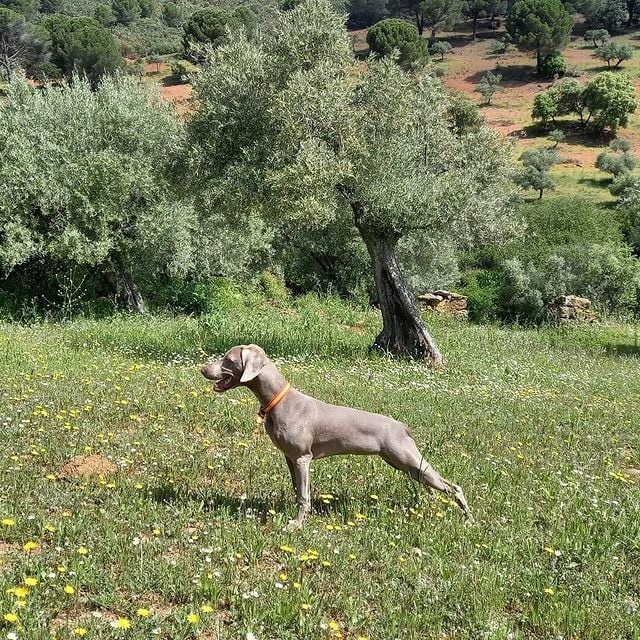 These are the various breeders you can contact right now to get your dream Weimaraner! It would be cruel not to have a dog in your life since they make lovable and great companions! They also can bring so much happiness and joy into your life! In these trying times, finding a reliable breeder can be challenging. Review each breeder in this guide carefully so that you can have complete confidence in your new life companion!
Other articles you would like:
Garrett loves animals and is a huge advocate for all Doodle dog breeds. He owns his own Goldendoodle named Kona. In addition, he volunteers at the Humane Society of Silicon Valley, where he fosters dogs and helps animals. Garrett enjoys writing about Doodles and believes that dogs can teach humans more about how to live than humans can teach a dog.
Why Trust We Love Doodles?
At We Love Doodles, we're a team of writers, veterinarians, and puppy trainers that love dogs. Our team of qualified experts researches and provides reliable information on a wide range of dog topics. Our reviews are based on customer feedback, hands-on testing, and in-depth analysis. We are fully transparent and honest to our community of dog owners and future owners.