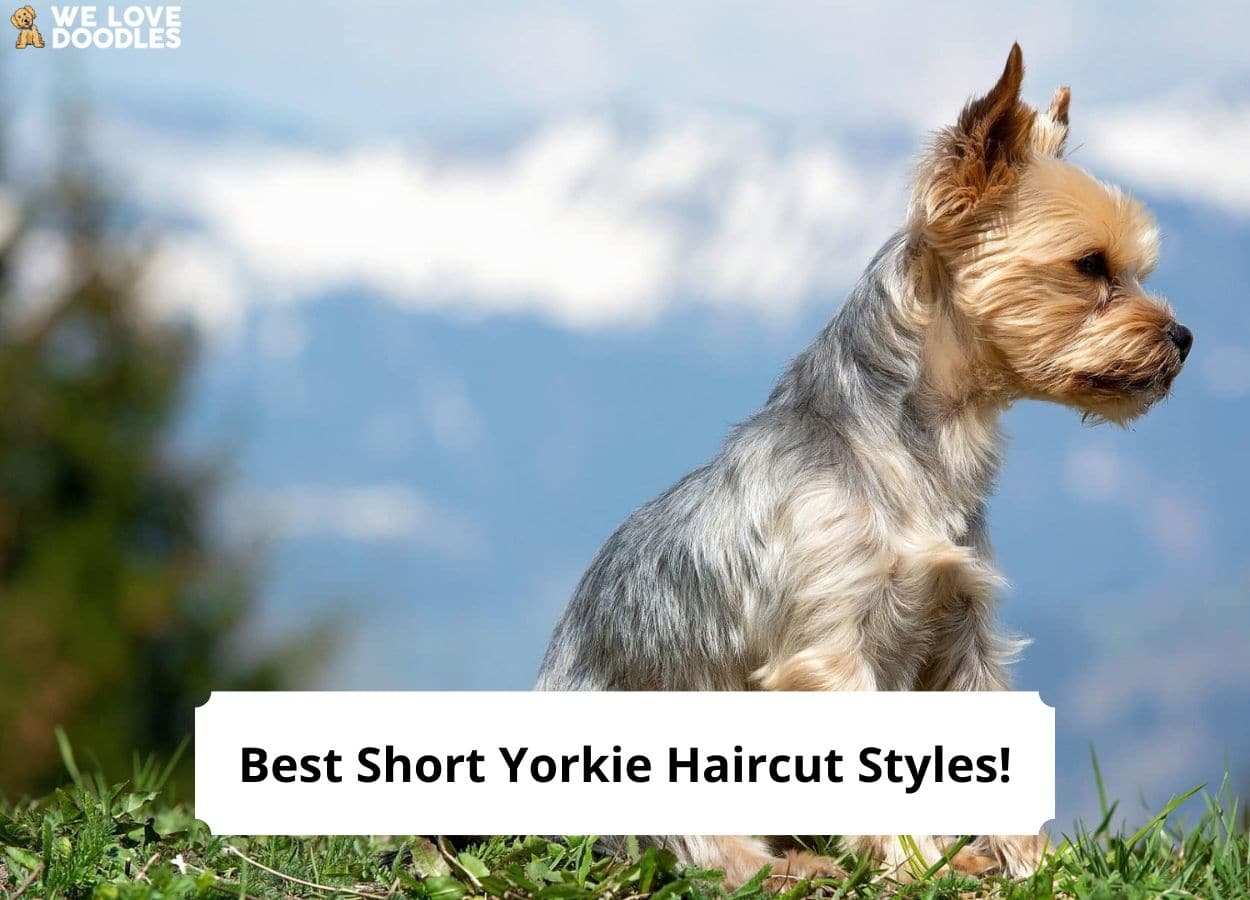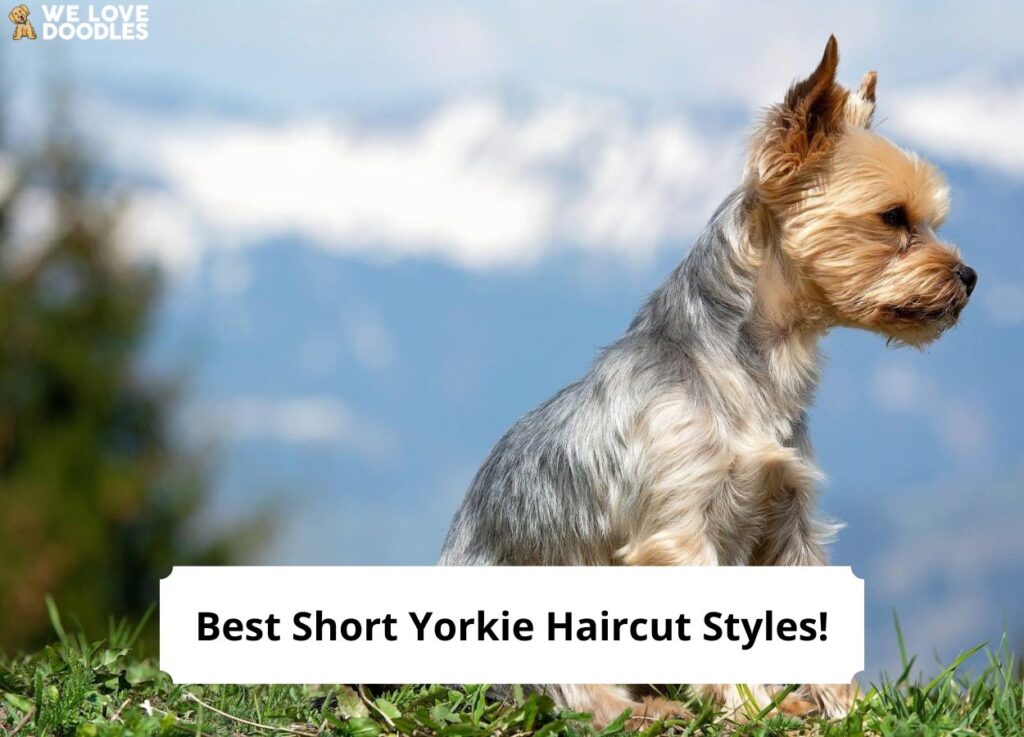 Fun, cute, and loving, the Yorkie is one of the most lovable dog breeds in the world with many different haircut styles available. Another reason this breed is so popular is its beautiful, human-like hair. Unlike other dog breeds with double coats, Yorkies have a single coat that sheds far less, which means your pup's hair can grow long if it remains untrimmed.
While long hair undoubtedly looks admirable, keeping your Yorkie's hair short is preferable. Short hair is easy to maintain and reduces the risk of skin infections brought about by hair tangling and knots.
This guide will break down nine of the best short haircut styles for your Yorkie.
Before you scroll down this list of short Yorkie haircut styles, check out: Why is My Yorkie Shaking? (2023) and Yorkie vs Yorkie Poo – Dog Breed Comparison! (2023).
1. Puppy Haircut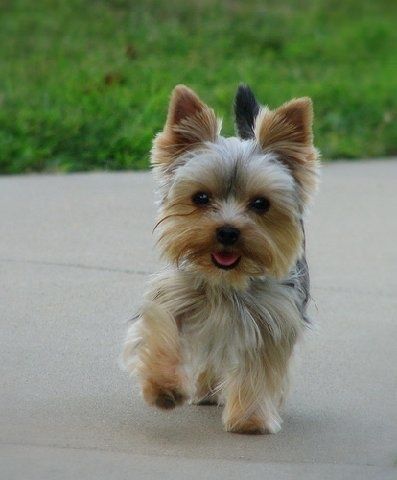 The Yorkie puppy cut is the most prominent haircut for this breed since it is the simplest and most do-it-yourself-friendly haircut. Simply trim the body hair short and leave the facial hair somewhat longer than its body hair. The resulting appearance is extremely endearing and charming.
The Puppy cut is also a low-maintenance hairstyle. Therefore, if your Yorkie dislikes haircuts, you might want to choose this style. Avoid the groomer while keeping your Yorkie clean and neatly groomed, with just the right amount of adorable shagginess.
2. Teddy Bear Haircut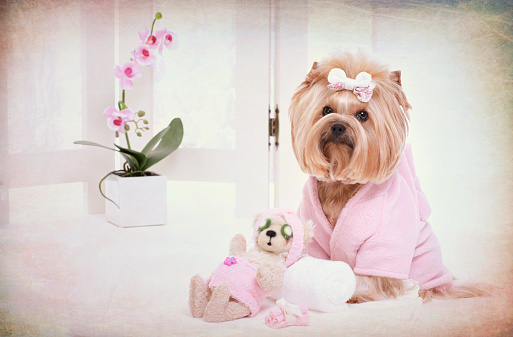 If you adore your Yorkie's hair and do not want to cut it extremely short but still value the groomed appearance of a nice haircut, you will appreciate the teddy bear cut. With this style, the body hair is kept longer compared to the puppy haircut. The hair around the face is also somewhat longer.
This style is nearly as simple to obtain and maintain as a puppy cut, but it might require practice to achieve the desired length and ensure uniformity throughout. Moreover, you will want to maintain short hair around the private areas, even if you maintain the body hair somewhat longer.
3. Lamb Haircut
The lamb haircut is much like the teddy bear and puppy haircut. This hairdo maintains the pup's body hair fairly short, which is great if you adore the fluffy, shaggy hair on your Yorkie's face.
With the lamb haircut, the main body hair is kept considerably shorter, making it simple to brush and comb, while the hair on the legs, paws, head, and ears is kept longer.
Dog owners who enjoy cuddling with their Yorkie are likely to love this hairdo as it reduces the grooming requirements. Besides, a lamb haircut guarantees their Yorkie remains incredibly cuddly and soft.
4. Kennel Haircut
The Yorkie kennel haircut is the perfect hairstyle for your pup if you value the benefits of a summer haircut to keep your dog cool but dislike the entirely shaved appearance around the face.
With the kennel cut, you will shave the whole body, paws, and legs as short as feasible while leaving the ears and head somewhat longer. Thus, the overall appearance will resemble a shorter teddy bear haircut.
5. Poodle Haircut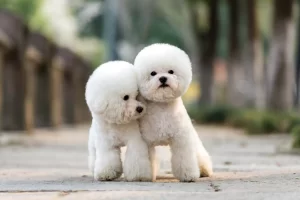 When considering the Poodle haircut, you should simply picture a Poodle. However, this haircut is not exclusive, as it is perfect for any dog with curly hair, including the Yorkie.
This haircut maintains fur short down the dog's torso while leaving longer hair along the neck and on the head. The Poodle haircut is ideal for keeping curls fresh and bouncy without tangling, but it requires more maintenance than other Yorkie haircut styles.
As such, the Poodle haircut is perfect for dog owners who are eager and able to maintain their curly dog's fur looking fresh regularly.
6. Full Shaved Haircut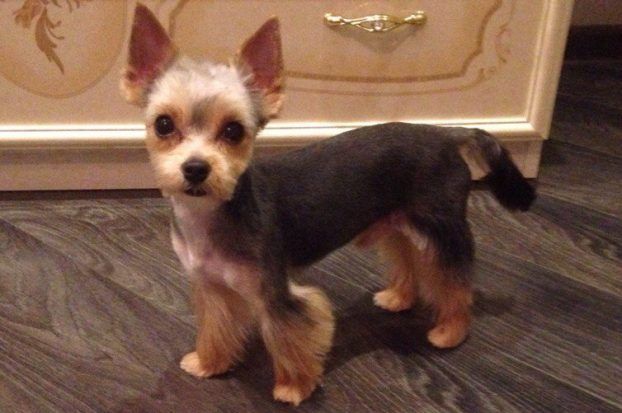 The Yorkie full-shaved haircut, also called the summer haircut, may not be the most appealing cut for most dog owners. However, this haircut is ideal for the warmer months for two primary reasons. For starters, a full shave is comfier for the Yorkie, which is one key consideration for the dog owner.
A full shave guarantees that your Yorkie will not overheat when running around on hot, bright days. Another reason is that most owners are quite active and busy throughout the summer, and a full shave is extremely simple to attain and maintain, sparing them effort and time.
In some instances, a small-scale full shave is required to remove specific regions of matted fur where no other option is available.
7. Schnauzer Haircut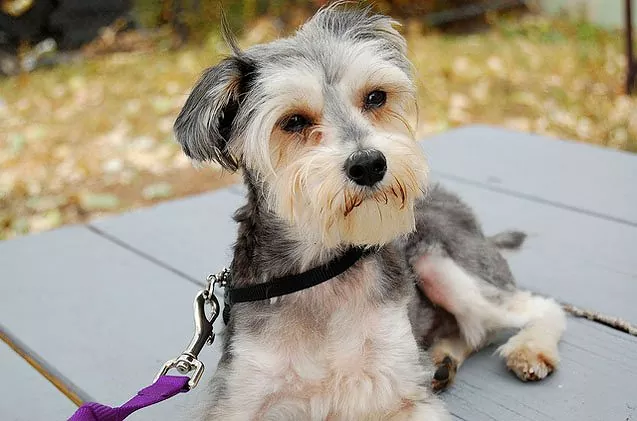 Your Yorkie will look charming with a Schnauzer-style haircut, resembling a German dog breed renowned for its polished and elegant appearance. Schnauzer cuts provide the impression of a well-kept skirt.
The Schnauzer cut can transform your Yorkie's appearance from adorable to regal. All you need to do is cut the back hair short but allow the hair on your dog's neck, face, and legs to remain slightly longer.
The primary disadvantage of this Yorkie haircut is that a well-groomed appearance is difficult to achieve. It requires a significant amount of practice to master, and even once mastered, it requires more maintenance than other Yorkie hairstyles.
8. Top Knot Haircut
The top knot is a hairdo best suited for long-haired dogs like the Yorkie. This haircut involves creating a ponytail atop the dog's head.
This ponytail is typically secured with a fashionable barrette or bow and keeps the dog's hair off their eyes and fur clear of dirt and moisture while playing, drinking, and eating.
As for the remainder of the dog's coat, you can cut it short to about an inch or two if you want an even and neat look.
9. Neaten Haircut
Another popular short Yorkie haircut style is the Neaten. This haircut needs minimal work but could significantly enhance the dog's look.
The groomer should wash the dog, and then utilize clippers for trimming the dog's face, privates, and feet if the Yorkie has longer fur. Some groomers will trim the dog's nails and brush its coat to ensure your pup appears and feels revitalized.
Frequently Asked Questions
Here are some of the frequently asked questions about short haircuts for Yorkie:
What are the best haircut styles for a Yorkie?
The puppy cut is a prominent haircut because it captures the playful nature of Yorkies. Maintain a length of one to two inches throughout the entire body, including the legs, head, and ears.
Can a Yorkie get a teddy bear cut?
This style is ideal for Yorkies, who are affectionate and cuddly dogs. For the teddy bear cut, the fur is effectively clipped to an even length across the body, except for the face, where hairs are chopped in a circular pattern to resemble a cuddly teddy bear.
Do Yorkies need haircuts?
Yorkies must be trimmed by their owners or a skilled groomer every four to six weeks.
How is a Yorkie supposed to be cut?
Cut the long hairs on the ears outside using clippers till the ears hang freely. An 0.8-mm blade is ideal. Using grooming scissors, cut the long hairs between the toes and around the paws. You should go slowly to remove the hair off the pads and paws.
How do you trim the hair on the face of a Yorkie?
Pull your Yorkie's fur forth with a comb, then hold the strand of fur with your fingers. Utilize the thinning shears to trim across the forehead at the area your fingers have drawn.
Should you trim the hair around a Yorkie's eyes?
Because of Yorkies' heightened sensitivity around the eyes, special care must be taken when clipping the hair there. The goal is to eliminate just enough superfluous hair to enhance the dog's range of vision and any hairs that could curve back and hurt the dog's eyes.
Conclusion for "Best Short Yorkie Haircut Styles"
Yorkies are incredibly fun to style due to their long, silky fur. No wonder numerous short-haircut Yorkie alternatives exist to accentuate your pet's best qualities.
If you feel your dog needs a makeover, you may want to give these haircuts a try.
For more guides similar to this list showing the types of short Yorkie haircuts, check out:
If you find these short Yorkie haircuts interesting, learn more by watching "How to Groom A Yorkie (Puppy Cut) Yorkshire Terrier – Do-It-Yourself Dog Grooming" down below:
Garrett loves animals and is a huge advocate for all Doodle dog breeds. He owns his own Goldendoodle named Kona. In addition, he volunteers at the Humane Society of Silicon Valley, where he fosters dogs and helps animals. Garrett enjoys writing about Doodles and believes that dogs can teach humans more about how to live than humans can teach a dog.
Why Trust We Love Doodles?
At We Love Doodles, we're a team of writers, veterinarians, and puppy trainers that love dogs. Our team of qualified experts researches and provides reliable information on a wide range of dog topics. Our reviews are based on customer feedback, hands-on testing, and in-depth analysis. We are fully transparent and honest to our community of dog owners and future owners.