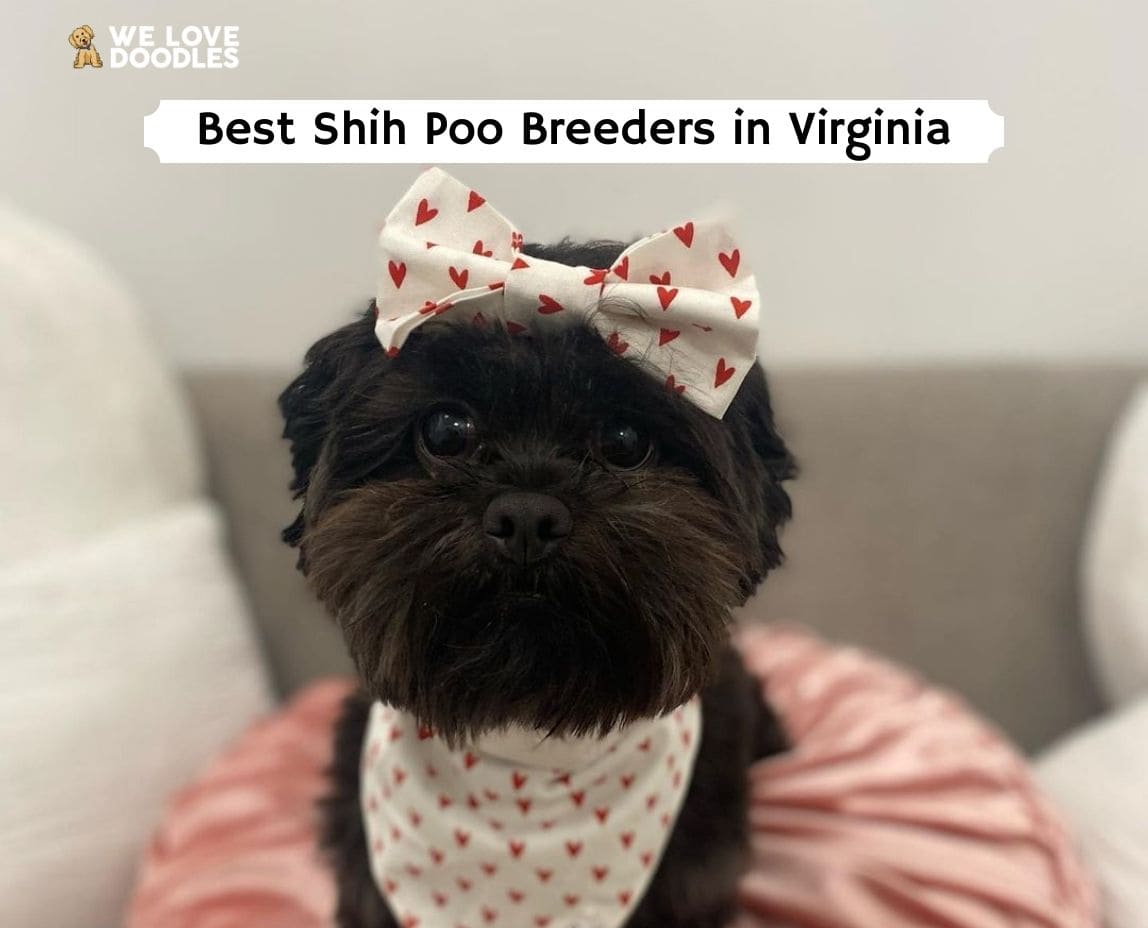 If you want to welcome a Shih Poo puppy into your home, you will have to do a little bit more work than walking into a dog shelter. Because this is a designer breed, you will likely have to contact a specialized breeder that offers Shih Poo puppies.
Unfortunately, Shih Poo puppies are not the most popular dog type in Virginia. As a result, there aren't too many licensed breeders in the state, but there are a few. To make up for the few numbers of breeders, what breeders there are happened to be fantastic.
In this article, we are going to provide you with an overview of the three best Shih Poo breeders in Virginia. In the end, we also give some tips for picking out a breeder so you can get your forever furry friend.
Other articles you would like: Cockapoo Breeders in Virginia and Sheepadoodle Breeders in Virginia.
Best 3 Shih Poo Breeders in Virginia
In order to determine the best Shih Poo breeders in Virginia, we only considered trustworthy breeders with great reputations from veterinarians and past clients. Based on the standards, the following three breeders stand out amongst the rest. We did notice that there were quite a lot of puppies mills selling Shih puppies in Virginia. We highly recommend that you do your research before putting down a deposit on a puppy. The last thing that you want is an unhealthy Shih Poo.
1. Pauley's Pups
Pauley's Pups is one of the most notable breeders in Virginia. Technically, Pauley's Pups is not the actual breeder. Instead, they will connect you with breeders they handpick from the local area.
Pauley's Pups is fantastic if you want a Shih Poo because they specialize in small breeds, including the Maltese, Toy Poodle, Shih Poo, and other small purebred and designer dogs. This extensive knowledge about small dogs specifically makes this breeder a leader in all things Shih Poo.
Not to mention, this breeder has been around the Richmond area breeding small dogs for over 27 years. The number of years this breeder has been operating proves how reliable the breeder is at producing healthy and lovable companions.
Based on reviews, Pauley's Pups breeds fantastic small dogs. Their Shih Poo puppies for sale in Virignia are super healthy, long-lived, and fit into practically any home. Their hours of operation are between 10:00 AM and 5:00 PM Monday through Saturday. Feel free to reach out to this location if you are interested.
Shih Poo Breeder Information
2. Pets N PalsVirginia
Another great Virginia-based Shih Poo breeder is Pets N Pals. This business is a local and independently owned business that has been around since 1989. Emily, the current owner of the store, has had a passion for pets ever since she was 12 years old.
In many ways, Pets N Pals is similar to Pauley's Pets. It is a store that will connect you with puppies that have been handpicked from specialized breeders. All the breeders are vetted to ensure puppies are as happy and healthy as possible.
Because of the nature of this business, Pets N Pals has tons of pets and puppies, one of which being the Shih Poo. Every single one of their pets is cared for properly and is given unique care and attention. They make sure you and the puppy get along great, allowing you to FaceTime and meet with the puppy before you buy.
If you are thinking about getting a puppy through Pets N Pals, they make it easy to get started. You can text, call, and even request a FaceTime call so you get all of your questions answered in the way you are most comfortable.
Shih Poo Breeder Information
3. Cheri WebbVirginia
The last Shi Poo breeder in Virginia on our list is quite different from the other ones. Cheri Webb is not the owner of a large business. Instead, she is a small breeder that occasionally sells Shih Poo puppies for sale through GoodDog. Even though she does not run a major operation like the other two businesses, she puts just as much care and concern into her puppies.
If you are looking for a puppy to bring into your home with children, Cheri Webb is the breeder for you. All puppies are raised within her home, which is complete with four children. As a result, her puppies are great being handled by people and comfortable with household sounds, such as the TV or vacuum.
Plus, Cheri Webb ensures that every pup is happy and healthy. Each puppy gets vet care and gets all the vaccines it needs based on vet recommended schedules. Puppies even come with a one-year health guarantee to further ensure that the puppy is healthy. Whenever you adopt from Cheri Webb, you will get a small bag of food, a blanket with the mom's scent, and a toy with littermates' scent.
Because of the care and concern that Cheri Webb puts into her Shih Poo puppies for sale in Virginia. You can trust that the Shih Poos she breeds are healthy and ready to be a part of your family.
Shih Poo Breeder Information
Tips for Picking the Best Shih Poo Breeder In Virginia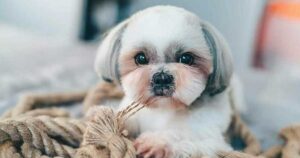 Whether you decide to select a breeder from this list or elsewhere, it's important that you select a breeder that is reputable and responsible. If you don't have experience in the vet field, it can be difficult to know which breeders are worth your time.
Here are some signs that the breeder you are looking at is reputable:
Extensive Experience
You would never go to a doctor that did not attend medical school. So, why would you hire a breeder that has no education in breeding dogs?
To ensure your Shih Poo comes out as healthy as possible, always select a breeder that has extensive experience breeding dogs. Better yet, select a breeder that has experience in Shih Poos specifically or other related breeds. This will ensure that your breeder is skilled and experienced with your breed of choice.
Extensive Vet Care
Never purchase a puppy that does not have extensive veterinary care from its breeder. If the breeder is not open about all the veterinary care the puppy has received, look elsewhere. This is a sign that the puppy likely has not had all the shots, vaccines, and medicines it requires.
Any reputable breeder will make sure all of their puppies are fully vaccinated and come with any medication required. Furthermore, the breeders provide veterinary references and charts so that you can see how healthy the dog is.
To go one step further, the best even offer a health guarantee or warranty. That way, you know you are covered if there is something genetically wrong with the puppy. If the breeder offers a health warranty, you likely won't have any problems.
Treats the Puppies Like One of Their Own
If you are welcoming a Shih Poo into your home, you want it to be well socialized in addition to being healthy. The only way that a puppy is well socialized is if it is positively exposed to humans and other animals from a young age.
It is for this reason you always want to select a breeder who treats their puppies like one of their own. When your breeder does this, your puppy is likely to get along great with your family and love to be around people. Not to mention, any breeder that plays with their puppies will take care of them properly.
Transparency
Finally, the last thing to look for in a good breeder is transparency. Good breeders will be open to answer any of your questions, allow you to see the puppies, and allow you to see their facilities. This is because they have nothing to hide.
In comparison, bad breeders will not be open about their puppies or breeding facilities. If you detect any type of reticence about these matters, select a different breeder.
More Information About Shih Poo Puppies in Virginia
Once you have found the perfect Shih Poo breeder, it is not time to buy a puppy just yet. Instead, you should think long and hard about whether or not you are ready for the commitment that comes with a puppy.
Even though Shih Poos are not as difficult to care for as some breeds, they still require extensive care and financial support. Make sure that you have the mindset of adopting a forever friend. If you are not prepared to care for the Shih Poo for years to come, a puppy is not for you. Get a plant instead.
If you decide that you are up for the challenge, you will certainly have a forever friend. After all, this breed is known for being incredibly loyal and being dedicated lapdogs to their owners. So, the effort is well worth it for an adorable Shih Poo.
Conclusion for Shih Poo Puppies for Sale Virginia
Once you know you are ready to dedicate your time and energy to a Shih Poo puppy, contact one of the breeders above. These breeders are highly respected and will help you get the happy, healthy, and adorable Shih Poo puppy your family is dreaming of.
If you decide to select a breeder not on this list, that is OK too, but make sure to rigorously evaluate their reputation. Use the tips above to select a breeder that you can truly trust. Your future Shih Poo puppy in Virginia deserves it.
Other articles you would like:
Garrett loves animals and is a huge advocate for all Doodle dog breeds. He owns his own Goldendoodle named Kona. In addition, he volunteers at the Humane Society of Silicon Valley, where he fosters dogs and helps animals. Garrett enjoys writing about Doodles and believes that dogs can teach humans more about how to live than humans can teach a dog.
Why Trust We Love Doodles?
At We Love Doodles, we're a team of writers, veterinarians, and puppy trainers that love dogs. Our team of qualified experts researches and provides reliable information on a wide range of dog topics. Our reviews are based on customer feedback, hands-on testing, and in-depth analysis. We are fully transparent and honest to our community of dog owners and future owners.