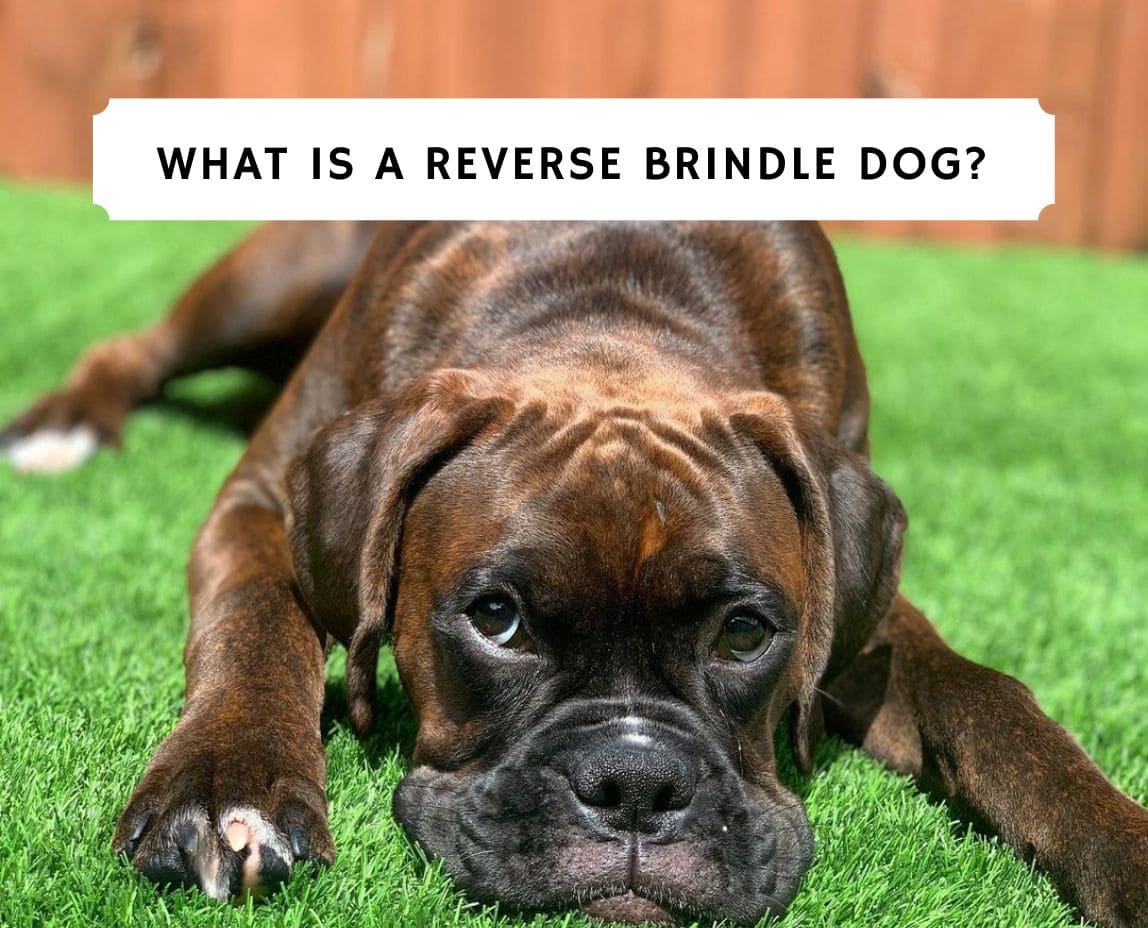 Brindle is a rare coat coloring that may appear on dogs, cats, guinea pigs, cattle, and occasionally horses. Even rarer are reverse brindle dog coats, a potential coat pattern on a select few dog breeds.
Many people admire reverse brindle coats for their subtle undertones. In this article, we will discuss what a reverse brindle dog is, plus a few other topics, including:
Brindle vs. reverse brindle coats
Reverse brindle dog breeds
Breeding reverse brindle dogs
Seal brindle coats
Blue brindle coats
Do brindle dogs change color?
Health concerns for brindle dogs
Cost of reverse brindle dogs
The popularity of brindle dogs
Names for brindle dogs
Other articles you would like: Brindle English Bulldog and Dog Breeds That Look Like Pandas.
Brindle vs. Reverse Brindle Coats
To understand what a reverse brindle dog is, we must have a clear idea of the difference between brindle and reverse brindle coats.
Brindle and reverse brindle coats incorporate two colors in a pattern, but the appearance of layering differs. Brindle coats are more common, and they are distinguished by dark striping overlaying a light-colored background.
Reverse brindle coats can also be called 'inverted brindle' coats because the pattern appears to be flipped. These coats consist of such dense, dark striping that the background seems lighter.
In reality, both brindle and reverse brindle coats incorporate the same background, usually fawn. The key difference is that the heavy concentration of dark striping in reverse brindle coats causes the dog to appear to have a dark background with lighter, fawn striping.
What Are Some Reverse Brindle Breeds?
Only certain breeds can have brindle or reverse brindle coats. Below, we will discuss how this occurs and which breeds fall into this category.
What Is a Reverse Brindle Dog: Boxers
There are several types of brindle Boxers, including reverse, light, golden, fawn, red, mahogany, dark, and seal. Additionally, Boxers may be completely fawn or have a lack of color, which presents as white.
Although some Boxers appear black, there are no purebred black boxers. Such Boxers are likely reverse brindles with very dense, dark striping or seal brindle.
Occasionally, brindle and reverse brindle dogs will have white areas in their coats. These are called 'flashes', and you may find these Boxers described as 'flashy reverse brindle boxers'.
Breeding Reverse Brindle Boxers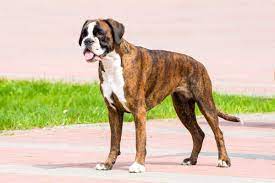 Brindle is a dominant trait for Boxers. This term refers to a dog's genetics and means that dogs with one brindle trait will have brindle coats, regardless of the other trait.
When puppies are born, they have one trait for coat color from each parent. If one or both parents have the brindle gene, the puppy will also have a brindle coat. However, breeders cannot predict whether a puppy will have a brindle or reverse brindle coat.
What Is a Reverse Brindle Dog: French Bulldogs
Reverse brindle French bulldogs are extremely rare. This coat is the rarest form of brindle, and it is one of the rarest coats overall.
Instead of the fawn background that you would find on a reverse brindle boxer, the base of a French bulldog's coat is cream or white. The overlying patterns are still dark.
Reverse brindle French bulldogs are often expensive because they are so rare.
Breeding Reverse Brindle French Bulldogs
Like boxers, the trait for brindle and reverse brindle coats on French bulldogs is dominant. Thus, only one of the genes must call for a brindle coat. These puppies are more likely to have brindle than reverse brindle coats.
What Is a Reverse Brindle Dog: Corgis
There are two types of corgis: the Pembroke Welsh Corgi and the Cardigan Corgi. The former has few coat options, and brindle is not one of them. Cardigan corgis, however, have many different coats, including brindle and reverse brindle.
Most Cardigan corgis also have white markings on their chests, necks, muzzles, stomachs, legs, tails, and sometimes heads.
Breeding Reverse Brindle Corgis
In Cardigan corgis, a dominant gene causes brindle. Still, brindle and reverse brindle coats are rather uncommon among these dogs.
What Is a Reverse Brindle Dog: Mastiffs
Brindle and reverse brindle Mastiffs have dark coats that incorporate subtle fawn striping. Additionally, their noses and eyes tend to be darker than other Mastiffs'.
Brindle Mastiffs are classified as purebreds, and they are registered with the American Kennel Club.
Any Mastiff can be brindle or reverse brindle, but African Boerboels and Bully Kutas are more likely to have such coats.
Breeding Reverse Brindle Mastiffs
It can be more difficult to breed brindle and reverse brindle Mastiffs than other breeds with the same coats. Unlike the aforementioned breeds, the brindle gene in Mastiffs is recessive.
Black is the dominant gene for coat color in Mastiffs, so one black gene will overpower one brindle gene. However, the yellow gene for apricot and fawn coats is less common than the brindle gene.
Other Breeds of Reverse Brindle Dogs
Other breeds that can have reverse brindle coats include:
Shetland sheepdogs
Dutch shepherds
Great Danes
Greyhounds
Dauchsunds
Boston Terriers
Plott hounds
Treeing Tennessee brindles
Whippets
Cairn terriers
Irish wolfhounds
Jack Russell Terriers
Any breed that can have a brindle coat can also have a reverse brindle coat.
Generally, short-haired breeds are more likely to produce brindle and reverse brindle puppies than long-haired breeds. However, it is possible to find long-haired dogs with brindle coats.
Labradors are one notable breed that cannot have brindle or reverse brindle coats.
Other Brindle Coats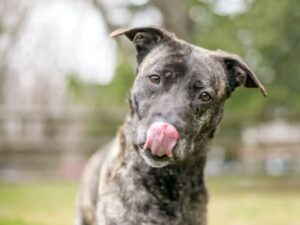 Several varieties of brindle coats exist, including light, golden, fawn, red, mahogany, dark, reverse, and seal. Below, you will find descriptions of two varieties.
Seal Brindle
Seal brindle coats can appear even darker than reverse brindle coats. The background of these coats is nearly invisible, or 'sealed off'. There are so many dark stripes that nothing else seems to exist.
Some subtle differences appear across breeds. For example, the coats of seal brindle French bulldogs incorporate fine white hairs. As we discussed, the dark striping makes these details almost impossible to spot.
Boston terriers will usually appear all black, but there are some red undertones that you will notice under certain lighting. Boxers can also have seal brindle coats, but these are usually considered the rarest coats for them.
Blue Brindle
Blue brindle coats consist of a blue hue mixed into the fur.
Different breeds of Pitbulls can have blue brindle coats, including American Pitbull Terriers, American Staffordshire Terriers, and Staffordshire Bull Terriers. These Pitbulls also have blue noses. Their coats may appear more gray than blue, but the gray is very unique.
Whippets can also have blue brindle coats. These are especially rare because whippets must carry two dilute genes to produce this coat. This breed has a seemingly endless number of coat color combinations, so it is difficult to find blue brindle coats.
An Example of Blue Brindle Genetics
Pitbulls' blue brindle coats require that a dog has a black, brindle, and dilute gene. The black gene produces the black pigment, eumelanin, and only one of these genes needs to be present for a dog to have a blue brindle coat.
The brindle gene causes the striping pattern, and blue brindle dogs can have one or two of these genes.
Without the dilute gene, Pitbulls will have brindle coats that appear black and red. This gene 'dilutes' the red and black pigments until the coat appears fawn and blue. Pitbulls require two dilute genes to have a blue brindle coat.
Conclusion
Reverse brindle dogs are beautiful and very rare. This pattern is one variation on a brindle coat wherein the striping and streaking are so heavily concentrated that the background color is very difficult to see.
These dogs appear black under most circumstances. When the lighting is just right, you may notice hints of fawn or white within the dog's coat.
Many breeds of dogs can have brindle and reverse brindle coats, although the chances of finding these dogs can be slim. Certain breeds, like Boxers, are more likely to have brindle coats than others, like French bulldogs.
Other variations of brindle coats are possible, such as seal and blue brindle. In the case of each type of brindle, genetics is the deciding factor. The brindle gene can be dominant or recessive, depending on the breed.
Frequently Asked Questions
There is so much to learn about dogs' coats. Here are a few more facts before you go.
Do Brindle Dogs Change Color?
Single-coated breeds lose their puppy coats as they mature, and the new coat is often darker than the puppy coat. Even double-coated breeds can change color. As a second coat grows in under the puppy coat, the colors of the dog can become more complex.
As most brindle puppies get older, their coats will change. They may become brown, black, striped, or white. The puppy's breed determines the likelihood of each color.
What Health Concerns Accompany Brindle Dogs?
A brindle coat itself does not predispose dogs to certain diseases. Each dog with a brindle coat will be at risk of the same diseases as other dogs of the same breed.
Unfortunately, improper breeding of brindle dogs can result in sick puppies. Crossbreeding dogs with merle genes and brindle genes can result in vision and hearing loss. Thus, brindle puppies are not in danger unless bred carelessly.
How Much Do Reverse Brindle Dogs Cost?
The price of reverse brindle dogs will depend on their breed. For example, reverse brindle French bulldogs are very rare, but reverse brindle Boxers are more common. Also, some breeds tend to be more expensive than others, regardless of coat colors.
Whether you purchase your dog from a breeder or adopt a dog will impact the price. Finding a reverse brindle dog to adopt can be very difficult, but a rescue dog will likely cost much less.
Here are a few examples of pricing:
In the United States, reverse brindle French bulldogs cost an average of $2,500.
A reverse brindle pitbull costs an average of $800 to $1,000.
Brindle Boxers can cost anywhere from $500 to $2,000, and reverse brindle boxers are priced on the higher end of this spectrum.
Brindle mastiffs cost an average of $1,000 to $1,500.
Are Brindle Dogs Popular?
Brindle dogs are very popular, most likely thanks to boxers. Boxers are one of the most popular dog breeds in North America, and many have brindle coats. Today, people fall in love with brindle coats on many dog breeds.
Reverse brindle dogs are rarer than brindle dogs, and they are eagerly sought-after for their distinctiveness.
What Are Some Common Names for Brindle Puppies?
Duke
Brownie
Rocky
Sandy
Cinnamon
Zeus
Smokey
Tucker
Speckles
Checkers
Still not convinced on what a reverse brindle dog is? Check out the video below:
Other articles you would like:
Garrett loves animals and is a huge advocate for all Doodle dog breeds. He owns his own Goldendoodle named Kona. In addition, he volunteers at the Humane Society of Silicon Valley, where he fosters dogs and helps animals. Garrett enjoys writing about Doodles and believes that dogs can teach humans more about how to live than humans can teach a dog.
Why Trust We Love Doodles?
At We Love Doodles, we're a team of writers, veterinarians, and puppy trainers that love dogs. Our team of qualified experts researches and provides reliable information on a wide range of dog topics. Our reviews are based on customer feedback, hands-on testing, and in-depth analysis. We are fully transparent and honest to our community of dog owners and future owners.