If you're in search of the best Pomeranian breeders in New York, then you should be prepared for the responsibilities ahead. While classified as a toy dog breed due to its tiny size, the Pomeranian makes the perfect lap dog for both kids and adults. According to the American Kennel Club (AKC), the Pomeranian is the 23rd most popular purebred dog. It's no surprise that Pomeranian puppies for sale in New York have become popular.
Due to the existence of puppy mills, WeLoveDoodles would like to help you find the best Pomeranian puppies in New York that are healthy and happy. These recommendations are from love and caring Pomeranian breeders.
Other articles you would like: Corgi Breeders in New York and Labrador Breeders in New York.
1. LaShomb's Pomeranians New York
LaShomb's Pomeranians is a breeder of AKC Champion Pomeranian dogs located in Ogdensburg, New York. They breed to produce quality breeding and showing stock. Not all Pomeranians puppies in their litters are breeding or show-worthy and those pups will be placed in companion pet homes. However, they are still high-quality pups. LaShomb's have taken great care in choosing the dogs that they have for breeding and only breed the best Pomeranian puppies possible.
Their objective is to breed quality dogs to get quality pups. Quality is healthy, happy, even-tempered, breeding, and show standard Pomeranian's. LaShomb's has done extensive research into pedigrees to avoid health problems that plague Pomeranians and have chosen females from genetically healthy welping lines. LaShomb's Pomeranians require a non-refundable and non-transferable deposit of $500 to hold a puppy until they are 9 – 12 weeks of age and ready for their forever home. Adopters can place a deposit on any of her available Pomeranian puppies in New York.
On occasion LaShomb's will accept 2 or 3 deposits on an upcoming litter, these people will have the first pick in the order the deposit was placed then applicants in the order the application was received. Deposit holders and applicants will be given a limited time frame to choose their desired puppy. If the first pick holder has not made their choice by then the next deposit or applicant holder will be allowed to make their choice until all deposit applicants have made their pick.
When the Pomeranian puppies reach 6 – 8 weeks of age they will be evaluated and priced. The price range of LaShomb's Pomeranians puppies for sale in New York typically range around $1,500 but is subject to change depending on multiple factors. For more information, contact LaShomb's directly via their phone number.
Pomeranian Breeder Details
2. Westchester Puppies NY
Westchester Puppies is a reputable establishment located in Westchester, New York that has Pomeranian puppies available for adoption. They specialize in purebred and designer puppies that are both large and small. Their goal is to help adopters decided on which breed of puppy is right for them, their family, and the circumstances of a household. Westchester takes care of each Pomeranian puppy as if they were going to be theirs for life and will ensure that when an adopter takes their new puppy home from Westchester Puppies, they will be provided with all the information that is needed to properly care for the puppy.
Their Pomeranian puppies in New York have been vaccinated and de-wormed as is necessary for their age by the time they can be taken home. Westchester also includes health guarantees and courtesy veterinarian visits with all of their puppies. They advertise their Pomeranian puppies as tiny beauties with huge personalities.
Their Pomeranian puppies are quick to learn, eager to please, and nothing but adorable. They come in a wide array of beautiful colors and markings, making each puppy unique. Pricing for Westchester Puppies Pomeranians varies depending on size, color, and gender. For full pricing contact them via their website or visit their location. They do offer to finance to help make sure their dogs are available to any caring family.
Pomeranian Breeder Details
Address: 26 South Central Avenue, Hartsdale, Westchester, New York 10530
Phone: (914) 437-7600
Email: info@westchesterpuppies.com
Website: Westchester Puppies NY
3. Ti Amo Pomeranians NY
Ti Amo is an AKC Registered Breeder of Merit as well as a member of the APC who has been breeding quality Pomeranians for nearly two decades. Their dogs are never kenneled and are continually socialized. Ti Amo is extremely concerned with the health of their dogs and puppies so they are always mindful of nutrition.
Because of this, they are only fed professionally researched dog food as well as food that Ti Amo makes themselves. They pride themselves on the amount of research they put into the nutrition of their Pomeranian puppies as well as the health issues that may come to plague Pomeranians and are careful to avoid any health issues in their breeding program.
Ti Amo Pomeranians are interested in breeding quality, not quantity, and therefore only have a few litters a year. Many of their puppies have gone on to complete their championship totally owner handled, and a couple will be starting their show career soon. For the people who buy Ti Amo Pomeranian puppies, either for show or pet, they are available anytime to answer questions, get them started in the ring, or just for support.
Ti Amo Pomeranian dogs are not only beautiful but intelligent and offer a lifetime of unconditional love. They do not always have available litters, so adopters should visit their website to check availability on upcoming Pomeranian puppies. Pricing for Ti Amo dogs also may vary from litter to litter as well as depending on the color, gender, and size of the dogs.
Pomeranian Breeder Details
Address: Bohemia, New York, 11716
Phone: (631) 256-6127
Email: tiamopoms@hotmail.com
Website: Ti Amo Pomeranians NY
4. Royal Poms New York
Royal Poms is an AKC registered breeder of adorable Pomeranian puppies located in Hudson, New York. They have been breeding these dogs since 2009. Royal Poms' dogs are raised in their personal home where they are given plenty of attention and care as well as being socialized with other animals and people from an early age.
Their Pom puppies in New York are known for their agility, temperament, and health. Pricing for Royal Poms' puppies varies depending on color and gender. For full pricing as well as information on applying to be on their waiting list for upcoming litters, contact them directly via phone.
Pomeranian Breeder Details
Address: Hudson, New York, 12534
Phone: (518) 821-5162
5. LightShine Pomeranians NY
LightShine Pomeranians is a small in-home hobby breeder of Pomeranian puppies from champion bloodlines and features coat colors such as white, cream, orange, and black. They offer honesty, integrity, and education for care with each LightShine Pomeranian adoption. Their Pomeranian puppies in New York are in home raised, loved, groomed, fed holistic food, have a great area of running and playing, both inside and outside. They have a large outdoor play area. All LightShine pups are veterinarian checked, with up-to-date shots, and include a health certificate.
LightShine Pomeranians do not breed BSD affected Pomeranians and have never produced one. Their dogs are all AKC registered Pomeranians with champion line pedigrees only. They focus on breeding to the AKC purebred standard. LightShine Pomeranians do not ship their puppies. If an adopter lives outside of LightShine's service area, they must privately arrange transportation or come to LightShine to pick up their puppy. For full pricing options as well as information on upcoming litters, visit LightShine Pomeranian's Facebook page or contact them via email or phone.
Pomeranian Breeder Details
Address: Rock Tavern, New York, 12575
Phone: (845) 490-7189
Email: linda@hodgens.net
Facebook: LightShine Pomeranians
6. Vera Fidei Kennel New York
Vera Fidei Kennel is a New York small hobby breeder of Pomeranians located in Staten Island. They are known for breeding quality, their dog's behavior, as well as their temperament. They are a member of the American Pomeranian Club (APC) and all of their hounds come with their AKC papers.
Being a small hobby breeder, Ver Fidei only has litters of Pomeranian puppies occasionally. They ask to be contacted via their email or a direct message on their Facebook page if an adopter is interested in the availability of their puppies as well as to find information about deposits and full pricing.
Pomeranian Breeder Details
Address: Staten Island, New York, 10301
Phone: (646) 436-7915
Email: orca12274@yahoo.com
Facebook: facebook.com/nypoms
7. Priceless Pomeranians
Priceless Pomeranians is a breeder of Pomeranian puppies with over 28 years of experience. They specialize in quality Pomeranians with white, cream, and parti colored coats. Priceless Poms strives for excellent temperament as well as their dogs' health and soundness. For what it's worth, this is one of the oldest Pomeranian breeders in New York we could find.
Sizes of Priceless Pomeranian dogs range from four to seven pounds. All Priceless Pomeranian puppies are veterinarian checked before going to their new homes and also come with a written health guarantee, a health certificate, as well as being given age-appropriate shots, de-worming, and any other vaccinations needed.
The dogs are hand raised in the breeder's personal home where they are well socialized and become acquainted with life inside a home, helping to make sure they are comfortable when they go to their adopted home. Priceless Pomeranians do not ship their puppies. Prices of their Pomeranian puppies for sale may vary depending on size, gender, and color. For full pricing and availability, contact them via phone or visit their website.
Pomeranian Breeder Details
Conclusion for Pomeranian Breeders in New York
Pomeranians are without a doubt, a loving and caring dog breed. For a tiny-sized dog, they're filled with positive energy making them irresistible. If you're not planning on purchasing from Pomeranian breeders in New York, make sure to do your due diligence on unknown breeders. There are many puppy mills out there which is cruel. They also won't sell you a happy or healthy Pomeranian puppy.
By bringing home a Pomeranian puppy, you're going to have to face the many unforgettable memories that you'll cherish for the rest of your life. 
If you're unsure about the Pomeranian breed, there are other dog breeders in New York you can check out:
In case New York is out of the way for you, there are other Pomeranian breeder recommendations from different States in the U.S. that you could check out:
You could also check out WeLoveDoodle's list of Doodle breeds and see what you like. If you're not convinced about the Pomeranian breed, check out this video: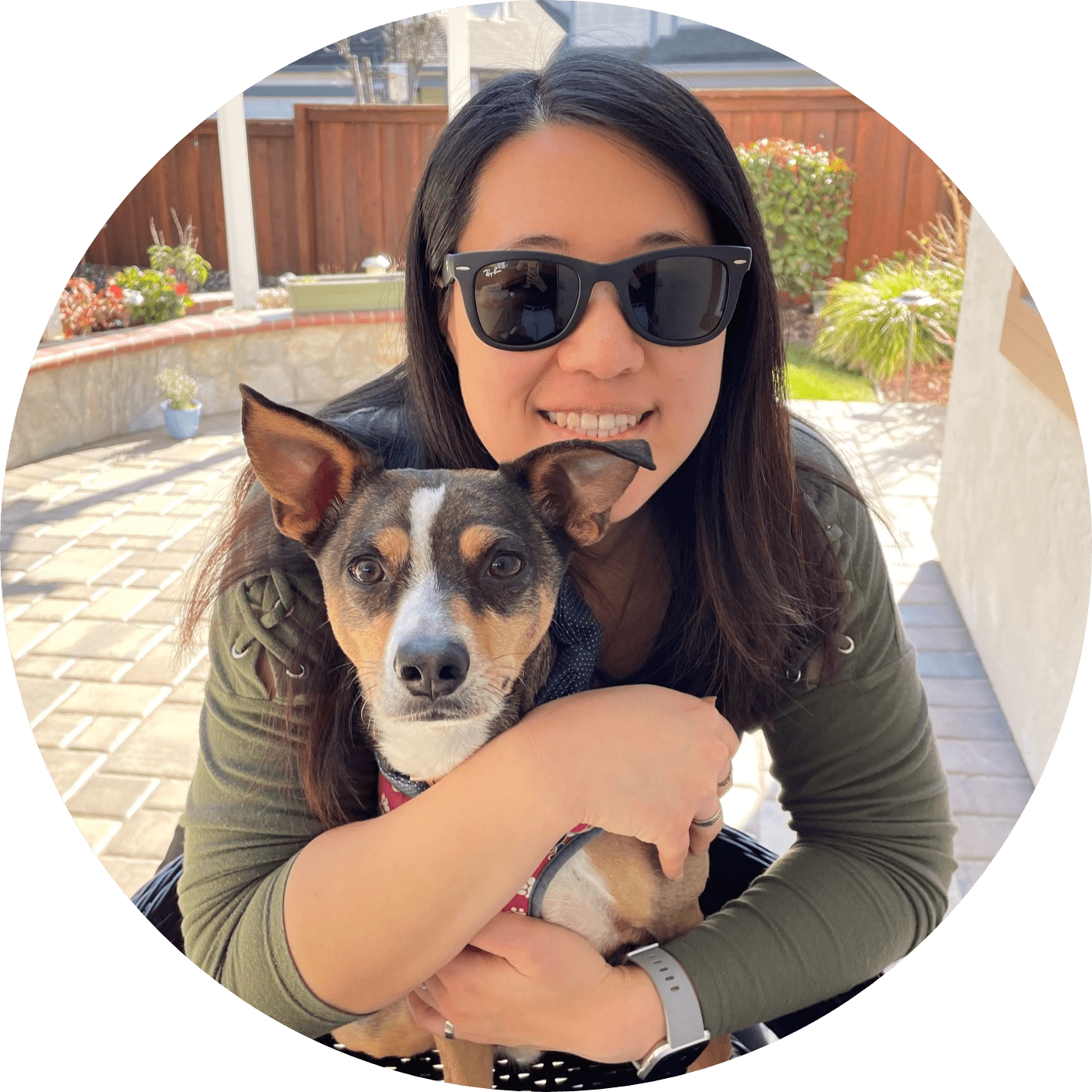 Dr. Sabrina Kong graduated from the Royal Veterinary College in England in 2016 and has been working at a small animal clinic in Northern California since then. She grew up in the Bay Area and got her bachelor's degree from Cal Poly San Luis Obispo. She also became a Certified Canine Rehabilitation Practitioner through a program at the University of Tennessee.
When she isn't in the clinic taking care of her four-legged patients, she enjoys traveling and trying new foods with her friends and her three-legged dog, Apollo. She adopted Apollo from her clinic when he was a puppy with numerous health issues. Dr. Kong truly cares about taking care of animals.