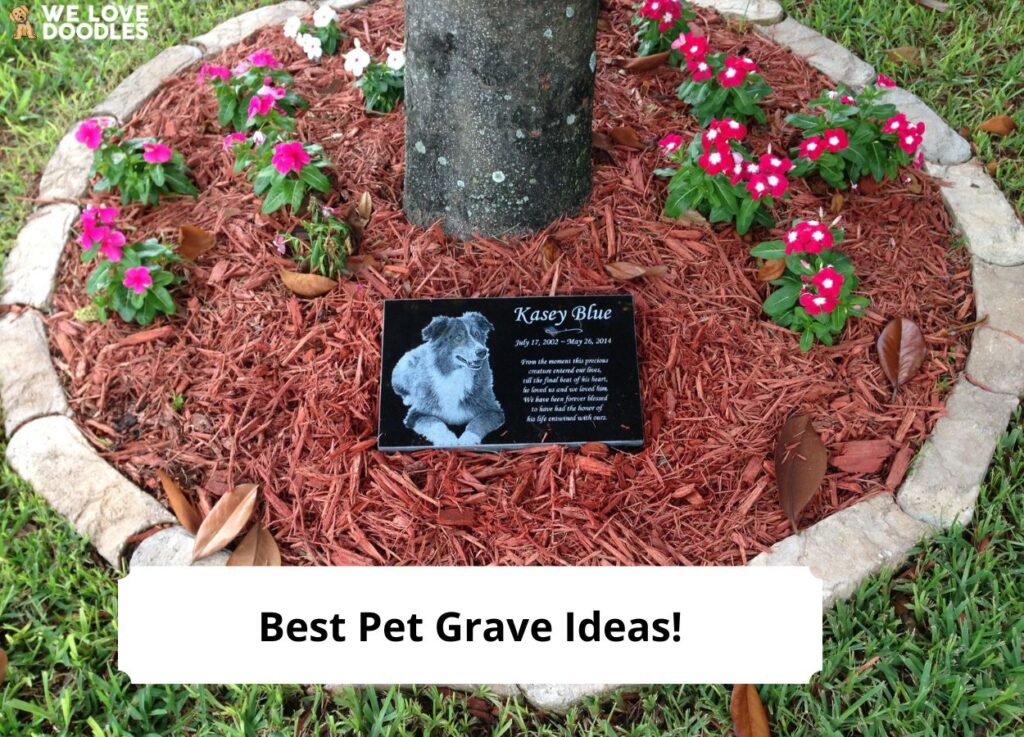 The loss of a beloved pet can be a very sorrowful and even traumatic event in life, particularly for those who view their animals as members of the family.
Just as when losing human loved ones, the process of honoring your pet through remembrance and burial can be beneficial in the process of healing from the grief. Some people find comfort in visiting their pet's gravesite and like to make it a soothing place where they think back on fond memories.
Read on for ideas to make your pet's grave a place to visit and remember all the love you shared.
Before you scroll down to a more in-depth list of this Ideas, "Best Pet Grave Ideas," you can check out these other dog-related articles: Do Dogs Have Souls? and Where To Euthanize A Dog For Free.
The Importance of Burial in the Grieving Process
Grief is a very natural emotion to feel after losing a loved one, and many factors determine the depth of grief, including the closeness of your relationship and the suddenness of their passing. You may experience as much grief over the loss of a pet as you do over people you've lost, and that is normal, too.
The traditions and rituals surrounding death, such as the funeral and burial, are the last acts we perform for someone we love, and therefore, there is often a tremendous amount of healing in those acts.
For your pet, follow whichever rituals will bring you comfort. If that includes a burial service, make it meaningful.
How To Bury a Pet
If you plan to bury your pet on your property or someone else's property with their permission, be sure to consider several factors, such as:
Local regulations regarding burials
Location of utility lines
The proximity of water sources
Possible erosion
Whether you will move in the future
If burial isn't the right choice for you, you can also choose cremation and either bury the ashes, spread them, or keep them in an urn in your home. Whichever way you choose to handle your pet after their passing, you may want to decorate their grave or a memorial area you set up in your home.
Best Pet Grave Ideas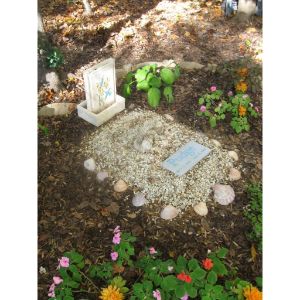 There are many options for your pet's gravesite or memorial area. You may have ideas of your own special way to honor your pet, or you can choose any of these pet grave ideas that would be special for you.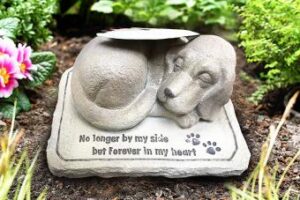 One of the best pet grave ideas is a stone or other marker, similar to a headstone you would find on a person's grave. This marker can be whatever you want it to be. It can be made from stone, wood, metal, or other material. Just make sure that it can stand up to the weather if it is placed outside.
There are many options for putting words and even images on a marker as well. You can put your pet's name, dates, a quote, or a picture. We bought this pet gravestone for our dog.
Flowers are common to leave at graves, and you may want to do the same for your pet. Depending on the location and your climate, you can plant a permanent garden or grow flowers in pots that can be brought indoors in the winter. Alternatively, you could plant new annuals at the grave each year.
A few flowers with special meaning to consider include:
Carnation – symbolizes love
Forget-Me-Nots – symbolize remembrance
Lily – symbolizes renewal
Peony – symbolizes healing
You could also choose flowers with special meaning for you or ones that you enjoy the fragrance of.
Another option is to plant a pollinator garden full of wildflowers and plants that attract butterflies, hummingbirds, and bees that will pollinate the rest of the world around them. Some of these plants include sunflowers, calendula, canna lily, dahlia, and salvia.
If you'd like to be reminded of your pet every time the breeze blows, put wind chimes near their grave. There are many different types of wind chimes to choose from, depending on the look and sound you like. Some options are:
Metal chimes
Bamboo chimes
Glass chimes
Bells
Many chimes also have pendants on them, so you can choose an image that is meaningful to you. We bought this custom wind chime for our dog. It was affordable and turned out great.
A wooden or a stone bench next to your pet's grave can be a great idea if you'd like to sit and visit a while, enjoying the flowers, chimes, or whatever else you choose to honor your pet. We highly recommend this custom bench if you're looking for one.
5. Fountain
A fountain or other water feature can be a beautiful and peaceful addition to your pet's gravesite. The sound of running water can be soothing, and it makes your pet's grave a pleasant place to visit and think back on the good memories you shared.
Bird song, like other natural sounds, is calming, and placing bird feeders near your pet's gravesite invites your feathered friends to join you there and share their beautiful songs.
Surrounding your pet's grave with colorful decorative stones, shells, or crystals is another beautiful possibility. Use these items to write their name, outline their grave, or cover it completely.
Creating art is therapeutic, so spend some time thinking of your pet while you turn their grave into a work of art you can enjoy each time you visit.
8. Bowl and Collar
If you'd like to preserve some of your pet's possessions, one idea is to take their food or water bowl, fasten their collar around it, and use it as a planter.
9. Plant a Tree
Some people enjoy the thought of a loved one's body becoming part of a tree. If you like this idea, simply choose a type of tree that you like and grows well in your area and plant it over the spot where your pet is buried.
Hope After Grief
Grieving is an essential part of getting through the loss of a loved one, and each person will experience it differently. Coping with grief will be an ongoing experience for some time, but the little acts of remembrance you can do for your loved pet will help you through that healing process.
One day, you will reach a point where you visit your pet's grave, and instead of crying, you will find yourself smiling at all the good memories you have together.
If you find this guide, "Pet Grave Ideas," helpful, you can check out these other dog-related guides from our team at We Love Doodles:
If you want to learn more about pet memorials, you can, by watching "DIY Pet Memorial Ideas – How To Make A Pet Memorial" down below:
Garrett loves animals and is a huge advocate for all Doodle dog breeds. He owns his own Goldendoodle named Kona. In addition, he volunteers at the Humane Society of Silicon Valley, where he fosters dogs and helps animals. Garrett enjoys writing about Doodles and believes that dogs can teach humans more about how to live than humans can teach a dog.
Why Trust We Love Doodles?
At We Love Doodles, we're a team of writers, veterinarians, and puppy trainers that love dogs. Our team of qualified experts researches and provides reliable information on a wide range of dog topics. Our reviews are based on customer feedback, hands-on testing, and in-depth analysis. We are fully transparent and honest to our community of dog owners and future owners.