Taking your dog to Whole Foods while you shop might be a question you have if you do a lot of shopping there. Can dogs be brought into Whole Foods stores? Whole Foods does not allow dogs in their stores unless they are service dogs. Dogs are not allowed in most stores, especially those that sell food.
Unless under exceptional circumstances, food stores that sell edibles and foods intended for consumption do not allow animals inside the store. Federal and local regulations regarding food safety prevent grocery stores from being dog-friendly. Whole Foods' policy regarding dogs in its grocery stores is summarized below.
Before you scroll down to a more in-depth answer of this guide, "Is Whole Foods Dog Friendly," you can check out these other dog-related questions from our team at We Love Doodles: Can Dogs Eat Goji Berries and Can Dogs Eat Sugar Cane?
Is Whole Foods Dog Friendly?
Whole Foods welcomes service animals as a grocery store, but certain items may not be allowed inside the store due to state laws. Customers with dogs on leashes who bring them to the grocery store hidden in reusable grocery bags have received complaints, while others walk in with their dogs on leashes straight up.
People take advantage of the store's service dog policy by bringing in what they claim to be service dogs, then playing ball with them until they become all frisky and jump on people. Service dogs are needed in Whole Foods stores by people with disabilities, especially. Whole Foods does not allow dogs in the stores.
Whole Foods stores generally do not allow shoppers to take dogs inside. There is, however, the possibility of bringing service dogs with visitors with disabilities. American with Disabilities Act regulations defines this allowance. The service dog is allowed in places with no-pet policies instead of being considered a pet. Due to ADA laws, the store or business cannot separate dog handlers and their dogs.
Support animals are permitted into stores like Whole Foods, and many people are taking advantage of this. It is not permitted for Whole Foods employees to ask the dog owner about his disability or to ask for the dog's certification. It is not necessary to question the dog further if the validity of its certification is verified by answering some questions.
Whole Foods is less likely to question people with dogs on the premises because the law does not provide a mechanism for determining a service dog's legitimacy. Safeway stores may be unable to accept emotional support dogs due to state laws regarding dog policies in stores. A service dog used to treat psychiatric disorders is covered under the act.
Dog-Related Questions: Is Santa Monica Beach Dog Friendly?
What is a Service Dog?
A service dog is a dog specially trained to assist a person with a disability, according to the Americans with Disabilities Act (ADA). Most people with disabilities can lead more independent lives with the help of service animals. As defined by the Americans with Disabilities Act, disability consists of mental or physical impairments substantially limiting major life activities.
In the workplace, commercial facilities, public transportation, and transportation, the ADA prohibits discrimination based on disability. Training is done, so that service dogs can perform a given task when necessary. Their owners' disabilities are directly related to the tasks they perform. Blind and visually impaired people can use a guide dog to help them navigate their environment.
In addition to alerting users to allergens, a medical alert dog can detect medical problems, such as low blood pressure and seizure onsets. In addition to a post-traumatic stress disorder, schizophrenia, obsessive-compulsive disorder, and other conditions, psychiatric service dogs provide comfort for individuals with disabilities. A service dog is not a pet but a working animal, according to the Americans with Disabilities Act.
Related: Can a Goldendoodle Be a Service Dog and Can a Labradoodle Be a Service Dog?
How Can You Tell If a Dog is a Service Dog?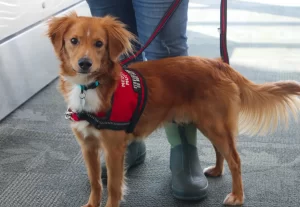 Service Animal owners are allowed to be taken at their word under the Americans with Disabilities Act (ADA), and you are only allowed to ask two questions – and only if the animal isn't obvious as a Service Animal. Animal certification, training, and licensing cannot be demanded. The dog's behavior is an excellent indicator of how well trained a Service Dog team is.
An owner or manager of a business has every right to ask a Service Dog or its handler to leave the premises if their behavior disrupts daily operations, causes problems in a housing situation, or behaves dangerously. The dog is not a Service Dog, and the manager or business owner has every right to ask them to leave.
There is sole responsibility on the shoulders of every Service Dog handler. Regardless of race, nationality, religion, ability, or disability, you should not blame an entire group for the actions of a few. So if a customer or tenant damages property or behaves disruptively, the same laws and logic apply if the person has a wheelchair or no disability.
Any damage or disruptive behavior by an adult or child should be dealt with the same way. It can be inappropriate for a pet to bark without signaling on cue related to their disability, growl, steal food, knock people over, jump, or display other inappropriate behaviors. Vests or other forms of identification are not required by federal law.
Some disabled individuals who use service dogs don't want their dogs labeled as disabled, so they don't provide vests for their dogs. Vests are considered scarlet letters in their eyes. It does not matter what size or breed a service dog is. It may be advisable to alert a store manager if you observe a disruptive or dangerous dog at Whole Foods. The store will decide whether or not a dog is a service dog.
Dog-Related Questions: Can My Dog Sleep With a Cone On and Can Dogs Eat Watermelon?
Does the Policy Vary By Location For Your Dog?
There are hundreds of Whole Foods grocery stores throughout the country. Whole Foods stores only allow service dogs as part of their official policy. It is possible, however, that some locations accept dogs that are not service dogs if the store managers are more lenient. It's a big retail peeve when animals appear in grocery stores, especially if they're supposed to be service dogs.
Other disabilities, such as blindness, are served by trained service dogs. Since these dogs are considered a legal and humane necessity, Whole Foods stores allow them everywhere. Dogs are said to help people deal with anxiety, for instance. In Whole Foods stores, these dogs are not allowed because they are emotional support animals.
Dog-Related Questions: Can Dogs Have Blue Berries to Eat and Can I Use Tile to Track My Dog?
Will I Be Questioned If I Take My Dog to Whole Foods?
Non-service animals are excluded from food establishments by store managers and staff. Employees are trained on what is required, which animals are permitted, what questions can and cannot be asked to determine whether or not an animal is a service animal, and how to exclude non-service animals professionally and professionally. Providing service animals to individuals is not necessary if their needs are obvious.
Dog-Related Questions: Can Dogs Have Condensed Milk and Can Older Dogs Get Parvo?
Do Any Grocery Stores Allow Dogs Inside?
The regulations that forbid non-service animals in restaurants and grocery stores have been changed in some cases to allow sanitary practices and procedures. Some brewery tasting rooms are allowed to have non-service animals in their seating areas, as they are not required to hold a retail food establishment license.
Dog-Related Questions: Can Dogs Eat Freeze Dried Strawberries and Can Melatonin Kill a Dog?
Why Aren't Dogs Allowed in Whole Foods?
It is strictly the owner's responsibility to control his dog's behavior. A business person is responsible for taking care of accidents on the premises. If a dog injures someone, who will be held responsible? A dog's presence on site could have costly legal ramifications. Pets in grocery stores violate federal and state food safety regulations.
Certain areas of a store may allow guard or guide dogs if their presence is unlikely to contaminate food, surfaces that contact food, or packaging that contains food. There is not much insurance available for dog-related accidents, but businesses may need to consider specialized coverage to protect themselves from lawsuits.
Due to the additional risk, an insurer may decide to raise premiums or discontinue commercial coverage even if a business owner does not want to add additional insurance. Before allowing dogs to roam the premises, business owners should check with their insurance providers.
Business owners may need to display visible risk warnings to individuals entering their establishments to protect themselves from liability issues. Even if laws allow dogs in stores or restaurants, some people will never accept them. An organization's clientele may suffer a significant loss of market share depending on the nature of the business.
Any changes to a business's animal policies should consider how dog-friendly their market is. Pets are prohibited in grocery stores under state and federal food safety laws. Whether their presence is unlikely to interfere with food handling, food contact surfaces, or food packaging materials, guard or guide dogs may be allowed on the premises of a store.
Dog-Related Questions: Why Does My Dog Keep Sniffing My Legs and Why Does My Dog Bite My Cat's Neck?
Conclusion For "Is Whole Foods Dog Friendly"
If you like to shop at Whole Foods and are hoping to take your dog with you on a shopping trip, it's only possible if you have a service dog. Pets or emotional support animals are not permitted inside any Whole Foods stores for many reasons, and if you attempt to bring your dog into the store, you may be asked to leave. Leave your puppy at home during your trip and take it with you to enjoy other things where dogs are permitted.
If you find this guide, "Is Whole Foods Dog Friendly," helpful, you can check out these other dog-related questions answered by our team:
Instead of bringing your companion to Whole Foods, you can see where you can bring your dog by watching "Top 10 Dog-Friendly Vacations" down below: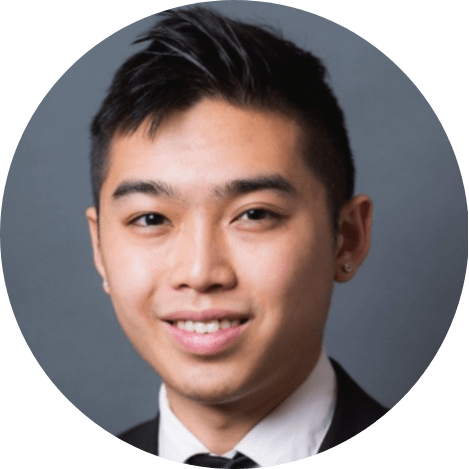 Andy is a full-time animal rescuer and owner of a toy doodle. When he's not saving dogs, Andy is one of our core writers and editors. He has been writing about dogs for over a decade. Andy joined our team because he believes that words are powerful tools that can change a dog's life for the better.
Why Trust We Love Doodles?
At We Love Doodles, we're a team of writers, veterinarians, and puppy trainers that love dogs. Our team of qualified experts researches and provides reliable information on a wide range of dog topics. Our reviews are based on customer feedback, hands-on testing, and in-depth analysis. We are fully transparent and honest to our community of dog owners and future owners.