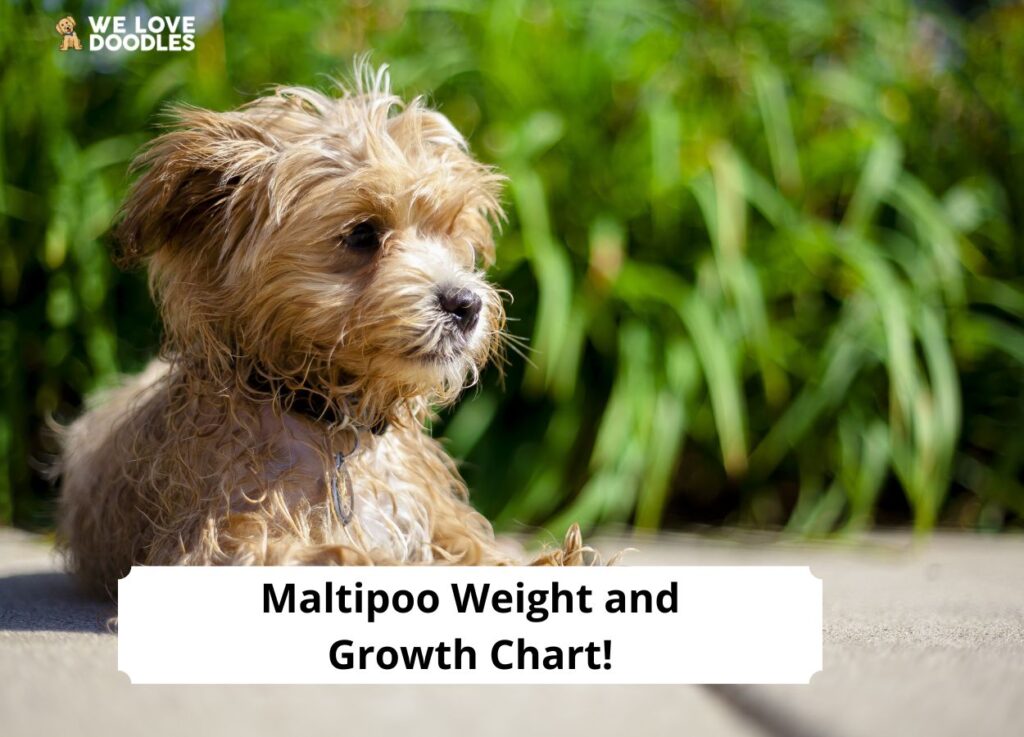 The Maltipoo (Maltese-Poodle mix) is a gorgeous family dog. But how big can they get, and at what rate do they grow? Every dog develops at its own pace, but there are benchmarks at every age. Today, we'll discuss the Maltipoo weight and growth chart, including everything you need to know to keep your dog growing healthily.
Before you scroll down this guide, "Maltipoo Weight and Growth Chart," check out: Best Dog Food for a Maltipoo – Top 8 Picks! (2023) and Maltipoo Lifespan – How Long Do Maltipoos Live? (2023).
How Big are Maltipoos?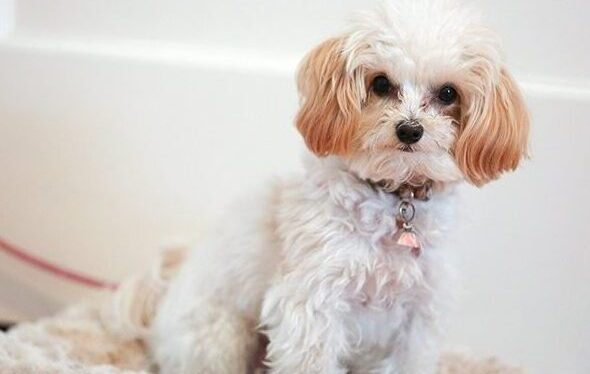 The Maltipoo comes in two sizes: Miniature and Toy. The Toy Maltipoo is the smaller of the two.
A Mini Maltipoo measures around 11-14 inches, or 27-35 cm, tall and weighs between 15-25 lbs or 6-11 kgs. Meanwhile, the Toy Maltipoo stands 6-11 inches tall, or 15-27 cm, and has an average weight between 5-15 lbs or 2-7 kgs.
Maltipoo Weight and Growth Chart
The following sections outline the average growth in weight of the Toy Maltipoo.
1–2 Weeks
Maltipoo puppies are born in litters of four to six puppies. They weigh no more than half a pound at birth — usually only a few ounces! In their first couple weeks of life, Maltipoo puppies rely entirely on their mother's milk, which will help them to grow and gain weight.
3–12 Weeks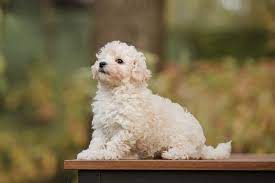 There is significant growth between the ages of three and 12 weeks old. Between six to eight weeks, Maltipoos should begin weaning off their mother's milk and eating solid puppy foods.
You can start taking Maltipoo puppies out for short walks a couple of weeks after their initial vaccinations, which are typically between 10 to 12 weeks but can be as early as six to eight weeks. At this age, you try walking your pup for five minutes per month of their age twice a day.
For example, if your puppy is three months old, you should take them for a 15-minute walk twice daily.
4–6 months
By four months, your Maltipoo puppy should be about half their expected adult weight, and their growth may begin to slow. By six months, they are entering adolescence, and you can begin to feed them two equally spaced-out meals a day.
7–9 months
Your Maltipoo puppy will most likely reach its full adult weight at this age, but their weight will continue to fill out afterward. Most Maltipoos also reach sexual maturity by nine months.
10–12 months
Between 10 and 12 months, your pup will be filling out a lot, so monitor it carefully to avoid unhealthy weight gain. When your puppy turns one, it should be fully grown but will continue to develop mentally.
Adult
As an adult, your Maltipoo should be eating ½ to one cup of adult food per day and exercise regularly to keep its weight healthy and stable. It will reach mental and emotional maturity between 18 months and two years of age. You should also take your Maltipoo to the vet for annual check-ups.
Senior
Maltipoos are considered "senior" when they surpass 12 years of age. At this point, you should adjust your dog's diet and exercise routine according to your veterinarian's advice.
Can Maltipoos Live in Small Homes?
Thanks to their small size and adaptable nature, Maltipoos are well-suited to living in all types of homes and living spaces, from smaller apartments to larger houses, just so long as they are well looked after.
What to Feed a Maltipoo
You should feed Maltipoos nutritiously complete and balanced foods with all the essential nutrients: vitamins, minerals, healthy fats, carbohydrates, and protein sources necessary for whole body health.
Your Maltipoo's food should be all-natural and contain no filler ingredients like wheat or artificial additives that can harm its health. There are also foods made specifically for smaller dogs, as well as age-appropriate foods. Choose the food that best fits your dog's developmental stage and nutrient needs.
For example, puppies and seniors both need extra nutrients like DHA to ensure good cognitive development or maintenance, as well as calcium and vitamin D for strong bones.
As mentioned, adult Maltipoos should eat between ½ to one cup of food per day. Puppies, on the other hand, typically need more food, and it's best to split into three to four daily meals when they're under six months old. Senior Maltipoos should eat even less than adults. It's important not to overfeed seniors, as weight gain can strain their joints and worsen symptoms of arthritis.
How Much Exercise Do Maltipoos Need?
Adult Maltipoos need between 30 and 40 minutes of exercise per day, ideally split between two 15- to 20-minute walks. These little dogs enjoy walking, running, swimming, playing fetch, and taking small hikes.
As mentioned above, growing puppies generally need five minutes of exercise per month of their age twice a day as they grow and develop, whilst seniors' exercise should lessen gradually as they slow down.
It's very important not to overexercise puppies and senior dogs, as overexercising puppies can cause permanent damage to their developing joints, and overexercising seniors can put a strain on their aging joints, making symptoms of arthritis worse.
Can Neutering/Spaying Affect My Maltipoo's Weight?
Spaying or neutering your dog before its growth plates have closed can affect its hormones, stunt its growth, and give It joint problems later in life. We recommend waiting at least six to nine months to spay or neuter your dog. But each dog is different, and your vet should ultimately decide when it's best to operate on your dog.
How Do You Weigh a Maltipoo?
Most vets recommend weighing your dog every six months. You don't need fancy equipment — you can just use your bathroom scale at home. Ensure that it is on a hard and flat surface. If your pup won't or can't sit on the scale, weigh yourself while holding them and subtract your weight.
Why Is My Maltipoo Underweight?
If your Maltipoo's weight is significantly below the ideal weight for their age, or if you can see their ribs clearly, you may need to make a change. You should consider their diet and exercise schedules and make adjustments if necessary.
However, if you are feeding and appropriately providing exercise to your pup but it's still underweight, you should make an appointment with your vet for an examination. Doing this is especially if your dog loses weight suddenly or dramatically.
Several issues can cause your Maltipoo to lose weight, ranging from stress, hormonal problems, kidney disease, and cancer. Each of these afflictions has other evident signs and symptoms, so monitor your dog closely and inform your vet of any changes.
Why Is My Maltipoo Overweight?
If your Maltipoo's weight is significantly heavier than the ideal weight for their age, or if they do not have a defined waist, they may be overweight. Consider how much your dog is eating and exercising. If you feed your Maltipoo a healthy diet and give it 30 to 40 minutes of daily exercise, there could be an underlying issue.
Health conditions that cause weight gain in dogs include Cushing's disease and hypothyroidism, both of which have other symptoms you should familiarize yourself with and watch out for.
Frequently Asked Questions
What is a healthy weight for a Maltipoo?
Your Maltipoo should weigh somewhere between five to 20 pounds depending on the size of its parents. Your veterinarian can help determine the healthiest weight for your dog.
At what age are Maltipoos full-grown?
On the low end, a Maltipoo can be full-grown at 10 months, and on the high end, by 12 months.
How often should I bathe a Maltipoo?
While it can be hard to keep up, you can aim to bathe your Maltipoo every three weeks.
Conclusion for "Maltipoo Weight and Growth Chart"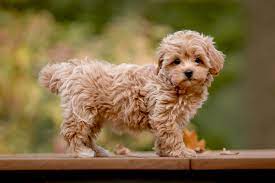 To keep your Maltipoo growing at a healthy rate, be sure to feed them a proper diet and exercise them regularly. Even though there is a generalized weight and growth chart, bear in mind that every Maltipoo is different and develops at its own pace. If your dog's size and weight are drastically different from the recommended ideal, you should re-evaluate their lifestyle and contact your vet for advice.
For even more Maltipoo guides, check out:
Learn more by watching "Everything You Need to Know About The Maltipoo" down below:
Garrett loves animals and is a huge advocate for all Doodle dog breeds. He owns his own Goldendoodle named Kona. In addition, he volunteers at the Humane Society of Silicon Valley, where he fosters dogs and helps animals. Garrett enjoys writing about Doodles and believes that dogs can teach humans more about how to live than humans can teach a dog.
Why Trust We Love Doodles?
At We Love Doodles, we're a team of writers, veterinarians, and puppy trainers that love dogs. Our team of qualified experts researches and provides reliable information on a wide range of dog topics. Our reviews are based on customer feedback, hands-on testing, and in-depth analysis. We are fully transparent and honest to our community of dog owners and future owners.