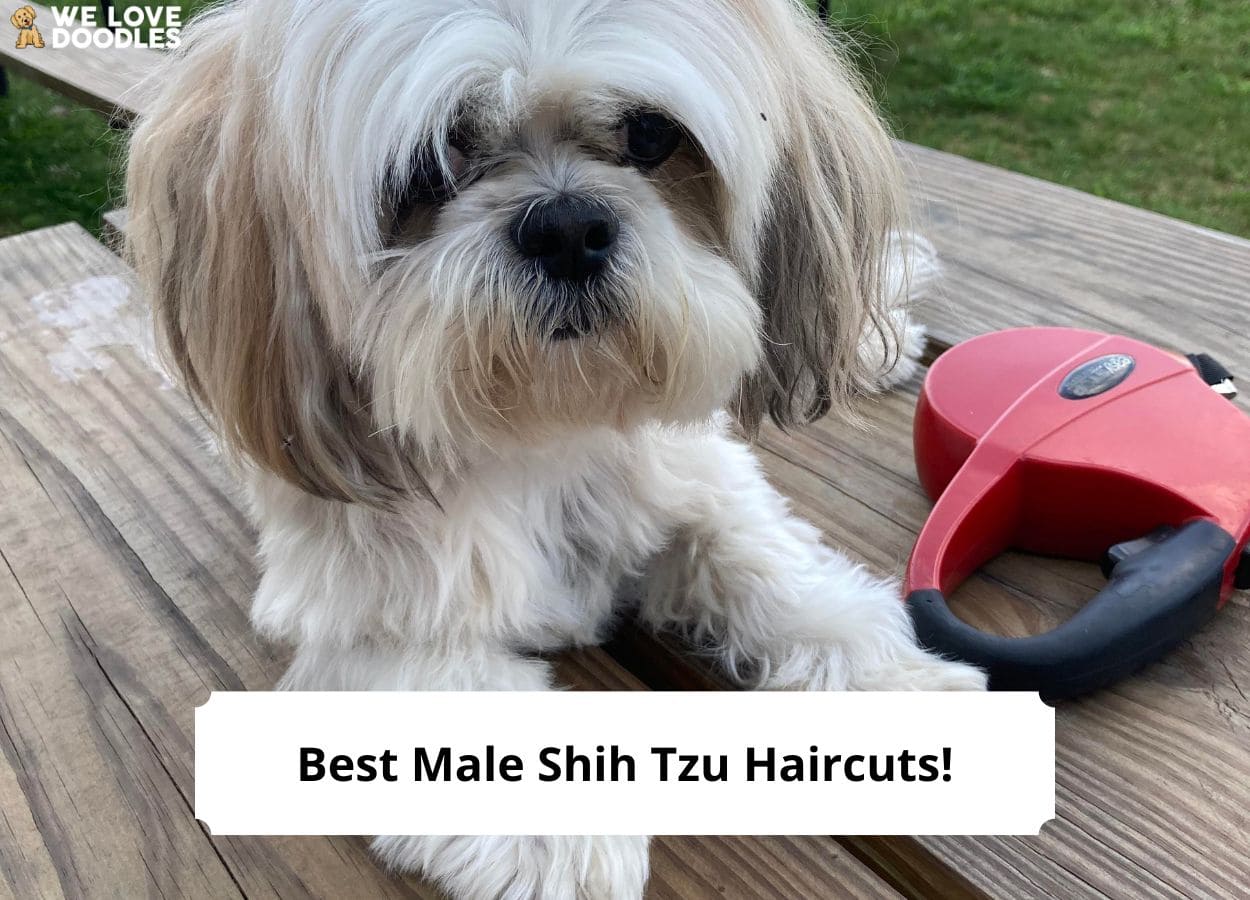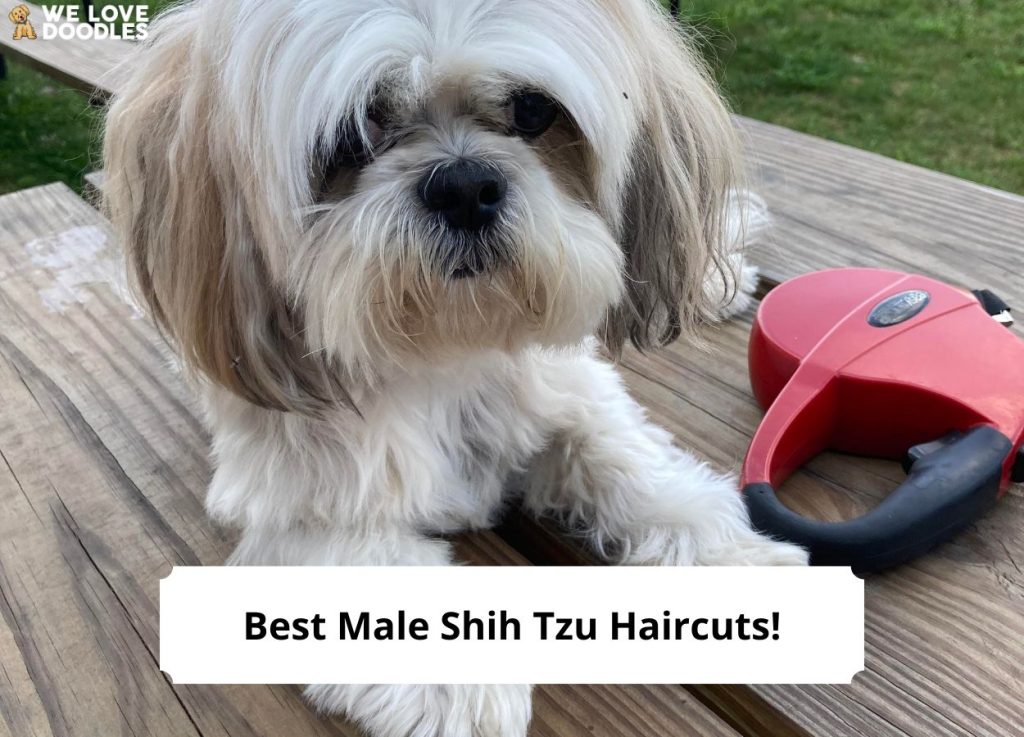 Shih Tzus are one of the best companions, and they're cute to boot. Unlike most dogs, a Shih Tzu grows hair similar to a human. Whether your pup is male or female, your Shih Tzu will have long, flowy locks that require regular trims. So, what are the best male Shih Tzu haircuts?
Whether you want to groom your pup at home or take him to a professional groomer, there are plenty of male Shih Tzu cuts to choose from, which we'll cover below.
Before reading this guide, "Best Male Shih Tzu Haircuts," check out: 8 Best Shih Tzu Rescues in the United States! (2023) and 5 Best Shih Tzu Breeders in the United States! (2023).
Common Male Shih Tzu Haircuts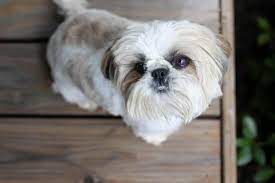 If you're looking for a standard Shih Tzu haircut with minimal flair and a touch of masculinity, these common male Shih Tzu haircuts are for you.
1. Shih Tzu Puppy Cut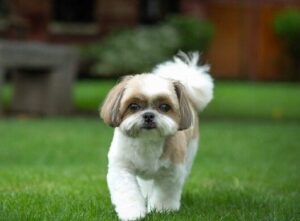 The puppy haircut is a typical Shih Tzu grooming style for both genders. It's a simple haircut that's easy to maintain yet still looks adorable.
To achieve the puppy cut, you or the groomer will trim the hair to one to two inches in length throughout the body, though it's typically on the shorter side. The face and tail will be slightly longer.
This is an excellent option for owners who want to minimize brushing. While the fur is short, it's a good idea to continue to run a brush through to ensure there aren't any hidden knots.
Once the hair grows, you'll need to keep up with daily brushing or take your Shih Tzu to get a trim. However, you'll still need to brush longer hair areas like the ears and tail.
2. Medium-Length Puppy Cut
The medium-length puppy cut is similar to the standard style, though the hair is a little longer. If you don't mind a bit of extra brushing, you can enjoy an even fluffier Shih Tzu.
To achieve the medium-length puppy cut, you'll trim the hair to be two to four inches long. Like the standard puppy cut, the facial hair and hair on the tail are left a bit longer.
This is an excellent haircut for Shih Tzus living in a cooler climate. Shih Tzus tend to get cold easily, so the extra couple of inches of fur can help keep your pup warm.
Because the hair is longer, you'll want to brush daily or every other day at minimum. Knots can quickly turn into mats, which can be painful for your dog. So, do your best to brush out any knots regularly.
Popular Facial Haircuts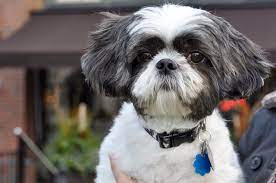 Unlike the above male Shih Tzu haircuts, the options below focus on your pup's face. You can pair the following looks with any length of body hair.
3. Teddy Bear Facial Cut
Teddy bear facial cuts look adorable on male and female Shih Tzus alike. With this haircut, your dog will have more of a rounded, fluffy head or overall face shape.
To achieve the teddy bear facial cut, you or your groomer will typically keep the facial hair about two times the length of the overall body hair. The fur under the chin will have a rounded edge to lock in the teddy bear look.
As for the ears, the length may vary. You can opt to keep the ear hair shorter and more rounded or keep them a bit longer.
4. Rounded Face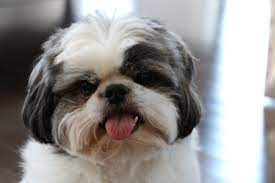 Like the teddy bear facial cut, a rounded face haircut gives your pup a rounded look on his overall face and head. While similar, it's more polished and preppy than the teddy bear cut.
When trimming the facial hair for a rounded face cut, you'll shorten the beard with a sleek, rounded curve in the beard area.
Unlike the teddy bear cut, the ears will seamlessly create a circular shape with the beard area for an overall rounded appearance.
Personality Haircuts for Mail Shih Tzus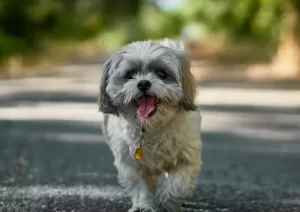 Personality cuts are different than most as they aren't based on practical benefits but on the overall look. These haircuts will make your Shih Tzu stand out among the crowd with a pop of personality.
5. Top Knot Cut
In this day and age, top knots aren't only for women, and the dog top knot cut looks great on male Shih Tzus. This cut is versatile, as most of the body or facial hair can be short, long, or in between.
The key to achieving the top knot cut is leaving a chunk of hair between the ears longer than the rest. Then, swoop the head hair into a bow or small elastic, but ensure it's not too tight.
6. Lion Cut
What's more manly than emulating the fierce lion? With the lion cut, your Shih Tzu can achieve the furious yet adorable look of a miniature lion.
This medium-length cut requires more upkeep than shorter haircuts, but the result is worth the extra brushing.
To nail the lion cut, you'll keep most of the body hair short, around an inch or two long. The hair around the face, neck, and shoulders will be longer to produce the lion look.
Like other medium-length cuts, it's crucial to brush the longer hair regularly to keep knots at bay.
7. Mohawk Cut
Embrace the rock 'n' roll with this fun look for your male Shih Tzu. Creating this hairstyle is similar to the top knot cut by leaving a wedge of hair longer than the rest.
To give your dog a mohawk, you or your groomer will keep the body fur clipped to one to two inches. Then, the chunk of hair atop the head should be two to four inches long.
Some Shih Tzu owners will bring the mohawk down the neck, but the length of the mohawk is up to you. If you're taking your pup to a groomer, be sure to let them know how you want the result to be.
For added pizazz, you can dye your Shih Tzu's hair a fun color. If you add a pop of color, only use a pet-friendly hair dye.
How Often Does a Shih Tzu Need Grooming?
Because Shih Tzus grow long hair, you'll need to keep up with trims, especially around the face. If you let your Shih Tzus hair get too long, they're prone to developing mats in their fur.
Matting is uncomfortable for your pet at best and downright painful at worst. Mats can develop close to their skin, cutting and restricting airflow, creating lesions, and leading to skin infections.
Additionally, Shih Tzus have double coats, which can tangle more easily. So, even with regular trims, it's crucial to brush your pup for at least 10 minutes daily.
The frequency of grooming visits heavily depends on your pup's unique coat and haircut. You may need to trim your dog's facial hair in between appointments. Regardless, you can expect to take your Shih Tzu to the groomer every four to six weeks.
Start Grooming Your Shih Tzu While He's Young
Get your Shih Tzu acquainted with the grooming process as young as possible. Before shaving or cutting any hair, use your hands to touch sensitive areas like the paws, ears, mouth, and tail.
Once your dog feels confident with you touching them, you can start touching them with the scissors and razor. Don't shave or clip just yet. You may make the noises of scissors clipping or turning on a razor near them. The goal is to get them used to the sounds and feel of the tools.
After your Shih Tzu puppy receives its shots, you can take him for a puppy trim. Professional grooming salons will have unfamiliar sounds, sights, and sensations that you'll want your pup to experience.
Grooming a Shih Tzu's Face
Shih Tzus tend to get a lot of staining on their faces. Because they have hair instead of fur, these strands pick up debris more easily. These hairs can retain moisture and stain easily from regular eye discharge.
The hair under their eyes and the beard and chin area can start getting a gray or brown color if you don't stay on top of it. The texture may even change from silky to dry and crispy.
Use facial dog wipes daily to keep the facial hair healthy. Swipe the wipes around each eye, over their cheeks, and on the chin.
When the hair around your pup's eyes gets long, this can put your dog at risk of getting hairs in their eyes or distorting their vision. Hair, especially dirty hair, getting stuck in your Shih Tzus eyes can lead to an eye infection like conjunctivitis.
Carefully use a pair of grooming scissors to remove excess hair near the eyes. Trimming this area is much easier if you get your dog used to grooming tools at a young age.
Grooming at Home vs. Seeing a Professional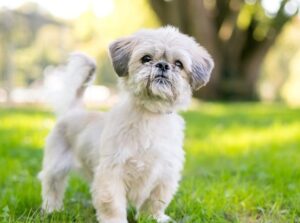 Grooming can get expensive, so you may wonder if you can keep up with your dogs' haircuts, nail trims, and other maintenance at home.
Even if you think you'll want to stick to DIY trims, it's better to get your pup familiar first in case you decide to go back to the professional grooming route.
If you want a specialized hairstyle, a professional groomer will likely have more tools to create the look you like. We suggest seeing a professional to handle the more complex grooming needs.
Even if you go to a dog grooming salon, you'll still need to perform a few tasks at home. Your Shih Tzu requires daily brushing, regular baths, eye care, and facial trims between visits.
Frequently Asked Questions
Here are the most frequently asked questions regarding the best male Shih Tzu haircuts.
What is the best haircut for a male Shih Tzu?
Shorter haircuts, like the puppy cut, are typically more manageable than medium-length styles. Short hair doesn't tangle as quickly, so brushing will be a smoother process.

However, as long as you don't mind the upkeep, any style is acceptable.
How to groom a male Shih Tzu?
Female and male Shih Tzus require routine grooming. Brush your Shih Tzu daily and complete a grooming session every four to six weeks.

Get your dog used to the grooming process at a younger age to avoid inducing anxiety.
Can I groom my Shih Tzu myself?
Once you invest in reliable equipment, get your dog used to the tools, and learn from how-to articles or especially videos, you can safely groom your Shih Tzu at home. Doing so will save a lot of money in the long run compared to always relying on a groomer for haircuts.
Conclusion for "Best Male Shih Tzu Haircuts"
Male Shih Tzus have hair rather than fur and will require regular grooming. You can choose from several styles at your grooming appointments, like the puppy cut, teddy bear cut, and personality cuts.
Regardless of the chosen haircut, you'll need to keep up with maintenance at home. Trimming, keeping the face clean, and daily brushing are all essential components of Shih Tzu grooming care.
For more guides similar to this list showing male Shih Tzu haircuts, check out:
Learn more by watching "PetGroooming – Shih Tzu Grooming From Start to Finish #91" down below:
Garrett loves animals and is a huge advocate for all Doodle dog breeds. He owns his own Goldendoodle named Kona. In addition, he volunteers at the Humane Society of Silicon Valley, where he fosters dogs and helps animals. Garrett enjoys writing about Doodles and believes that dogs can teach humans more about how to live than humans can teach a dog.
Why Trust We Love Doodles?
At We Love Doodles, we're a team of writers, veterinarians, and puppy trainers that love dogs. Our team of qualified experts researches and provides reliable information on a wide range of dog topics. Our reviews are based on customer feedback, hands-on testing, and in-depth analysis. We are fully transparent and honest to our community of dog owners and future owners.