Are you a dog-lover looking for Leonberger puppies for sale? You're in the right place! This article lists the top Leonberger breeders in the USA.
Often called the lion dogs, Leonbergers are one of the biggest dogs in the world, typically 29 to 31 inches tall and weighing 90 to 160 pounds. Despite their large size, Leonbergers have a gentle disposition. You will often see pictures of giant Leonbergers sitting on their owner's lap because they are super affectionate.
In addition to their looks, Leonbergers are also known for their intelligence and athleticism. They have a lot of energy and love to play, but they're also obedient and loyal dogs. However, to get a well-bred Leonberger puppy, you must choose an experienced and knowledgeable breeder.
Good Leonberger breeders are patient with their puppies and will provide plenty of training, exercise, and socialization early on, so the puppies grow up to be well-adjusted dogs. Given their large size, training and temperament are critical — you shouldn't buy a Leonberger from just any breeder.
Here are five reliable Leonberger breeders you can trust to raise well-bred puppies:
Before scrolling down this list of breeders with Leonberger puppies for sale, check out these recommendations: Chocolate Lab Puppies For Sale! (2023) and Toy Labradoodle Puppies For Sale! (2023).
1. Bluebonnet Leos
Bluebonnet Kennels is a registered Leonberger Club of America (LCA) breeder that has been breeding Leos since 1997. They are very proud of their LCA membership and strictly adhere to the club's breeding standards.
Wendy, the founder of Bluebonnet Leos, has decades of dog-breeding experience. She is the president of the Frontier Leonberger Club of the Southwest, co-chairs the Working Dog Committee, and is a member of the Show Event Committee.
Beyond complying with breed standards, Bluebonnet does an excellent job of socializing and acclimating its puppies. They make sure to follow both Puppy Culture and Avidog when raising their puppies. Avidog and Puppy Culture are two of the best dog enrichment methods around the world.
Their breeding program aims to produce superior animals in terms of health, personality, and physical appearance. They also conduct temperament tests and physical examinations to ensure that each puppy goes to the best possible forever home.
When you get a puppy from Bluebonnet Kennels, it usually comes with extra food and a toy that smells like its littermates. Moreover, the puppies are all vaccinated, microchipped, dewormed, and examined by a veterinarian. On top of that, Bluebonnet guarantees the puppy's health for two years.
Bluebonnet Leos Details:
2. Masonhaus Leos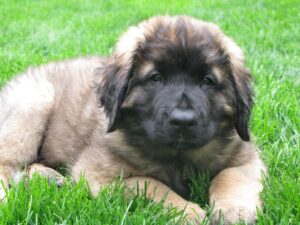 Masonhaus Leos is the brainchild of Karen and was established in 2007. Karen is a veteran breeder who has bred many dogs that have gone on to win championships in various dog sports such as drafting, obedience, and rally.
Karen was named Breeder of Merit by the American Kennel Club in 2018. She devotes a lot of time and energy to her puppies, ensuring they receive adequate, safe socialization and early brain stimulation. This helps the puppies grow into well-adjusted, self-sufficient members of their new families.
Masonhaus Leos only breed healthy Leonbergers at their kennel. After successfully completing health testing, a CHIC number is assigned, and the results are posted on the Orthopedic Foundation for Animals (OFA) website.
Their Leonbergers' health and temperament are guaranteed by strict testing for:
Hips
Elbows
Thyroid
Eyes
Leonberger's polyneuropathy (LPN 1, LPN 2)
Leukoencephalomyelopathy (LEMP)
When reviewing Masonhaus puppy applications, the following criteria are top priority:
Households with no children under the age of five.
No more than two dogs per household or dogs younger than one-year-old.
Household dogs must be spayed or neutered.
Properties with fences around their yards.
Ability and eagerness to maintain the dog: at least four to six professional trims and a weekly or biweekly comb-through throughout the year.
Possessing the physical strength required to train and control a dog weighing up to 170 pounds.
Prior experience with dog training and ownership is required.
Extensive research on the Leonberger breed, including its care needs, temperament, health issues, veterinarian costs, exercise requirements, and so on.
If your home does not appear to be a good fit for a Leonberger, Masonhaus will still consider your application if you believe it is safe and loving enough. You can reach out to Karen for in-depth discussions about exceptional circumstances.
Masonhaus Leos Details:
3. Oak Ridge Leonbergers
Oakridge is a breeder that starts with only the healthiest, highest-quality parent dogs, ensuring that they are hip and elbow-certified, eye- and heart-checked, thyroid- and DNA-tested, and the results are clear.
The temperament, intelligence, and physical attractiveness of the dams and sires are all important to the breeders. Pet parents are only chosen if they meet the criteria, which means only healthy Leonbergers are for sale.
Moreover, all of their dogs are fed the best diet available (no corn, wheat, soy, or by-products), are treated like family members, and receive one to two pounds of raw meat every day in addition to the best vitamins available (NuVet Plus).
They've set aside an area for the dogs that includes ponds for swimming and playing, pasture for running freely through the thick grass, trees for napping, games to play, toys to chew on, and plenty of humans to play with and love on them.
Furthermore, each dog has its own indoor/outdoor kennel/room that is temperature controlled, ventilated, has fans, and is sterilized twice a day. Puppies grow up around humans, dogs, cats, and other animals from a young age to ensure a smooth transition into their new homes.
These Leonberger puppies eat premium puppy food and live in a clean, sanitary, and secure environment. They're also bathed and brushed regularly. All dogs and puppies have had their vaccinations and deworming treatments.
Oak Ridge Leonbergers take sanitation seriously; they clean the area every other day to ensure the health of the dogs and puppies. They also limit the number of visitors to protect the pets from illness.
Finally, every Oak Ridge puppy comes with a limited health guarantee.
Oak Ridge Leonbergers Details:
4. Kamenah Leonbergers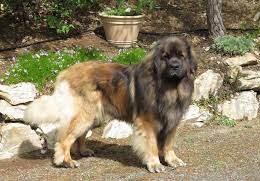 Kamenah Leonbergers, the pet project of Juanita Allen, is one of the top licensed Leonberger breeders in Washington. Ms. Allen is the force behind this operation. She is an excellent breeder who has been a member of the Leonberger Club of America (LCA) since 2006.
Her goal is to breed dogs with excellent health, temperament, and athletic ability. To achieve this, she believes in breeding and raising puppies like a family. All Leonberger puppies and their parents are treated with love, respect, and care.
Juanita believes in breeding the Leonbergers who have reached the age of two and completed all their mandatory health checks. Most of the time, they use their own dogs for breeding; however, they may also get stud service from other breeders.
Any males from outside their kennel used for breeding must have completed the relevant health tests. Hip and Elbow, Thyroid, Eye Certification, Licensed Practical Nurse 1, Licensed Practical Nurse 2, Licensed Practical Nurse 3, and Laboratory Evaluation of Medical Proficiency (LEMP) examinations are among them.
After the health checks, volunteers examine each dog's physical makeup to produce puppies close to the ideal. They want to enhance the breed as a whole with each breeding.
They also study pedigrees and assign a coefficient to each individual to discover the best probable breeding mates. The coefficient calculates the number of ancestors shared by the dam and sire and indicates the likelihood of genetic resemblance.
When one of their dogs has a litter, the sire and dam's Canine Health Information Clearinghouse (CHIC) numbers are listed on the OFA website. Needless to say, Kamenah can offer you healthy and well-bred Leonberger puppies in the USA.
Kamenah Leonbergers Details:
5. Von Alpensee Leonbergers
Von Alpensee has been producing exceptional Leonbergers since 1990 and regularly shows the puppies in regional and national dog shows throughout the Northeast. Moreover, Von Alpensee dogs participate in various dog sports, including dock diving, water rescue, and search and rescue.
In addition to being an AKC Breeder of Merit, they have been members of the Leonberger Club of America (LCA) since 1989. Alida Greendyk and her children Linnea and Sarabel Comtois are the breeders at Von Alpensee. Alida has been passionate about ensuring Leo's survival since she was a child and has been an LCA activist ever since.
She has served on the LCA Board of Directors several times, is the co-chair of the Judges Education Committee, and has given several breed workshops to AKC judges. She also obtained the AKC license to judge Leonbergers. In previous years, she volunteered on both the Show and Breeding Committees.
Von Alpensee Leos serves New York, New Jersey, Connecticut, Pennsylvania, Massachusetts, New Hampshire, Vermont, Maine, Maryland, Delaware, Virginia, North Carolina, Illinois, California, Washington, Alaska, and British Columbia.
If you live in or near these states, pick up the phone and get in touch with Von Alpensee for a Leonberger puppy today.
Von Alpensee Leonbergers Details:
How to Find Leonberger Puppies for Sale
Looking for a good Leonberger breeder in the United States? There are many reputable breeders but finding them is challenging. The best way to find a good breeder is to ask around. Talk to friends, family, dog-owning acquaintances, and other dog enthusiasts. Ask if they know of any good breeders and inquire about their experiences with them.
You can also use online resources like dog-breed registry websites or list-serves to search for breeders in your area. Once you've narrowed your search, contact the breeders you've selected and ask about their dogs' health records, breeding practices, and availability.
Finally, visit the breeder to see your prospective puppy's environment. A good environment means a healthy and well-adjusted dog.
Frequently Asked Questions
How much does a Leonberger puppy cost?
Prices will vary by breeder quality, but it's safe to expect to pay anywhere from $2,000 to $4,000 for a healthy Leonberger puppy.
What two dogs created the Leonberger breed?
Dating back to the 1830s, Leonbergers were originally a cross between Saint Bernards and Newfoundlands, hence their tall stature.
What is the life expectancy of a Leonberger?
As a large breed, the typical Leonberger lifespan falls on the shorter side at seven to eight years.
Conclusion For "Leonberger Puppies for Sale – Top Breeders"
If you're looking for a dependable Leonberger breeder in the United States, this list will prove extremely useful. We've compiled the top breeders dedicated to producing healthy Leonbergers.
By following this article, you'll find out more about each breeder, and it will help you decide which one best fits your needs. We wish you the best of luck in your search!
For more guides similar to this list of Leonberger puppy breeders in the US, you can check out:
Before bringing home a Leonberger puppy from a breeder in the US, you can learn more about this dog breed by watching "ALL ABOUT LEONBERGER, THE LION DOG" down below:
Garrett loves animals and is a huge advocate for all Doodle dog breeds. He owns his own Goldendoodle named Kona. In addition, he volunteers at the Humane Society of Silicon Valley, where he fosters dogs and helps animals. Garrett enjoys writing about Doodles and believes that dogs can teach humans more about how to live than humans can teach a dog.
Why Trust We Love Doodles?
At We Love Doodles, we're a team of writers, veterinarians, and puppy trainers that love dogs. Our team of qualified experts researches and provides reliable information on a wide range of dog topics. Our reviews are based on customer feedback, hands-on testing, and in-depth analysis. We are fully transparent and honest to our community of dog owners and future owners.