What exactly is a lemon Dalmatian? Here's what you need to know. The Dalmatian is one of the most easily recognized dog breeds globally. We all know one when we see one—they're tall, lean, athletic, and covered in those infamous black spots.
The breed has been a duty-bound dog for centuries and saw a spike in popularity with the release of Disney's 101 Dalmatians movie series. But today, we're here to talk about a variation of the breed: the Lemon Dalmatian. So what is a Lemon Spotted Dalmatian? Let's find out.
Before you scroll down this lemon Dalmatian guide, you can check out these other dog breeds we think might want to learn about: Goldendoodle Information, Facts, and Images and Canoodle Dog Information, Facts, and Images.
What is a Lemon Dalmatian?
The Lemon Dalmatian, also known as a Lemon Spotted Dalmatian, Lemon Dally, the Lemon English Coach Dog, is a variation of the standard Dalmatian dog. Many dog breeds come about as a mix of two purebred dogs, such as the Labradoodle or the Cockapoo.
However, the Lemon Dalmatian is not a mixed breed. Lemon Dalmatians are Dalmatians with a rare genetic mutation. The gene that makes Dalmatian spots black gets distorted and turns recessive during breeding.
Like the melanin count in humans, which determines how light or dark a person's skin is, this gene in Dalmatians decides how dark its spots are. With this specific genetic mutation, the spots appear much lighter than they traditionally appear on the breed.
That's where we get the Lemon Dalmatian. It's not a special mixed breed; it's just a Dalmatian with light-colored spots. It's also different from a golden Dalmatian or a light-liver Dalmatian. If you know anything about Dalmatians, you're in luck. The temperament and care of a Lemon Dalmatian are the same.
More Dog Breeds: Best Types of Poodle Mixes.
Lemon Dalmatian Characteristics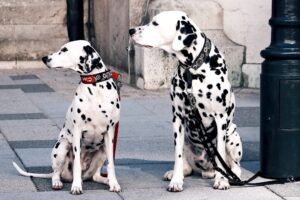 In body structure, Lemon Dalmatians look like standard Dalmatians. They grow up to 24 inches tall and weigh between 45 and 70 pounds. They are characterized by their lean, athletic build; long, thin legs; and lengthy, slender tails. Like standard Dalmatians, Lemon Dalmatians have one of the most distinctive coats in the world.
Not many animals sport spots and the Lemon Dalmatian's spots are a beautiful shade of light yellowish-tan. Dalmatians are also known for their floppy ears. Some dawn spots on their ears, while others have a solid color. Lemon Dalmatians can have yellow-spotted ears or solid yellow ears.
More Dog Guides: How Many Dog Breeds Are There in the World?
Lemon Dalmatian Temperament
This stunning, medium-sized dog breed comes with a lot of love and enthusiasm. Lemon Dalmatians are very friendly dogs with excellent personalities. They love to be around people and quickly fall in love with their owners, who fall in love with them right back.
Lemon Dalmatians tend to draw on their ancestral line of horse guards and coaches, making them naturally protective of their masters and families. Because of this, they can be a little wary of strangers and exceptionally suspicious of intruders.
In many cases, this is an excellent attribute to have; your Lemon Dalmatian will always have your back and protect you. But in other cases, their natural protective instinct and fear can make them aggressive. Many exhibit this aggressiveness with barking, but others may take things more seriously.
A Lemon Dalmatian's protectiveness can also extend to other dogs. Many Dalmatians require single-dog homes, as they are not very welcoming of intruders. They can be very territorial, making it difficult for their families to adopt more than one pet.
What they lack in friendliness towards strangers, these dogs make up for in friendliness and playfulness. They may bark at the mailman, but they'll always be loving and affectionate with their owners.
Related: Friendliest Dog Breeds With Images.
Lemon Dalmatian Exercise Requirements
Dalmatians were initially bred to serve as horse guards, so it makes sense that they have incredible athletic abilities and lean, muscular bodies. It also makes sense that the breed would have plenty of energy—and they certainly do. Lemon Dalmatians are very energetic dogs and require regular exercise.
The breed needs at least two 30-minutes walks per day, plus an hour or more of additional exercise. Lemon Dalmatians are excellent hiking buddies who will go on long journeys with you. When appropriately trained, they also make great jogging partners.
It's a fantastic way for you and your dog to get some exercise. This breed also enjoys physical playtime like fetch and tug of war. It's very important to exercise your Lemon Dalmatian. When this breed has too much energy stored up, it can cause them to misbehave and get into trouble. They need physical exercise, but they also require mental stimulation.
Dalmatian Product Recommendations: Best Dog Playpen For Hardwood Floors and Best Weighted Vest For Dogs.
Lemon Dalmatian Diet
Because Lemon Dalmatians are the same breed as standard Dalmatians, they have the same dietary requirements. All Dalmatians lack a specific enzyme that dogs need to digest protein in foods. Since they cannot properly digest protein sources as efficiently as other dogs, they require a diet with smaller protein portions.
Thankfully, plenty of Dalmatian-specific dog food formulas are ideal for Lemon Dalmatians. Talk to your vet for recommendations and avoid feeding you Lemon Dally raw meat. Ensure he also gets plenty of water, which will help.
Dalmatian Food Recommendations: Best Soft Dry Dog Foods and Best Dehydrated Dog Food.
Adopting a Lemon Dalmatian
Since Lemon Dalmatians are so rare, it's not very likely that you'll run into one at the local shelter. It may take some time and serious searching to locate a breeder who has one available. And as eager as you may be to jump on the opportunity to own this beautiful dog, it's still critical to research high-quality, responsible breeders.
How Much Do Lemon Dalmatians Cost?
When purchasing a Lemon Dalmatian puppy from a responsible breeder, you can expect to spend anywhere between $1,000 and $3,000. Because the dog's unique coloring is due to a genetic mutation, it's rare to find one.
The rarity of the coat makes this Dalmatian generally more expensive than a standard Dalmatian, even though they are the same breed. Standard Dalmatian puppies typically run anywhere from $500 to $1,200. If you're lucky enough to find a Lemon Dalmatian at a shelter, you will be able to adopt it for a significantly lower cost.
How to Find a Responsible Lemon Dalmatian Breeder
Any well-informed animal lover or pet owner will tell you how crucial it is to work with a responsible breeder, but how do you determine if a breeder is reputable? A reputable, responsible breeder treats their dogs and puppies with love and proper care—not one who pumps out puppies in loads like puppy mills.
The best way to determine if a breeder is doing this is to meet them in person, if possible, and see their facility and conditions. Responsible breeders also have lots of experience, knowledge, and a solid application process. Good breeders understand the value of a purebred dog and should be invested in its puppies' future homes.
Many reputable breeders are also registered with the AKC. If so, they should be able to provide you with this paperwork along with health certifications for their dogs and offspring. Lastly, female dogs should be limited to three liters in their lifetime. If you find out a breeder is forcing more than that on their females, walk away and find someone else to work with.
Lemon Dalmatian Frequently Asked Questions
Whether you're curious about the Lemon Dalmatian or considering adopting one for yourself, you may still have questions about the breed. Use our frequently asked questions as an additional guide.
Is a Lemon Dalmatian a Purebred Dog?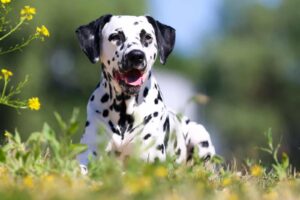 Purebred means that a dog has been bred by a male and female dog of the same breed. Lemon Dalmatians come from only other Dalmatians, so although their genetic mutation changes their spot color, it doesn't change anything else.
In short, yes—Lemon Dalmatians are purebred. It's important to realize there is a distinction between purebred and breed standards, as Lemon Dalmatians do not meet the latter and are not considered breed standards by the AKC.
Are Lemon Dalmatians Hard to Train?
All types of Dalmatians are highly trainable dogs. The breed's history as working dogs certainly makes them naturally trainable, while their athletic ability and overall intelligence give them an extra boost. Lemon Dalmatians are particularly impressive during obedience training. They are loyal pets who love to please their masters.
But Dalmatians are also very sensitive dogs. They do not do well with harsh treatment. Instead, focus on firm training with positive reinforcement. Be sure to exercise tons of patience, but maintain your dominance over your puppy. Lemon Dalmatians can quickly assert themselves as the pack leader, so they need to know who is in charge.
Do Lemon Dalmatians Shed?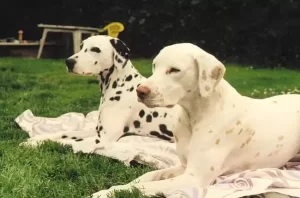 Lemon Dalmatians have single-layered coats, which means they have less hair than other dogs. However, they still shed regularly throughout the year. Even though this breed has short, smooth hair, you will still find it on your floors, furniture, and clothing. Brushing your puppy a few times a week with a rubber-toothed comb can help minimize shedding by removing loose hairs.
Can Lemon Dalmatians Compete in Dog Shows?
Unfortunately, Lemon Dalmatians are considered flawed dogs according to the breed standard. For this reason, they cannot compete in official dog shows. Other features that we find adorable that show judges do not include blue eyes, patches, and kinked tails.
What is a Lemon Long-Haired Dalmatian?
Like a dog's yellow spots, its hair length is determined by genetics. Earlier, we mentioned that the lemon color of this unique breed has to do with a genetic mutation. The hair length of a dog also deals with recessive and dominant genes. Any Dalmatian can be long-haired.
However, because the long coat is a recessive gene, it doesn't display as often as the short coat does. Lemon long-haired Dalmatians are simply Dalmatians with the yellow mutation and the recessive long-hair gene. Again, like a Lemon Dalmatian coloring, the long coat is not considered a breed standard in most cases.
Conclusion For "Lemon Dalmatian Information, Facts, Images"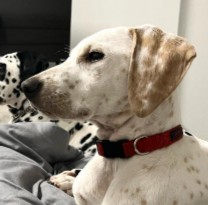 You're not looking for a dog for the sole purpose of competing in AKC dog shows. If you are, then the Lemon Dalmatian is not for you. But if you love the way this dog looks—and we can't blame you—then this could be your next pet. As the standard Dalmatian, Lemon Dalmatians take a lot of time, work, and patience to raise and train.
They can quickly become aggressive, dominant, and troublesome if they don't receive proper training and exercise. But this breed is loyal, loving, and friendly. Lemon Dalmatians love to play, train, and exercise and will stick by your side through anything.
If you enjoyed reading this guide, "Lemon Dalmatian Information, Facts, Images," you can check out:
For more information on the lemon Dalmatian, you can learn more by watching "Different Types of Dalmatian Colors That Are Popular Today" down below:
Garrett loves animals and is a huge advocate for all Doodle dog breeds. He owns his own Goldendoodle named Kona. In addition, he volunteers at the Humane Society of Silicon Valley, where he fosters dogs and helps animals. Garrett enjoys writing about Doodles and believes that dogs can teach humans more about how to live than humans can teach a dog.
Why Trust We Love Doodles?
At We Love Doodles, we're a team of writers, veterinarians, and puppy trainers that love dogs. Our team of qualified experts researches and provides reliable information on a wide range of dog topics. Our reviews are based on customer feedback, hands-on testing, and in-depth analysis. We are fully transparent and honest to our community of dog owners and future owners.