Recently, there has been a surge of Labradoodle puppies in Virginia. It almost seems like every dog park that you visit has one of these hybrid dog breeds. This special Labrador Retriever and Poodle mix is beginning to really catch on because of their mostly hypoallergenic and nonshedding fur coats. In addition, Labradoodles come in several coat colors like chocolate, beige, cream, apricot, and white so you can choose your favorite color.
With a clear focus on honoring the uniqueness of this loyal and easygoing dog breed, we found the Top 5 Labradoodle breeders in Virginia. These families ensure your future best friend receives around-the-clock care and the socializing they need to integrate seamlessly into your family.  The good news is that there will be several Labradoodle breeders seeking permanent homes for their puppies and the waitlists aren't currently too long.
Our list of the best Labradoodle puppy breeders in Virginia was created from several resources including our own independent research, the Australian Labradoodle Association of America (ALAA), and the Worldwide Australian Labradoodle Association (WALA).
1. Poppins Australian Labradoodles Virginia
Leslie and Rick Poppins fell in love with the Labradoodle a little over five years ago and decided to devote their farmland to replicating the joy this delightful breed has brought to their family. 
Autumn 2020 should be an interesting season at Poppins Labradoodle farm.  Poppins Labradoodle named Polyanna and By the Bay's Labradoodle named Hodge Podge are offering their litter of sweet and stunning chocolate, caramel, and cream puppies, with possible white mismarks (or should we say birthmarks?) for adoption.  Stay carefully tuned to this channel because the snuggly, athletic Labradoodle named Honey plans to breed with Hodge next.  They breed mini Labradoodle puppies in Virginia and you can expect them to continue breeding in the future.
All breeding dogs go through an extensive panel of tests and are cleared for joint or eye problems before breeding. This allows the Poppins family to offer a 2-year genetic health warranty on all of their Labradoodle puppies sold.  They will pay all veterinary expenses associated with the genetic condition of your Labradoodle if something happens.  The cost for one of these Labradoodle puppies is $2,800. We strongly believe this is one of the best Labradoodle breeders in Virginia because they are certified by the Australian Labradoodle Association of America (ALAA) which mandates health checks.
Labradoodle Breeder Information:
2. Lumar Australian Labradoodles in Virginia
Situated along a tributary on the sparkling Chesapeake Bay, Virginia, the Whitman family runs a highly selective multigenerational Australian Labradoodle breeding venture.
If you are planning to begin, or add to, your canine family, the Whitmans are consistently breeding their dogs year-round. One of their latest litters was from the Labradoodles, Mabel and Jack.  The litter included stunning red and non-shedding silky fur.  This is Labradoodle stud Jack's first litter with the Whitmans, and Mable's last litter.  The babies will be mini Labradoodles that range from 17 to 25 pounds at maturation. The dog litter had a perfect combination of Mabel's passion for life, and big brown eyes, and Jack's wise personality and determined athleticism. 
The investment for a lifetime of love with one of these special puppies is $3,300 with a $500 dollar deposit and includes a 2-year genetic health guarantee, early socialization with dogs, cats, and children, and all age-appropriate vaccinations. This Labradoodle puppy breeder in Virginia is highly certified by both ALAA and WALA. In addition, they can also show you the health certifications for all their Labradoodle studs and dams.
Labradoodle Puppy Information:
Labradoodle Breeder Information:
3. Great Bridge Australian Labradoodles
The folks here at Great Bridge believe in life-long learning, so they've partnered with BAXTER & Bella's online training school to give their pet parents lifetime access to all the training modules and online coaching classes they could ever hope for at 25% off.  Believing just as much in the power of a nurturing environment, all of their breeding Labradoodle dams live in guardian homes across the greater Chesapeake area in Virginia where they are treated as the treasured family members.
If you would like to adopt one of these easygoing and playful puppies you can also apply to be a guardian Labradoodle owner. you will be gaining a permanent family member and you'll only have to spare them for a few days at a time for 4-5 breeding periods. After that, Great Bridge will sign over all parental rights to you. It's a great way to get an extremely low-cost Labradoodle puppy in Virginia.
If you want a companion Labradoodle puppy who will live only a life of luxury with you, the price tag is $3000, with a $200 discount for military, first responders, and Educators.  All 2020 litters are spoken for, but they will be accepting applications for 2021 litters as soon as their girls are bred, so keep checking back!
These are reputable Labradoodle breeders in Virginia because they are certified by WALA, ALAA, and the Australian Labradoodle Club of America. You can rest assured that they genetic test all of their dogs so you will be getting a healthy Labradoodle puppy.
Labradoodle Puppy Information:
Labradoodle Breeder Information:
4. Old Dominion Labradoodle Puppies in Virginia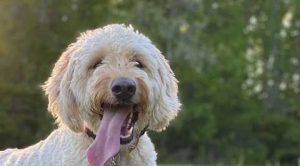 Michelle Darlene Reuter runs this small, home-based operation out of Leesburg, Virginia.  The Reuter puppies are exposed from birth to some fascinating socialization techniques including cats, orchard and mini-vineyard roots, and even chickens!  In addition, they even take their Labradoodle for a dip in the water on a hot southern summer day. Of course, it's a closely controlled environment but it's awesome that they expose their puppies to the real world at such a young age. This will significantly reduce stress and anxiety in your dog.
Old Dominion Labradoodles was born in the spring of 2018 and they started with the Labradoodle dog named Atlee who is a beautiful miniature tuxedo color with soft and wavy caramel fur.  Then when Atlee met Chance, she was immediately drawn to the swagger of his excellent hips and tantalizing chocolate and white tuxedo coat. The rest was history and Old Dominion Labradoodle breeders in Virginia was born.
If all goes according to their family plans, Atlee and Chance will have a very special Christmas announcement, and they'd like for you to make one of their Labradoodle puppies your own for $3000 with a $750 promise (deposit) that you'll love them as they do.
Again, they breed some of the healthiest Labradoodle puppies in Virginia. Old Dominion is certified by WALA and the Australian Labradoodle Club of America. They do OFA health testing on all of their Labradoodles as well as genetic testing.
Labradoodle Puppy Information:
Generation: Multigenerational Labradoodle puppies
Size: Medium and Mini Labradoodle puppies
Labradoodle Breeder Information:
5. Family Labradoodles VA

Labradoodles are one of the most empathetic dog breeds, and this family aims to match this empathy to give their puppies and dogs the safe, nurturing start they deserve.  Their Labradoodle puppies in Virginia are born entirely vulnerable, unable to see, hear, or regulate their own body temperature – something that leads to far too many infant dog deaths.  You can be assured that Mary and her family, which includes two teenage daughters, will monitor your Labradoodle puppy around the clock.
Their Labradoodle puppies are never left alone during these critical two weeks post-birth.  With dedicated exercise and socialization routines, along with proper nutrition, your puppy will come home to you as a well-adjusted mini version of the forever friend you'll cherish for life. 
With 12 prospective mamas and 11 future dads in a stunning cascade of silky chocolates, beiges, creams, and whites, it's no wonder the family is expecting soon!  Beginning with dark chocolate and white parti Labradoodles named Tesla and  Little Knickers, they will have three more adorable litters available soon.  Parti and solid-colored puppies are $3000, while merle colored Labradoodle puppies go for $3200. If you're looking for more exotic colored Labradoodle puppies in Virginia, this could be your breeder.
Labradoodle Puppy Information:
Generation: F1b multigenerational Labradoodle puppies
Size: Expected puppies range from mini to medium Labradoodle puppies
Labradoodle Breeder Information:
Address: Located in Yorktown, Virginia.
Phone: 757-898-1898
Email: familylabradoodles@gmail.com
Conclusion for Labradoodle Breeders In Virginia
Labradoodle puppies in Virginia are becoming extremely popular. If you're taking a walk around any major city or been to a dog park recently, I bet you have seen one of these doodle dogs. They are becoming popular because they don't shed fur and are great for people with mild pet allergies. We hope that you enjoyed our list of the best Labradoodle Breeders in Virginia!
Other articles you might like:
Garrett loves animals and is a huge advocate for all Doodle dog breeds. He owns his own Goldendoodle named Kona. In addition, he volunteers at the Humane Society of Silicon Valley, where he fosters dogs and helps animals. Garrett enjoys writing about Doodles and believes that dogs can teach humans more about how to live than humans can teach a dog.
Why Trust We Love Doodles?
At We Love Doodles, we're a team of writers, veterinarians, and puppy trainers that love dogs. Our team of qualified experts researches and provides reliable information on a wide range of dog topics. Our reviews are based on customer feedback, hands-on testing, and in-depth analysis. We are fully transparent and honest to our community of dog owners and future owners.