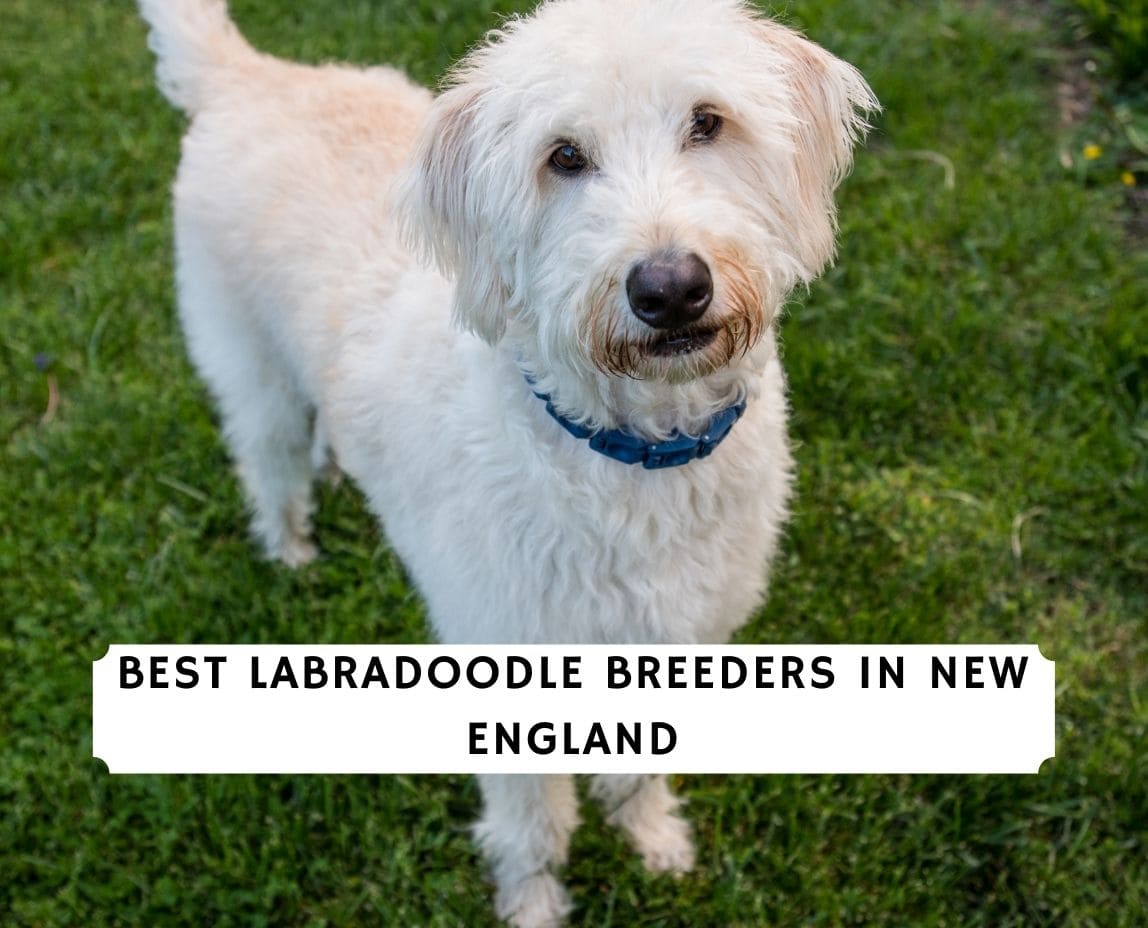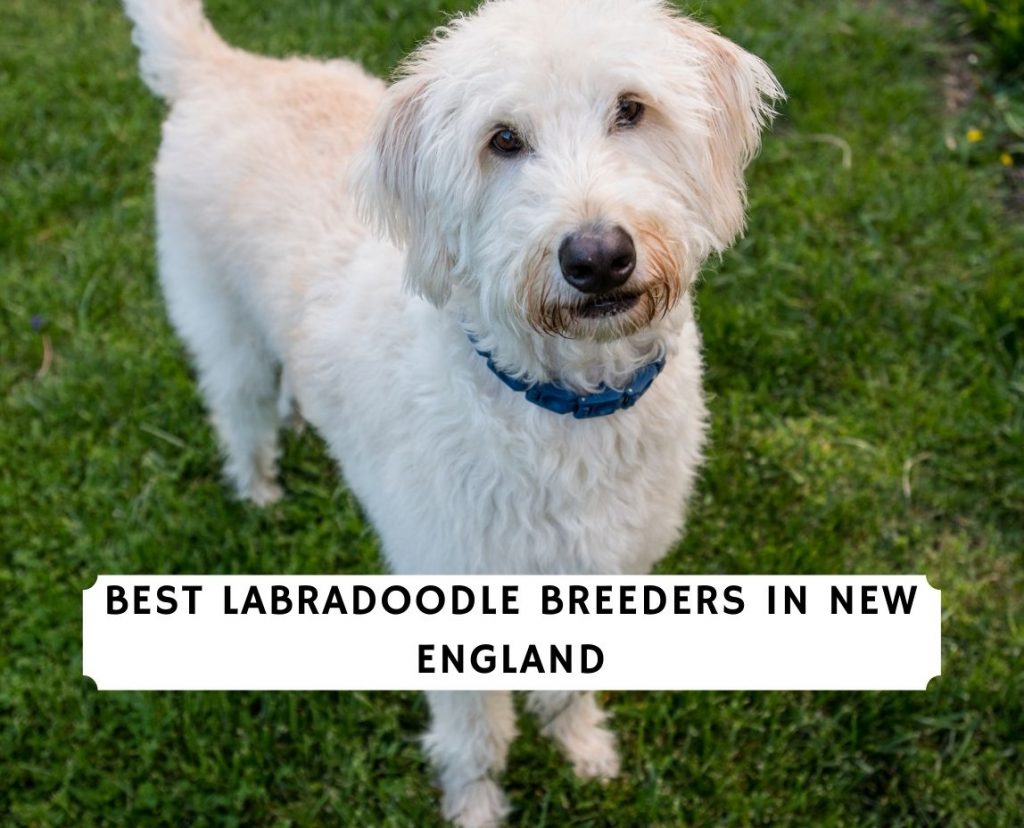 Love Labradors and Poodles? Can't decide which one to take home? Introducing the Labradoodle which is a hybrid that merges the best of both pedigrees!
The Labradoodle first made its appearance in 1989 when introduced to the Royal Guide Dog Association of Australia in Victoria by an Aussie Breeder named Wally Conron. The unique combination of a Labrador's loyalty and a Poodle's hypoallergenic traits shot the Labradoodles to popularity. Today, you'll find tons of Labradoodle puppies for sale in New England.
Not only are they considered one of the best family-friendly crossbreeds, but they also make excellent service dogs, therapy dogs, and guide dogs. They are now a favorite among pet-owners, especially in America. We put together our own list of the Best Labradoodle breeders in New England.
The Best Labradoodle Breeders in New England
If you are in New England and ready to bring home a Labradoodle pup, you can approach several reputable Labradoodle breeders based on your location. Ensure that your choice of a breeder is certified by reputable organizations that encourage ethical and consistent breeding like the Worldwide Australian Labradoodle Association (WALA), the Australian Labradoodle Association of America (ALAA), and the Australian Labradoodle Club of America.
Let us take a look at some of the top breeder options.
1. Southern Maine Labradoodles
Located in Maine, these breeders specialize in miniature and medium Australian or American Labradoodles. Puppies are raised alongside their families and are trained to socialize with both children and adults as soon as they're four weeks old.
In their thirteen years of service, Southern Maine Labradoodles have raised non to low-shedding, cheerful Labradoodle puppies in New England that have been a source of joy to many families. Their puppies are microchipped and fully vaccinated. Screening by OFA and PennHIP, along with CERF clearance and prcd-PRA DNA testing assures that you have the healthiest puppy possible.
Owners are given a blanket that smells just like the puppies' mom and siblings, along with toys and sample food that puppies are being fed to make their transition to your home more comfortable.
Southern Maine Labradoodles Information
2. Granite State Labradoodles New England
These Labradoodle breeders have nineteen years of experience in raising high-quality Australian Labradoodles. Their puppies enter the training phase as early as day 3. This includes socialization training with other pets, human interaction, and exposure to surfaces (concrete, grass, crates) to the environment (sights, sounds, and smells of household activities) to grooming and outside trips. All aspects of basic training and socialization are covered. Not only will you get a well-adjusted Labradoodle puppy in New England, but you'll also get a lifetime of expert advice and a two-year health guarantee.
Along with the microchipped puppy comes a 30-day pet health insurance through Trupanion, a detailed puppy information packet, a puppy blanket with the mother's scent, a toy, a puppy bow tie, their first vaccine, and a Granite State Labradoodle Bag.
Granite State Labradoodles Information
3. Kent Hills Australian Labradoodles
If you're in search of miniature Australian Labradoodles in Maine, you've come to the right place! Kent Hills has over ten years of breeding experience with nonshedding puppies. In the past decade, they've helped several families find a furry friend and companion!
Potential dog owners can inspect and purchase puppies only after they cross their eighth week. All their Labradoodle puppies for sale in New England are microchipped and are provided to you along with a two-year health guarantee, a physical examination by a licensed veterinarian, neutering or spaying agreement, deworming, two vaccinations, and all health records and certificates.
To make the puppies comfortable in their new homes, owners are given a comfortable puppy bed, leash, collar, toys, and 5-6 puppy meals.
Kent Hills Australian Labradoodles Information
4. Monadnock Labradoodles
Monadnock Labradoodles is a small breeder located in Southern New Hampshire. Their puppies have enviable temperaments as they are raised in a home (not kennel) environment. 
All their Labradoodle puppies are subjected to extensive health testing and are socialized with daily playtime and interaction with the family. Monadnock Labradoodles are recognized by organizations like the Australian Labradoodle Club of America (ALCA) and the Orthopedic Foundation for Animals (OFA). Thus, you can ensure that they are a reputable Labradoodle breeder in New England.
Monadnock Labradoodles Information
5. High Country Australian Labradoodles
Located in Keene, New Hampshire, High Country Australian Labradoodles is a small family-owned breeder of multi-generational (multi-gen) Australian Labradoodles. They breed and house miniature, medium, and standard allergy-friendly, wooly, or fleece-coated Australian Labradoodles.
They are licensed under the state of New Hampshire. Under the expert advice and watchful care of their licensed veterinarian, High Country Australian Labradoodles ensures that breeding parents undergo extensive testing (hips, elbows, heart, patella, eyes, etc.) to produce puppies of high health standards. This helps to ensure that you will be getting a puppy that is going to be healthy.
High Country Australian Labradoodles Information
6. Annabelle Doodles of New England (ADNE Labradoodles)
If you're in search of a boutique Labradoodle breeder in New England, you've come to the right place! Annabelle Doodles of New England (ADNE) only has about five litters in a year and focuses on handpicking and matching puppies with owners. They love the color black for their Australian Labradoodles. If you're in the market for a black puppy and don't mind a little wait, ADNE would be the perfect breeder for you.
The parent breeds are annually checked for any genetic or health issues. All their Labradoodle puppies in New England are microchipped, socialized, worm checked, temperament tested, and are health certified by a licensed vet. The puppies are ready for the transition to their new homes only after they turn nine weeks old.
They also provide their customers with a detailed generation pedigree and health records of both the puppies and their parents.
Annabelle Doodles of New England Information
More Information About Labradoodle Puppies in New England
Labradoodle puppies in New England have grown significantly in the New England region due to several reasons. We will highlight some of the top reasons why people pick the Labradoodle dog breed over any other dog breed.
Intelligence
Since both parents, Labrador Retrievers and Poodles, rank within the top 10 breeds for their intelligence, the hybrid offspring of Labradoodles are clever, intuitive, and enjoy being intellectually stimulated. They are an eager-to-please dog breed and require medium intensity training.
They are a joy to train as they obey commands almost at the first attempt. With a training success rate upwards of 95%, Labradoodle puppies are the quickest learners and highly obedient. Consistency and positive reinforcement are ideal when training a Labradoodle.
Temperament
These adorable dogs are loyal to a fault, obedient, and cheerful. They have a wonderful temperament but are known to hurtle towards, energetically jump, and play when happy.
Labradoodles aren't aggressive, but their high energy can sometimes disturb other pets and young children. Proper training can ensure that your Labradoodle knows when to reign in its eagerness. They have a Labrador's friendliness that makes them naturally sociable with children, adults, and other dogs.
Hypoallergenic
Poodles have long been loved for their minimal shedding and hypoallergenic coats. This is a genetic trait inherited by most Labradoodles. As such, they are considered hypoallergenic and nonshedding for the most part.
However, as Labradoodles are crossbreed, desirable traits such as hypoallergenic are often inconsistent in puppy batches. If you're worried about allergies, ask the breeder for a multi-gen puppy rather than a first-generation. It's also worthwhile to check genetic tests to ensure that your puppy will have a curly or wavy coat.
Coat Varieties
Since Labradoodles are a hybrid crossbreed, their coat varies in length, thickness, and texture—you can opt for straight, curly, shaggy, wavy, and more. Their coat color is equally diverse, and you can pick from a wide variety of colors like silver and grey, golden, white, black, red, cream, blue and brown, and chocolate.
Why Breeders Are Your Best Choice
You've considered your options, done your research, fixed your budget, and prepared your space to welcome a new furry friend. Now what? Unsure of where to buy puppies from. Undecided about purchasing from a pet store?
Let us help you! Labradoodle breeders are your best choice for healthy, friendly, and trained puppies for the following reasons:
Complete Puppy History
Most pet stores keep puppies from a puppy mill. As such, they have little to no knowledge of the puppy's lineage or medical history. Good breeders will provide you with all the information you need on the health, behavioral, and genetic history of the puppies that you choose. They also keep health, test, and vaccination records of all their puppies.
Happy, Healthy, and Trained Puppies
Most breeders look after the newborn puppies for 6-8 weeks after their birth. They are extensively trained for social interaction and obedience. This regular socialization makes them happy puppies, and the regular testing and vaccination provided to them keep them healthy.
An Encyclopedia on Dogs
As most breeders focus on breeding one or two kinds of breeds, they are also well-versed with those breeds' specificity. These breeders have conducted thorough research on the genetics, behavior, and health of the dogs they raise and use that knowledge to provide the best care for their puppies. They will also make every endeavor to ensure that the puppies' transition to your family is easy.
A Complete Lifetime of Puppy Guidance
Ethical breeders are always available to answer your queries even after you take their puppies home. They regularly contact you, understand your doubts, and even provide you with in-home assistance. Even in cases of health emergencies, responsible breeders will assist you in looking after your puppies.
Your Puppy is Never Homeless
If your situation changes and you can no longer keep your puppies, you are free to return them to the breeder. As they have an emotional attachment with the puppies they have raised, ethical breeders will help rehome your puppy. Thus, you can be assured that your puppy will be in the safest hands and loving home.
So, why wait? Pick one from these Labradoodle breeders in New England, and gift yourself or your loved ones a new, cute friend!
Hopefully, this guide helped you find your Labradoodle puppies for sale in New England. To help you prepare in advance, check out our Doodle guides:
If you're a fan of this Doodle breed, you might love the top 10 facts about Labradoodles:
Garrett loves animals and is a huge advocate for all Doodle dog breeds. He owns his own Goldendoodle named Kona. In addition, he volunteers at the Humane Society of Silicon Valley, where he fosters dogs and helps animals. Garrett enjoys writing about Doodles and believes that dogs can teach humans more about how to live than humans can teach a dog.
Why Trust We Love Doodles?
At We Love Doodles, we're a team of writers, veterinarians, and puppy trainers that love dogs. Our team of qualified experts researches and provides reliable information on a wide range of dog topics. Our reviews are based on customer feedback, hands-on testing, and in-depth analysis. We are fully transparent and honest to our community of dog owners and future owners.