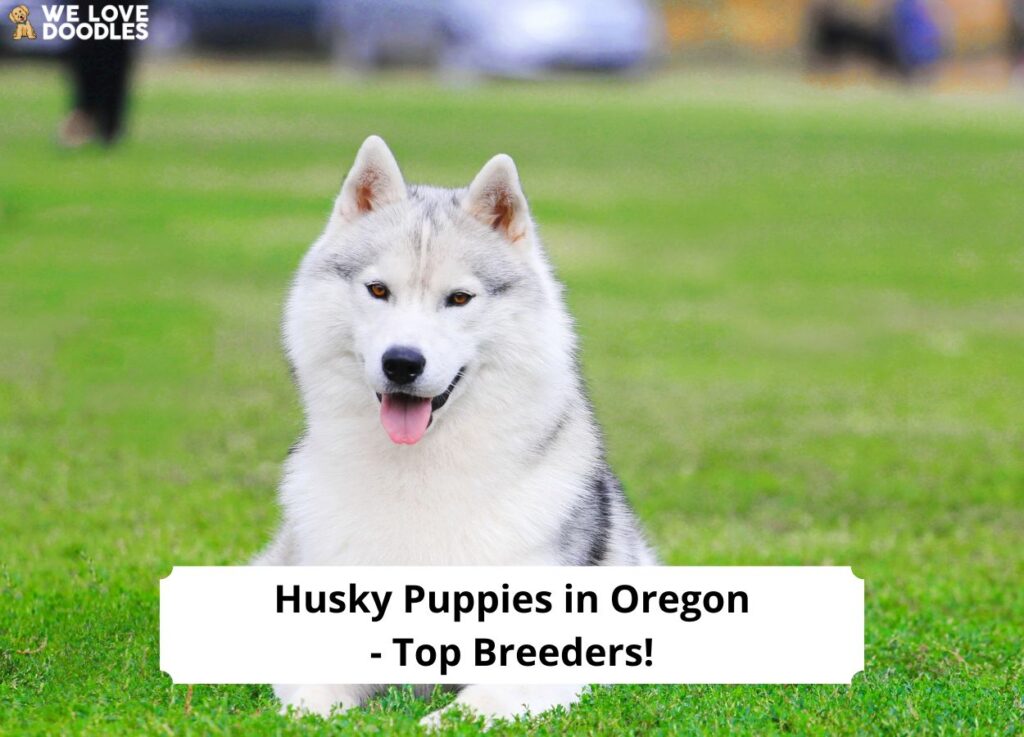 Are you searching for Husky puppies in Oregon? You've come to the right place. Huskies are gorgeous and athletic dogs capable of running miles while pulling heavy weights.
However, their athleticism can prove challenging for some owners, especially if they have busy schedules and can't exercise their Husky as much as it needs. For this reason, under-stimulated Huskies may develop problems like howling, digging, chewing, and separation anxiety.
Do you enjoy a consistently active lifestyle? Can you take your Husky out for a run and invest time in stimulating playtime daily? If so, then the majestic Husky is the right dog for you.
Below are five reliable Husky breeders in Oregon that raise healthy and well-adjusted puppies for sale.
Before you scroll down this list of breeders with Husky puppies for sale in Oregon, check out these articles: 51 Best Exotic Husky Names! (2023) and Best Shampoo for A Husky! (2023).
1. Kimuktuk K-TUK Huskies
First on our list is Kimuktuk K-TUK Huskies, a well-established breeder with over 35 years of experience in breeding and raising Huskies in the US. The breeder has a diverse selection of Husky bloodlines which it uses to produce dogs who conform to the breed's standards.
Kimuktuk K-TUK Huskies have a love of adventure, and they make excellent companions for those who enjoy an active lifestyle. In addition, their dogs have proven to be award-winning show dogs and loyal working dogs.
The breeding program at K-TUK Huskies has tested and proven bloodlines with years of history for good temperament, health, and intelligence. They also breed for beautiful colors, coats, conformations, and amiable personalities.
Most importantly, this breeder has decades of experience, so their Huskies are well-socialized, well-bred, and well-trained. They are also apt at finding the best fit for you from their litter.
The adoption process is a little longer than standard because the breeder wants to ensure their dogs go to the most suitable home. So, they will discuss the history of dogs, where they come from, and their personality with the potential applicant in detail, as all dogs are different even though they belong to the same litter.
Moreover, during adoption, the organization will provide you with a complete medical history of the dog from birth. The price will also depend on the dog's lineage, color, age, and history. The breeder also accepts a deposit to hold or reserve the puppy of your choice.
To get yourself a Husky puppy, contact the breeder, submit an application, and get the ball rolling.
Kimuktuk K-TUK Huskies Details:
2. Nordic Mini Husky
Nordic Mini Huskies are one the best Husky breeders in Oregon because their dogs are incredibly well-socialized. Their dogs live with the breeder in their home, where they're given attention, love, and care.
Another perk is that they never cage their puppies, nor do the puppies live in kennels. Instead, they spend most of the time playing and exploring, and at night, they all hop into beds and snuggle. All the dogs are free to play and roam the house to aid their socialization.
To adopt a dog, you must submit an online application and fill out a questionnaire.
Once the application is approved, all the dogs are bought to the veterinarian for medical care before going to their new home. They will be wormed, microchipped, and get their first shot.
For more information, we have mentioned details to check them thoroughly and read testimonials in order to get the best-fitting companion.
Nordic Mini Husky Details:
3. Oregon Pomsky (Meraki Moon Pomskies)
Meraki Moon Pomskies is one of the few well-known dog breeders in Oregon that breeds Huskies and Pomskies — a mix between Huskies and Pomeranians. This is a hobby breeder that produces only three to five litters per year, choosing to focus on quality over quantity.
The breeders at Oregon Pomsky guarantee the highest quality Pomsky puppies for the adopters, along with a high standard of ethics and a no-kennel policy. Their dogs roam freely on their property, interact with the breeder's family, and grow into strong dogs who can adjust to any environment.
The breeders have been working since 2015 and specialize in genetics, which helps in producing top-quality Pomskies.
The dogs are raised with children of all ages to get a headstart on socialization. The breeders focus on the physical, mental, and emotional health of puppies. Their puppies are well-loved, which means they are well-adjusted.
In addition, they take care of their dams; females are bred only four to five times in their life to ensure their health. Their price ranges start from $1,000 to $4,000 plus a $350 to $650 shipping fee that mainly depends on your location. All the puppies come with toys, a bed, a bowl, vet records, registration, food, a leash, and collars.
Why wait? Contact the breeder to get your Husky today.
Oregon Pomsky Details:
4. Tobotuk Siberian Huskies
Tobotuk Siberian Huskies is one of the few pet breeders in Oregon that raise award-winning Huskies on their 35-acre property in Eastern Oregon. The breeders live in the house, surrounded by a large field. The property also has 26 x 30 steel kennel buildings and ½ acres of fenced-off area for puppies to frolic and play.
The breeding program at Tobotuk began with a Husky dam in 1976, and the rush of a successful litter motivated the breeders to move their operations to a 35-acre farm in Oregon. Are you looking for show-quality Siberian Huskies to compete professionally or keep as companions? Tobotuk is the best choice!
They have a couple of award-winners in their pack, including Loden, who's ranked among the top 25 Siberian Huskies for two years in a row; Piper, a show winner with three majors; and Cody, a show winner with five majors, among others.
Contact the breeder via email or phone to buy a Husky from this AKC breeder of merit breeder.
Tobotuk Siberian Huskies Details:
5. Naketi's Siberians
Last on our list of breeders with Husky puppies in Oregon is another AKC breeder of merit called Naketi's Siberians. Their breeding program has purebred Huskies from multiple bloodlines, all cleared by OFA for hip and eyes.
Naketi, pronounced, Nah-Key-Tee, raises Huskies that conform to AKC's standards. The coat colors and markings are all AKC-approved.
Since they raise high-quality Huskies suitable for conformance shows as well as companionship, their puppies get booked quickly. Reserve a puppy well in advance by submitting an application and a deposit to get your hands on one.
The deposit you submit is not litter-specific — people who have paid the deposit before you will get the puppies before you. If you don't like a puppy or a litter, you can transfer your deposit to the next. Deposits are valid for up to three years.
All puppies are well-loved, well-bred, microchipped, desexed, vaccinated, and dewormed while they are being raised for adoption. You can get your puppy between eight to twelve weeks. The puppies come with a puppy pack that includes premium quality puppy food. Moreover, all puppies are AKC registered.
The best way to reserve a puppy is by emailing the breeder. The breeder also offers national and international shipping; you can get a Husky anywhere in the United States, Canada, the UK, and Germany for an additional cost.
Naketi's Siberians Details:
How to Choose the Best Husky Puppies in Oregon
Husky Puppies have become popular as a breed with lively personalities and high intelligence. Here's how you can choose between the best breeders offering Husky puppies for sale in Oregon:
Choose the top 10 breeders in your area and verify their authenticity by reading online reviews, and testimonials, visiting their social media accounts, and browsing their websites.
Once you've weeded out the suspicious breeders, visit the remaining breeders on your list in person. While you are visiting, ask the staff and breeders about the breed, their breeding program, health testing, socialization program, and other relevant questions. Good breeders can always satisfy you with their answers.
During your visit, ask the breeders about their affiliations. Do they belong to any national or international club? Are they registered with the AKC? Have they won any merits? Breeders with affiliations and awards are more rigorous with their breeding practices; hence, their puppies are likely to be more healthy and well-adjusted.
Ask the breeder about their screening process. How do they choose applicants? Breeders that care about their dogs will not give puppies to just anyone.
Ask the breeder about the vaccination schedule, deworming, and spay/neuter surgeries.
Finally, ask about the price of a puppy and the services the breeder provides at that cost, e.g., some breeders will give a complimentary puppy pack with food, toys, and registration.
By following these tips, you can be sure you're choosing a Husky breeder in Oregon who can provide the perfect companion for you and your family.
Frequently Asked Questions
How much should you pay for a Husky puppy?
A Husky puppy can cost anywhere from $800 to $1,500, although they can easily command a higher price from a reputable breeder. Pomsky puppies can cost between $2,000 to $5,000, depending on their coat.
Is it difficult to own a Husky?
It's true that Huskies are smart, high-energy, vocal dogs. As such, they will need sufficient training plus regular exercise and mental stimulation to remain happy and healthy.
How long do Huskies live?
The life expectancy of a Husky is 12 to 15 years.
Conclusion for "Husky Puppies in Oregon – Top Breeders"
Husky puppies are one of the best pets you can have, and there are many breeders in Oregon where you can get one. If you want to buy from an experienced breeder, consider Kimuktuk K-TUK Huskies. Otherwise, if you wish to get a home-raised puppy, give Nordic Mini Huskies a chance.
Similarly, you can get show-quality dogs from Naketi's Huskies and Tobotuk, while Oregon Pomsky is excellent for those looking for Husky mixes. Use this helpful list of Husky breeders to find your new furry friend.
For more guides similar to this list of breeders with Husky puppies in Oregon for sale, you can check out:
Before you bring home a Husky companion from a breeder in Oregon, you can learn more about this dog breed by watching "Siberian Husky: The Pros & Cons of Owning One" down below:
Garrett loves animals and is a huge advocate for all Doodle dog breeds. He owns his own Goldendoodle named Kona. In addition, he volunteers at the Humane Society of Silicon Valley, where he fosters dogs and helps animals. Garrett enjoys writing about Doodles and believes that dogs can teach humans more about how to live than humans can teach a dog.
Why Trust We Love Doodles?
At We Love Doodles, we're a team of writers, veterinarians, and puppy trainers that love dogs. Our team of qualified experts researches and provides reliable information on a wide range of dog topics. Our reviews are based on customer feedback, hands-on testing, and in-depth analysis. We are fully transparent and honest to our community of dog owners and future owners.