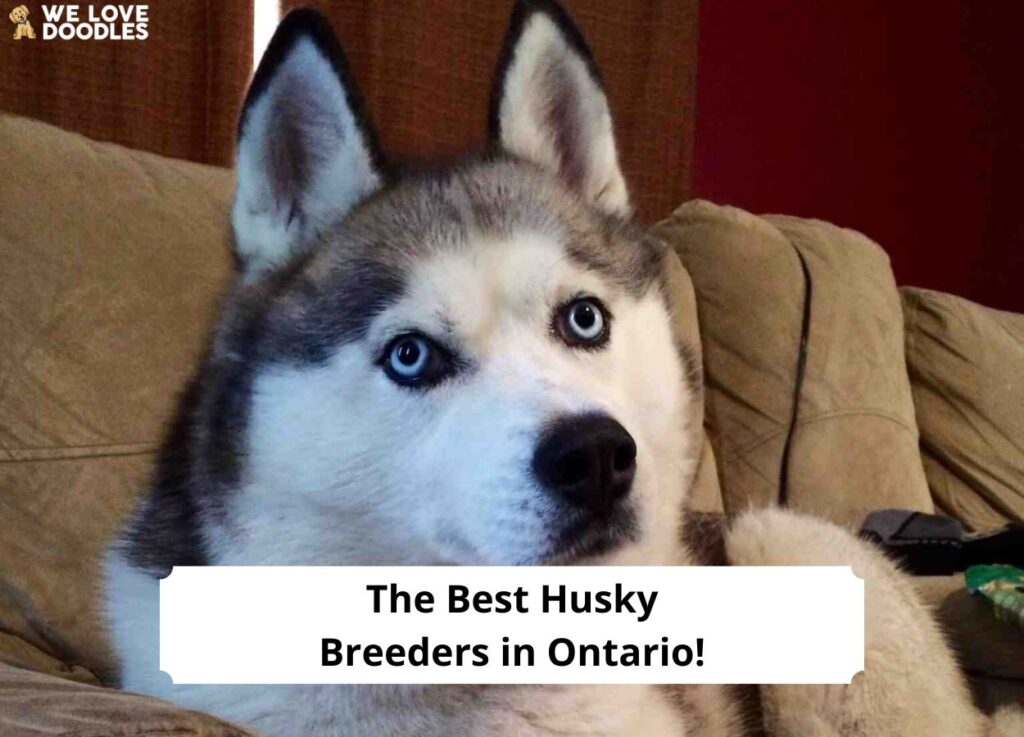 We have the perfect guide for you if you are looking for Husky breeders in Ontario. Husky puppies are not only adorable, but they're also powerhouse companions who will stick with you through thick and thin.
Huskies are very energetic dogs that require a high-protein diet. They are built to withstand extreme cold and their padded fur can protect them from temperatures below 40 degrees. On the other hand, they shed quite a bit and require professional grooming at least twice a year to contain their coat.
Huskies require a lot of outdoor exercises, and a fenced-in yard will be necessary to contain them. Because Huskies are pack dogs, they will come to think of their owners as their pack, so you must understand this before deciding to purchase one.
Getting a Husky is a long-term commitment, and any breeder you contact will want to make sure that you are indeed the forever home for their puppy. Let us look at some breeders you can contact to find your Husky puppy today:
Before scrolling down this list of Husky breeders in Ontario, check out these related articles: Best Dog Rescues in Ontario and Best Rottweiler Breeders in Ontario.
1. Kybra Kennels
Kybra Kennels believes in 'connecting people with puppies.' They are a Canadian Kennel Club (CKC) recognized breeder that believes in producing the highest quality Siberian Huskies and Portuguese Water Dogs.
Many of their Huskies have blue eyes, but some have black and brown eyes. All of their puppies are healthy and are given frequent veterinarian checkups, so you can be assured that you are purchasing a perfect Husky.
If you are interested in purchasing a Siberian Husky puppy, you can browse their available puppies online. Once you have chosen one that you like, read this breeder's suggestions:
Kybra Kennels encourages interested applicants to learn about the breed and the investment it will take to keep a Siberian Husky.
After you have made up your mind and everyone in your family is on board, you must fill out an application form.
To have your name placed on the waiting list, you will need to deposit $200. This will result in keeping your place during the waiting process. If for some reason, you cannot take a puppy, and your turn comes up, you can defer your turn for a later time without having to make another deposit.
You will need to watch the upcoming litter page once your name is on the waiting list. Your name will appear once it is your turn to choose a puppy.
Once your turn comes up, you will be invited to visit the kennel to pick up your puppy. If you cannot visit the location, you can choose from the selected puppies online.
At eight weeks of age, the puppy is ready to go home. It has been weaned and given the necessary vaccinations. The balance of payment is due at this time, and all paperwork will need to be signed. This includes the adoption contract, purchase agreement, and non-breeding agreement.
Kybra Kennels Details:
2. Copper Sky Huskies
Copper Sky Huskies is located in Southern Ontario and believes in providing a family environment to all puppies bred and raised on the premises. They are looking for loving forever homes that value the puppies they produce.
Copper Sky will provide lifelong support to any family purchasing a puppy. They have an overview on their website of what it is like to raise a Husky and why or why not this specific breed of dog would be a good choice for your family.
If you are interested in adopting from Copper Sky Huskies, you can look at their previous litters and keep checking their webpage to see when they will have a new brood. Their adoption process is similar to other breeders:
They will ask you to fill out an application form.
If you are shortlisted, you will be interviewed via phone.
You will then be put on a waiting list where you will wait until it is your turn.
Once it is your turn, you will be asked to select a puppy.
At eight weeks, the puppies will be picked up, and you will be asked to pay the balance.
Copper Sky Huskies Details:
3. Okiok Siberian Husky Kennels & Cattery
Okiok Siberian Husky Kennels & Cattery has Husky puppies for sale in Ontario, and in addition to Husky puppies, they also have adult Huskies for sale.
The breeders at Okiok Siberian Husky Kennels & Cattery have over 50 years of experience selectively breeding highly intelligent Siberian Huskies. They take pride in their breeding practices and use advanced genetic techniques to ensure that all puppies born in the kennel are healthy.
Their puppies are well-socialized, and all their dams and sires are on-site and given special attention. The breeder is committed to staying in touch with all individuals who purchase puppies from them.
They are looking for loving and permanent homes for their puppies. In addition to breeding Husky puppies, they also have a boarding facility for cats, dogs, and horses.
They also sell unique Western wear and jewellery, including wedding wear. Their tack shop has something for the whole family.
If you are interested in purchasing from Okiok, then you should contact them with the information below. They are open from Monday-Friday, 9 am to 5:30 pm.
Okiok Siberian Husky Kennels & Cattery Details:
Location: 35619 Salem Road, RR8, Parkhill, Ontario N0M 2K0, Canada
Phone Number: 519-294-0494
4. Sierra's Hope Siberians Reg'd
Sierra's Hope Siberians Reg'd raise Husky puppies in Ontario for sale. Their Siberian bloodlines are known throughout Canada and North America.
Their puppies are recognized by Siberian Husky show enthusiasts and have been featured in Grand Champions, Best Puppy in Group, and Best Puppy in Specialty Show. These Huskies have some of the best temperament and socialization skills in the country.
Sierra's Hope has a reputation for being one of the best Siberian Husky breeders in Ontario. To adopt a puppy from this breeder, contact them directly via phone, and they'll get in touch with you for further details.
Sierra's Hope Siberians Reg'd Details:
5. Husky Alpaca Ranch
If you have tried the breeders mentioned above and still need help finding what you are looking for, then try Husky Alpaca Ranch.
Husky Alpaca Ranch is a unique farm that has been raising alpacas for over 15 years. Taryn and Rob began raising alpacas in 2004, and in 2014 they added Siberian huskies to their herd.
Each spring, they shear the alpacas and use the fleece to produce clothing and other wool products. Husky Alpaca Ranch also raises its alpacas for meat, unlike most other alpaca farms in Ontario. This sustainable, no-waste practice results in natural-coloured alpaca hides and high-quality fibre products.
The Huskies are raised with the alpacas. Since they are exposed to livestock and the visitors that frequent the farm for wool, meat, and hide, they are friendly and sociable. They enjoy running in the fields and playing in the snow and grass.
To get a Husky puppy, you will need to register your interest by filling out their online form. All puppies are sold on a non-breeding CKC registration. Puppies are ready to be taken to their new homes when they are 8 weeks old and have received their first dose of vaccinations.
You will need to submit a $500 deposit to reserve a puppy that will go towards the total cost of $1800.
Husky Alpaca Ranch completes our list of Husky breeders in Ontario. You are now all set to choose one and purchase your adorable Husky puppy today.
Husky Alpaca Ranch Details:
Location: 25 Davis Avenue, Port Washington, New York
Phone Number: 516-883-7575
How to Choose a Husky Breeder in Ontario
When looking for a Husky breeder, you want to make sure that you learn about the breed and what is involved in raising a Husky puppy. Moreover, you should choose one that is Canadian Kennel Club (CKC) recognized because there are specific standards that CKC-bred dogs have to abide by.
You should also ensure that your breeder is not a puppy mill breeder who is only out to make a profit. If the breeder is willing to take the puppy back if it doesn't work for you, that is a good sign that they care about their litter and are not ready to sell to anyone.
Look for breeders that care about who the puppy will be sold to. It may be tedious for you to be questioned and referenced, but at least you know they are looking out for the puppy's best interest.
More Information About Husky Breeders in Ontario
There are many Husky breeders in Ontario, but looking for the right one will require market research and patience. You will want to ensure that the breeder you choose will let you visit the puppy and, at the very least, answer all of your questions on the phone.
If you have a list of questions ready to go, that would be better when making phone calls. Any breeder that only takes cash and is not very knowledgeable about the breed should raise a red flag as a possible scammer.
If the breeder is asking for more than a deposit upfront, that is also an indication that you probably are dealing with someone who is not honest.
FAQs
Is A Husky a good family dog?
Huskies can be great family dogs. However, to maintain their good nature and health, they require plenty of exercise, training, and mental stimulation. This breed is best for active families who spend plenty of time with their dogs.
What two dogs make a Husky?
Siberian Huskies are considered to be one of the oldest dog breeds, and it's uncertain which breeds they are specifically linked to. They were bred by the Chukchi people, who spent thousands of years perfecting the dog breed. Siberian Husky bloodlines show genetic roots in the Spitz family and seem to be related to ancient dogs of Lake Baikal, and the historical East Siberian dogs.

Alaskan Huskies, however, have been bred specifically for working abilities, and have been crossed with many breeds because of this. They are most often a mix of Siberian Husky, German Shorthair Pointer, Greyhound, and Eskimo dogs.
What breed group are Huskies?
Huskies are in the Spitz breed family. Spitz dogs can be identified by their pointed ears, thick coats of medium-to-long fur, and long muzzles. Their size can range from large to small breeds. Spitz breeds are known for intelligence, loyalty, independence, and for making mischief. Huskies are also categorized as a working breed because of their history as sled dogs.
Conclusion For "The Best Husky Breeders in Ontario"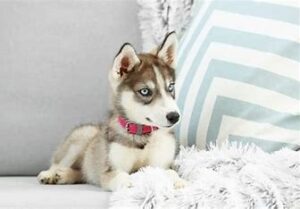 Huskies are a great dog breed for their intelligence, conformation, and companionship. They thrive in cool weather and love snow.
Before choosing to purchase a Husky puppy, be sure to understand its breed-specific needs. They are energetic dogs that need both exercise and mental stimulation to keep them happy. Their coats require regular maintenance due to shedding. Finally, quality high-protein dog food will help Huskies live a long and healthy life.
Once you're certain about a Husky, start with our list of great Husky breeders in Ontario, Canada that you can use to start your search today. With some luck and persistence, it will be no time before you find the perfect Husky puppy.
For more guides similar to this list of Husky breeders in Ontario, check out these guides:
Before you bring home a Husky from a breeder in Ontario, you can learn more about the breed by watching "Siberian Husky Dog Breed Information | Dog World" down below:
Garrett loves animals and is a huge advocate for all Doodle dog breeds. He owns his own Goldendoodle named Kona. In addition, he volunteers at the Humane Society of Silicon Valley, where he fosters dogs and helps animals. Garrett enjoys writing about Doodles and believes that dogs can teach humans more about how to live than humans can teach a dog.
Why Trust We Love Doodles?
At We Love Doodles, we're a team of writers, veterinarians, and puppy trainers that love dogs. Our team of qualified experts researches and provides reliable information on a wide range of dog topics. Our reviews are based on customer feedback, hands-on testing, and in-depth analysis. We are fully transparent and honest to our community of dog owners and future owners.