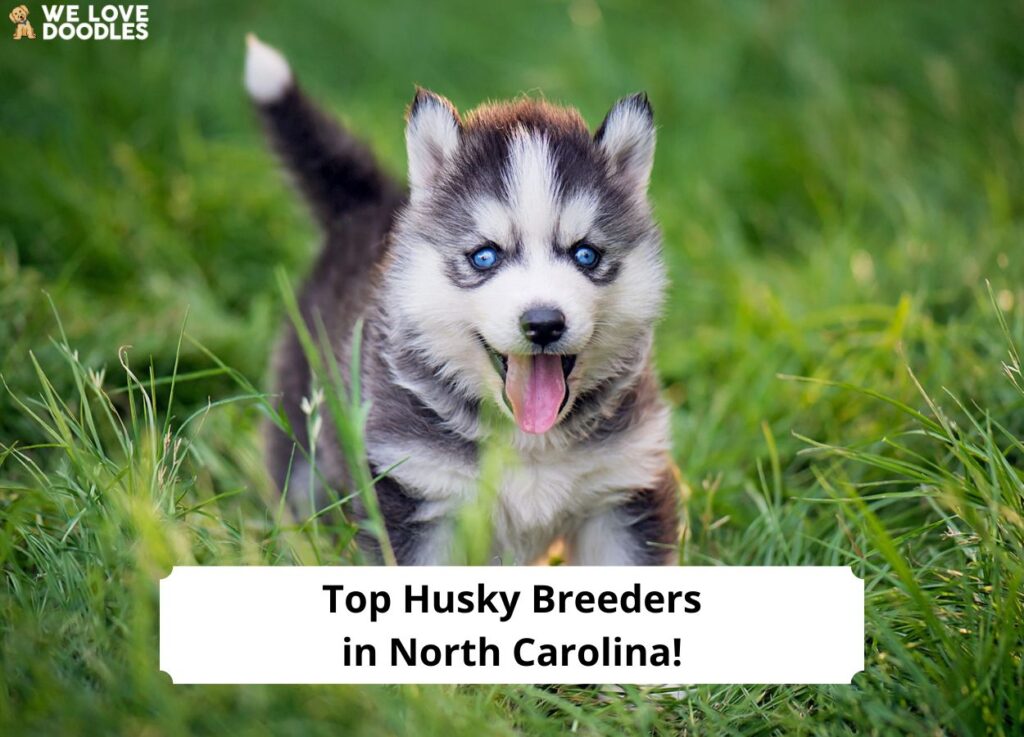 If you are on the lookout for high-quality and reliable Husky breeders in North Carolina, then look no further. This guide lists the best Husky breeders in North Carolina – breeders who strictly adhere to breed standards and raise their Husky puppies in loving environments.
Huskies are a big commitment. They are great family dogs but not fierce protectors. Their downfall in some households is that they need a lot of mental stimulation and exercise. Huskies are trainable, but mischievous and are not as eager to please their owners as other working breeds. They are also very vocal dogs that may not be suited for apartments.
The good news is that the Husky breed is known for having good health. They are medium-sized dogs with an average life expectancy of 12-14 years.
So, if you've decided that a spunky and energetic Siberian Husky is the right pet for your household, then please contact one of these reliable Husky Breeders in North Carolina mentioned below. They will help you find a healthy and beautiful Husky puppy.
Where to Find Husky Puppies for Sale in North Carolina?
Before reading this list of Husky breeders in North Carolina, check out these recommendations by our team at We Love Doodles: Exotic Names for a Husky and Best Tug Toys for Dogs.
1. My Siberian Husky
My Siberian Husky is an AKC- inspected and approved Husky breeder located in Charlotte and Lincolnton NC. They have been breeding AKC Huskies for over 20 years. The founders behind this wonderful Husky breeding facility are dog lovers first and breeders second.
Their puppies are all born at home and they are never far away from them. They raise their puppies inside their homes too, meaning they are socialized with kids and other dogs. All breeding dogs are health tested and the puppies receive excellent veterinary care and health checks before being rehomed.
My Siberian Husky also offers a lifetime genetic GUARANTEE against Genetic Defects in exchange for another puppy. This shows that the breeder is sure about their dog's health. If you want your Husky puppy shipped to you, you will need to pay a separate fee. Since the welfare of their dogs is their top priority, they prefer new owners to drive down and pick up their new puppy.
Please call or text My Siberian Husky on the details below.
My Siberian Husky Details:
2. Pilot Mountain Siberian Huskies
Daniel and Brenna are the reputed owners behind Pilot Mountain Siberian Huskies. They are located in the gorgeous mountains of NC. Their 'Sibe-Tribe' as they call it consists of AKC-registered Siberians.
Pilot Mountain Siberia Huskies currently have five huskies, including one retired breeding dog. They have many eye and coat colors. Examples of past litters show puppies that were black, brown, grey, and red. However, they can't guarantee the coat color of the puppy will be their adult color.
This breeder only breeds dogs for health and beauty and not just for quantity to make money. Daniel and Brenna truly care for their dogs' welfare. All breeding dogs are checked for genetic issues and only bred after they are cleared for joints, heart issues, and eyes.
Pilot Mountain Siberian Huskies Details:
3. The Husky Patch
The founder of The Husky patch, RT Burkey is a reputable breeder of German Shepherds and Siberian Huskies in North Carolina. They have been breeding Huskies for over 16 years. The Burkeys carefully select their dams and sires based on genetic purity, robust health, and social demeanor.
They are conveniently located in Cameron, NC so you can easily drive over to pick up your Husky puppy if you live in North Carolina. If you live a couple of states away, the Burkeys have partnered with a company that will drive your Husky puppy to you.
The Husky Patch has a health guarantee in place, which is a good sign for a breeder. All puppies come with registration, vaccination, and deworming records. They even send puppies home with a leash, harness, and toy. Full AKC registration with breeding rights are an additional cost.
Contact The Husky Patch today to learn more about buying a puppy.
The Husky Patch Details:
4. Clover's Print Kennel
Located in Central North Carolina, Clover's Print Kennel breeds beautiful wooly Siberian Huskies and Golden Retrievers. They are an AKC-inspected kennel. The husband and wife duo behind Clover's Print started breeding dogs nearly 10 years ago. They test all their dogs using Embark DNA tests. The breeding dogs also undergo OFA Hips, Elbows, Hearts, and Eyes certification.
Wooly Huskies have longer, thicker coats. The huskies bred by Clover's Print Kennel have less white than traditional huskies. Three of their four breeding dogs have beautiful all-red coats.
Clover's Print Kennel takes great pride in breeding gorgeous Huskies with even and stable temperaments. Puppies are raised with other dogs, cats, and the couple's children. They also undergo enrichment and socialization. You are sure to find a healthy and gentle Siberian Husky puppy at Clover's Print Kennel.
If you're looking for Siberian Husky puppies near Greensboro, NC, then contact them today.
Clover's Print Kennel Details:
5. OBX Huskies
OBX Huskies are small, family-owned Husky breeders in North Carolina. They have been raising beautiful AKC Registered Siberian Huskies since 2010. All the puppies born at OBX Huskies are a part of the breeder's family and are raised at home. They also keep their litter sizes small, so all of their dogs get the attention they deserve.
They currently own ten breeding Huskies of a variety of colors. Also in their pack are eleven retired breeding dogs. They even have space on their site for their dogs that are no longer with them.
OBX Huskies are committed to their dogs and to the Husky breed. They require updates on the puppies that they sell throughout the dogs' lives. They also have a buy-back policy in case the Husky doesn't work out in your home.
Visit their website for a puppy application or give them a call for more information.
OBX Huskies Details:
6. Royal's Huskies
If you're looking for a sweet, healthy Husky puppy in North Carolina, this is the place to go.
Brittany, the breeder behind Royal's Huskies keeps her clients up-to-date with their dog's day-to-day life once they reserve a puppy. She also keeps in touch with the families after they have taken home a Husky from her. She gives wonderful advice about training and diet and anything else you need to know about raising a healthy and happy Husky puppy.
Brittany and the team at Royal's Husky are committed to the breed's welfare and adhere to the standards laid down by the Kennel Club. Please contact them today regarding their upcoming litters.
Royal's Huskies Details:
7. Royal Husky Kingdom
This is a family of husky breeders conveniently located in Concord, the heart of North Carolina. Royal Husky Kingdom raises healthy and well-loved puppies that are AKC registered.
Each puppy goes home with a puppy kit, health record card, up-to-date worming, microchip, health guarantee, limited-time pet insurance, and some food samples. You also take along a food bowl, the scent of the puppy's littermates, and some toys. The breeder, her daughter Amanda, and her daughter-in-law Zeily are also available at all times to answer any questions you may have after taking your pet home.
Contact Royal Husky Kingdom today regarding their available puppies.
Royal Husky Kingdom Details:
8. Kai and Kompany
Kai and Kompany Husky breeding facility in North Carolina is run by a couple – Demetrius and Rose. They breed beautiful and healthy CKC and AKC Siberian Huskies.
All puppies born at Kai and Kompany receive proper socialization and enrichment. The breeders also encourage potential clients to visit them and meet their dam, sire, and current litters – as available. All puppies come with AKC registration, shots, and flea, tick, and heartworm prevention. If they are not spayed or neutered when you pick up your puppy, then Kay and Kompany will provide the service. They also recommend the best Husky dog food for their dogs.
Their breeding dogs are a variety of colors, ranging from black and white, to red and white, and a brown sable-colored Husky. Visit their website for information on available puppies. So, if you want a lovely Siberian Husky, please contact Rose/Demetrius today:
Kai and Kompany Details:
9. C & C Siberian Huskies
C & C stands for Candie and Courtney, the founders of this wonderful wooly Siberian Husky breeding facility. They offer a variety of AKC-registered Husky puppies in North Carolina.
Every breeder says that their Huskies have excellent temperaments and health, but C & C Huskies really do, as proven by the many testimonials they have received on their site. All their dogs are Embark tested.
The best part is Candy and Courtney stay in touch with you even after you have taken the puppy home. This means you become a part of the C & C Huskies family for life.
Your search for the perfect family companion ends here. Phone Candie & Courtney for more information about their dogs.
C & C Siberian Huskies Details:
10. Blue Ridge Shadow Huskies
Located in the foothills of the beautiful Blue Ridge Mountains, this wonderful breeder has been breeding Huskies in North Carolina since 2015. Blue Ridge Shadow Huskies are an AKC-inspected facility.
Their fur babies are all born in their home and socialized with their kids and other dogs. No wonder, Blue Ridge Shadow Huskies are known for their health and sound temperament. The breeding dogs also undergo genetic tests and health checks for heart, eyes, joints, etc. Get in touch with the breeders Vonda Agha and Jordan Agha today:
Blue Ridge Shadow Huskies Details:
How to Find the Best Husky Breeders in North Carolina?
Our research shows there are several excellent Husky breeders in the state of North Carolina. However, some breeders not listed here are puppy mills, and you certainly don't want to buy from them. Dogs from puppy mills often have health and temperament issues.
Good breeders of the Husky breed have an AKC-inspected facility. They breed only for health and temperament. In short, their focus is on quality and not on quantity.
Most Husky breeders in North Carolina listed above keep just one or two litters of Siberian Huskies each year. This helps them give individual attention to each dog. Their puppies also come with AKC registration papers.
Also, good breeders keep their cute puppies at home and not in kennels. This ensures good temperaments since the dogs get well-socialized with kids and acquainted with living in homes from a young age. They are also exposed to various human experiences making them confident dogs. Good breeders get their puppies health tested, vaccinated, and dewormed.
Husky breeders should ideally conduct Embark panel tests and health checks on their breeding dogs. This helps prevent health problems in the puppies. Always ask your breeder for the records of health tests they have conducted on the dam and sire. Reputable Husky breeders in North Carolina also offer a 1-year or even a lifetime guarantee for genetic diseases.
You must also visit their facility to ensure their dogs are well-kept. Ask to meet the dam and sire – they should be of sound temperaments. Good breeders will also keep in touch with you after you have taken your pet home.
FAQs
Can Huskies live in North Carolina?
Yes, Huskies can live in warm weather areas. They generally adapt well to the climate they are in. However, they do have a thick coats, so be aware of the heat and precautions dog owners normally take in hot weather.
How hot is too hot for a Husky?
85 degrees is getting too warm for a Husky to be outside for long. Like many dogs with thick coats, being outside for a long time when it is hot leads to health issues caused by heat.
What is the lifespan of a Husky?
Huskies live for about 12-14 years. Huskies are known for having good overall health. However, like any dog, they will develop health issues as they age.
Conclusion For "Husky Breeders in North Carolina"
We hope you liked this guide on the best Husky breeders in North Carolina. There are many breeders of the Siberian Husky breed in the state of North Carolina, but we have selected the above 10 based on the reviews and testimonials they have received. Our list even included two wooly Husky breeders, which are less common.
These breeders are genuinely concerned about the breed's welfare and only breed for beauty, sound temperaments, and health. The best breeders socialize and vaccinate puppies prior to sending them off. Education is another common service of a good breeder, including discussions about feeding and caring for your new Husky.
Consider one of these Husky breeders in North Carolina if you want to add a gorgeous Husky to your household.
For more guides similar to this list of Husky breeders in North Carolina, you can check out:
Before you bring home a Husky puppy from a breeder in North Carolina, you can learn more about this dog breed by watching "10 Things You Didn't Know About the Siberian Husky" down below:
Garrett loves animals and is a huge advocate for all Doodle dog breeds. He owns his own Goldendoodle named Kona. In addition, he volunteers at the Humane Society of Silicon Valley, where he fosters dogs and helps animals. Garrett enjoys writing about Doodles and believes that dogs can teach humans more about how to live than humans can teach a dog.
Why Trust We Love Doodles?
At We Love Doodles, we're a team of writers, veterinarians, and puppy trainers that love dogs. Our team of qualified experts researches and provides reliable information on a wide range of dog topics. Our reviews are based on customer feedback, hands-on testing, and in-depth analysis. We are fully transparent and honest to our community of dog owners and future owners.